Crispy Curry Roasted Chickpeas
I'm not sure when this happened, but I'm not really a snack person anymore. I used to be the girl with a tupperware of blueberries in her purse (which, btw, weird), or a full container of peanut butter stored greedily in her desk drawer. Ryan would carry around snacks for me in case "Hangry Katie" reared her crabby head.
These days? Nope. I noticed a couple months ago I didn't have any snacks in my designated "snack drawer" at work, so I bought some fancy sweet n' spicy roasted almonds. I forgot about them and they went bad. Whomp whomp.
I've realized with time (30 years, to be exact), that I function better with bigger meals and fewer snacks. None of this "5 small meals a day" or any other plan that needs exhaustive planning yet is marketed as "energy building." I eat when I'm hungry until I'm not anymore. #MealGoals to live by.
Is this a weird way to open a post about roasted chickpeas, which are usually a snack? Probably.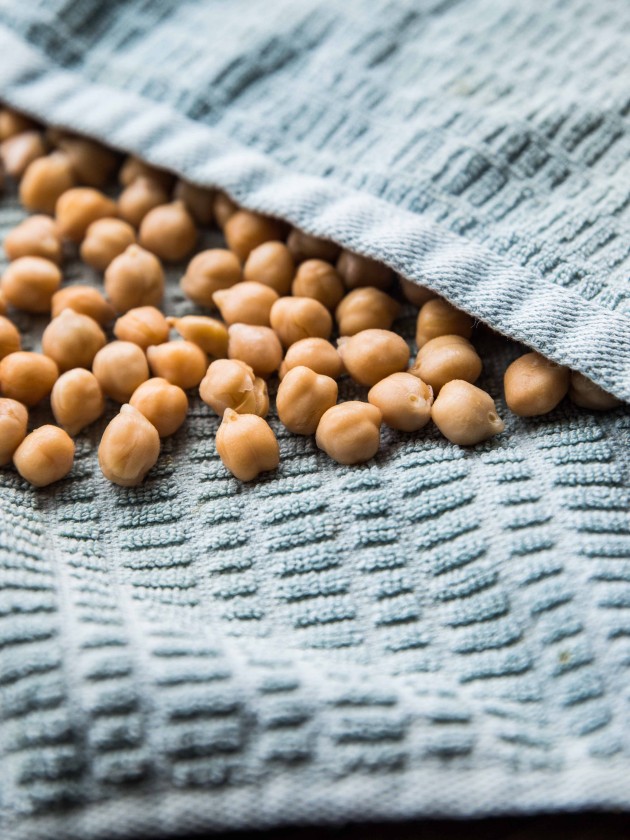 When I find myself a bit hungry between meals and unprepared, I grab a spoonful of almond or peanut butter, or a handful of roasted (unsalted) peanuts. OR, sometimes Ryan leaves these jalapeno kettle chips out on the counter, and if I come home from work and had too small a lunch (ahem, or a stressful day), I mean…who could say no to those?
Kettle chips are my kryptonite. Even a non-snacker is doomed around those bags.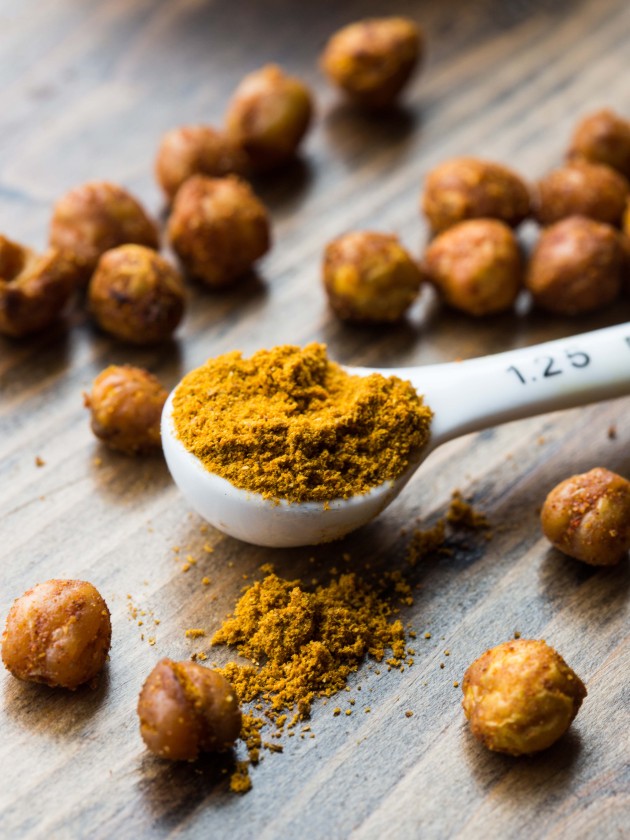 If I do snack, I'm usually a salty snacker (like the aforementioned kettle chips). It's great to have savory, good-for-you things available when that craving hits. These chickpeas fit the bill, with their dreamy curry flavor, a little smokiness from smoked paprika, and those savory hits of cumin and garlic powder. All of my favorite spices, rolled around one crispy little bean.
I also should touch on the process. I tried this recipe two ways: spicing the chickpeas beforehand, and spicing the chickpeas post roasting. I found that I preferred the beans that were roasted with olive oil and salt, and then rolled in spices immediately after being removed from the oven. When I've roasted chickpeas with spices in the past, I've found that the coating tasted a bit burnt. This method avoids that entirely. AND, since your chickpeas aren't coated in spices while baking, you can clearly see when they are golden brown and ready for your mouth.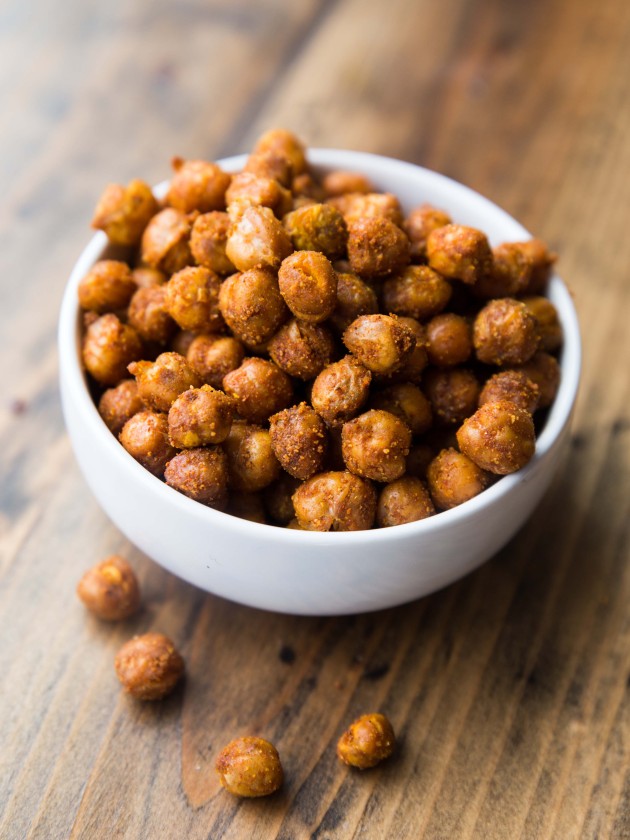 Since I'm not a big snack person, these chickpeas are destined for a power lunch bowl which I will be sharing later this week. BUT, if you are a snack person, keep them in your bag for emergencies. They lose their crispness after the first day, so eat them quick if you need that crunch. I kind of love their less-crispy texture too, so they work great for my meal planning needs throughout the week.


Crispy Curry Roasted Chickpeas
Simple curry-roasted chickpeas. Crunchy, savory, and healthy snacking, or a great topper for soups or salads.
Yield: 2 cups
Prep Time: 15 minutes
Cook Time: 30 minutes
Total Time: 45 minutes
Ingredients:
3 cups cooked chickpeas (about 2 cans, rinsed and drained), patty dry
2 tablespoons olive oil
2 teaspoons curry powder
1 teaspoon each: garlic powder, ground cumin, smoked paprika,
½ teaspoon fine sea salt
Directions:
Preheat oven to 400 degrees.
Drain and rinse the chickpeas. Place between two absorbent kitchen towels (or fold a large one over), and roll around to dry off the chickpeas. Leave between the towels to drain more as the oven finishes preheating (10 minutes or so) - this part isn't absolutely necessary, but the more liquid drained off of those beans the better.
Transfer the chickpeas to a mixing bowl, discarding any loose skins as you go. You do not need to discard all of the skins - I just get rid of the ones that are almost completely off of the bean. Toss the chickpeas with the olive oil and salt. Spread out onto a baking sheet (if your baking sheet is not nonstick, or especially old, you may want to line with parchment).
Bake for 30-40 minutes, until golden brown and crispy. I checked every 2 minutes near the end, because they can go from golden to burnt pretty quickly.
As the chickpeas bake, mix together remaining spices.
Quickly transfer the chickpeas back to the mixing bowl, and pour in spices. Toss until evenly coated. Allow to cool completely - I usually transfer them back to the cookie sheet so the heat can escape quickly and evenly, instead of within the pile of beans in the bowl.
Roasted chickpeas lose their crispness after the first day, so eat immediately if that's your preference. I kind of love the slightly chewy texture the next day, but maybe I'm in the minority.
Nutrition Information: Serving Size: 1/4 of recipe (about 1/2 cup), Calories: 251, Total Fat: 10.4g, Saturated Fat: 1.4g, Cholesterol: 0mg, Sodium: 248mg, Potassium: 483mg, Total Carbohydrates: 31.9g, Dietary Fiber: 9.4g, Sugars: 5.6g, Protein: 10.1g
2 Responses to "Crispy Curry Roasted Chickpeas"