Power Lunch Bowls with Roasted Broccoli and Sriracha Peanut Drizzle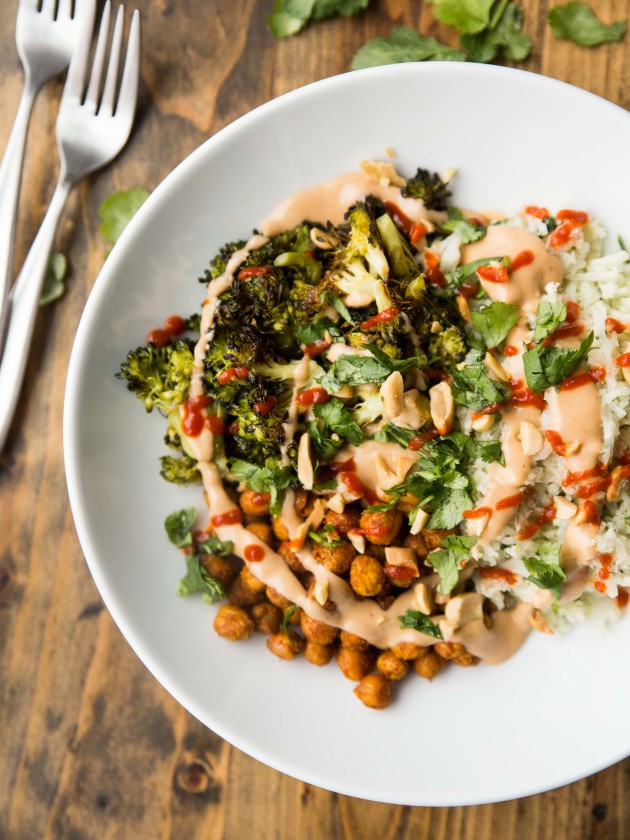 I've been on a serious power-lunch bowl kick. They're so easy to make ahead, and they're packed with a variety of flavors and textures. I've been switching it up just about every week, but this was one of my favorites.

First, we have those crispy curried chickpeas from last week. Those are key for flavor, crunch, and protein. Then we have roasted broccoli. Raw broccoli is a no-go for me, but when it's roasted up until it has some golden brown florets? yum.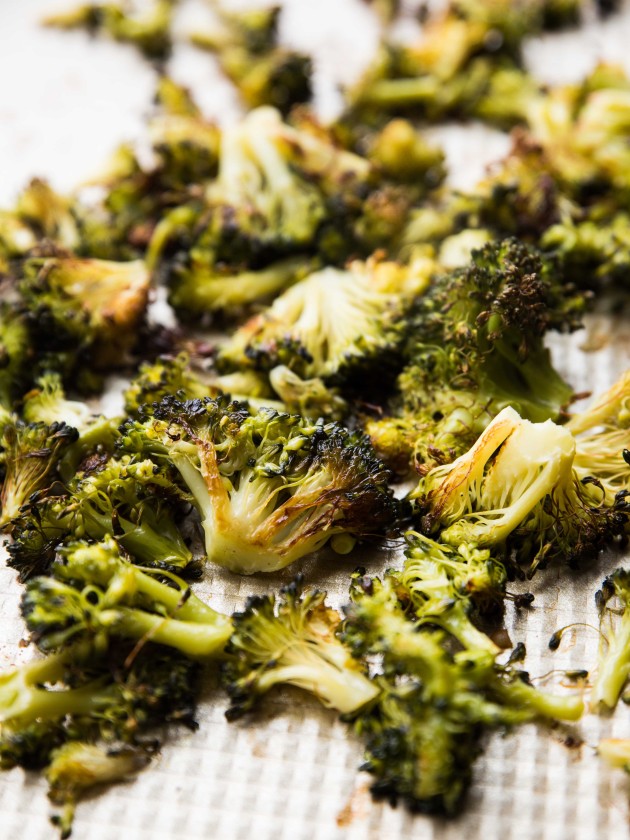 The chickpeas and broccoli go beside coconut cilantro cauliflower rice. For those wary of the cauliflower-as-rice thing, I readily admit that on its own, I don't love cauliflower rice. I wouldn't sit down with plain cauliflower rice and confuse it with the real thing. But when it's mixed with tasty ingredients and covered in a sauce? Then it works really well (see exhibits A and B).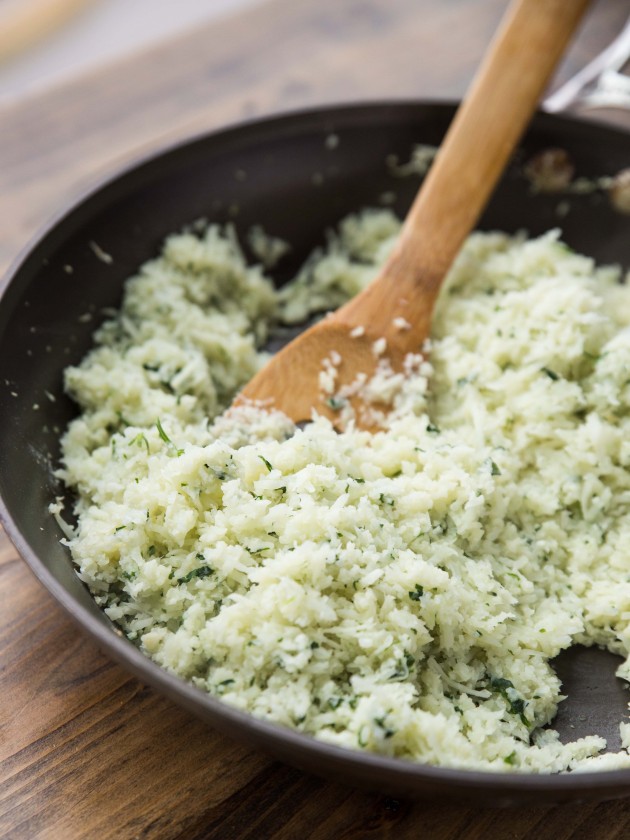 Speaking of sauce, here I used the peanut butter sriracha sauce, from example "A" above. It's easy, sweet, salty, and spicy. So many of my favorite food descriptors in one drizzle.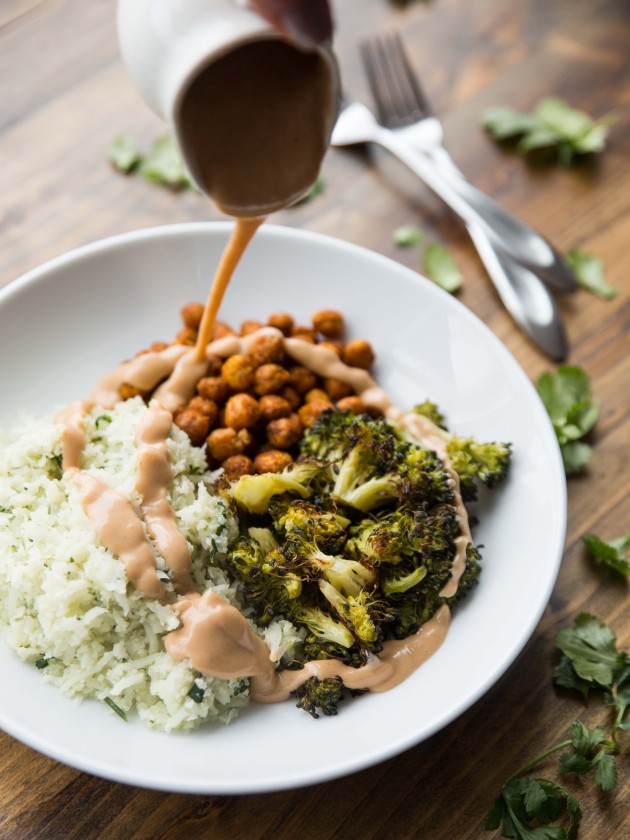 It may seem that this recipe has a lot of components, but if your oven space and baking sheet collection allow, you can roast the chickpeas and broccoli at the same time. The sauce simmers for 5 minutes, and the rice cooks for about 10 minutes. For your effort, you're rewarded with 4 substantial and seriously healthy lunch servings.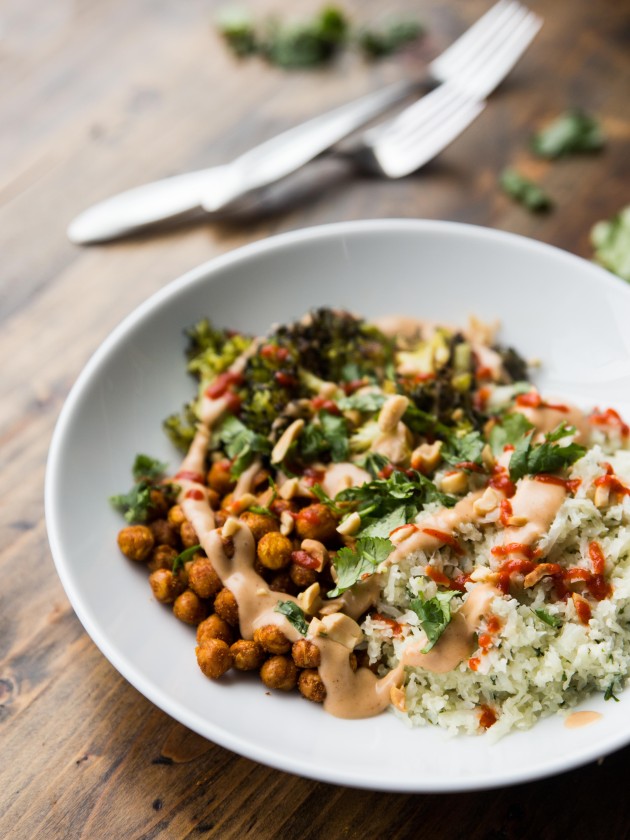 The flavor combination in this bowl is really fun – spicy, sweet, nutty. The textures also keep it interesting, with the golden and slightly crispy broccoli florets, the crispy chickpeas, the cauliflower rice, and that smooth drizzle. So much going on, and all of it SO GOOD.
Since I'm big on lunch bowls lately, tell me – what are your favorites? Links encouraged – I'm always looking for new ideas!


Roasted Broccoli Power Lunch Bowls with Sriracha Peanut Drizzle
A healthy lunch bowl packed with good-for-you things - roasted broccoli, crispy chickpeas, and coconut cauliflower rice!
Yield: 4 servings
Prep Time: 10 minutes
Cook Time: 30 minutes
Total Time: 40 minutes
Ingredients:
Roasted Broccoli:
4 ½ cups broccoli florets
1 tablespoon olive oil
¼ teaspoon sea salt
Coconut Cauliflower Rice:
1 head cauliflower, shredded (see note)
1 tablespoon coconut oil
½ cup light coconut milk
½ cup cilantro, chopped
¼ teaspoon fine sea salt (more to taste)
You'll Also Need:
Directions:
Toss the broccoli with the olive oil and salt. Spread onto a pan. Roast for 20-25 minutes until golden on the edges. Note: If you didn't make your chickpeas beforehand, you can roast them at the same time as the broccoli. They take a little longer to roast - see instructions here.
While the broccoli roasts, make the cauliflower rice. Melt the coconut oil over medium heat in a large non-stick pan. Pour in the cauliflower, and stir. Pour in half of the coconut milk. Cook for 5 minutes, stirring frequently. After about 5 minutes add the remaining coconut milk and cilantro, and cook for another 5 minutes, until the cauliflower is tender and has absorbed all of the coconut milk.
Make the sriracha peanut sauce: combine all ingredients in a small saucepan, bring to a boil, and let simmer for 3-5 minutes. It will thicken as it cools a bit.
When all ingredients are ready, divide the broccoli, rice, and chickpeas across 4 bowls, then drizzle with peanut sauce and additional sriracha. I like to top mine with peanuts as well.
I shred the cauliflower in my food processor and that works really well. I assume a box grater would work, but haven't tried it myself.
14 Responses to "Power Lunch Bowls with Roasted Broccoli and Sriracha Peanut Drizzle"