Creamy Roasted Garlic, Broccoli and Leek Pasta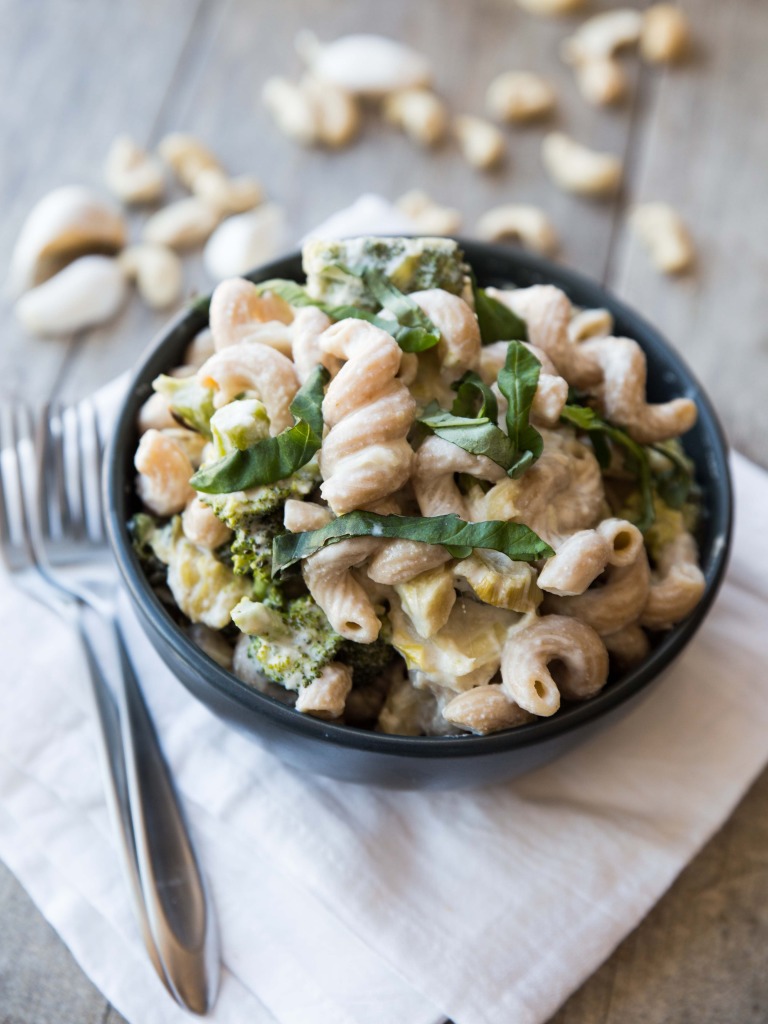 Cashews are magical. I can't believe I lived so long not knowing this.
I first fell in cashew love a few months ago when I made pumpkin alfredo linguine – dairy free, vegan, and totally creamy and dreamy. In that post I talk about how Ryan loves cream sauces, and always wants to make fully-loaded vegetable and cream pasta at home.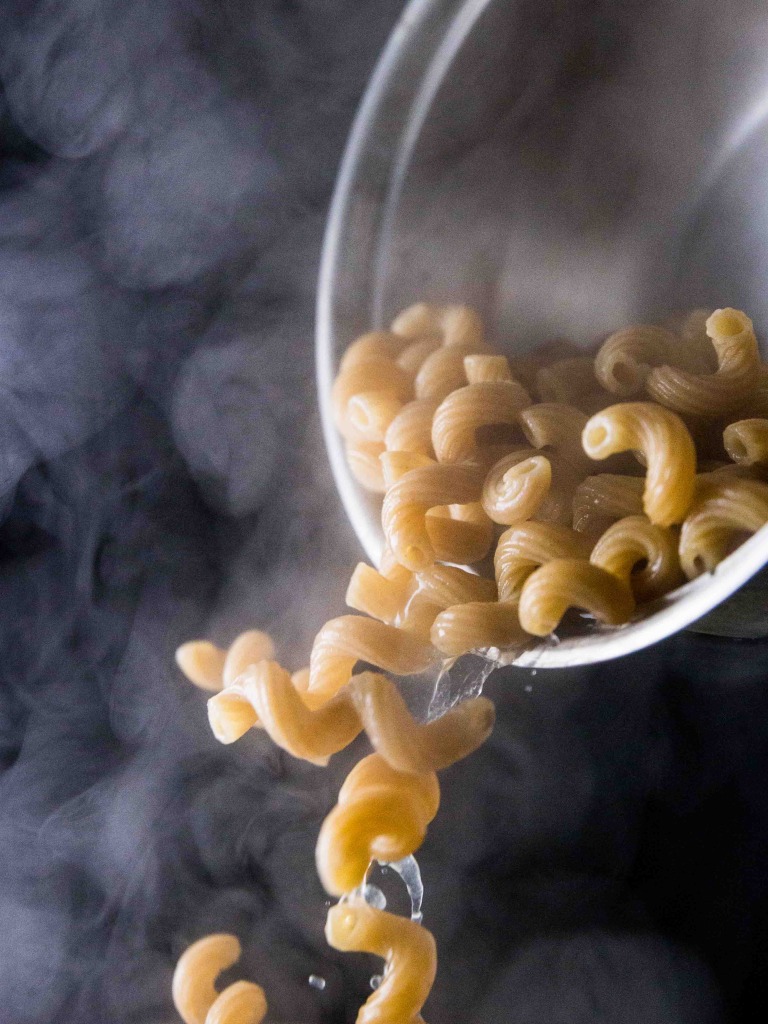 Since Ryan isn't as much of a pumpkin fan as I am, I made the linguine when he was hunting in WI, meaning he didn't get to experience those magic little cashews in the sauce. So, for date night last week, I decided to make a dairy-free cream pasta geared towards him with roasted errything: garlic, leeks, and broccoli.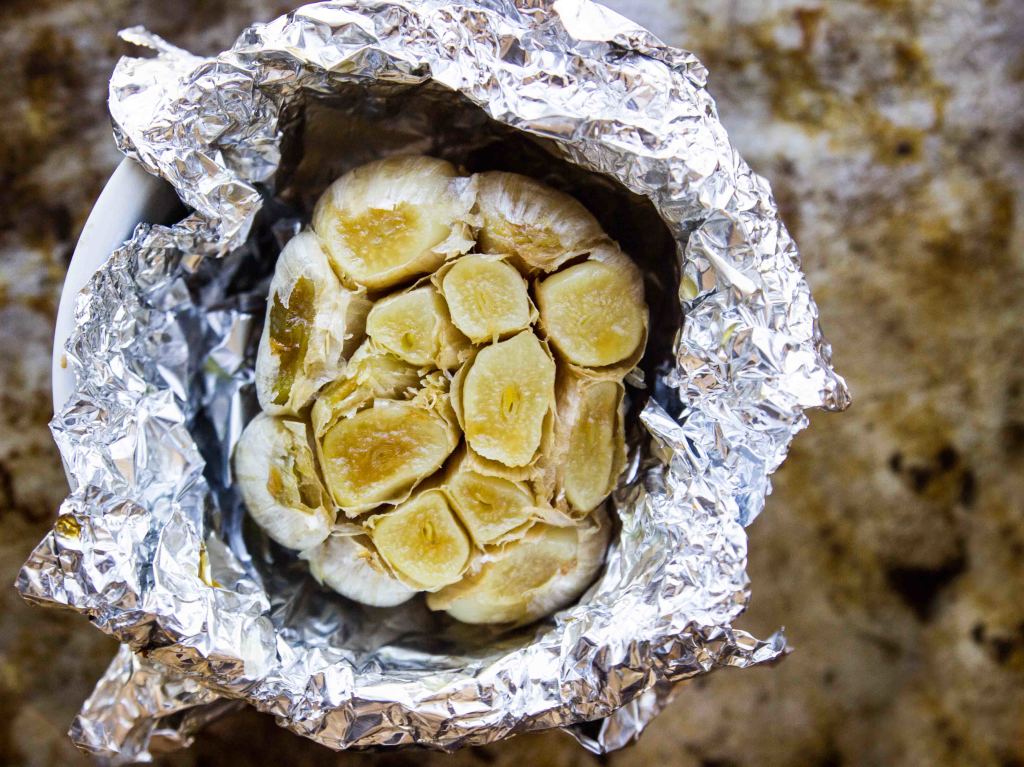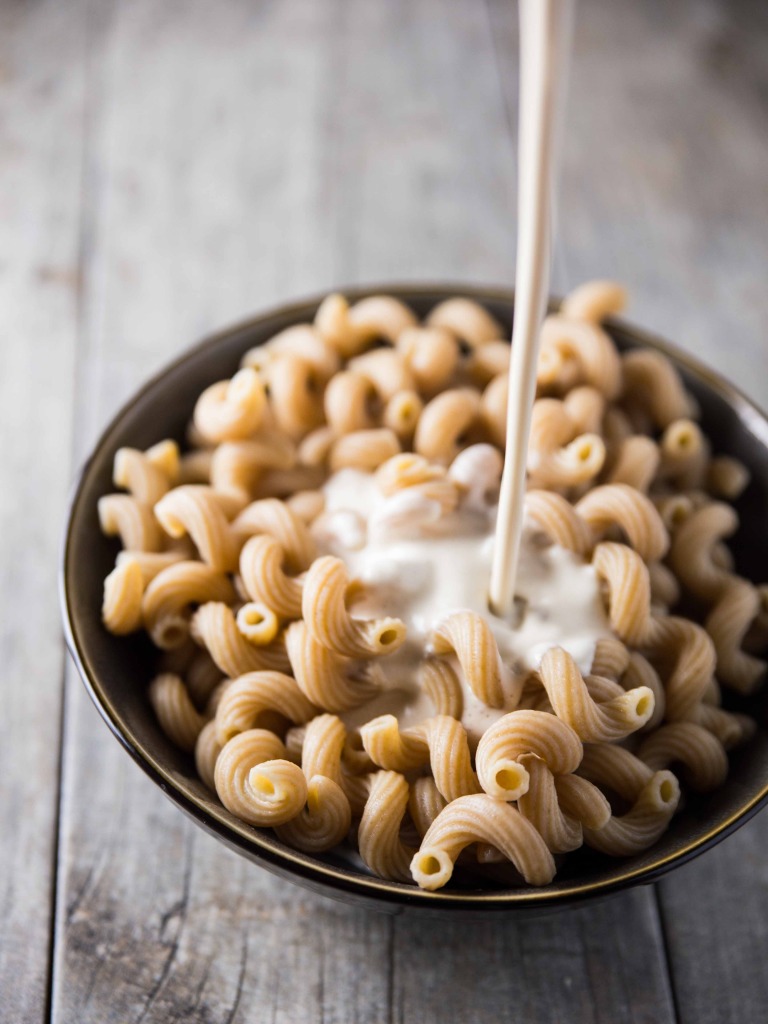 Roasting garlic makes the cloves rich, buttery and milder in taste (which is why there are SO MANY CLOVES used in this recipe), while the leeks become slightly sweeter, and the broccoli gets nutty with just a light crispiness on the outside florets. The roasted garlic gets blended into the sauce with the soaked cashews, vegetable broth, apple cider vinegar, and salt, while the broccoli and leeks are tossed with the pasta.
The apple cider vinegar adds a depth of flavor to the sauce that really makes it mimic the standard dairy-laden cream sauces, so don't leave it out! If you're wary of the amount of garlic here, feel free to start with just a couple cloves in the sauce, and increase to your liking. Any roasted cloves you don't use may be stored in an airtight container in the fridge.
Ryan and I like garlic, so we I was heavy-handed with the cloves. Bring it on, baby.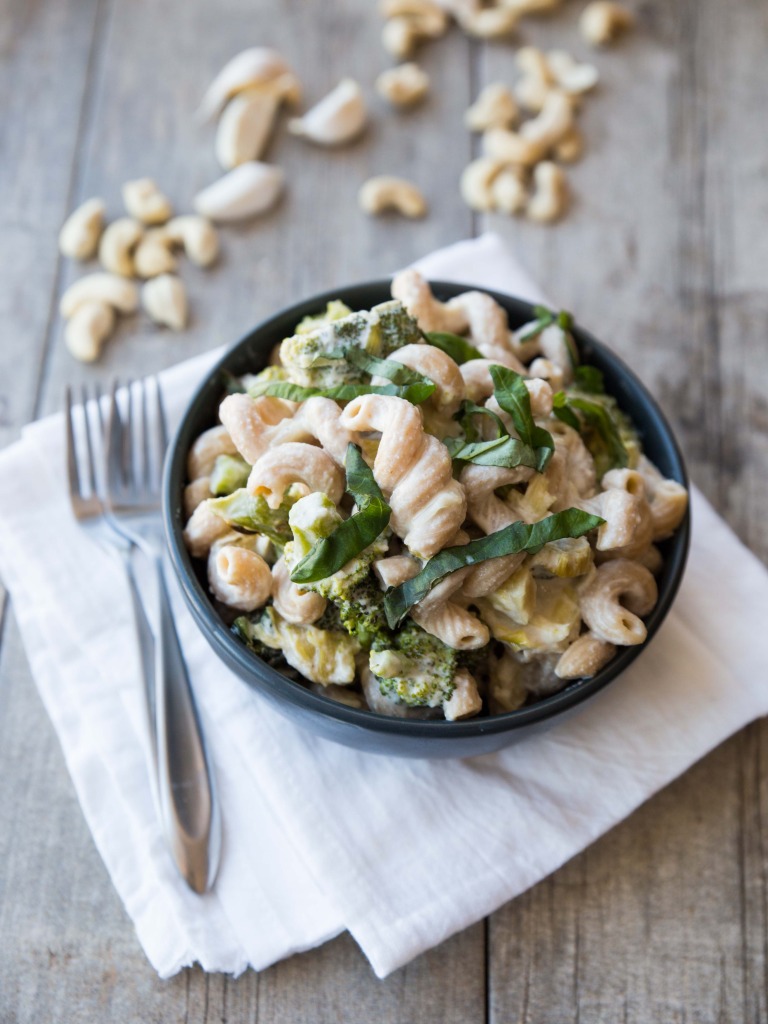 As I've mentioned before, I'm not someone who worries about fat intake, but I do like getting fat from cashews. Not only are they super tasty and versatile, but there are some studies that show cashews can help improve mood and ease anxiety. Rock on, little nuts!
Ryan devoured this vegan version of one of his favorite meals, cause what's not to love? Flavorful, texture-packed creamy pasta glory.
Creamy Roasted Garlic, Broccoli and Leek Pasta
Creamy, rich pasta with nutty roasted broccoli and buttery leeks. Dairy free and vegan, but you'd never know it!
Yield: 4 servings
Prep Time: 10 minutes
Cook Time: 50 minutes
Total Time: 1 hour
Ingredients:
Roasted Garlic, Broccoli and Leeks
1 head of garlic
1 ½ tablespoon olive oil, divided
2 leeks, white and pale green parts only, cut lengthwise
4 cups broccoli florets
¼ teaspoon sea salt, divided
Roasted Garlic Pasta
5-7 cloves roasted garlic
¾ cup cashews, soaked overnight
3/4 cup warm vegetable broth
½ teaspoon apple cider vinegar
1/2 teaspoon sea salt
8 ounces whole wheat pasta
Fresh basil, for topping
Directions:
For the roasted vegetables: Preheat oven to 400 degrees. Cut the top off of a head of garlic until all of the cloves are visible. Drizzle on 1/2 tablespoon of olive oil, and rub it in with your fingers. Wrap the garlic head in aluminum foil
Slice the leeks in half lengthwise, then drizzle with another ½ tablespoon of olive oil, and sprinkle on ⅛ teaspoon sea salt. Wrap loosely in aluminum foil.
Roast the garlic and leeks for 40 minutes.
After 40 minutes, toss together the broccoli with the remaining olive oil and salt, and place on a pan in the oven. Roast all vegetables for another 10 minutes.
While the veggies are roasting, cook the pasta according to package directions, and place all of the sauce ingredients in a blender so you're ready to go.
When the roasting time is over, let the veggies cool for a few minutes, and then slice the leeks, and squeeze the garlic out of the papery layers, using a fork to help you so you don't burn your fingers. Set aside 5-7 cloves for use in the sauce, and store any leftovers in an airtight container in the fridge.
Add 5-7 cloves of the garlic to the blender with the cashews, vegetable broth, and apple cider vinegar. Blend until completely smooth.
Mix the sauce, roasted broccoli, leeks, and cooked pasta together. Top with fresh basil.
Nutrition Information: Serving Size: 1/4 of recipe, Calories: 472, Sugar: 6.7g, Sodium: 548mg, Fat: 19.3g, Saturated Fat: 3.2g, Carbs: 64.0g, Fiber: 9.0g, Protein: 15.3g