Vegan Pumpkin Alfredo Linguine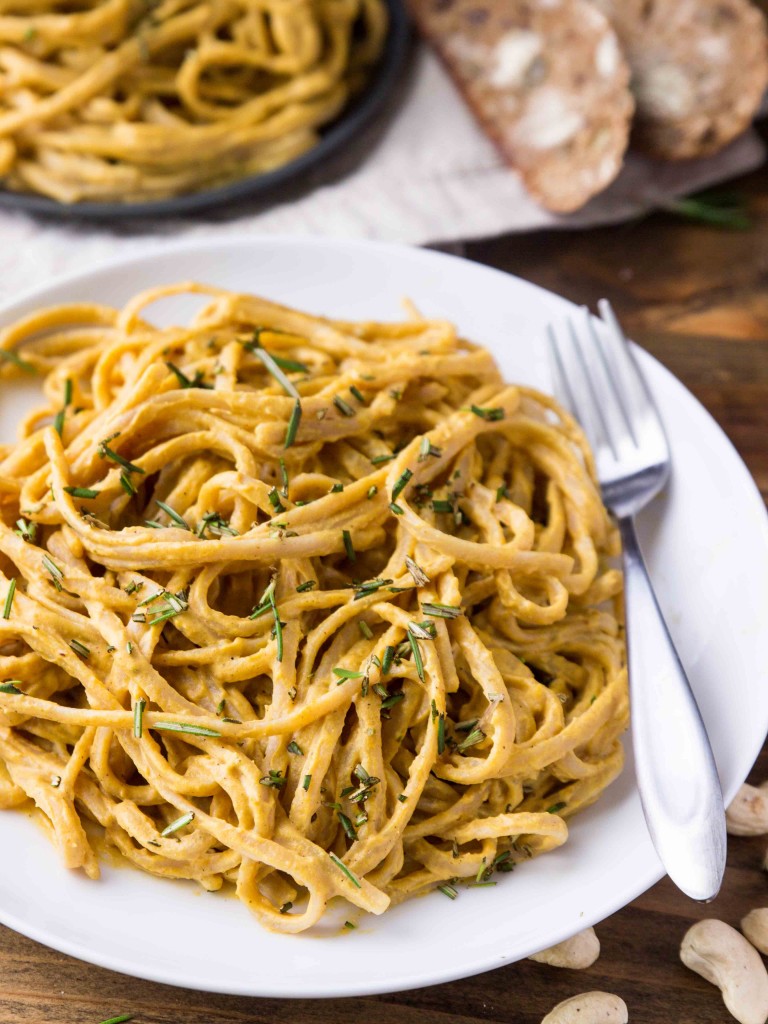 Too soon with the pumpkin recipe?
Eeeerm, I couldn't NOT do it. Apparently I'm a "basic white girl," because this list is spot on.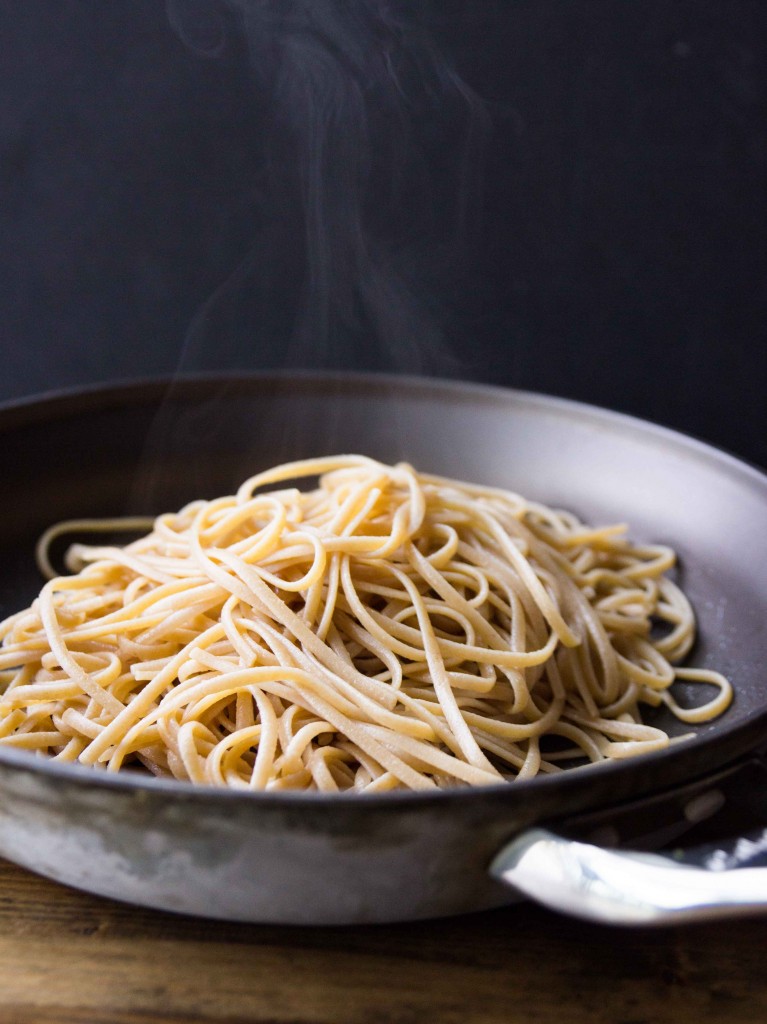 When the weather gets cooler, creamy and comforting foods just feel so right. Ryan especially loves pasta sauces filled with heavy cream. One of the first times he made a meal for me when we moved in together he said he was making us pesto pasta. I sat down with a glass of wine and watched him pour a LOT of heavy cream in the saucepan. We're talking a good 1/2 cup+, for just to two of us.
It was delicious, don't get me wrong, but here's the hush-hush thing about cream-based pasta sauces: my tastebuds love them, my tummy does not.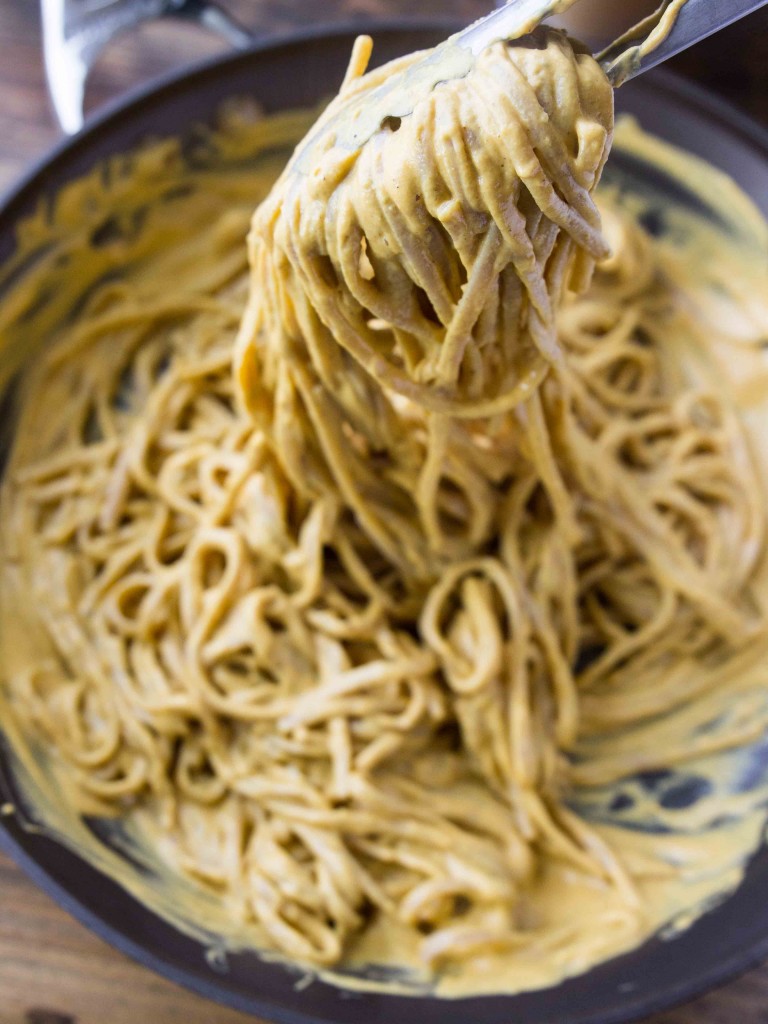 I've been experimenting with cashews in lieu of dairy pretty frequently lately, but this is the first recipe I felt the immediate need to share. Those cashews, when soaked and whirled up in a blender, create a beautiful cream sauce. That cream sauce, along with olive oil, garlic, rosemary, pumpkin, and warm fall spices, makes for a super luxurious autumn dinner.
I made this on Friday, which was the first fall-like day in MN, and also a day when I happened to be home sick with a hacking cough. This dinner, which is really quick to make, and about as comforting as can be, was just what I needed.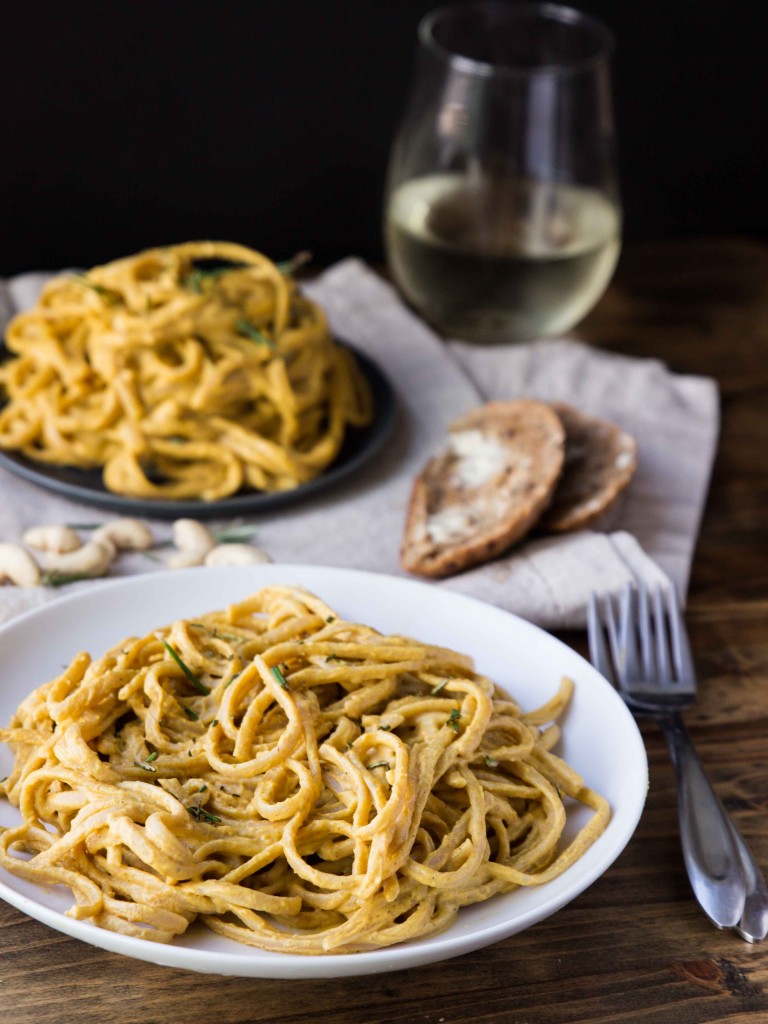 Since this recipe is full of cashews, it is not a lower-fat alternative to alfredo. I'm not afraid of high-fat meals, especially when the fat comes from cashews. Ryan and I watched a food documentary about a year ago that mentioned cashews being a natural mood lifter. Apparently cashews are a good source of tryptophan, which your body turns into serotonin.
So yes, this is a high-fat recipe, but those are happy fats!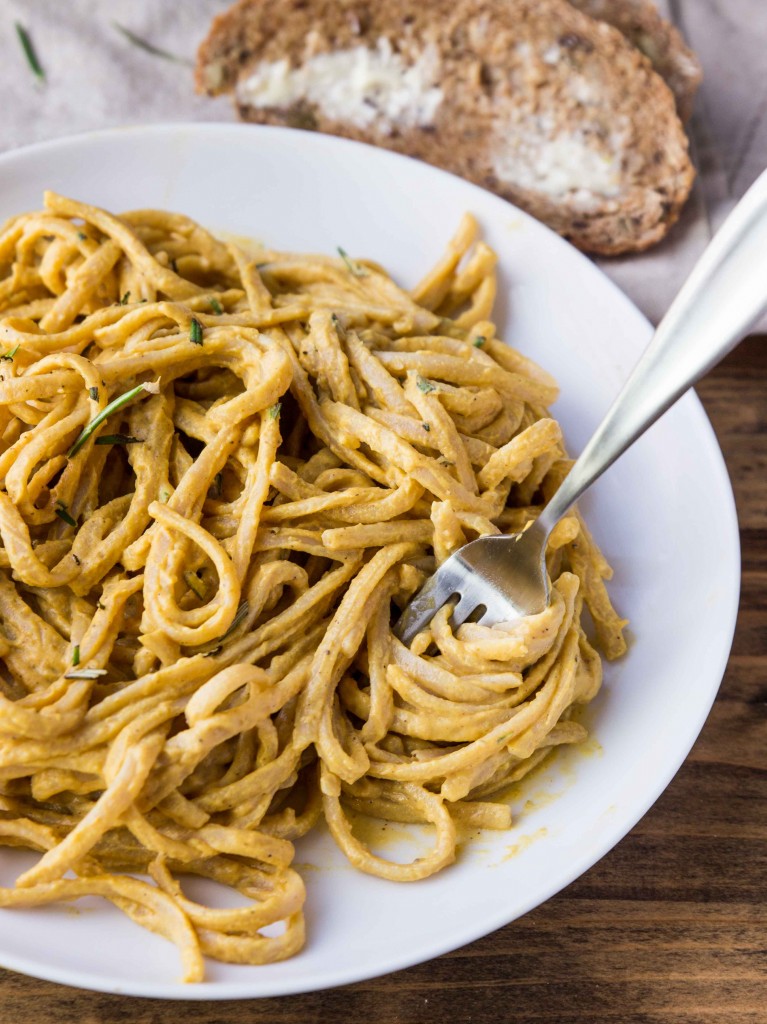 I'm no doctor or nutritionist, but any possibly natural mood boost is good by me…especially if it means devouring this pasta.
Vegan Pumpkin Alfredo Linguine
Creamy and rich pumpkin alfredo without the dairy! Soaked cashews blend up into a super smooth cream, which is mixed with pumpkin, rosemary, garlic, and warm fall spices.
Yield: 4 servings
Prep Time: 5 minutes
Cook Time: 10 minutes
Total Time: 15 minutes
Ingredients:
8 ounces whole wheat linguine (or gluten-free alternative)
3/4 cup raw cashews, soaked for at least 6 hours (or overnight)
1 cup vegetable broth
2 tablespoons olive oil
2 cloves garlic, chopped
1 tablespoon fresh rosemary
3/4 cup pumpkin puree
1/2 teaspoon sea salt
1/4 teaspoon ground cinnamon
1/4 teaspoon black pepper
1/4-1/2 teaspoon freshly grated nutmeg (to taste - I like a LOT of nutmeg)
Directions:
Cook the pasta according to package directions.
Drain the cashews from the soaking water. Combine the soaked cashews and 1/2 cup of broth in a blender, and blend until completely smooth.
Heat the olive oil in a saucepan over medium heat. Add the garlic and cook for 30 seconds, and then add the rosemary and cook for another 30 seconds.
Pour in the remaining broth, blended cashews, pumpkin, and all spices. Simmer for 3-5 minutes, until all the ingredients are warmed and incorporated. Taste and adjust seasonings to taste.
To get the sauce extra smooth, I like to blend it again at this point, but it is not necessary if you're crunched on time.
Stir the sauce into the cooked pasta. Serve warm with extra cracked black pepper and/or additional chopped fresh rosemary.
The sauce will firm up after it cools, but add 1-2 tablespoons of water when reheating leftovers in the microwave and it will become smooth and creamy again.
21 Responses to "Vegan Pumpkin Alfredo Linguine"
Pingback: autumnal dinner party | teathering

Pingback: lipstick holistic