Caramelized Banana Nut Granola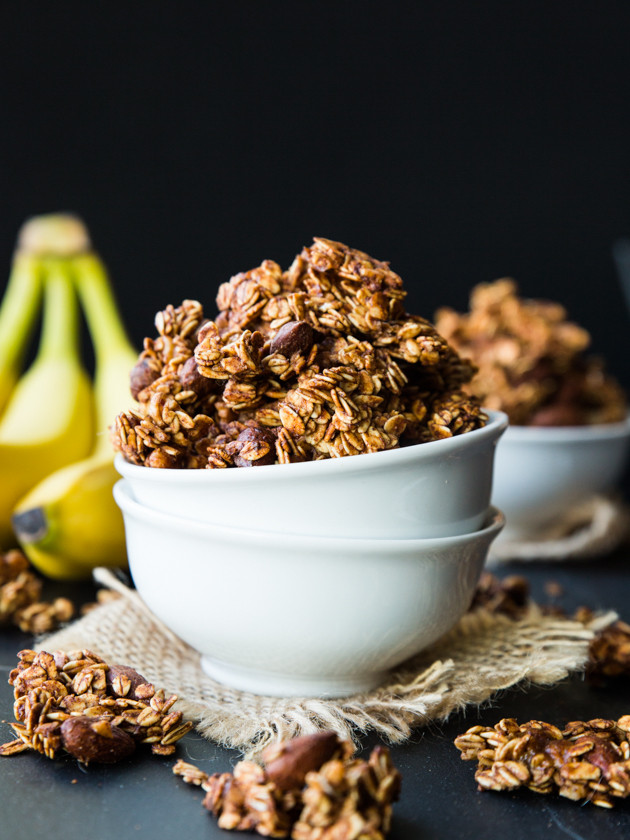 I used to be the snackiest person. I needed something to eat at 10am and 3pm or else all bets were off for the rest of the day.
For morning snacks I'd stick to fruit, but the afternoons were carby. When I started my first job, every day I'd get an intense (likely stress-induced) belly ache around 3pm. At that stage in my life oyster crackers were my best friend. When I couldn't take anymore bland crackers, I reached for multigrain cheerios. Very balanced, I know.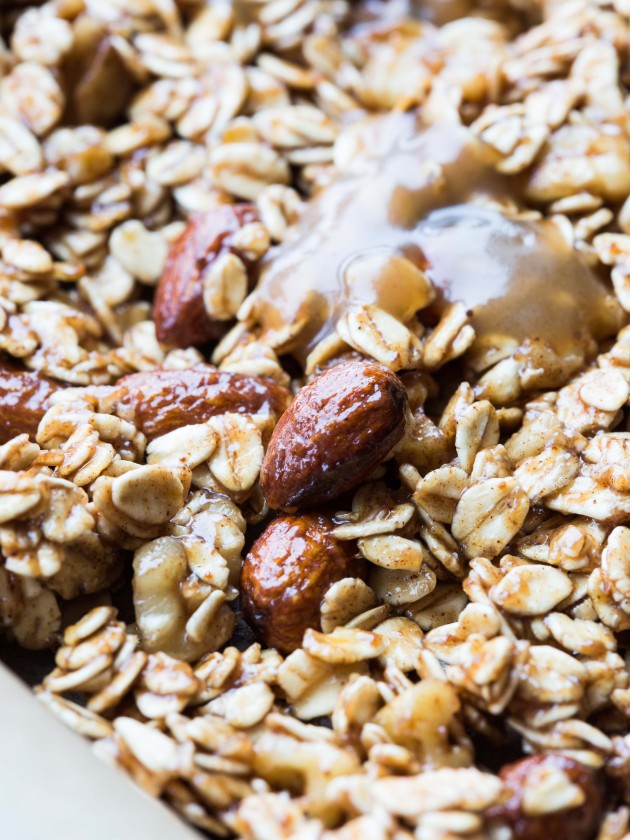 As I've grown older and wiser (?), I've found that I like heartier meals that make snacks less necessary. I realize that's not really the "in" diet plan of the moment ("eat 5 small meals a day!" etc.), but it works for me.
With that in mind, I started making granola with the plan of transforming my morning smoothies into smoothie bowls (all the rage right now, you know). I figured it would add some nice crunch, as well as a little more staying power so that pesky hunger wouldn't rear it's distracting head until noonish.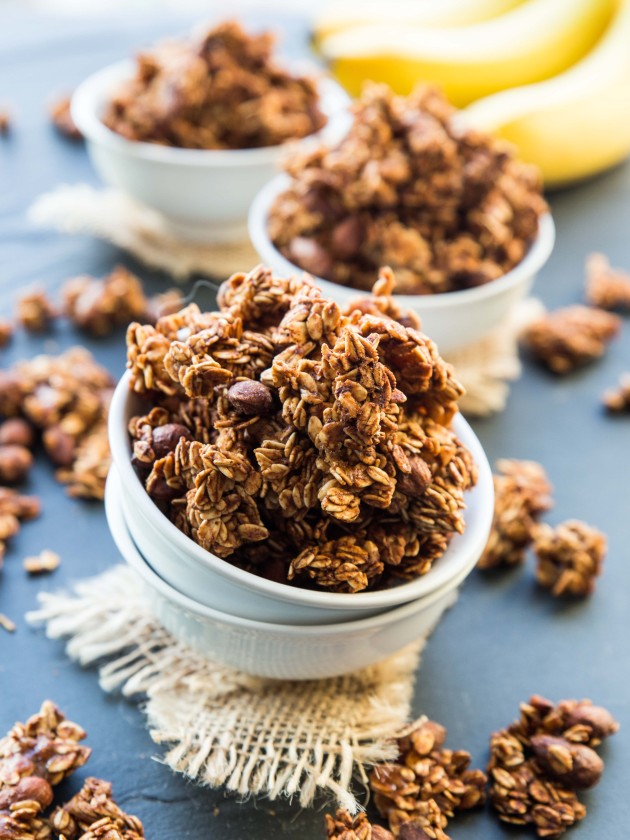 That was a great thought, but in real life this granola has brought back the snacker in me! I can't stop reaching for handfuls every time I walk by the container on the counter! I bring a little tupperware of it to work so I can busy my hands with sweet and crunchy granola clusters. I literally get excited when the clock approaches 3:00 because in my mind that's granola time. It's addicting and I love it.
This granola is adapted from my caramelized apple granola from last fall. In this version we caramelize sliced bananas with some coconut sugar and coconut oil, and blend them up with maple syrup and vanilla. Fold the sweet mixture into some oats, nuts, cinnamon and nutmeg, bake until golden, and then (this is the hardest part) wait until it cools.
Those clusters happen because we don't stir the granola as it bakes. Just let it do its thing, and then let it cool completely, and you get big clusters of crunch as a reward for your patience.
Use this granola as a topping on ice cream, smoothies (or smoothie bowls!), or be like me and grab handfuls as you please.


Caramelized Banana Nut Granola
Simple homemade granola with big clusters of oats, caramelized banana, maple syrup, and nuts!
Yield: 9 cups
Prep Time: 15 minutes
Cook Time: 40 minutes
Total Time: 55 minutes
Ingredients:
3 tablespoons coconut oil
3 over-ripe bananas, sliced ½" thick
¼ cup coconut sugar
1/2 cup maple syrup
2 tablespoons vanilla
3 1/2 cups old-fashioned rolled oats (gluten free, if desired)
1 cup raw walnut halves, roughly chopped
1 cup raw almonds, left whole
1 tablespoon ground cinnamon
1 teaspoon ground nutmeg
1/2 teaspoon sea salt
Directions:
Preheat oven to 325.
Melt the coconut oil in a non-stick skillet.
In a bowl, toss together the sugar with the bananas.
Place the bananas in the melted oil, and cook for 5 minutes. Flip the slices over, and cook for another 3-5 minutes. Transfer the bananas and all the pan juices into a blender with the maple syrup and vanilla, and blend until smooth.
In another bowl, stir together the oats, walnuts, almonds, cinnamon, nutmeg and salt. Pour in the banana mixture, and stir until fully incorporated. Spread out onto a large cookie sheet lined with parchment paper. Bake for 40-50 minutes, until golden. Let cool completely, and then break into clusters.
Nutrition Information: Serving Size: 1/2 cup, Calories: 209, Total Fat: 10.9g, Saturated Fat: 2.6g, Cholesterol: 0mg, Sodium: 53mg, Potassium: 225mg, Total Carbohydrates: 26.2g, Dietary Fiber: 3.5g, Sugars: 11.0g, Protein: 5.1g