Caramelized Apple Cinnamon Cluster Granola
I used to dislike apple-flavored things, or at least I thought so. I also thought I disliked the taste of wine, and wasn't much for TV. Things change.
It turns out it's the fake apple flavor that I dislike. Apple martinis? Nope. Apple candy? Noooo thanks. A packet of apple cinnamon oatmeal? Bleh.
Take some real apples (honeycrisp, preferably), peel them (at first I wrote "feel" them – hehe), chop them, then caramelize them with some brown sugar? Now we're talking.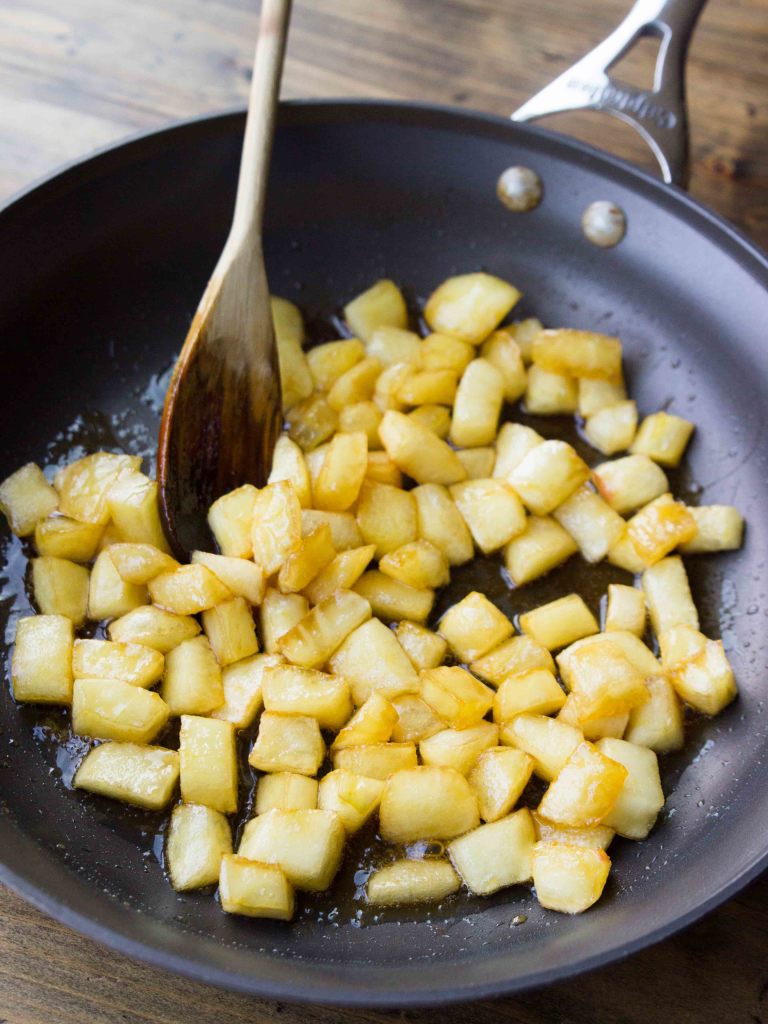 My first try with this granola was low-sugar and super healthy. It also tasted like birdseed. My sister actually made a face when she tasted it.
The second time I ended up with golden brown crunchy clusters infused with the warm fall flavors of caramelized apples and cinnamon. My home smelled dreamy all day.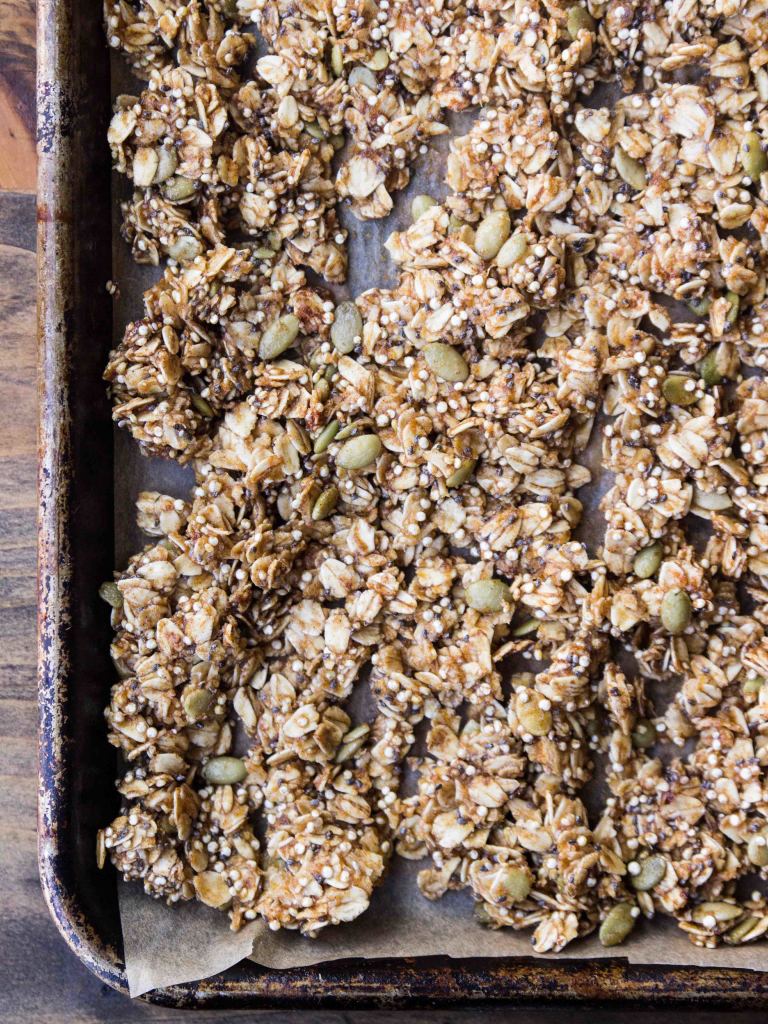 In addition to getting the taste just right, I also perfected my technique for cluster granola vs. the annoyingly crumbly variety.
1) I did not stir it as it baked. Instead, I just rotated the pan once to ensure even baking.
2) I let it cool COMPLETELY before breaking off even one piece to taste. It took all of my control. I felt very proud.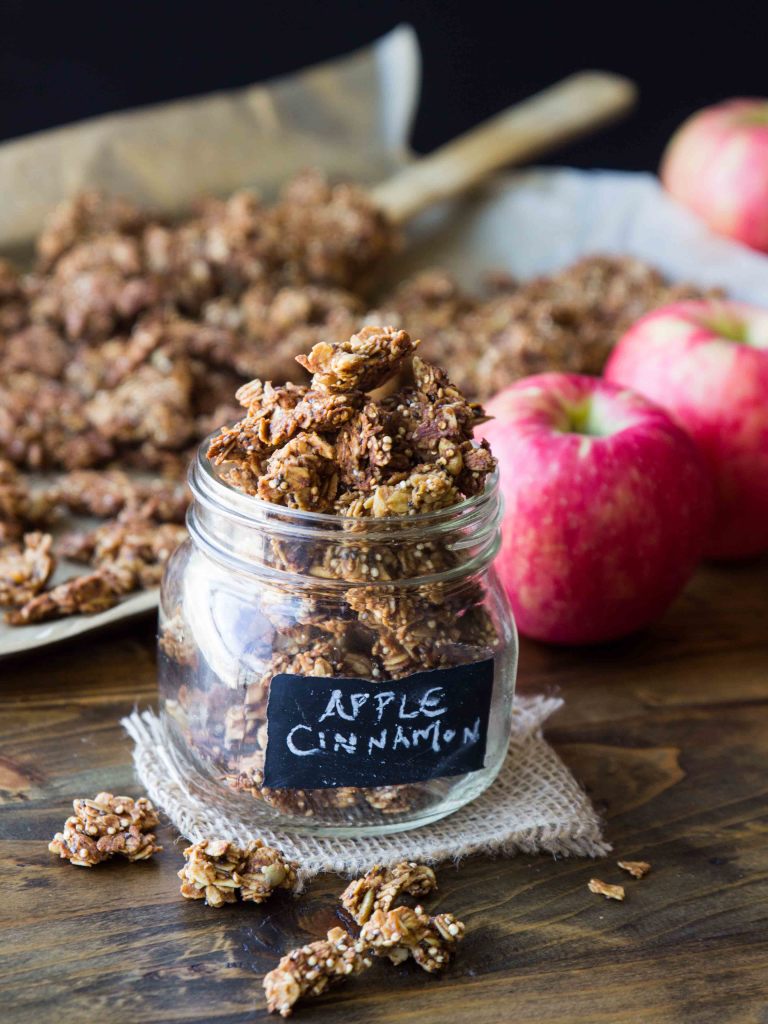 I like just eating it straight up as a snack. I have a tupperware sitting in my desk for emergency hunger situations. The combination of oats, pumpkin seeds, chia seeds, and quinoa make it filling and moderately healthy. Plus, at 3pm I usually just need a little CRUNCH.
If you're feeling a little fancier than sticking your hand in a plastic container, this granola would be a great topper to yogurt, oatmeal, smoothies, or ice cream.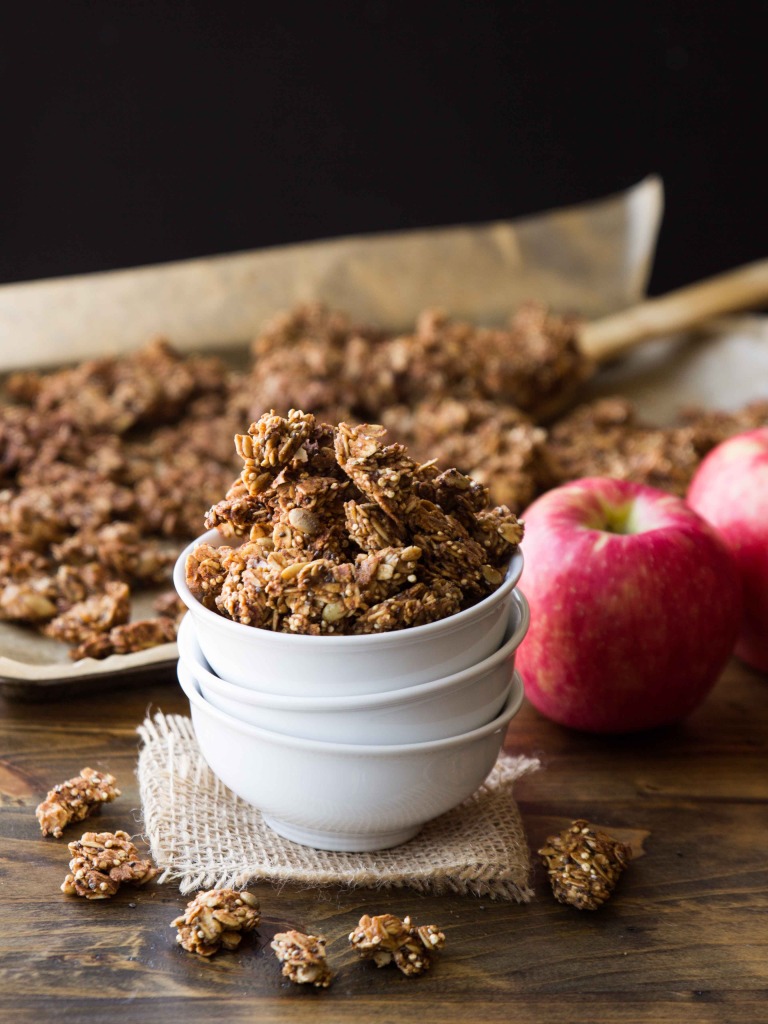 Clustered granola for life.
Caramelized Apple Cinnamon Cluster Granola
Caramelized apples, maple syrup, and a hefty dose of cinnamon bring the taste of fall to each crunchy cluster of granola. Sweet, spicy, and filled with goodness!
Yield: 10-12 servings
Prep Time: 15 minutes
Cook Time: 40 minutes
Total Time: 55 minutes
Ingredients:
5 tablespoons coconut oil, divided
2 apples, peeled, cored, and cubed
1/2 cup brown sugar
1/4 cup maple syrup
1 tablespoon vanilla
3 cups old-fashioned rolled oats (gluten free, if desired)
1/2 cup quinoa (not cooked)
1/4 cup hulled pepitas (pumpkin seeds)
2 tablespoons chia seeds
1 1/2 tablespoons ground cinnamon
1/2 teaspoon sea salt
Directions:
Preheat oven to 325 degrees.
Melt 2 tablespoons coconut oil in a saucepan over medium heat. Add the apples, then sprinkle on the brown sugar. Cook, stirring occasionally, until the apples are tender and release juices (about 10-12 minutes).
Place the cooked apples and juices in a blender along with the remaining coconut oil, maple syrup, and vanilla. Blend until super smooth.
In a bowl, stir together the oats, quinoa, pumpkin seeds, chia seeds, salt, and cinnamon.
Pour the apple mixture into the dry ingredients, and stir until combined. Spread into an even layer on a parchment-lined baking sheet.
Bake for 35-45 minutes, rotating the pan once to ensure even baking. Do NOT stir if you want clusters in your granola. Let cool completely before breaking apart into clusters and storing.
Serve with almond milk, eat alone as a snack, or use as a topping for yogurt or ice cream!
12 Responses to "Caramelized Apple Cinnamon Cluster Granola"
Pingback: 10 Fall Pumpkin Breakfast Recipes