Red, White and Blueberry Crisp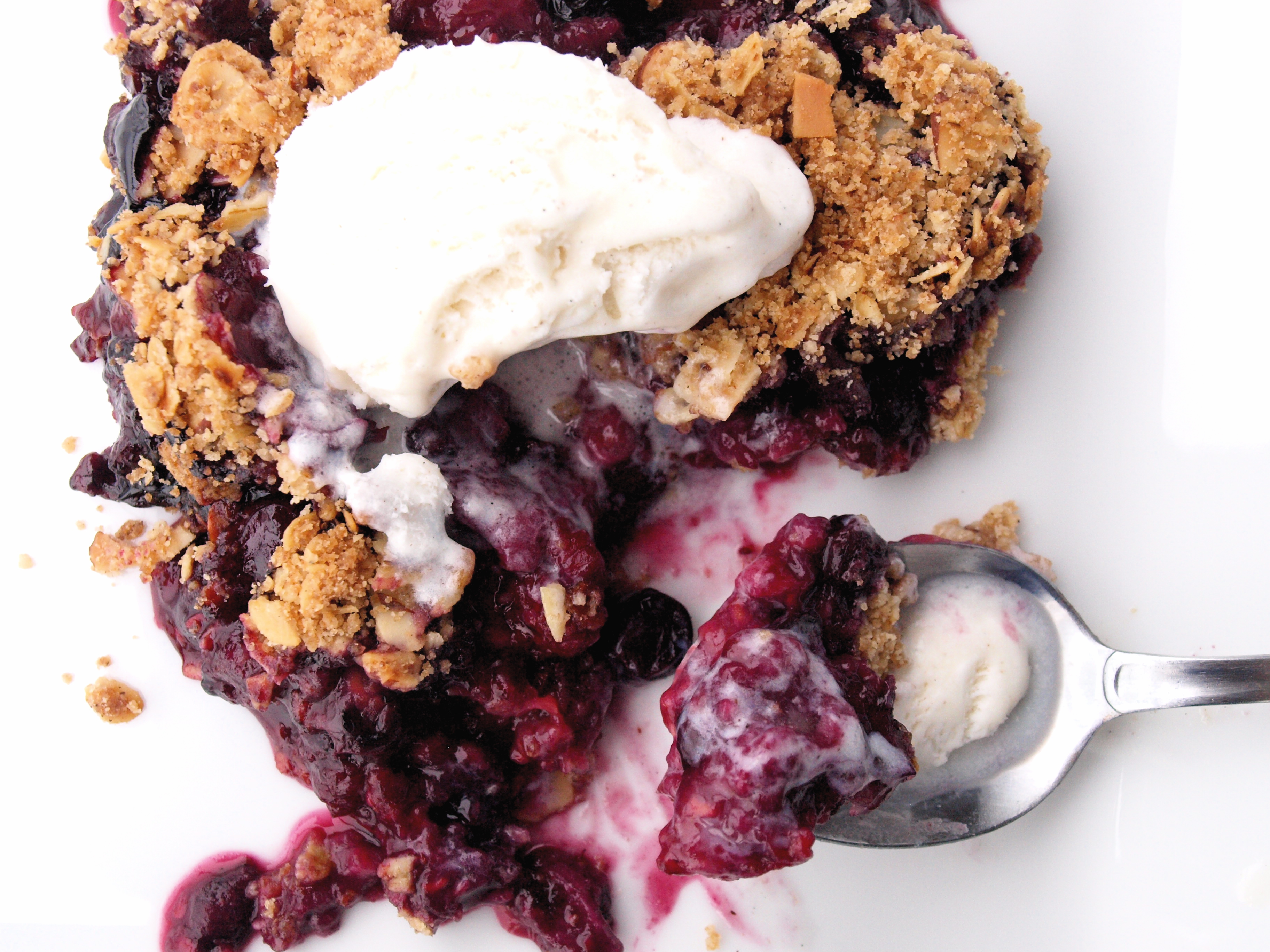 This weekend had some ups and downs. Not in temperature or humidity, of course, as those just kept going up, up, and away. Sure, it was beautiful, sunny, and full of skin-burning loveliness, but it was also the weekend when I started to move my stuff from my apartment to the boy's place. This is a great thing, yes, but what is NOT great is that I currently live on the third-floor of a brick building with absolutely zero air conditioning. Not even a window unit, because in all my cockiness I thought, "Psh, I'm moving out in July, I don't need to pay $25 for someone to install my air conditioner. I'm stronger than that."
I'm not stronger than that. That was a mistake.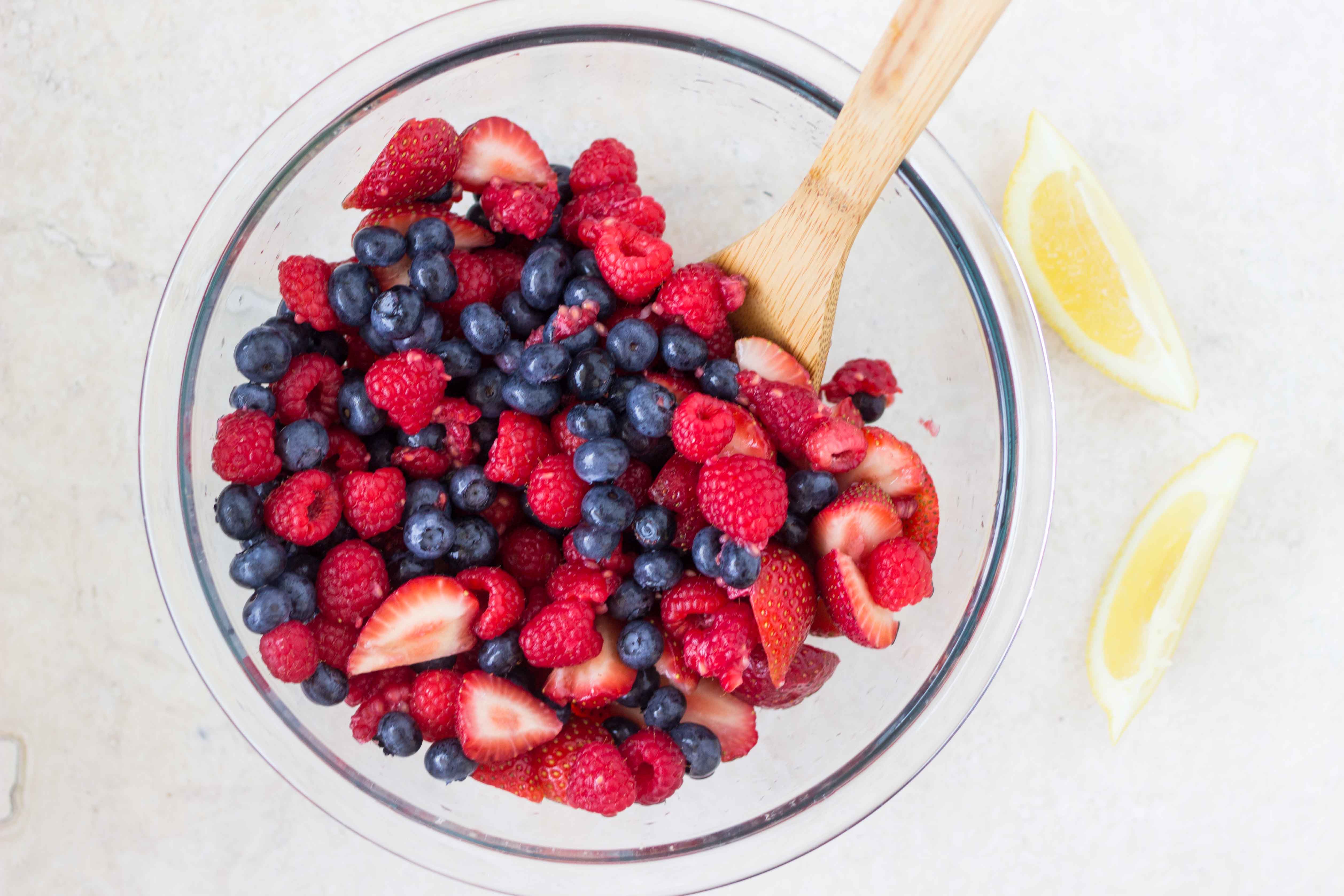 The air was heavy, the floor was hot and moist, and the fans were just turning their heads in vain. We were productive, sure, but also…thirsty. So very thristy. I wanted all the water in the world, and something refreshing and sweet. Yes, I wanted dessert, because even when nearing heat-stroke I'm still me.
So when I finally got in his (/my new) central-air-conditioned home, I deemed it dessert time. Fruity, fresh, and weather-appropriate dessert time, that is, and something likely involving ice cream. Yes, that is what I needed. And a cold glass of Chardonnay on the rocks. This, my friends, is the key to hot-weather happiness. Fact.
Sweet, slightly tart, gooey perfection, with melty ice cream just making a mess of the whole thing.
I made this late on Sunday afternoon, and it took all my strength not to eat the entire "photo shoot" piece before dinner.
So then I ate half of it.
…Okay maybe a little more than half.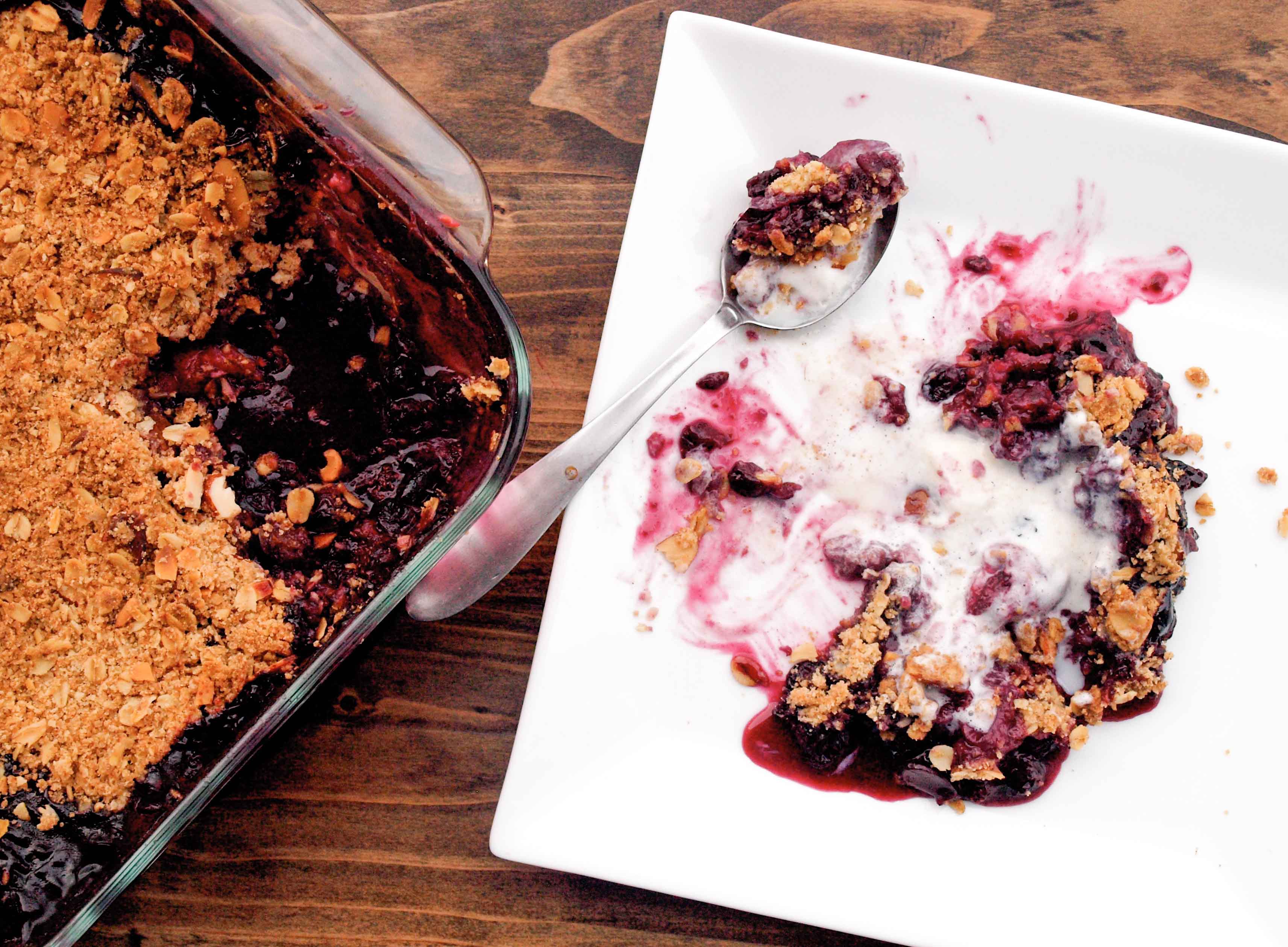 If I had waited a few days, this would have been a perfectly patriotic dessert to have on the Fourth of July. After all, it's got the red, white, and blue covered, plus it's filled with refreshing berries and covered in ice cream. If that's not a celebration of mid-summer then I don't know what is.
But let's be real, that wasn't the point here. I wasn't thinking straight. The heat had gone to my head and a selfish fruit and sugar craving had overtaken my common sense.
Red, White and Blueberry Crisp
A fruity, sweet, and tart berry crisp perfect for hot summer days. Easily adapted to be vegan.
Author: Katie of Veggie and the Beast
Recipe type: Dessert, Summer
Serves: 9-12
Ingredients
1 pint blueberries
2 cups chopped strawberries
1 pint (aka two ½ pints) raspberries
½ cup granulated sugar
1 tablespoon cornstarch
1 teaspoon vanilla
1 teaspoon fresh lemon juice
¾ cup all-purpose flour
¾ cup old-fashioned oats
¾ cup slivered almonds
½ cup (packed) light brown sugar
½ teaspoon ground cinnamon
¼ teaspoon ground nutmeg
7 tablespoons unsalted butter (or vegan margarine), chilled and chopped into small chunks
Instructions
Preheat your oven to 375 degrees.
Combine the berries, cornstarch, sugar, vanilla, and lemon juice in a bowl. Pour into an 8x8-inch baking dish.
Mix together the flour, oats, almonds, brown sugar, cinnamon and nutmeg. Use a fork to start mixing in the chunks of butter, then get in there with your hands and incorporate the butter fully. Pour the streusel topping on top of the berries.
Bake for 1 hour, until golden on top with bubbly berry goodness underneath.
Allow to sit for 10-15 minutes before digging in, then serve with vanilla bean ice cream (you know, if you want).
Summer heat can drive a girl insane, but you just need to know your own quick fixes. In my case, triple berry crisp. Done and done.
7 Responses to "Red, White and Blueberry Crisp"