Zen-Inducing Vegetarian Chili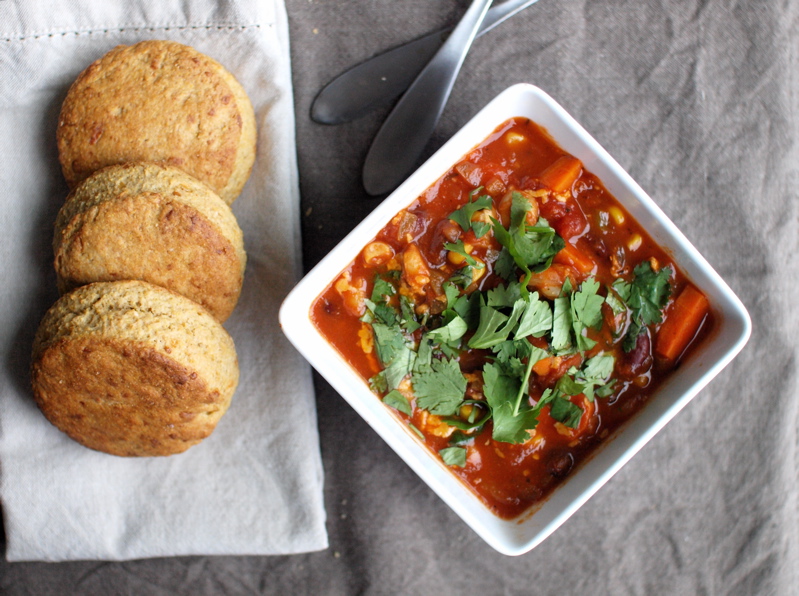 There are some times when you just need a bowl of comfort. Like last week, for example, when I decided to go to a Yoga Sculpt class all by myself for the first time. For the past month or so I'd been going with my sister to the classes. In the first class I got sick (literally in the middle of the class), but after that every class seemed to get easier. I figured it helped that I was prepared and knew what was coming, but I also falsely convinced myself that the classes were getting easier because I was getting SO STRONG.
They weren't getting easier. I wasn't getting stronger. In fact, this one lonesome time last week, I voluntarily walked into the hot, fiery, sweaty hell of my nightmares. 15 minutes in, I began thinking of my favorite CraigsList ad, and then after that slight amusement the hard reality set in: I had no way out, the walls were tightening…and my neighbor seemed to be inching closer…and did he just fling SWEAT at me? Oh no he didn't…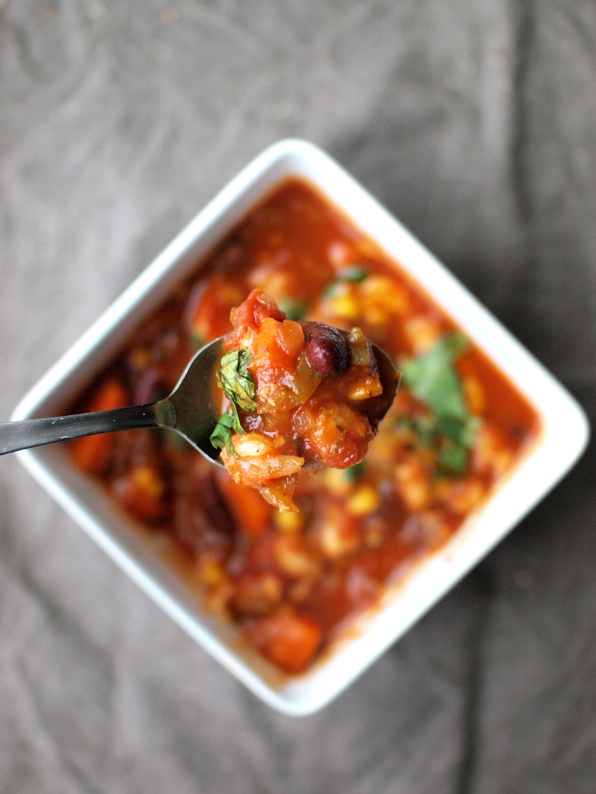 As the minutes (hours?) baby-stepped by, I looked around and wondered if any of my classmates were contemplating a revolution. This instructor clearly had no intention of letting us out…ever. We must do something, I thought. We must.
After my mind finally numbed itself to some of the pain, I found a light at the end of the tunnel (I even realized at the time that assuming there would be an "end" was optimistic). The hot torture chamber happened to sit across the street from one of my favorite restaurants, with my favorite chili, just waiting to be taken home. I promised myself that if I made it out alive, the first thing I would do is faceplant into that bowl of chili.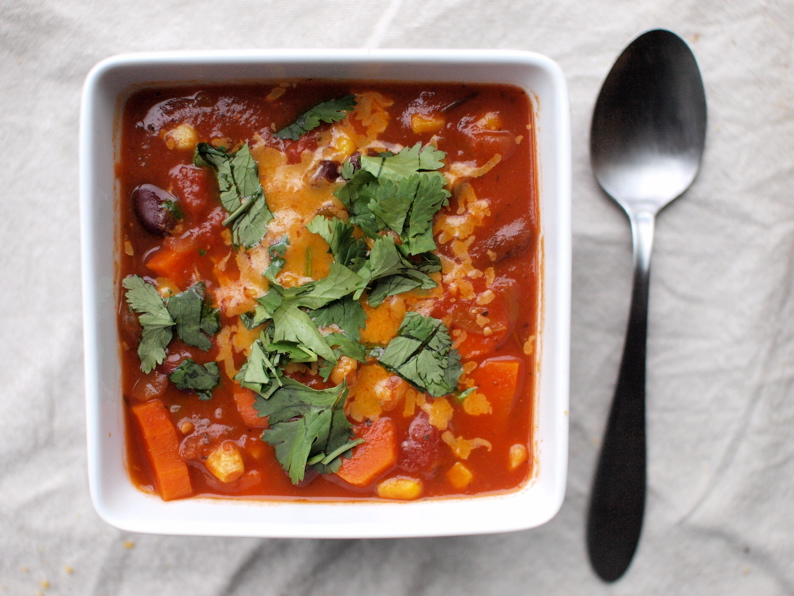 After finally leaving the class, my legs felt like Jell-o and my hands would not stop shaking. I sent the boy a text that said, "Just leafing the gardens workout ass ever." I noticed my typos just before pressing send, but didn't bother correcting the message. He'd get the idea, and I couldn't fathom expelling any more energy, even through my fingertips.
Just so you know, this class really was hard. I know because I'm strong and stuff, so otherwise I wouldn't have thought it was hard. Yeah, that's me…super strong and not a sissy.
This chili is truly attitude-altering, and the thought of it will power you through even the most awful of awful things. It's warm-your-soul food with a thick tomato base, and just enough of a spicy kick mixed with a blend of chunky veggies and beans. I devoured the bowl in approximately 4 minutes, and immediately felt my mood turn around, as my body reverted back to its normal and less achy/shaky self.
After this chili saved my life last week, I realized I needed to find a recipe to have on hand in case the need for comfort hit when my go-to chili restaurant was not convenient. I found the restaurant's Chicken Salsa Chili recipe online, then played around a bit until it matched my memory of the restaurant's vegetarian version. The outcome was a stick-to-your-ribs hearty bowl of warm-your-soul goodness.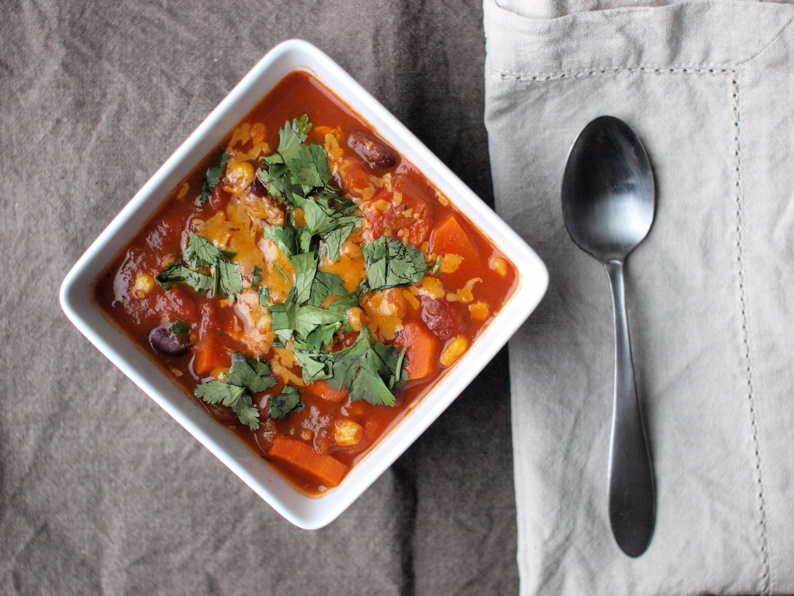 The hardest part of this recipe is the patience it requires. It's super quick to put together, but then you need to let it simmer. The longer the soup simmers, the more it will thicken, the more the flavors will blend, and the more awesome it will be when poured into your bowl. Think of what a yogi would say…probably something like "The concept of time lies only within the mind…know you are stronger than you think you are. Do another downward facing dog to rest and regain your strength" – okay guys…am I the only one who rolls their eyes when an instructor calls downward facing dog a "rest" position? Downward facing dog does NOT feel restful, so let's stop lying to ourselves and just curl up in child's pose dreaming of soup. Word?

Hearty Vegetarian Chili
Inspired by Cafe Latte.
Serves 6-8.
3 tablespoons olive oil
2 cloves garlic, minced
1 1/2 cups yellow onions, chopped
2 large carrots, peeled and sliced
1 green pepper, chopped
3 celery stocks, chopped
1 fresno pepper, diced
3 cups vegetable stock
1 teaspoon kosher salt
1/4 teaspoon black pepper
1/2 tablespoons ground cayenne
2 teaspoons cumin
1/2 tablespoon dried oregano
2 teaspoon dried rosemary
1 tablespoon vegan worcestershire sauce
1 can (28 ounces) whole tomatoes, broken up (NOT drained)
1 can (28 ounces) tomato puree
2 15-ounce cans dark red kidney beans, drained and rinsed
2 15-ounce cans hominy, drained and rinsed
1/3 cup chopped fresh cilantro (for topping)
Sharp cheddar (optional, for topping)
Process
Heat the oil and garlic in a large saucepan. Once the garlic is fragrant (but not burned), add the onions and cook until they're translucent, about 3 minutes.
Add the carrot, celery, and green pepper to the pan, and let the veggies cook down for 5-7 minutes, until softened.
Pour in the broth, tomatoes, tomato purree, beans, hominy, cumin, oregano, rosemary, cayenne, and worcestershire sauce. Reduce the heat to low, cover, and simmer for 2 hours.
Top with shredded cheese and cilantro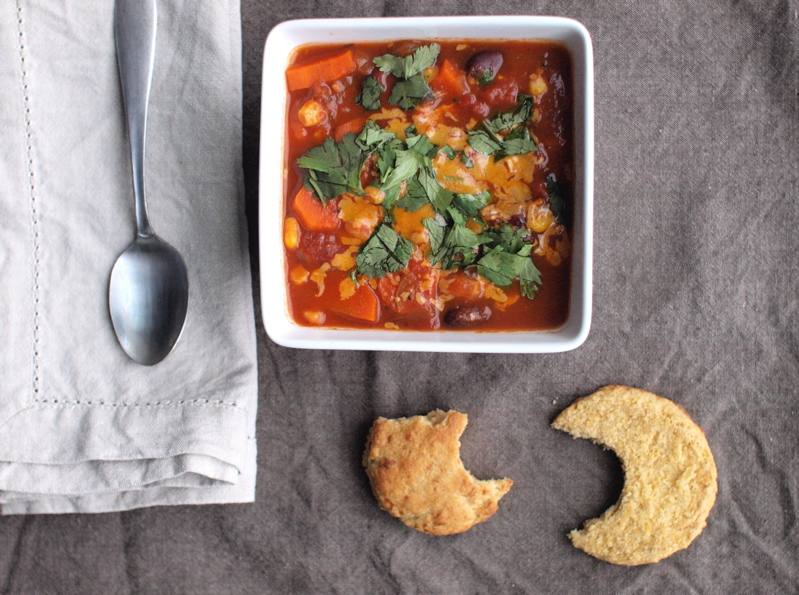 Sunday was a dark, dreary day in Minneapolis, so this soup filled my comfort needs perfectly. It was like giving myself a big food hug. To bump up the comfort factor this weekend, I made some cheesy cornbread biscuits to go along with the chili. More on that later this week. For now, curl up in your favorite restful position of choice and wait patiently. For me, this restful position is indian-style on the couch with a pillow behind me and on my lap. Maybe it's downward facing dog for you, but if it is, I want you to know that I'm judging you right now.
4 Responses to "Zen-Inducing Vegetarian Chili"