Banana Peanut Butter Coffee Cake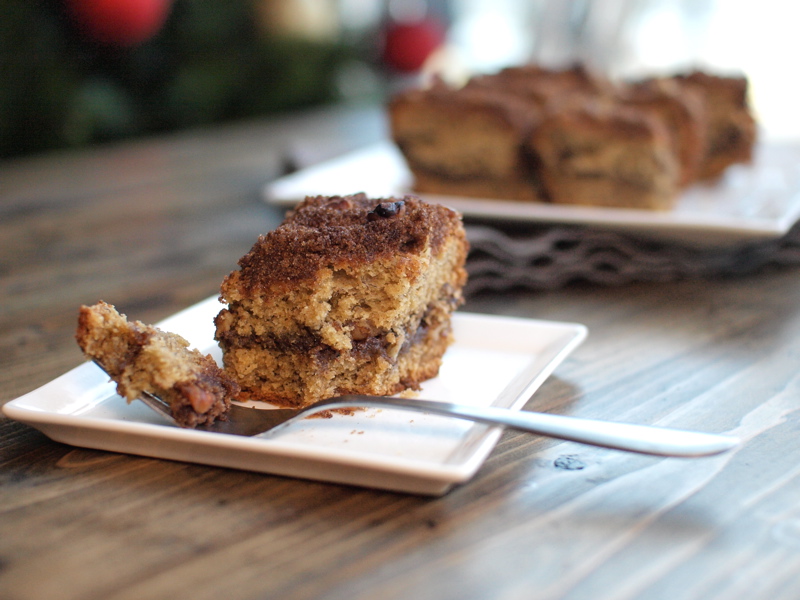 Let's talk about what happens around Christmas. Namely, let's talk about how sugar is EVERYWHERE. Cookies, truffles, and Bailey's-spiked cocktails line tables at Christmas parties. Families get together to make traditional goodies while licking fingerfuls of frosting. Coworkers bring treats into the office to spread the holiday cheer (guilty…).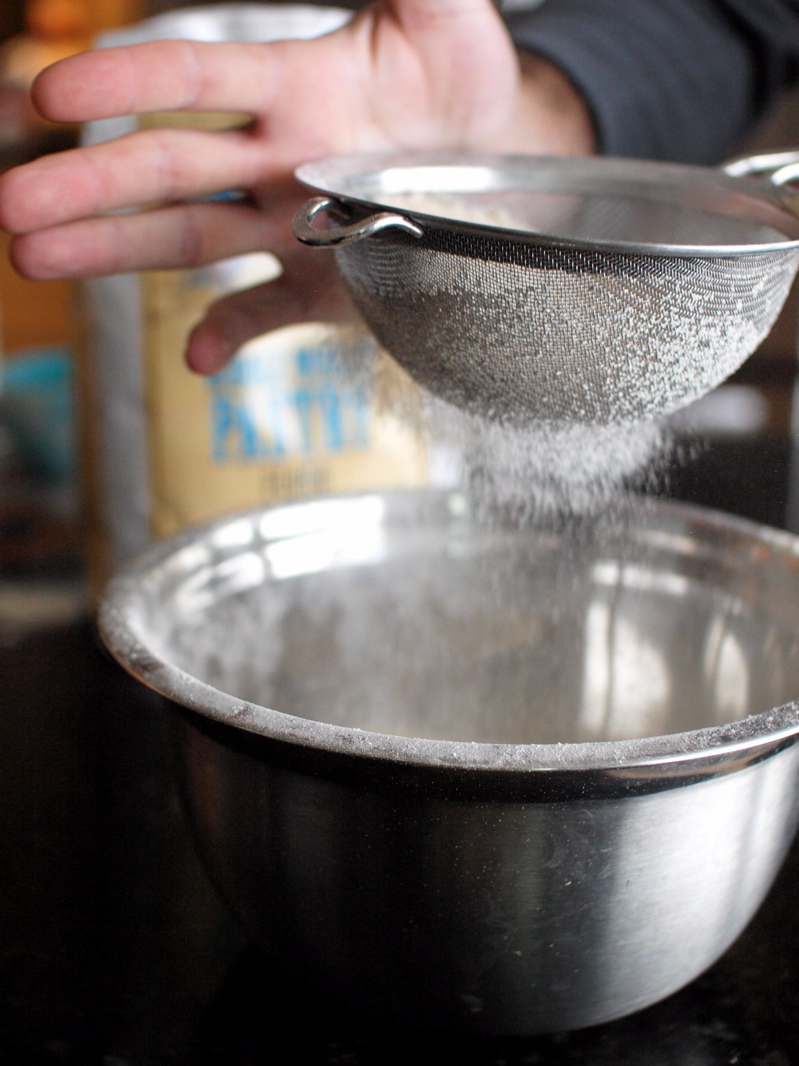 With sugar sprinkling its love all over the place, 'tis the season to add a bit of sweetness to every meal. For instance, my dinner on Saturday consisted of tortilla chips, cashews, and frosted sugar cookies. Yesterday my planned breakfast of oatmeal sat rejected next to the large caramel roll my boss brought in for me, and today I started my day off with this magical coffee cake.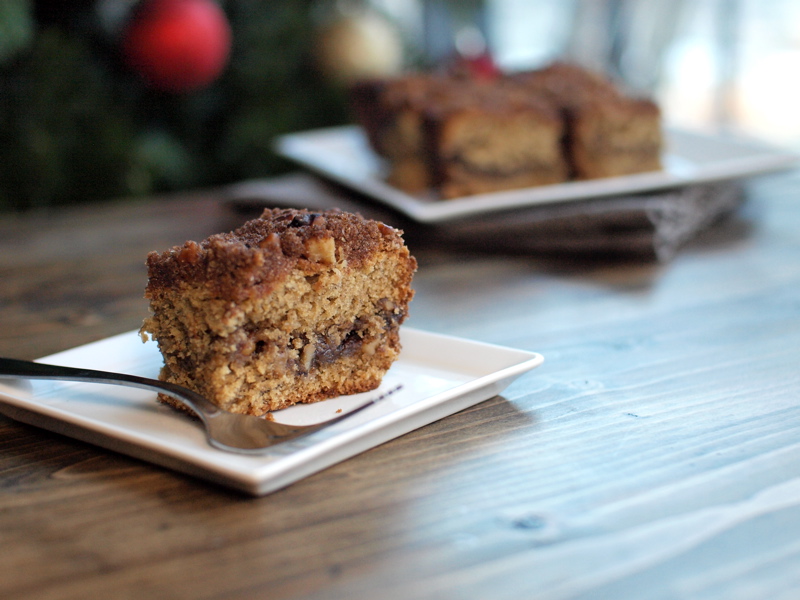 I love that coffee cake's name even implies that it belongs at breakfast. When do you drink coffee? In the morning. When do you eat coffee cake? In the morning. Logic.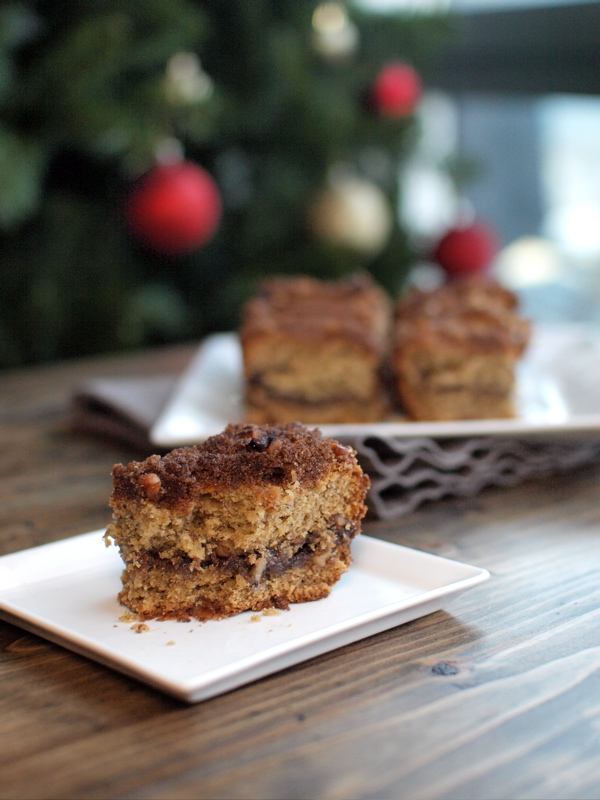 This cake brings together some of my favorite breakfast foods: banana, peanut butter, and, well, cake. Banana and peanut butter play off each other perfectly while keeping the cake moist, the cinnamon and brown sugar filling add just enough sugar and spice, and the walnuts add a bit of crunch. Totally legit breakfast.
Banana Peanut Butter Coffee Crumb Cake
Adapted from Epicurious.
1 cup (packed) light brown sugar
3/4 cup chopped walnuts
2 tablespoon ground cinnamon
1 1/2 cups whole wheat pastry flour
3/4 teaspoon baking soda
3/4 teaspoon baking powder
1/4 teaspoon salt
3/4 cup sugar
1/2 cup unsalted butter, softened
1/3 cup creamy peanut butter (I used Skippy Natural)
1 large egg
3 over-ripe bananas, mashed
3 tablespoons buttermilk
Process
Preheat the oven to 350.
In a medium-sized bowl, combine the brown sugar, walnuts, and cinnamon. Set aside.
Sift together the flour, baking soda, baking powder, and salt in another bowl. Set aside.
In a large bowl, cream together the butter and sugar. Add the peanut butter and mix well. Beat in the egg until fully incorporated, and then mix in the bananas and buttermilk. Slowly add the dry ingredients.
Grease an 8×8-inch baking pan and lightly dust with flour. Pour half of the batter in the pan, and then sprinkle on half of the streusel mixture. Top with the rest of the batter, and finish off with the remaining streusel.
Bake for 45-55 minutes, until a toothpick inserted in the center comes out clean.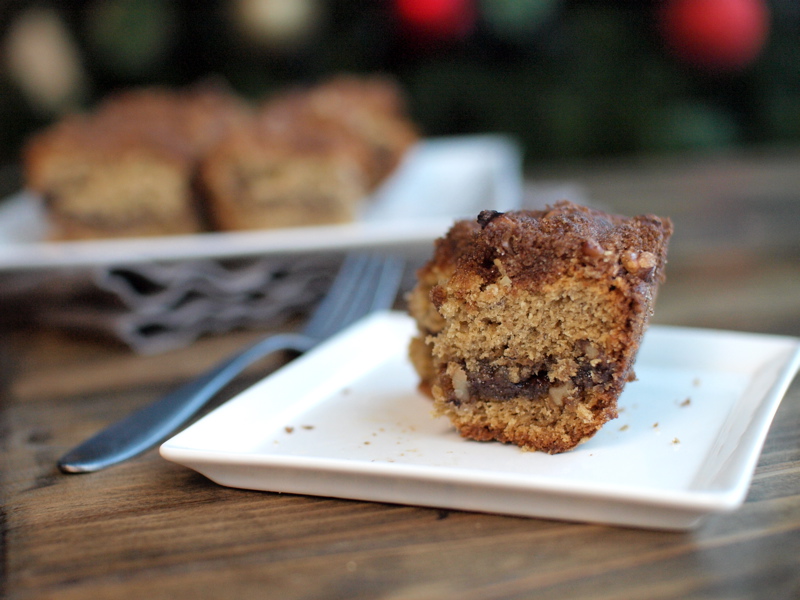 This coffee cake would work perfectly for Christmas brunch, right before you hit the cookies. Or after you hit the cookies…it's not unusual in our house to eat a cookie first thing Christmas morning. 'Tis the season, after all.
2 Responses to "Banana Peanut Butter Coffee Cake"