Goat Cheese Paprika Drop Biscuits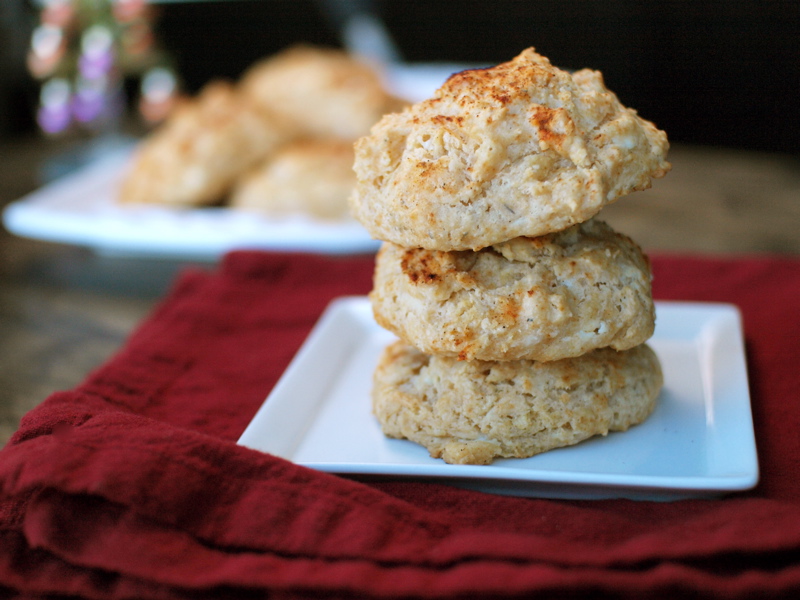 As I've mentioned before, I'm not someone who simply looks forward to Christmas. Nope, I allow Christmas to color my whole world for an entire month. The anticipation, the sparkly things, the music, the food, the MAGIC – I eat all that right up. Yes, I'm that girl, and you probably hate me.
Like a little kid, I could barely sleep on the eve of Christmas Eve this year. I knew the boy and I would wake up and kick off our Christmas festivities with a cinnamon-swirl french toast breakfast, Bailey's-spiked coffee, and the big reveal of whatever that mysterious box in the office held for me (note: in that order, but reversed – I have no patience).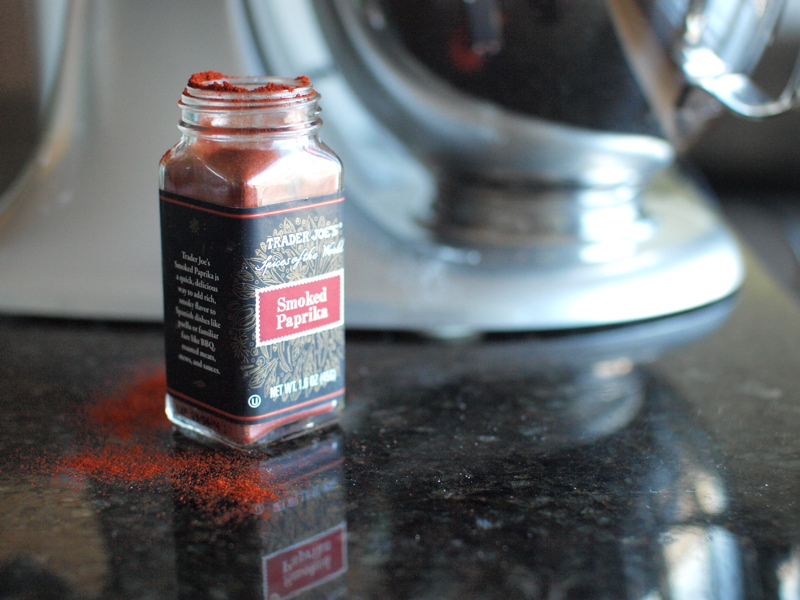 I had my suspicions/hopes/dreams about that box, but those didn't stop me from being knee-slapping, perma-smile, angels-singing happy when I saw the beautiful Kitchen Aid logo beneath the ripped wrapping paper.
The boy gave me the kitchen appliance to change all future kitchen experiences. Life would be different from now on. Life would be better from now on.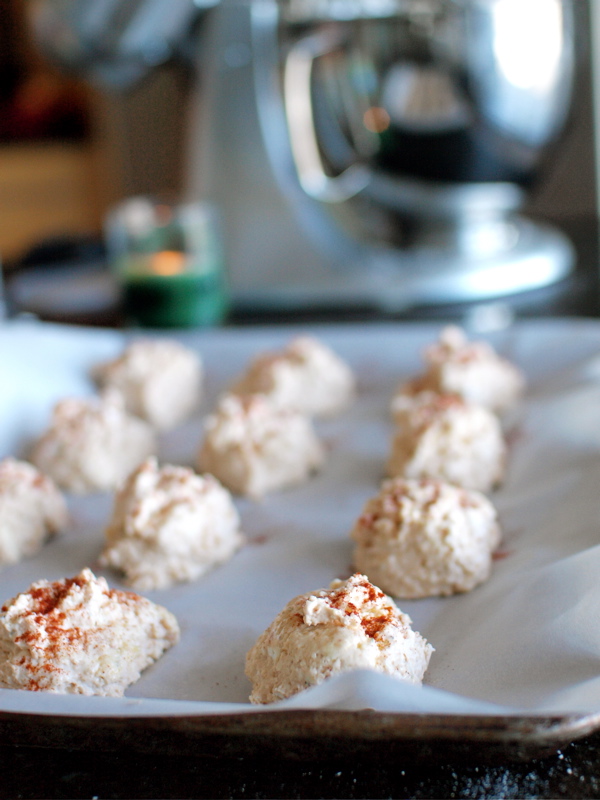 After using my new mixer to whisk up the french toast batter, I knew I needed more mixer bonding time before heading over to my parents' house. My mixer obsession collided with my new-found biscuit obsession, and magical things happened. I usually try to healthify my carbs, but these were Christmas biscuits, and you just don't mess with Christmas. So in honor of the season I set the whole wheat flour aside, made some fatty fatty Christmas biscuits, and did not look back.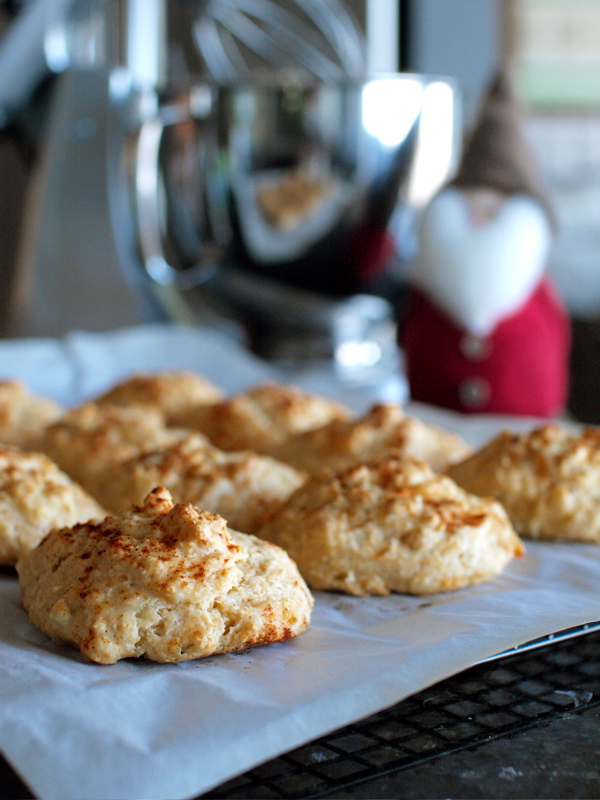 I realize the irony that I chose biscuits, since you can technically make biscuits with no mixer at all, but let's not scrutinize petty details. Instead, let's talk about how easy drop biscuits are. Like other biscuits, there's no rise time, but you also don't need to roll out the dough, or cut out the biscuits. You really just mix and DROP. Bam, biscuit deliciousness.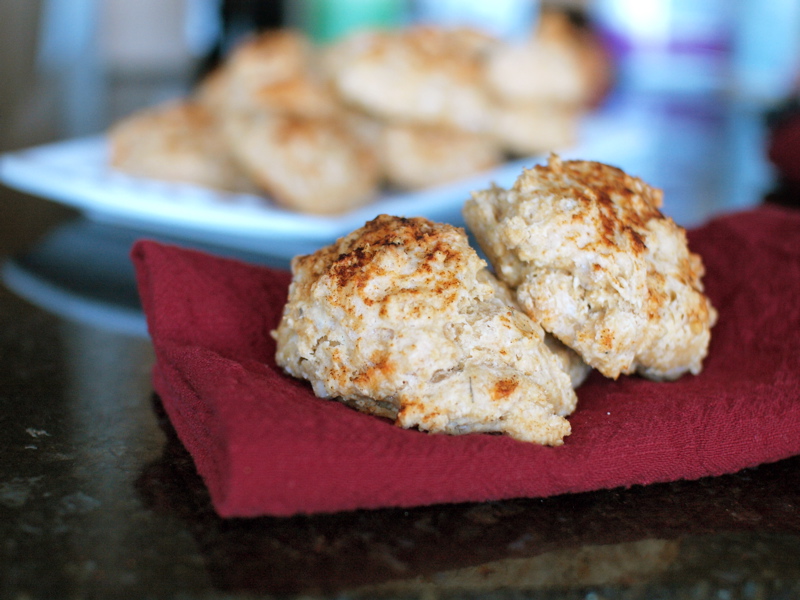 The flaky, buttery biscuits have a nice dose of smoky-yet-sweet paprika, and tangy goat cheese bits throughout. Although I love whole wheat carbs, the all-purpose flour really gives these a lightness that makes them melt in your mouth. They're the perfect side for a special dinner. Take Christmas, for instance.

Goat Cheese and Paprika Drop Biscuits (aka Fatty Fatty Christmas Biscuits)
Adapted from Joy the Baker.
Makes 24 biscuits.
4 1/2 cups all-purpose flour
2 1/2 teaspoon baking powder
1 1/2 teaspoons baking soda
1 1/2 teaspoons kosher (/coarse) salt
1 1/2 teaspoons sugar
1 1/2 teaspoons smoked paprika, plus more for sprinkling
1 teaspoon dried thyme
1/8-1/4 teaspoon black pepper
3/4 cup cold unsalted butter, cut into small cubes
6 ounces crumbled goat cheese
2 cups buttermilk
1 cup sour cream
Process
Preheat oven to 375.
Whisk together the flour, baking powder, baking soda, salt, pepper, sugar, paprika and thyme.
Cut in the butter and use your fingers or a pastry blender to work it into the dry ingredients until you have pea-sized butter pieces.
Stir in the goat cheese.
In a separate bowl, mix together the buttermilk and sour cream, and then pour into the dry ingredients. Stir until just combined.
Drop 1/4-cups of dough onto a parchment-lined baking sheet, and sprinkle with more paprika. Bake for 15-20 minutes, rotating the baking sheet halfway through.
Transfer to a cooling rack for a few minutes, then enjoy! Best served warm, but yummy when cold as well.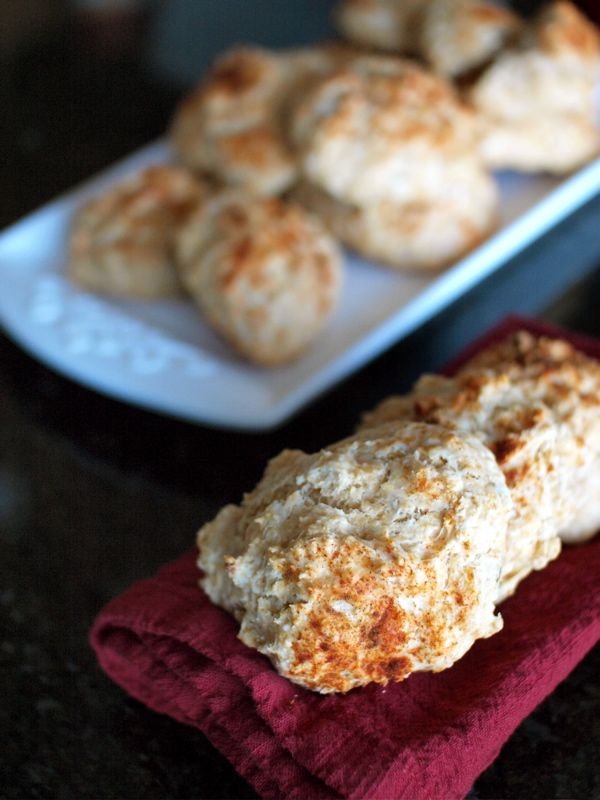 This recipe makes a whoooole lotta biscuits, so feel free to cut it in half if you'd like. I, however, am not one to complain about being left with extra Fatty Fatty Christmas Biscuits. For a Christmas enthusiast like me, the end-of-Christmas letdown brings with it a need for comforting carbs, and oh-me-oh-my do these fit the bill.
3 Responses to "Goat Cheese Paprika Drop Biscuits"
Pingback: Holiday Beef Brisket and Recipe Roundup - The Heavy Table - Minneapolis-St. Paul and Upper Midwest Food Magazine and Blog