Brown Butter Quinoa Monster Cookies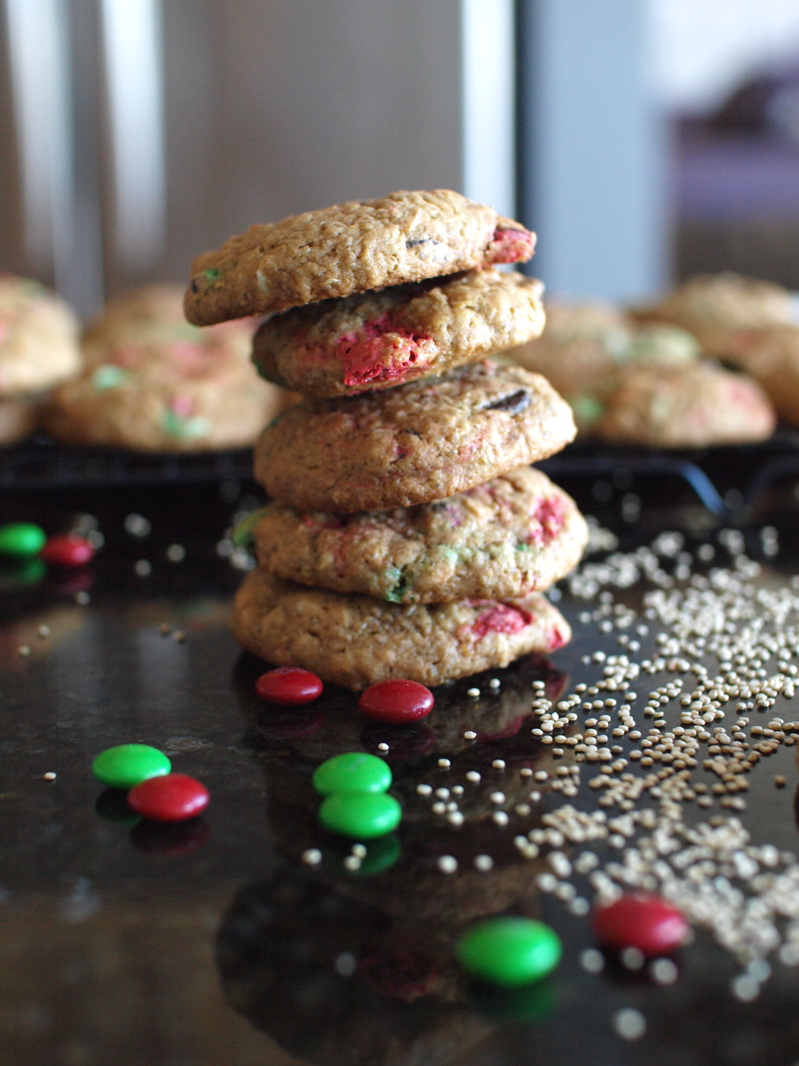 Today's a big day. Today's the day when I venture into my "late" twenties. No more of this, "I can't believe I'm in my early twenties!" or "My mid-twenties are flying by!" It's no longer cute or funny that my automatic, knee-jerk reaction to the question,"How old are you?" is often an immediate response of "18." Nope, now I'm a girl who's basically 30. Well in 3 years anyway. This is troubling. This calls for cookies.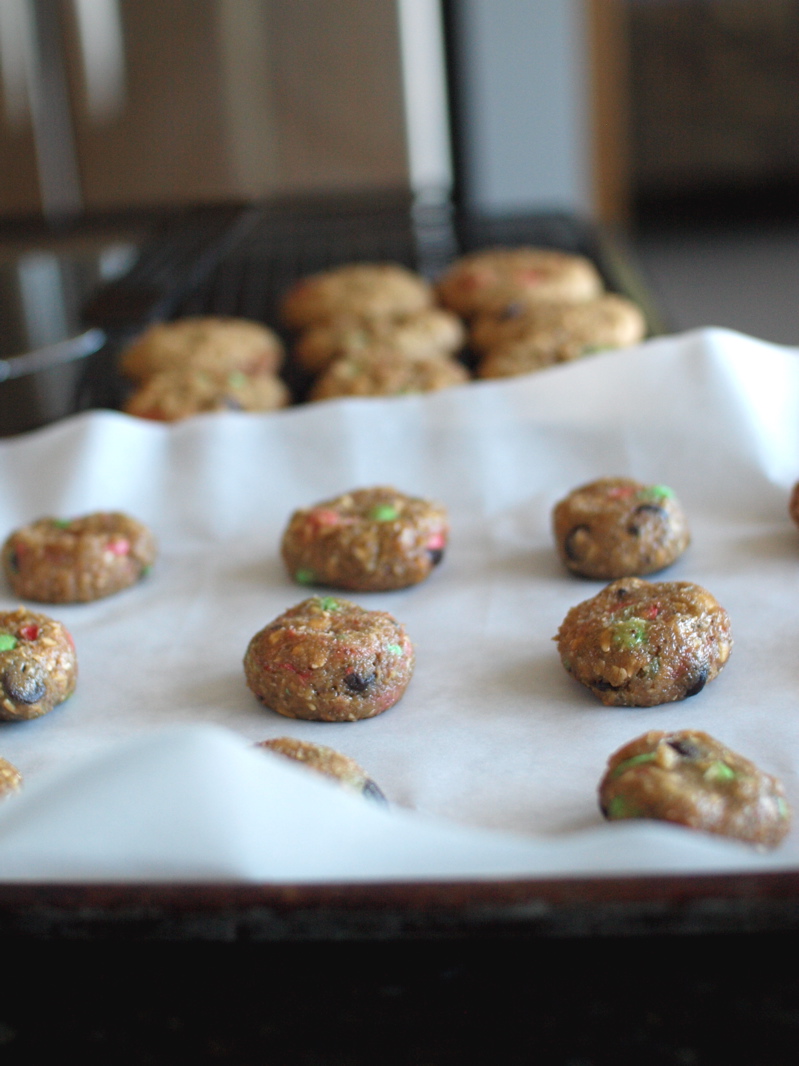 My family makes a big deal of birthdays. Within an hour of waking up I'll get text messages from my family members saying, "Happy Birthday!!!!!!!!!!!!!!!!!!!!!!!!!!!!!!!!!!!!" and at exactly 8:31am I'll receive a message from my mom, and/or a call from my dad, saying "You're officially [insert age here]!!!!" Yes, we're over the top, but I love every bit of it.
The day-long excitement culminates after dinner when we feast on dirt cake, out of the bucket, served with a shovel. Yes, it's a dessert for kids, but this will be what I eat on my birthday until I'm elderly and diabetic.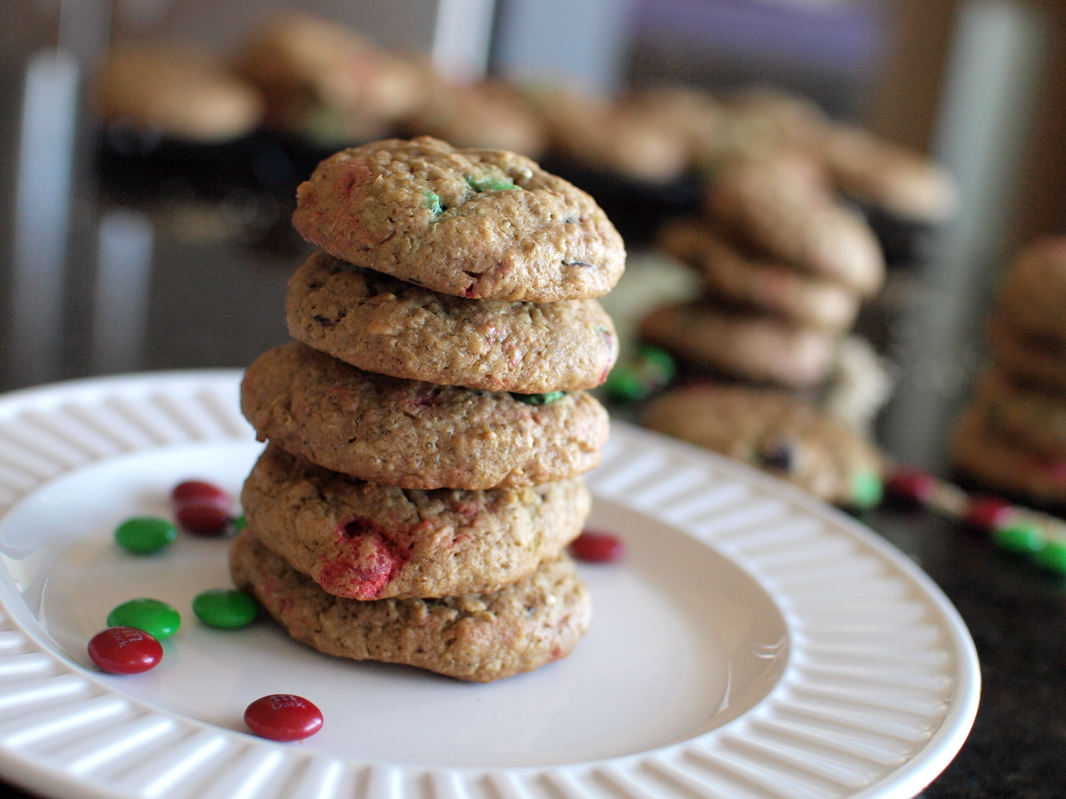 Dirt cake may be the birthday dessert of choice, but birthdays don't include just one treat throughout the day. Waiting for sweets until after-dinner is unnecessary restriction. Birthdays call for treats all. damn. day. So, to fulfill the day-long sugar craving, I played around with monster cookies to create a fun day-of-birthday treat.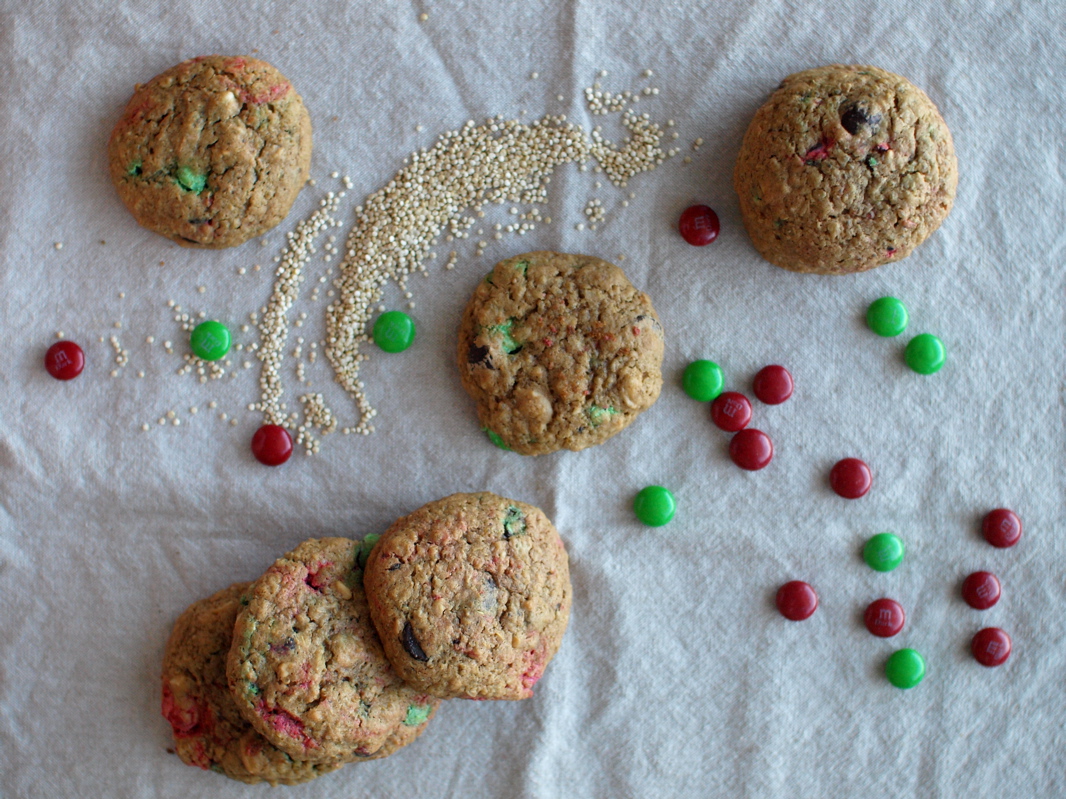 I texted my mom about these cookies and she said, "Um…but they are cookies? Crab cakes are called 'cakes' but we know they're not." This woman has no faith in my experimentations. So maybe I put quinoa in my cookies…what of it? Quinoa has a fun texture, nutty flavor, and it's so good for you (but that's not the point here). Normal monster cookies are made with old-fashioned oats, which my mom also would not approve of – "Why are you trying to make a cookie healthy? It's a COOKIE." You can't win with this lady unless you stick to the straight and narrow, so why not make these cookies truly ridiculous in her eyes? It's my birthday, after all (and in my family the birthday girl always gets her way).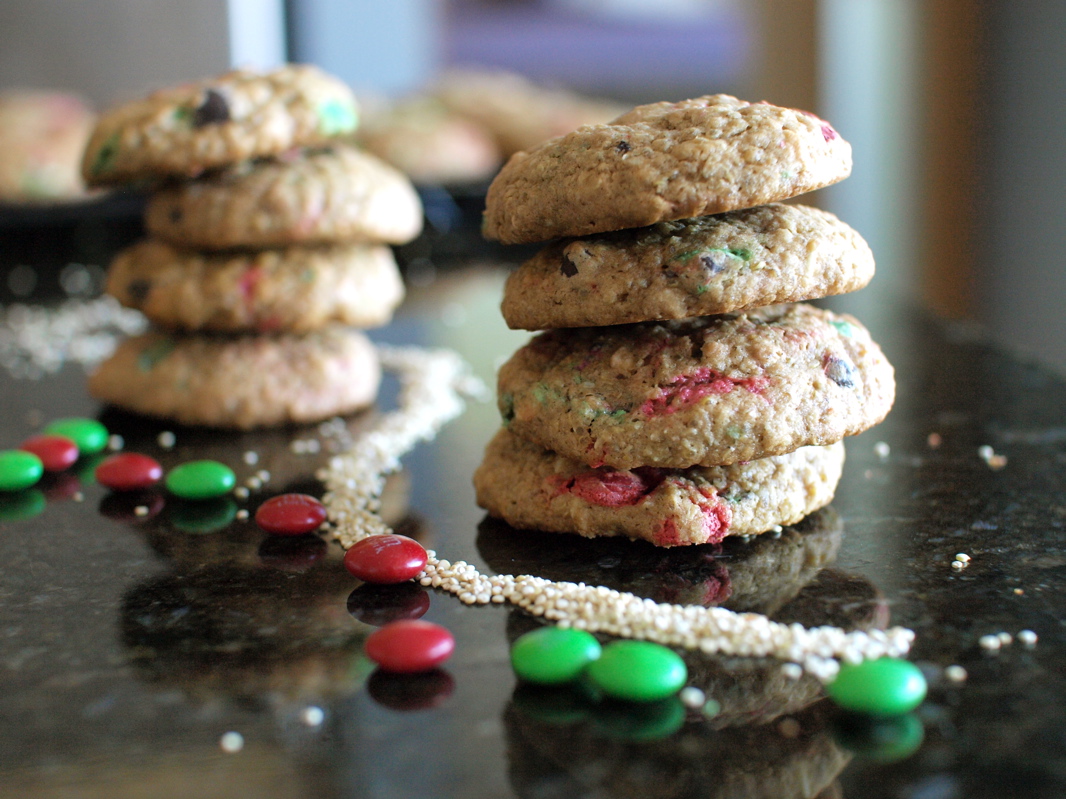 What we have here is a cookie with all kinds of fun flavors and textures. Let's start with flavors: peanut butter (swoon), dark chocolate in two forms (double swoon), nutty quinoa and whole wheat flour, honey, caramel-y brown butter, and a hit of vanilla. As far as the textures, you get a crunch of both the cashews and chunky peanut, and the hearty chew of old-fashioned oats and quinoa.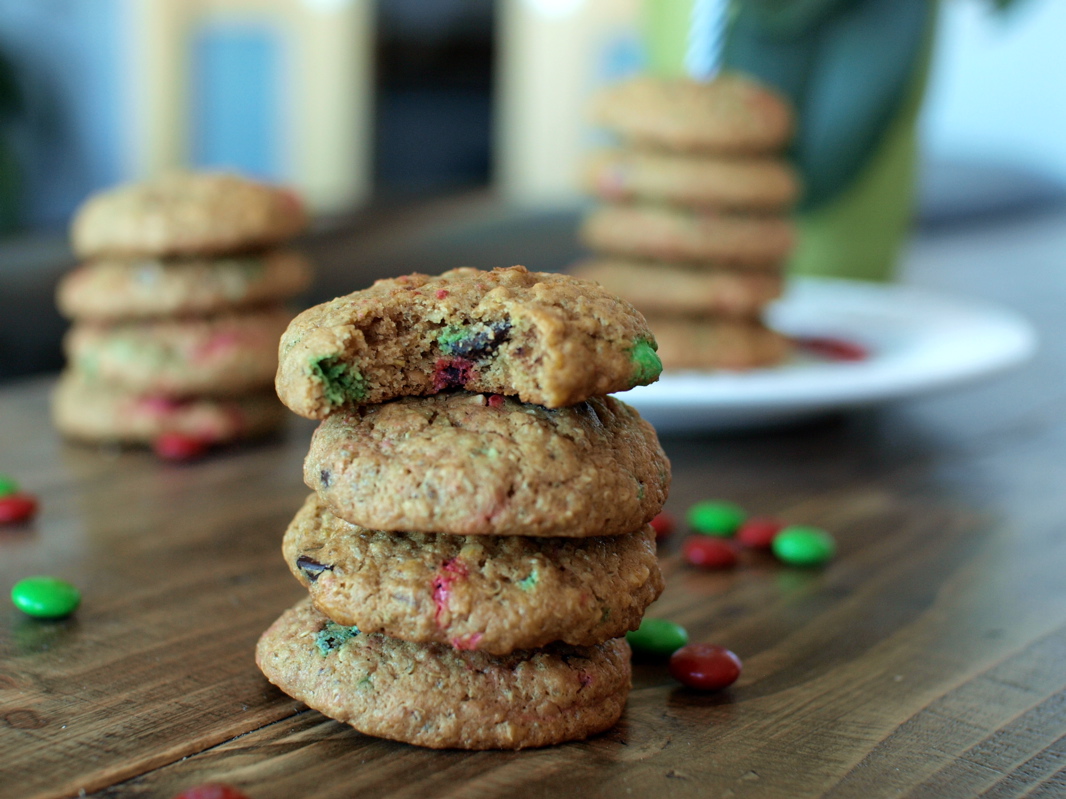 To clarify, these are BIRTHDAY cookies, not diet/healthy cookies (I mean really, see the description above). The quinoa and whole wheat flour are there to boost the nutty flavor and complement the cashews and peanut butter. If you want to replace the quinoa with more oats and use all-purpose flour, go for it (but you're missing the fun, fun killer).

Brown Butter Quinoa Monster Cookies
Makes 3 dozen.
Adapted from Brown Eyed Baker
2 eggs
1/2 cup sugar
1/2 cup light brown sugar
2 teaspoons vanilla extract
1 teaspoon baking soda
1/4 teaspoon coarse salt
2 tablespoons honey
1 stick (1/2 cup) unsalted butter
1 cup chunky peanut butter
1 1/4 cups rolled old-fashioned oats
1 1/4 cup cooked quinoa
1 1/4 cup whole wheat pastry flour
1/2 cup roasted salted cashews, roughly chopped
1 cup dark M&Ms
1 cup dark chocolate chips
Process
Preheat oven to 350.
Brown the butter:In a small saucepan, melt the butter. Whisk constantly until you see some brown specks appear in the bottom of the pan. Remove from heat and continue whisking for 30 seconds. Set aside and let cool.
Beat eggs together in a large mixing bowl. Add both sugars, vanilla extract, corn syrup, baking soda and salt, and mix well. Stir in the melted butter and peanut butter, followed by the oats and quinoa.
Add the flour, 1/4 cup at a time.
Stir in the chocolate chips, M&Ms, and cashews. Refrigerate for at least 30 minutes.
Scoop out 1/4 cup of dough, tear in half, and form balls. Place on a parchment-lined baking sheet. Bake for 11-13 minutes.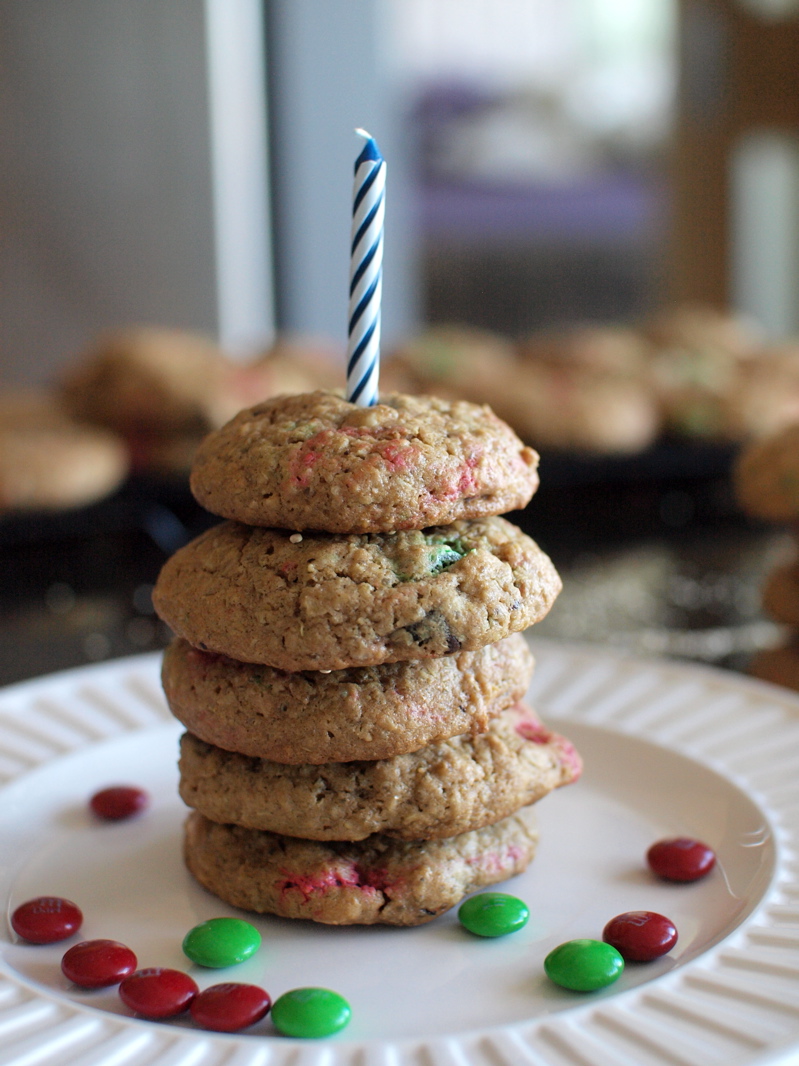 Although these aren't straight-up "health" cookies, I totally support eating these cookies for breakfast and justifying it because they are, after all, whole grain. Also I just used this reasoning about an hour ago, so I think we should be friends. My mom wouldn't approve, but she doesn't have to know.
4 Responses to "Brown Butter Quinoa Monster Cookies"
Pingback: 25 Quinoa Dessert Recipes