Tomato Basil Cous Cous Soup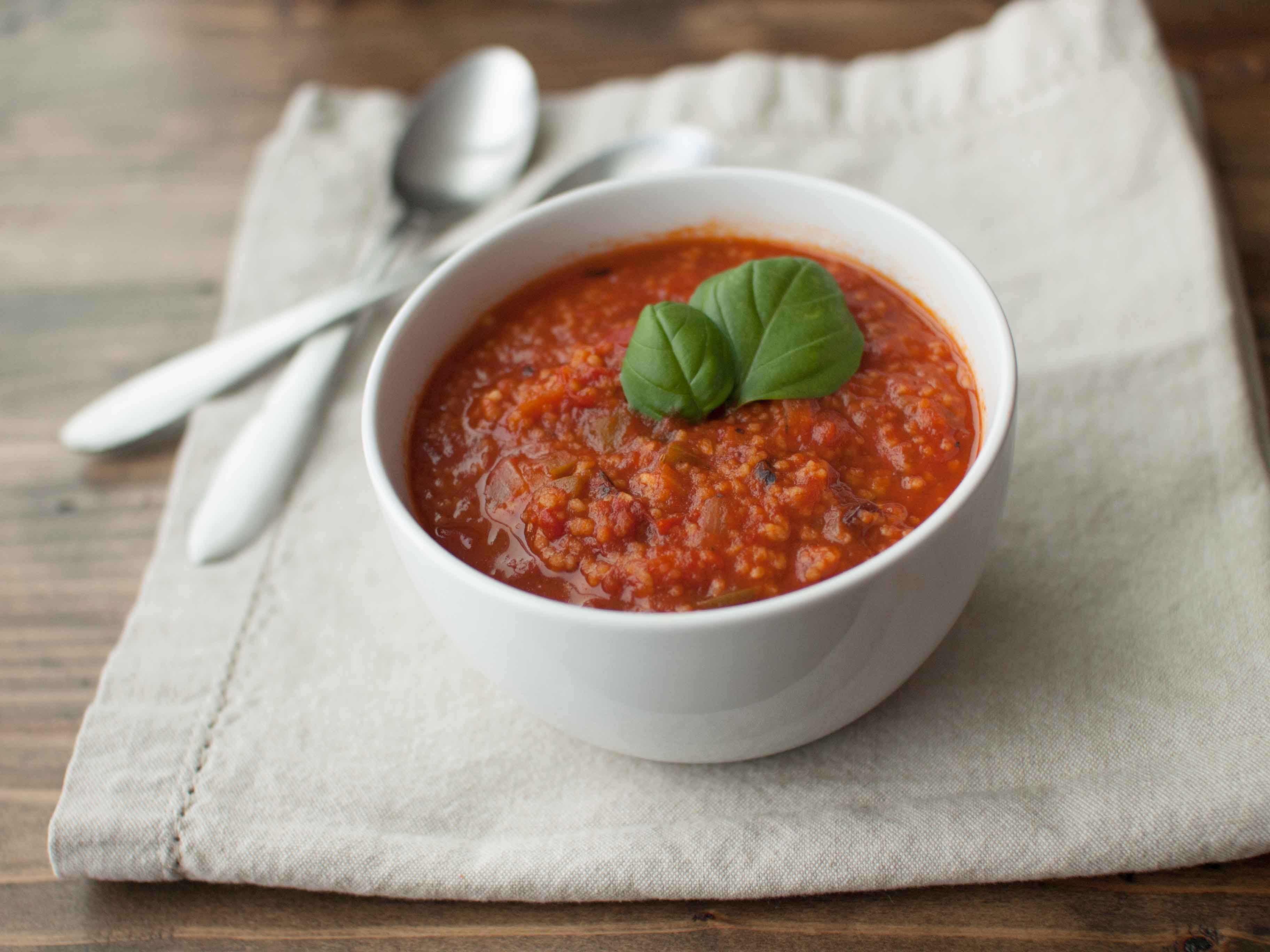 What is it about being sick that makes soup so appealing? When I start getting sick, I deny it for as long as possible. "It's allergies," I'll say, or "My throat's a bit scratchy; it must be dry in here," etc. Once I come to terms with my situation, however, I have no shame. My parents taught me to totally and completely baby my sick self: sleep, TV, tea, and (this part is crucial) soup.
Last week, the Beast and I came down with matching illnesses. It was super cute (/disgusting). His sickness appeared 12 hours before mine, so I had the fortune of viewing my future ailments before they hit. Once I made the connection that my runny nose and my sore throat were directly correlated with the Beast's symptoms, I lived in constant fear of my impending discomfort.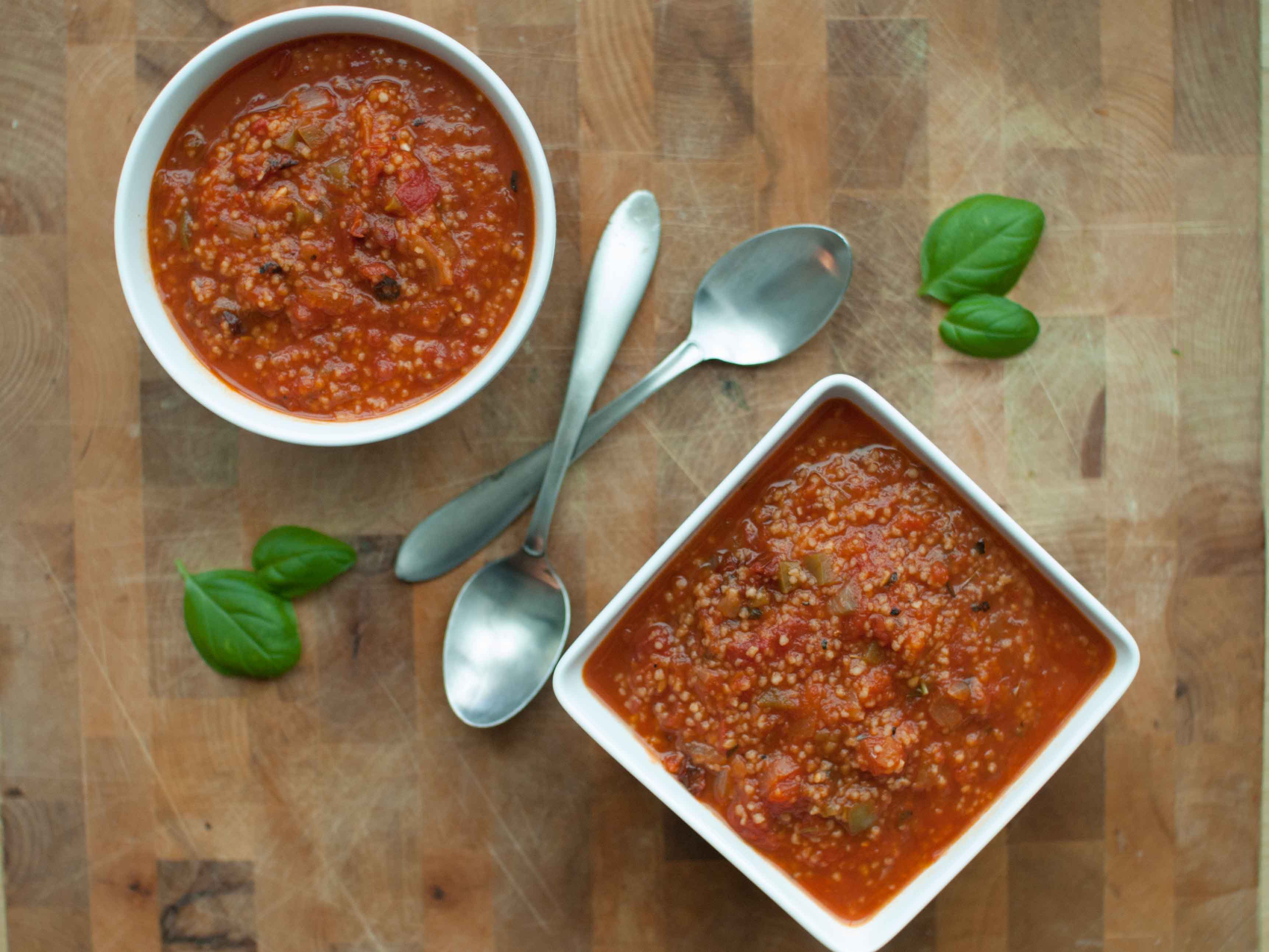 Over the weekend, our lackluster immune systems kept us indoors for far, FAR too long. Desperate to get out of the house, we ventured across the street for lunch on Saturday afternoon. Halfway through our jaunt, we had to huff and puff up two flights of stairs, and nearly turned around out of exhaustion. Instead, we stuffed our faces as quickly as possible, and then promptly returned home for a 3 hour nap.
I apparently didn't learn my lesson, because on Sunday I ventured out yet again for lunch with my family. This outing made for the fourth day in a row when someone told me, in the kindest way possible and only out of concern, that I looked like hell.
I decided that Sunday night had to be as cozy and rejuvenating as possible. This, of course, meant that I needed to bring out the big guns and make the hearty tomato soup that my mom made me as a kid. Although most soup is comforting, it seems that childhood soups really hunker down in your soul and make you feel better, even when you feel like poo.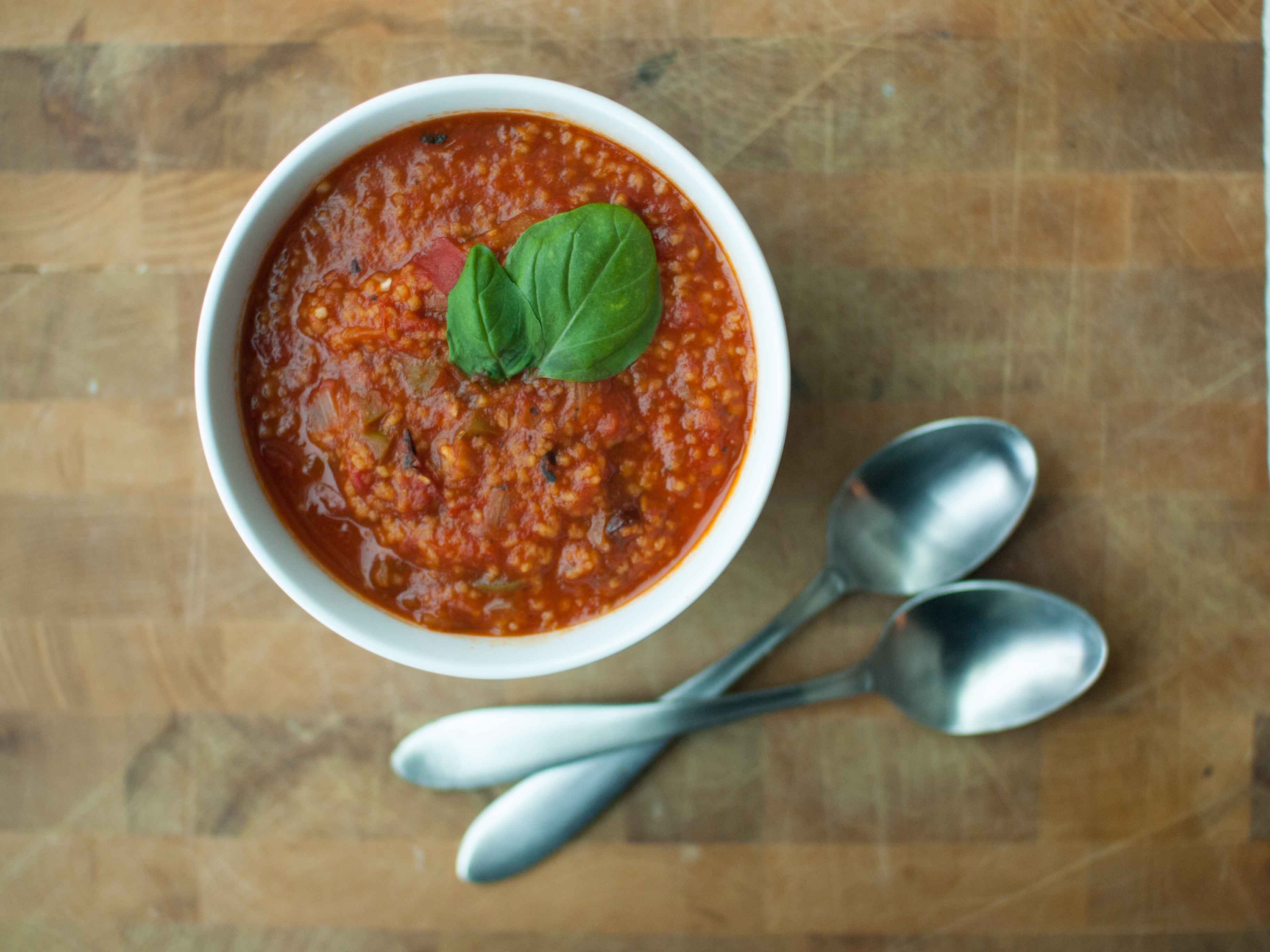 After searching through the chaotic cookbook cabinet, my mom sadly decided that she had thrown out the recipe in recent years. I ended up winging it, yet with some mom advice I created something almost identical to my childhood soup remedy, and quicker than any sick girl with an energy deficiency could hope for.

Tomato Basil Cous Cous Soup
Serves 4-5.
3 tablespoons olive oil
1/2 yellow onion, chopped
3 cloves garlic, minced
1/2 cup sundried tomatoes, chopped
1 green pepper, chopped
4 beefsteak tomatoes, peeled and diced
1 28-ounce can fire roasted crushed tomatoes
2 tablespoons tomato paste
1/4 cup chopped fresh basil
1/4 teaspoon crushed red pepper
1/2 teaspoon dried oregano
1/2 tablespoon dried rosemary
1 teaspoon kosher salt
1/4 teaspoon black pepper
3 cups vegetable broth
1/2 cup whole wheat cous cous
Process
Head olive oil over medium heat in a large saucepan. Add garlic and cook for 30 seconds. Pour in the onions and cook until translucent (2-3 minutes).
Add the chopped tomatoes, green peppers, sundried tomatoes to the pan. Once the tomatoes have cooked down, and the sundried tomatoes are soft, add in the crushed tomatoes, broth, and spices. Cover and simmer on low for 25 minutes.
Bring the soup to a boil, then pour in the cous cous. Remove from the heat and cover for 5 minutes (the cous cous will cook in this time).
If you're like me and need to kick a bug to the curb, start here, and maybe double the recipe so you can heat-and-eat for days while you properly baby yourself. You deserve it.
8 Responses to "Tomato Basil Cous Cous Soup"
Pingback: 20 Mouthwatering Summer Tomato Recipes