Raspberry White Chocolate Waffles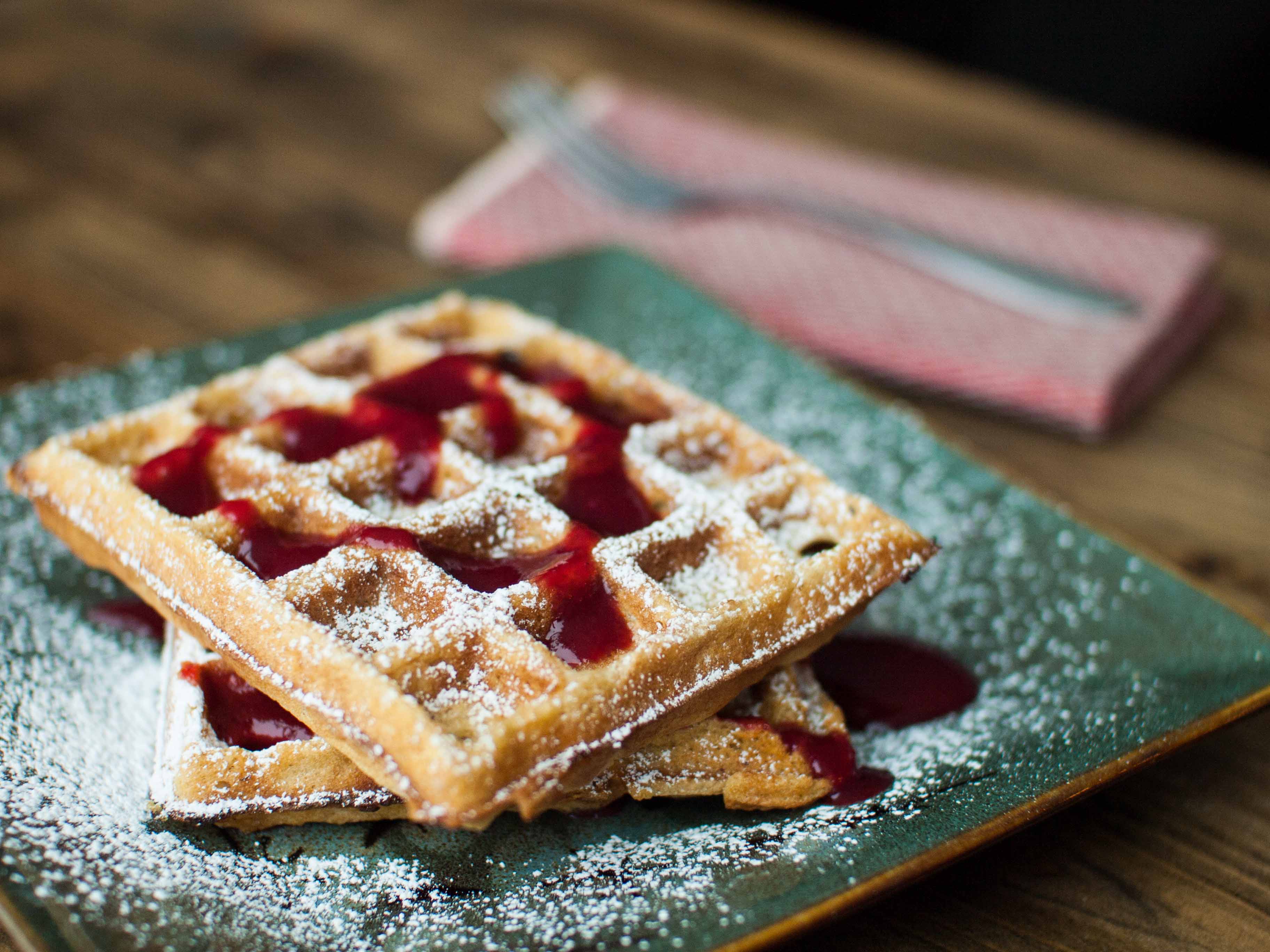 I love weekend brunch. When the Beast and I first started dating, I professed my love for breakfast, and an awkward silence ensued. He never eats breakfast…well he actually rarely remembers to eat at all. He will, however, eat brunch on the weekends. If we plan to make something midmorning on a Saturday or Sunday, he's all about it.
Since he's not a fan of pancakes, and I don't like eggs (outside of baked goods…duh), we usually go with the Beast's specialty: french toast. However, as the proud new owners of a waffle iron, we decided to switch up our breakfast routine and get into the Valentine's spirit with Raspberry White Chocolate Waffles.
Our first try last weekend resulted in what I've deemed "Zombie Waffles." It turns out frozen raspberries stirred into waffle batter don't create a pretty red swirl, but instead turn the entire batch a dull, dingy gray. Super appetizing.
Fortunately, we lived and learned. This weekend we put the fruit on top of the waffles, and voila: Sweet, fluffy waffles slathered with tart raspberry sauce…aka Pre-Valentine's Brunch success.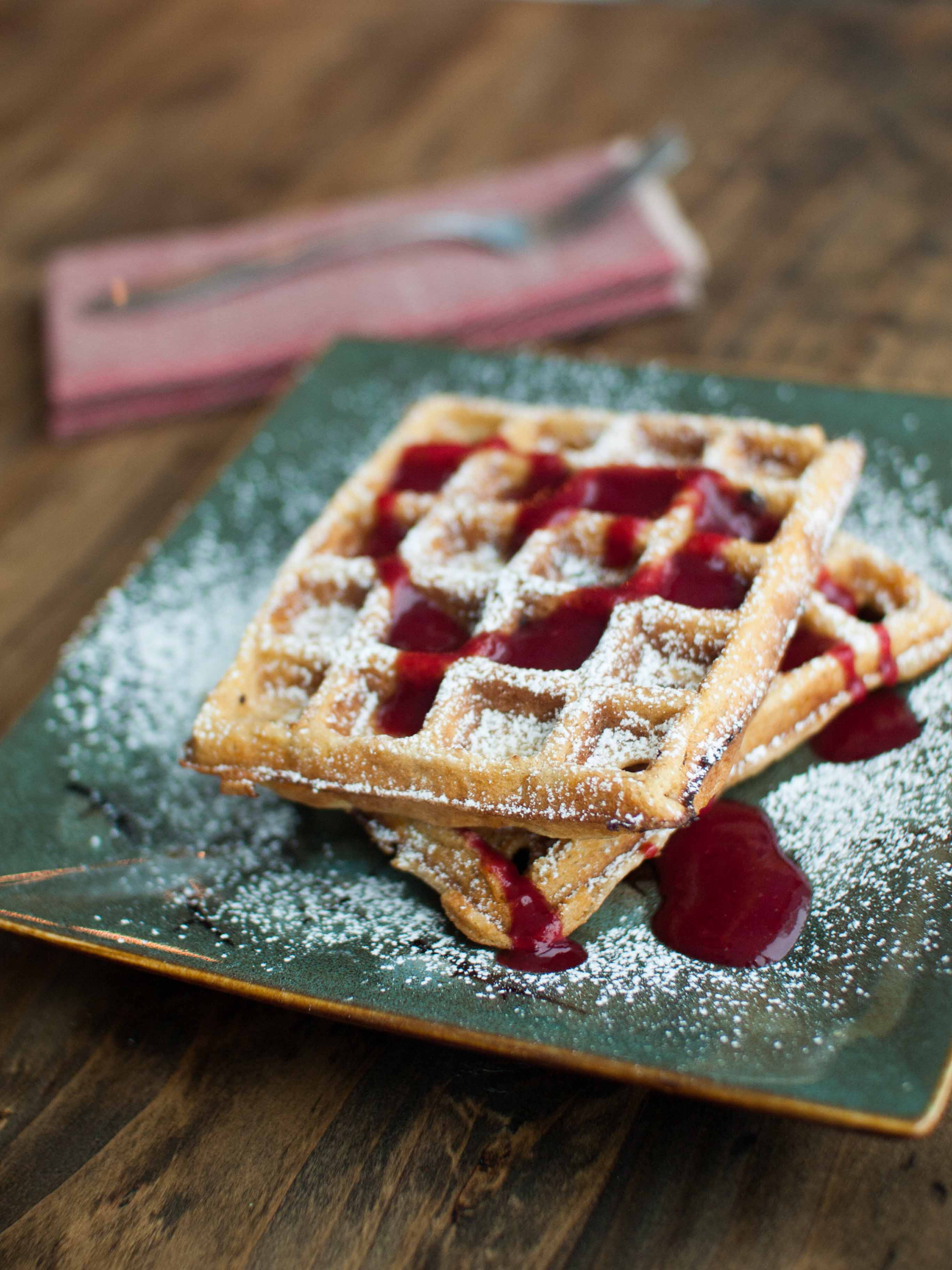 I know this seems like a lot of work when Valentine's Day is on a weekday morning, but if you make the sauce and waffle batter the night before, these can be ready to roll on Thursday morning. Badabing, badaboom, love-themed breakfast.

Whole Wheat White Chocolate Raspberry Waffles
Serves 4 (2 waffles each).
Whole Wheat White Chocolate Waffles
2 cups whole wheat pastry flour
1/8 teaspoon kosher salt
2 tablespoons sugar
1 1/2 teaspoons baking soda
1 cup white chocolate chips
1 cup buttermilk
1 1/4 cup Greek yogurt (I used fat-free vanilla)
2 eggs
1/4 cup canola oil
1 1/2 teaspoons vanilla
Raspberry Sauce
From this tried-and-true recipe, and also used in my Raspberry Cornbread Layer Cake.
1 (10 ounce) package frozen raspberries
2 tablespoons sugar
2 teaspoons cornstarch
1/2 cup water
Process
In a medium-size saucepan, combine all the raspberry sauce ingredients. Bring to a boil, and stir for 3-4 minutes. Pour the sauce into a fine strainer to remove the seeds (you may need to use a spoon to push the sauce down and encourage it to move through the strainer). Set aside until the waffles are ready.
Separate the egg and egg whites into separate bowls. Beat the egg whites with a mixer until soft peaks form, then set aside.
Whisk together the flour, salt, sugar, and baking soda. Add the white chocolate chips and stir until combined
In the bowl with the egg yolks, add and whisk together the buttermilk, yogurt, oil, and vanilla.
Pour the wet ingredients into the dry ingredients, and mix together until just combined. Gently fold in the egg whites. You don't want to overmix, because the airy egg whites make the waffles extra fluffy.
Bake the waffles according to your waffle iron instructions, then top with powdered sugar, maple syrup, and raspberry sauce (in the shape of a heart, if you want).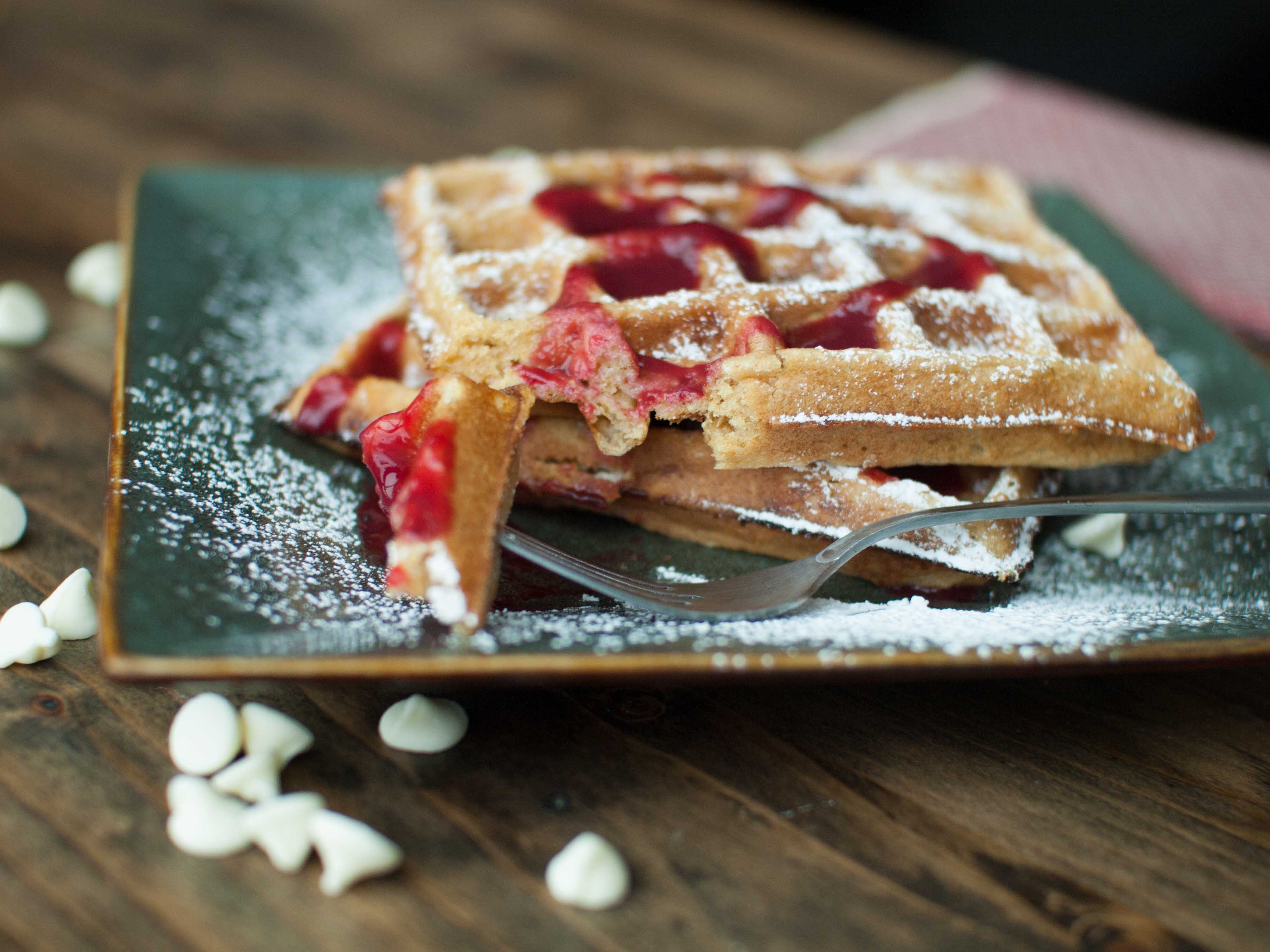 This Valentine's Day, show your love in breakfast form. Or weekend brunch form, if you have a breakfast-averse Valentine like I do, but whatever…the sentiment still stands.
4 Responses to "Raspberry White Chocolate Waffles"