Rosemary Brown Butter Cheddar Beer Bread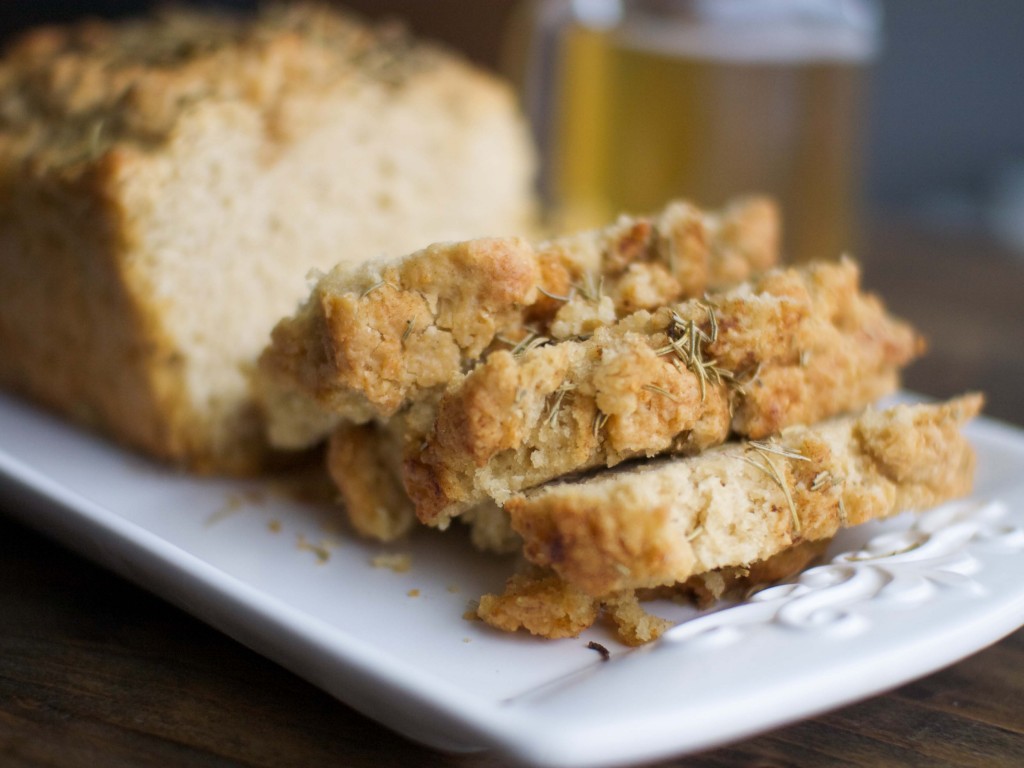 The week of beer is here!…Or that's what I'm calling it, at least. I cook with wine all the time, but I hardly ever think to cook or bake with beer. With St. Patrick's Day right around the corner, what better excuse to stock your fridge with beer and see what happens, yes?
YES.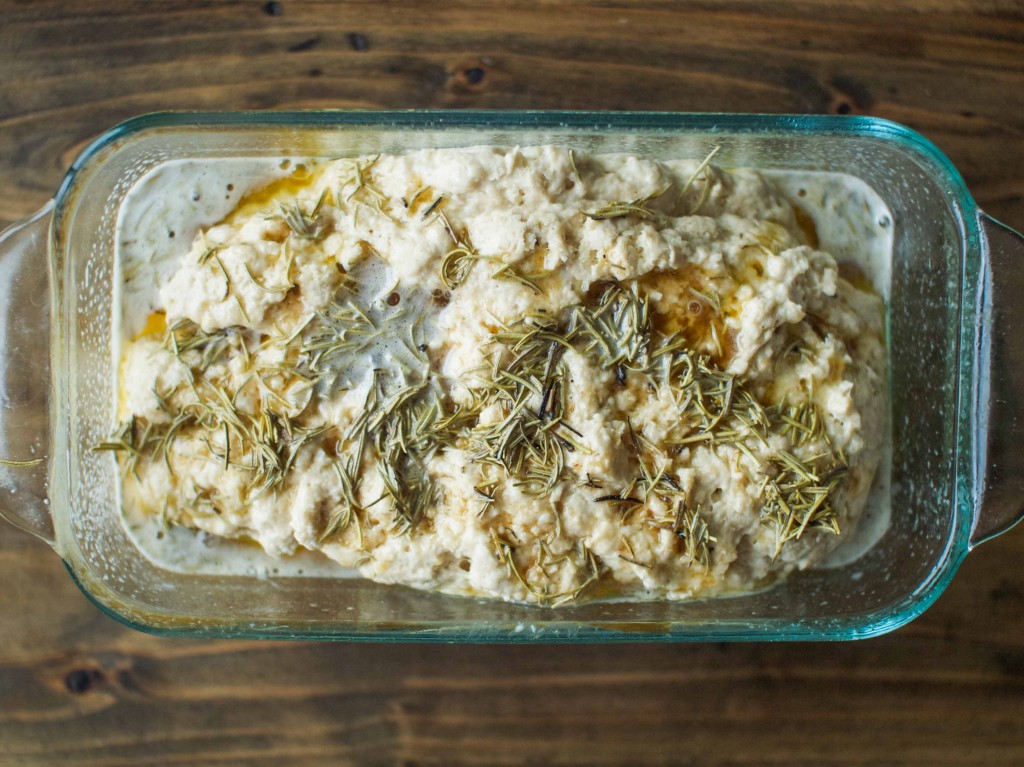 I'm more of a wine drinker than a beer drinker, but I like a good brewski every now and then (wow that made me sound like a frat boy…sorry). I can't handle anything too hoppy, and I usually like the lightest colored beer I can find (beer enthusiasts are hating me right now…again, sorry), with the exception of oatmeal stout, of course, which we'll get to later this week.
For the time being, I want to talk about Hoegaarden: a white wheat beer with just the slightest hint of orange/citrus flavor. I love love love it. It doesn't linger in my stomach and make me feel full and gross like other beer, and it has much more flavor than a light beer, like Corona Light…although I like that too, cause I'm shamelessly girly when it comes to beer.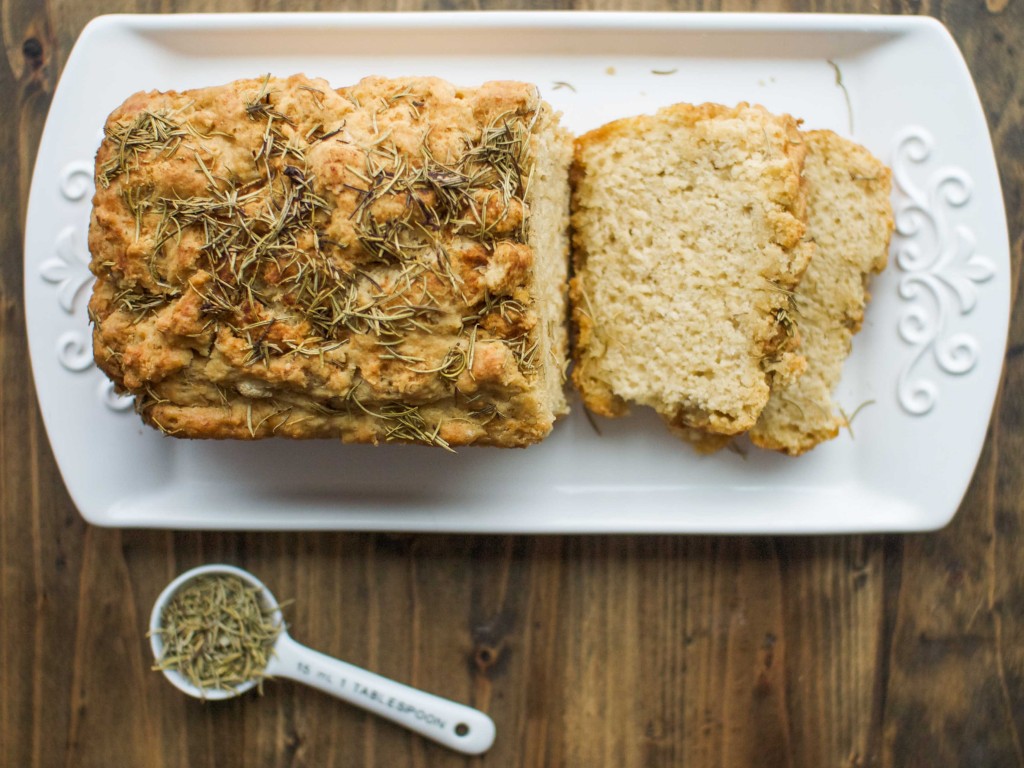 In the back of my mind, I've had this urge to make beer bread for the past several months. I blame Pinterest, where I've seen countless beer bread recipes pop up, particularly one that looked jaw-dropping speeeectacular. I knew I'd found the perfect beer bread recipe to adapt for my Hoegaarden love.
The simplicity of this recipe makes it even more appealing. In fact, don't even worry about making the dough smooth before dumping it in the pan; those peaks and valleys make for an almost streusel-like topping that you'll be picking at all day. The flavors here are great on their own, but together they're need-it-now delicious: sharp and salty white cheddar, slightly sweet wheat beer with a hint of orange, nutty wheat flour, and savory rosemary, all soaked top-to-bottom in rich brown butter. It's dangerously irresistible.

Rosemary Cheddar Brown Butter Beer Bread*
Makes one 9×5 loaf.
1 1/2 cups all-purpose flour
1 1/2 cups whole wheat pastry flour
1 tablespoon white sugar
1 tablespoon baking powder
1 1/4 teaspoons kosher salt
1 cup sharp cheddar, shredded
12 ounces wheat beer (I used Hoegaarden)
1 stick (half cup) unsalted butter
2 tablespoons dried rosemary
Process
Preheat the oven to 350 degrees.
Melt the butter in a small saucepan over medium heat, whisking constantly. Continue to whisk until you start to see brown flecks form on the bottom of the pan. Remove from heat, and continue to whisk for about 30 seconds. Add the rosemary to the butter, and set aside while it cools.
Whisk together the flours, sugar, baking powder and salt in a large bowl. Stir in the cheese.
Use a wooden spoon to gradually add the beer to the dry ingredients, stopping when just mixed.
Coat a 9-5-3 bread pan with nonstick spray. Pour half of the brown butter into the pan. Add the batter to the pan, and top with the remaining butter.
Bake for 50-60 minutes, until it's golden and a knife inserted in the center comes out clean.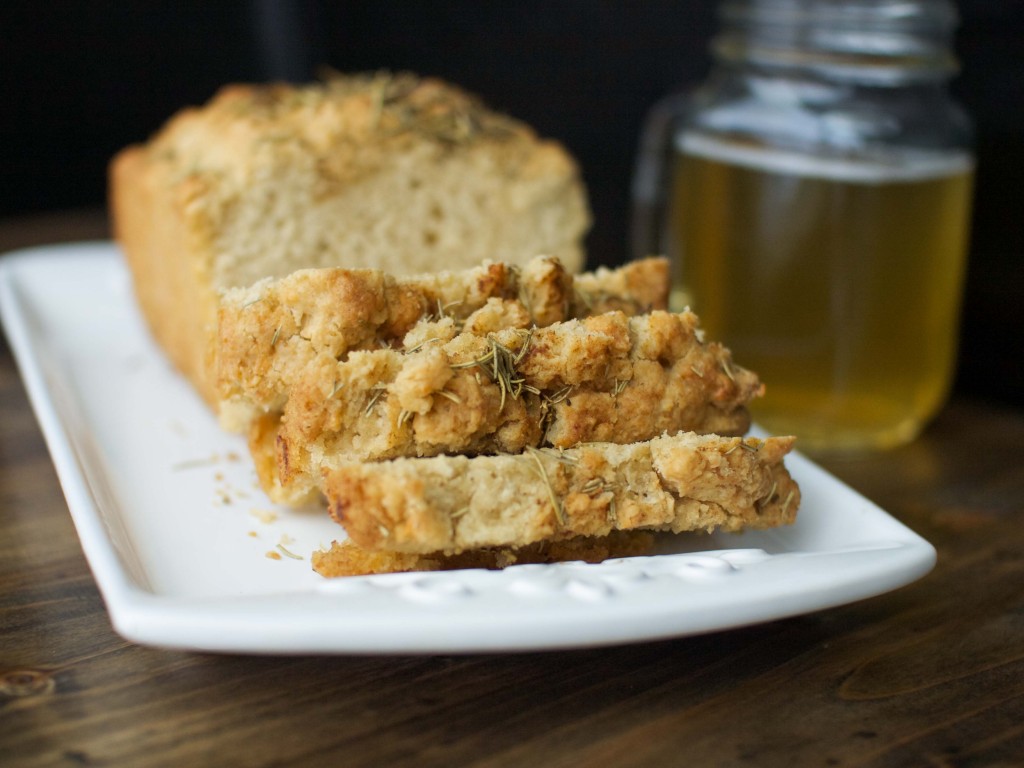 Buttery, cheesy, rosemary-spiked beer bread? I'll drink to that.
*Adapted from Ezra Pound Cake.
9 Responses to "Rosemary Brown Butter Cheddar Beer Bread"
Pingback: Chocolate Stout Cupcakes with Whiskey Buttercream and Salted Caramel | Veggie and the Beast