Creamy Veggie-Stuffed Enchiladas with Spanish Quinoa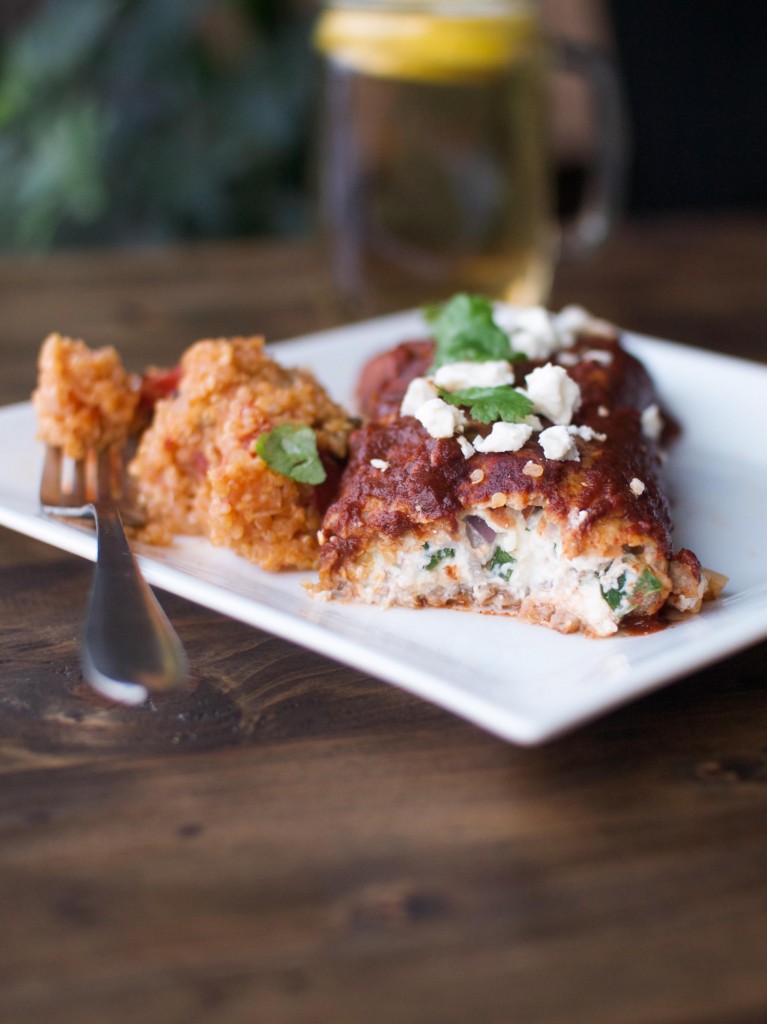 I've been having some intense cravings lately. Before you start in on the "you must be pregnant" jokes (which are ALWAYS funny, btw), let me remind you that it is LATE March and Minnesota has been having high temperatures in the teens. If that's not an excuse to treat myself to yummy comfort food, then I don't know what is.
The hardest craving to ignore? Mexican. The salty, cheesy, and rich combinations just hunker down and warm you up, no matter how frigid it may be outdoors.
The blustery weather has resulted in many-a-Mexican meal for The Beast and I as of late. A few weeks ago we made a Mexican casserole, and then many enchilada experiments followed. In my new favorite variation, I keep things healthy and filling with veggies, thick and creamy Greek yogurt, and a ridiculously easy homemade sauce.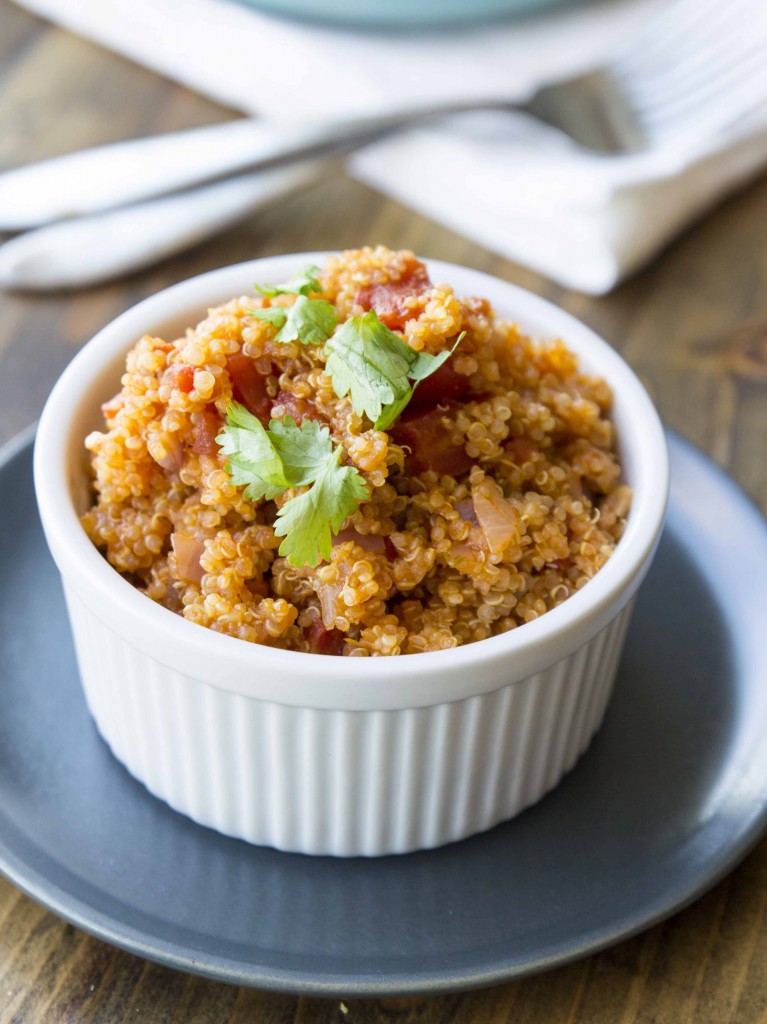 Little-known fact on enchilada sauce: deciding on a store-bought variety can prove to be a tricky task. The first one we tried tasted metallic and full of chemicals (even though the ingredient label looked only moderately offensive). The second option we bought tasted fine, but included red food coloring, because apparently tomatoes aren't red enough on their own. Finally I took things into my own hands and made it from scratch, and I will never go back. The sauce comes together in 20 minutes, and it is DEEEELICIOUS.
To make our homemade Mexican even better, we always serve it with the simplest and yummiest side ever: Spanish quinoa. I've discussed spanish quinoa before (try not to judge my early-blog photography too harshly), but it would be a shame if it were forgotten or ignored, so I must mention it again today. You'll thank me.


Creamy Veggie-Stuffed Enchiladas with Spanish Quinoa
Healthy and filling enchiladas filled with veggies, thick and creamy Greek yogurt, and then covered in a ridiculously easy homemade sauce.
Author: Katie of Veggie and the Beast
Recipe type: Enchiladas, Healthy
Cuisine: Mexican
Serves: 3-6
Ingredients
Enchiladas
½ red onion, chopped
2 cups spinach, chopped
1 roma tomato, diced
1-2 cloves garlic, minced
1 cup greek yogurt (I used 2%)
½ cup ricotta cheese
½ cup crumbled feta (may replace with cotija if you have it available)
¼ cup sharp white cheddar
½ teaspoon kosher salt
¼ teaspoon black pepper
1 cup vegetarian refried beans
3 whole-grain tortillas
20-Minute Enchilada Sauce*
3 tablespoons canola oil
1 tablespoon flour
¼ cup chili powder
2 cups reduced-sodium vegetable broth
10 ounces tomato paste
1 teaspoon dried basil
1 teaspoon ground cumin
½ teaspoon salt
¼ teaspoon red pepper flakes
Spanish Quinoa
1 cup quinoa
2 cups vegetable broth
2 tablespoons olive oil
½ red onion, chopped
1 can diced tomatoes with no salt
1 bunch fresh cilantro, chopped
¼ teaspoon crushed red pepper
Instructions
Preheat oven to 350.
In a medium-sized saucepan, heat the canola oil for the sauce. Whisk in the flour and cook for a minute, then add the chili powder and cook for 30 seconds. Pour in the broth, tomato paste, and all spices. Bring to a boil, and then reduce to a simmer for 15 minutes. Taste and adjust the seasonings to your liking.
Combine the onion, spinach, tomato, garlic, yogurt, cheese, salt and pepper in a large bowl. Scoop ⅓ cup of refried beans onto a tortilla, spreading out evenly, then top with ⅓ of the cheese/veggie filling (arrange it so the filling makes a line through the middle of the tortilla), then roll up the tortilla tightly. Repeat with the remaining two tortillas.
Pour ½ cup of enchilada sauce in an 8x8-inch pan, then add the enchiladas, seam-side down, on top of the sauce. Pour the remaining sauce on top of the enchiladas, spreading evenly over all three. Bake for 15-20 minutes, until the sauce is bubbling.
While the enchiladas are baking, make the spanish quinoa. In a medium-sized saucepan, sauté the red onion in 2 tablespoons of olive oil. Add the quinoa and stir frequently for 2-3 minutes until the quinoa is toasted. Pour in the tomatoes, vegetable broth, cilantro, and red pepper flakes. Bring to a boil, then reduce to a simmer for 15-20 minutes, until the liquid is absorbed.
When ready to eat, serve enchiladas with additional feta and cilantro, and alongside a big scoop of spanish quinoa.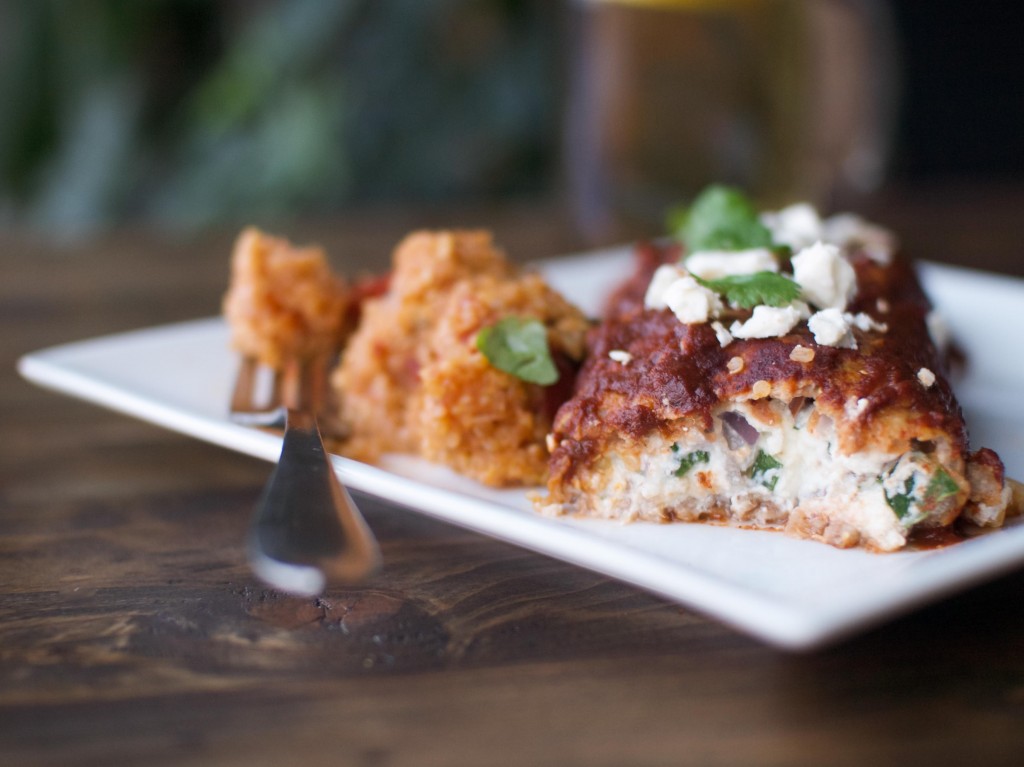 These are honestly so filling that I can usually only eat half of one if I'm also having Spanish quinoa, hence the wishy-washy guideline of "Serves 3-6" above. If you end up eating the whole thing, rock on! No matter how much enchilada you consume, take comfort in the fact that spring will eventually come, and until then, at least there's Mexican food.
10 Responses to "Creamy Veggie-Stuffed Enchiladas with Spanish Quinoa"