Individual Vegetable and Potato Pies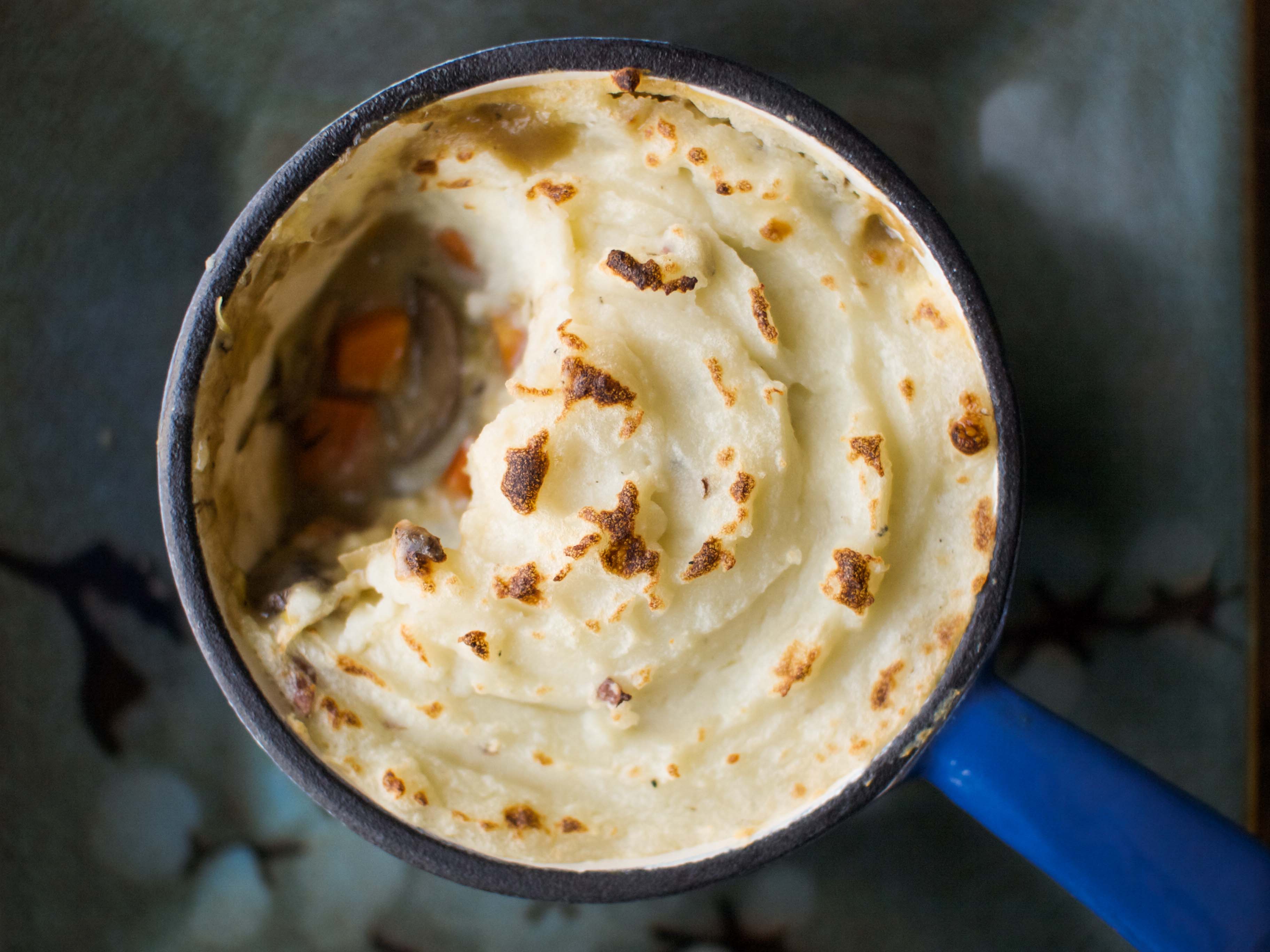 When we go out to eat, I can usually look at the menu for 2 minutes and know exactly what The Beast will order. First question: Do they have anything involving buffalo chicken? Whether it's a wrap, sandwich, pizza, or salad, I know that will be The Beast's choice. If they have no buffalo chicken, we must do more digging. Second question: Does anything on the menu involve both meat and mashed potatoes? If the answer is yes, we have a winner. Usually these two questions bring us to an answer. If not, then we start looking at spicy burger options or pressed ham and cheese sandwiches.
While it takes me just a couple minutes to correctly guess The Beast's food choice, it often takes me about 10-15 minutes to decide on my order. I guess when you eat with someone nearly every day for almost three years you start to understand their eating habits more than your own…or I'm just indecisive to a fault.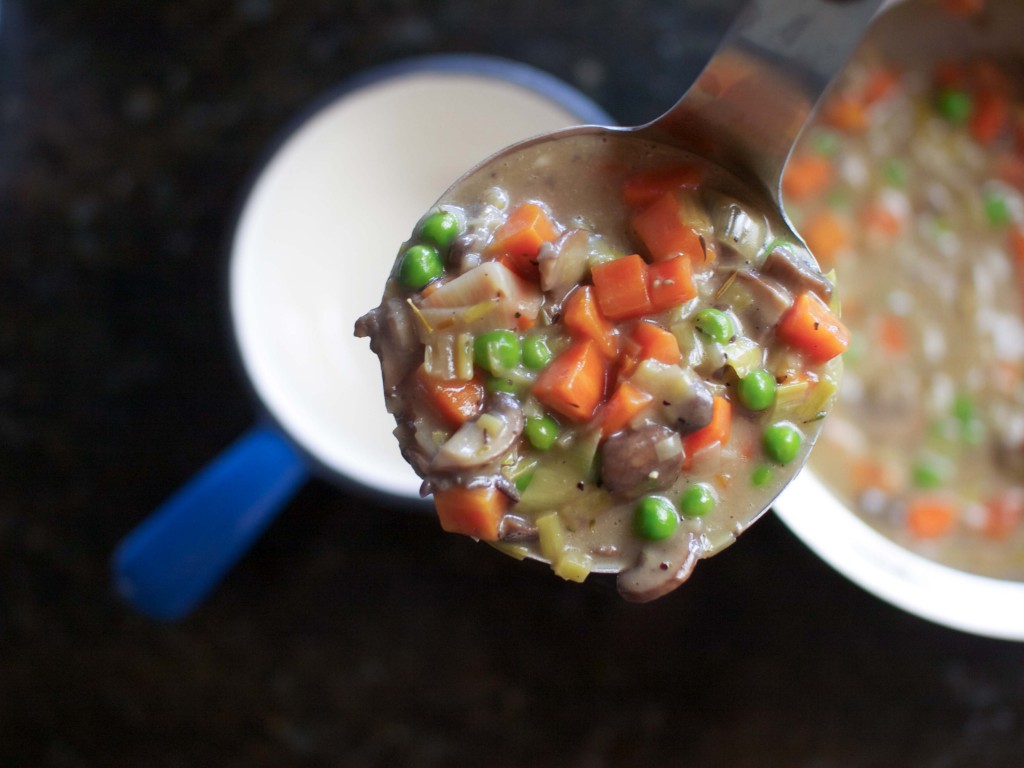 We've recently been to two restaurants that offer dishes with thick gravy, rich meat, and creamy potatoes broiled on top as a sort of crust. These establishments have no buffalo chicken to be found, so clearly we can deduce what The Beast orders. After I picked up some adorable (and on sale!) 16-ounce cast-iron bowls last weekend, I knew I had to make a variation of The Beast's second-favorite restaurant meal. Since I wanted to be in on the action, my homemade version would need to be vegetarian.
Instead of meat, these pies are filled with hearty vegetables and mushroom gravy. The filling is baked until thick and bubbly, then the potatoes are swirled on top and broiled. You can make your favorite mashed potato recipe for the topping, but we filled ours with butter, garlic, and feta, and it was pretty fantastic.
These potato pies are the perfect comforting bowl for the ridiculous Minnesotan "spring" we've been having. Day-after-day has been grey with snow, followed-up by rain or a "wintery mix" – doesn't the phrase "wintery mix" just give you the shivers? This weather makes me want to do nothing besides curl up in a blanket, drink wine, and eat warm comforting things. If you feel the same, this pie is for you.


Individual Vegetable and Potato Pies
Comforting, rich, and simple individual vegetable pies filled with mushroom gravy, tons of veggies, and topped with creamy mashed potatoes.
Author: Katie of Veggie and the Beast
Recipe type: Comfort food
Serves: 4
Ingredients
Vegetable Filling
2 tablespoons butter
2 tablespoons olive oil
2 cloves garlic, minced
1 leek, sliced
3 carrots, chopped
8 ounces crimini mushrooms, sliced
½ teaspoon kosher salt
¼ teaspoon black pepper
½ tablespoon dried rosemary
½ tablespoon dried thyme
½ cup peas (I used frozen)
2 tablespoons all-purpose flour
1 cup mushroom broth
½ cup lowfat milk (I used 2%)
1 teaspoon vegan worchestire sauce
Mashed Potato Topping
3 potatoes
4 tablespoons butter
2 cloves minced garlic
¼ cup milk
½ cup crumbled feta
Salt and pepper to taste
Instructions
Preheat oven to 400.
In a large skillet, melt the butter with the olive oil. Add the garlic and cook for 30 seconds, then add the leeks. Cook over medium heat until the leeks are soft, about 3 minutes. Pour in the mushrooms, carrots, salt and spices, then cook until the carrots are soft and the mushrooms have shrunk, about 5-6 minutes.
Sprinkle the vegetables with flour, and stir to coat. Pour in the broth, milk, salt, pepper, and spices. Stir until the mixture is smooth, without any clumps of flour. Simmer for five minutes until the mixture begins to thicken.
Divide the vegetable mixture between four ramekins. I used 16-ounce cast-iron bowls, and filled mine up about ¾ of the way with the vegetables.
Cook for 20-25 minutes, until the filling thickens and the mixture boils.
While it's cooking, get the potatoes ready. Again, you can use whatever mashed potato recipe you like, but this is what we did: Peel and boil potatoes until soft, then press through a potato ricer. Whip the potatoes with the butter, milk, salt and pepper, and cheeses. Taste and adjust seasonings to your liking.
Scoop the potatoes on top of the baked filling, swirling attractively if desired, then broil in the oven for another 3-5 minutes, until the tops are golden brown.
This is one of those breezy, blank-canvas recipes that can be adapted to your tastes. Use this recipe as a base, and then add meat, different veggies, your favorite spices, jazzed-up potatoes, or whatever you're feeling like at the moment.
Nutrition Information Per Serving: Calories: 474, Total Fat: 29.3g, Cholesterol: 65mg, Sodium: 826mg, Total Carbohydrates: 45g, Dietary Fiber: 7.2g, Sugars: 10g, Protein: 10.8 grams.
*Filling recipe slightly adapted from Food Network.
4 Responses to "Individual Vegetable and Potato Pies"