Nutrient-Packed Smoothie + Using Your Juicer Efficiently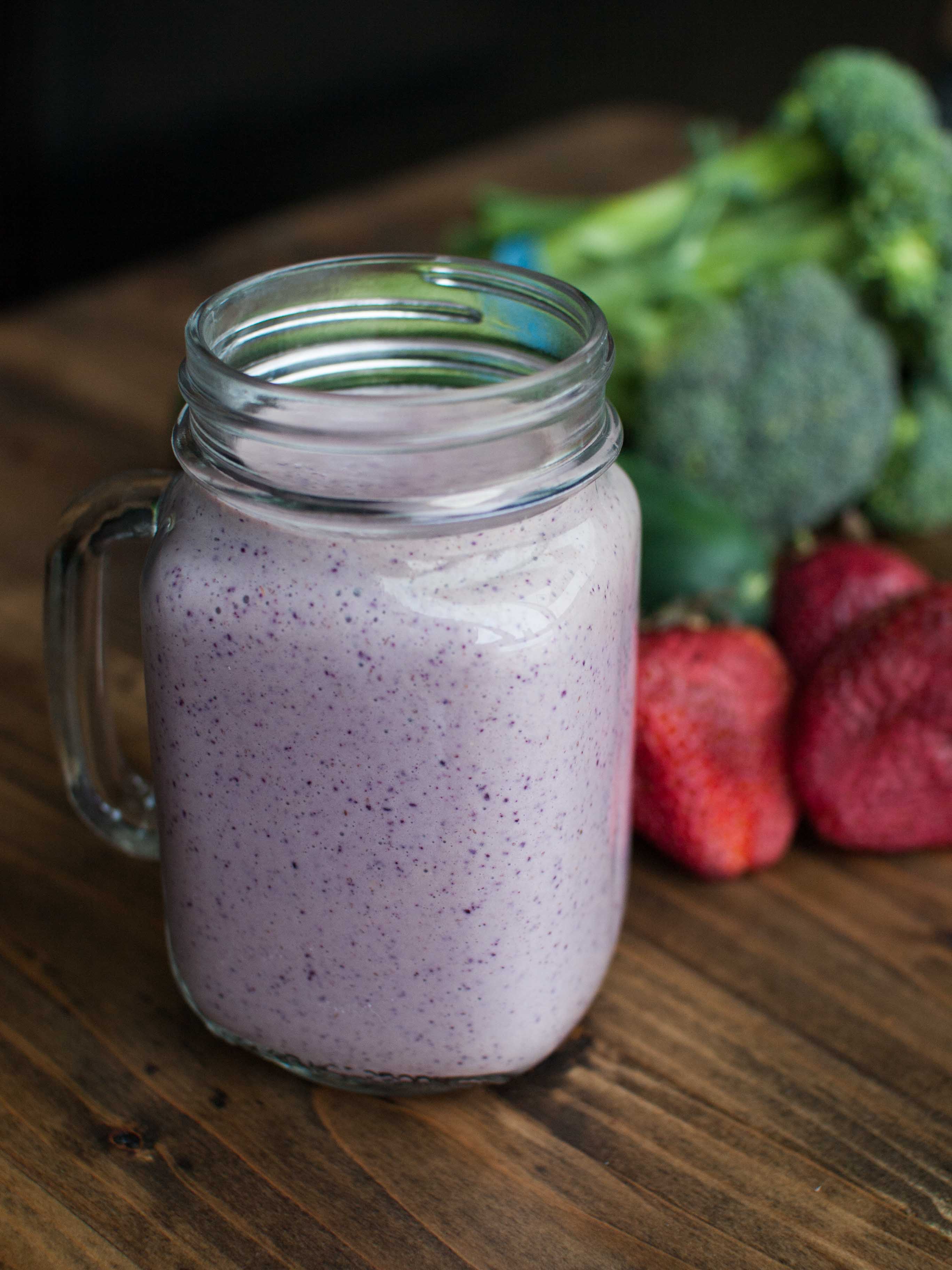 This berry smoothie has a secret. I know that it looks innocent enough. Maybe it's a standard mix of fruit, yogurt, milk etc., or maybe it's something really cool you don't even know about.
Sorry, I know Old School references stopped being cool circa 2005, but I watched it recently so I can't control it.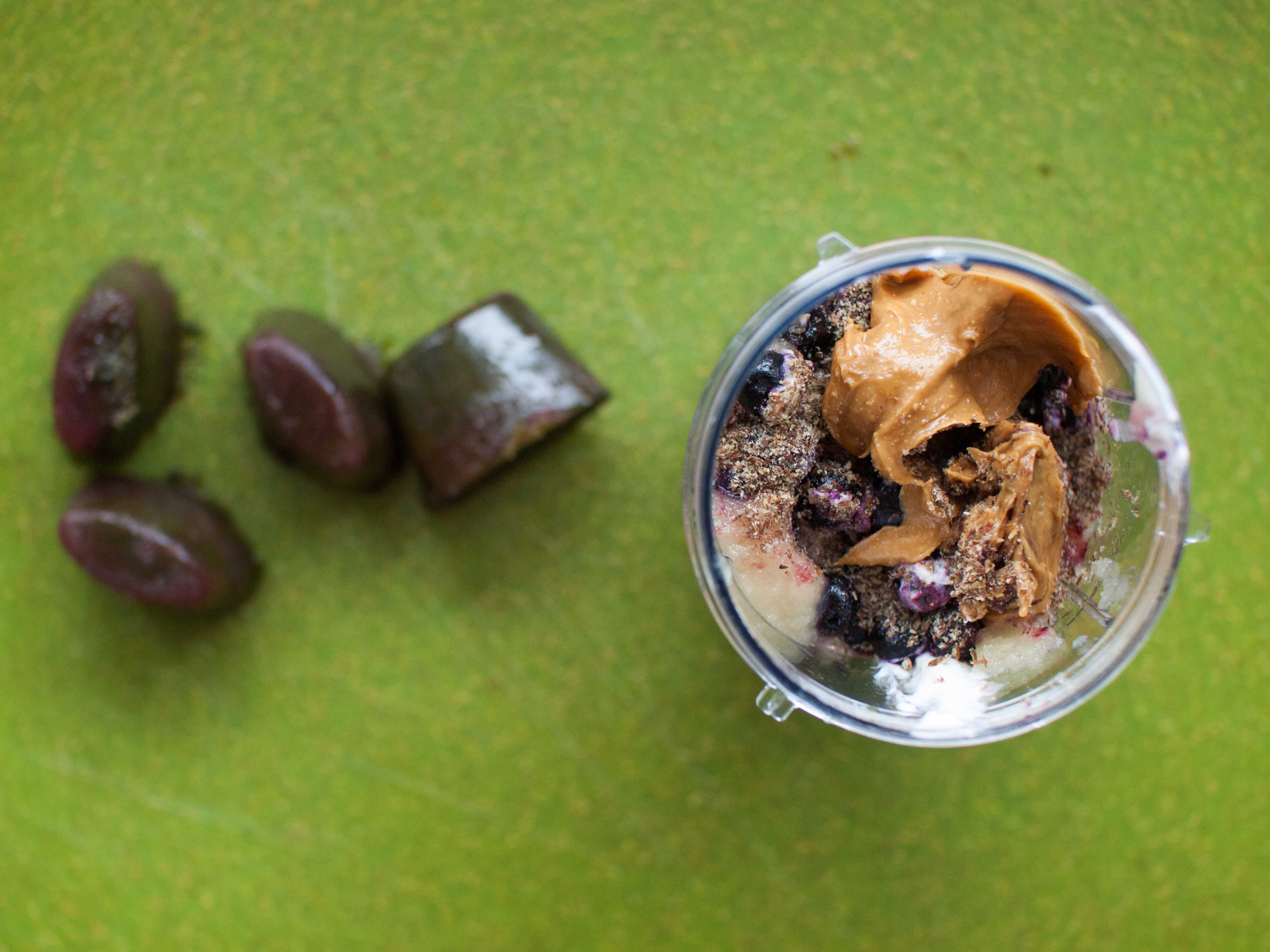 When The Beast and I aren't watching 10+ year-old comedies, we like to watch documentaries (although I'm very choosy about which ones). A few weekends ago we watched Hungry for Change, a documentary on processed food and, basically, how it will kill us all. Let's not even get into the fact that we chose to watch this on a Saturday night. We're apparently old cranky people.
I felt empowered throughout the video, thinking "I'm totally doing everything right! yes!" up until the final section, which covered the benefits of juicing. According to the documentary, juicing is the BEST thing you can do for your health, because the nutrients are so easily absorbed by your body. The very next day we bought the juicing attachment for our stand mixer, then went to the co-op and came home to juice our weight in organic vegetables. Yes, I do realize that we're total suckers and easily persuaded.
For the next week, we juiced daily, and we felt SO HEALTHY. We would laugh at each other when we took our vitamins before bed, saying things like, "Ha! Who even NEEDS vitamins? We're already full of so many nutrients!" I know, we're annoying.
…aaaand then we burnt out. Juicing takes a long time for little payoff (1 bunch of kale only gives you a piddly little cup of juice), so after that first week we realized that taking out the juicer, cleaning the vegetables, and juicing each single leaf of kale and bunch of broccoli just became too much of a chore for daily living.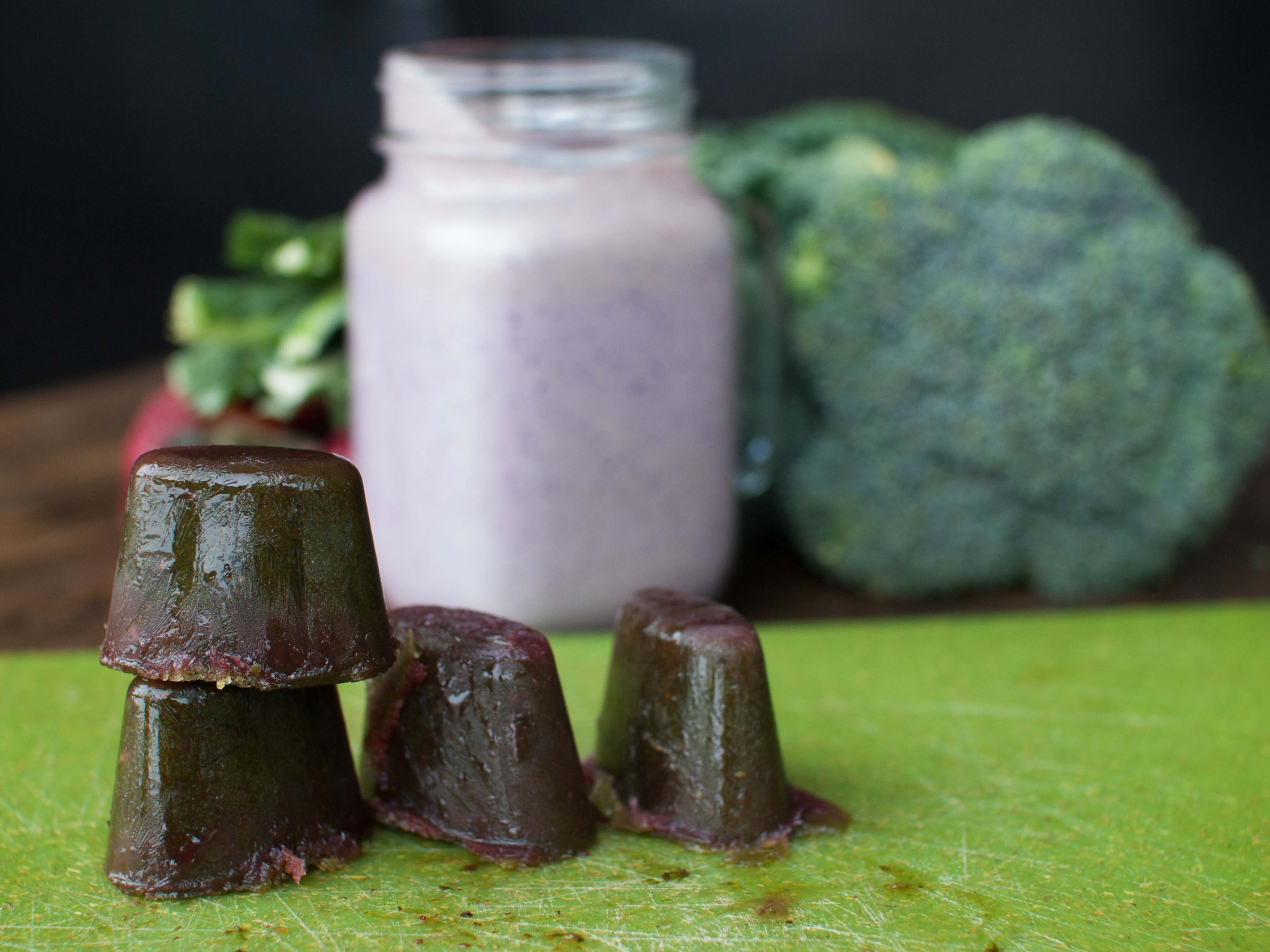 After a few days off from juicing, The Beast, who I often refer to as the "beacon of wisdom," found a solution to make our nutrient intake way more efficient. I came home from work last week and he had juiced all of the vegetables in our refrigerator, plus some extras he picked up during the day. He poured all of the juice into 6 ice-cube trays, and stuck them in the freezer beside the frozen berries and bananas. Nearly every day since then, we have made what we call "vita-cube" smoothies, which take about 3 minutes start-to-finish, and are the perfect breakfast. We simply blend together 4 frozen juice cubes, yogurt, fruit, almond or peanut butter, sometimes a bit of sweetener, and voila – smooth, refreshing, and HEALTHY perfection.
I know many of you probably add handfuls of spinach and kale in your smoothies and just blend away, but my results have always been a bit…chunky. Perhaps it's my dinky Magic Bullet blender, or maybe I'm just not patient enough, but I have never been able to get on board the leafs-in-blender train. With our frozen juice cube smoothies, I get the same "I AM BEING SO HEALTHY" satisfaction, but they're smooth and don't taste like vegetables…at all. It's really incredible, and SO fast.
If you're wondering what to put in your juice, we included the following: 1 bunch of kale, 1 bunch (heads and stalks) broccoli, 1 bunch of spinach, 2 cucumbers, 1 bunch celery, 1-inch piece ginger, 1 lemon, 1 pear, 1 apple, 3 cups strawberries…so you can really put anything you want in there, and it'll be fine. Do it.


Nutrient-Packed Smoothie + Using Your Juicer Efficiently
A creamy, fruity smoothie that's perfect for breakfast, and packed with frozen vegetable juice for an added nutritional punch!
Author: Katie of Veggie and the Beast
Recipe type: Breakfast, Drink
Serves: 1
Ingredients
4 frozen juice cubes, aka "vita-cubes"
½ cup Greek yogurt (I used Chobani Nonfat Plain)
½ cup frozen blueberries
½ cup natural applesauce
1 tablespoon peanut butter
1 tablespoon ground flaxseed
1 teaspoon maple syrup or honey
¼ cup milk (I used 1%, but soy or almond would work well too)
Instructions
Combine all ingredients in a blender and blend until completely smooth. Add more or less milk until it reaches your preferred consistency.
To summarize the lessons above, 1) freeze your juice in large batches, and 2) apparently the Beast and I are old, cranky, suckers, and annoying. Can we still be friends?
Nutrition Information (Serving: whole recipe, not including "vita-cubes" because those will vary greatly depending on what you use): Calories: 331, Total Fat: 11.1g, Saturated Fat: 2.3g, Cholesterol: 8mg, Sodium: 161mg, Total Carbohydrates: 39.1g, Dietary Fiber:7.4g, Sugars: 28.3g, Protein: 20.6g
22 Responses to "Nutrient-Packed Smoothie + Using Your Juicer Efficiently"
Pingback: Educaid Tutoring

Pingback: air purifiiers