Dark Chocolate Peanut Butter Cup Pretzel Cookies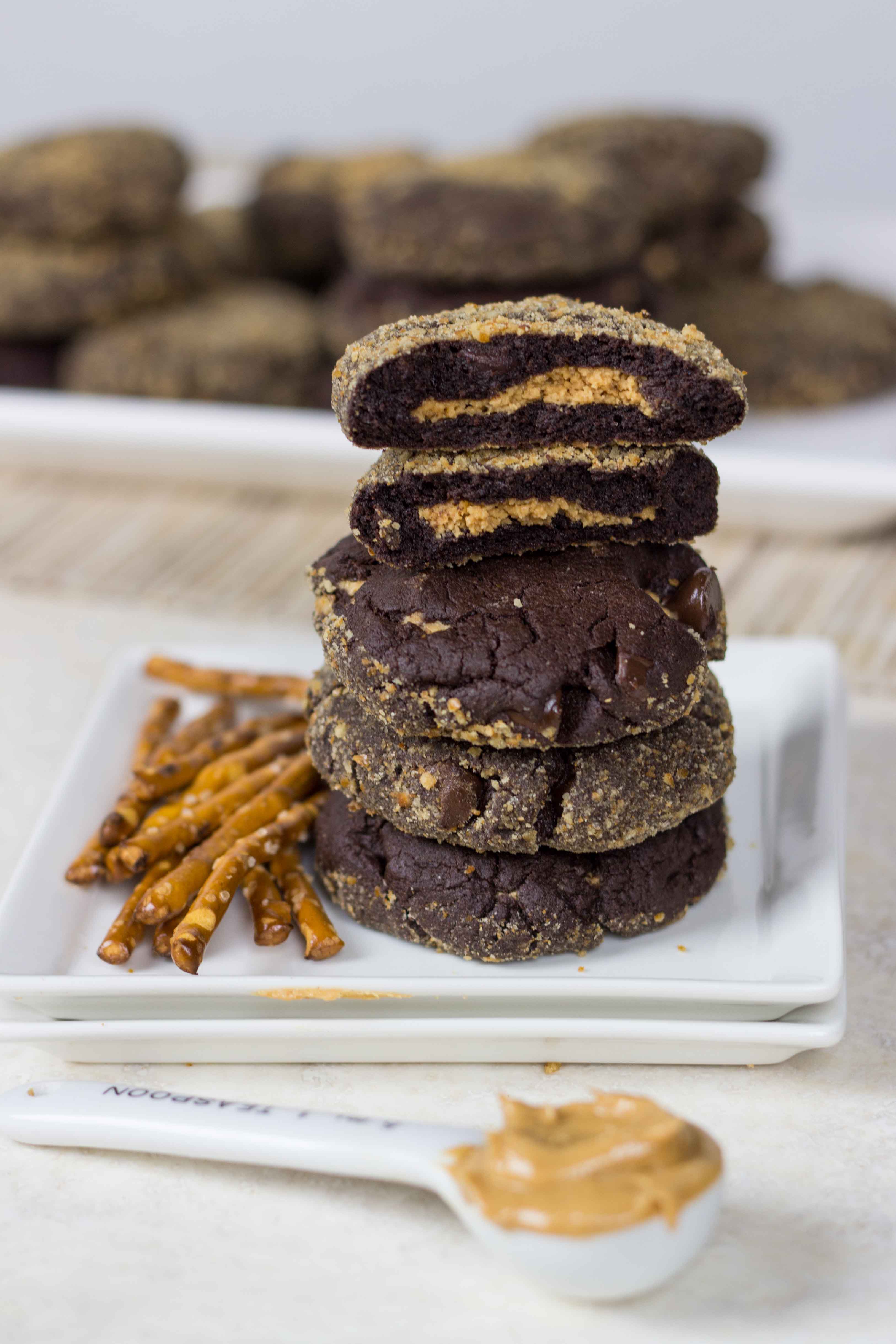 I just can't even deal right now.
For over a year I've been thinking about this recipe that I found on Pinterest. All my life I've loved peanut butter cups in a big, bad way, but I rarely buy them because 1) I usually prefer baked goods to candy and 2) Reese's didn't make the dark chocolate variety until fairly recently. In fact, before Reese's started making dark chocolate peanut butter cups, I threatened frequently (like probably once a week) to write in requesting the dark chocolate variety. Well, now I've made dark chocolate peanut butter cups, but in a cookie and with PRETZELS. WHAT.
A few weeks ago I saw these Salted Chocolate-Pretzel Peanut Butter Cookies on Oh, Ladycakes, and I haven't been able to get the idea of "pretzel flour" out of my head since. Eventually I started thinking about how great it would be to roll cookie dough in this pretzel flour…and then I remembered the peanut butter stuffed cookies. Let's just say that things got crazy.
I knew I wanted to incorporate melted unsweetened chocolate, because it's so much richer and more satisfying than cocoa powder alone could ever be. That being said, I still added cocoa powder and chocolate chips for even more chocolate flavor (overachiever, I know). Then I fluffed peanut butter and powdered sugar together, stuffed it all in a cookie, and rolled it in pulverized pretzel crumbs…and then I died of joy.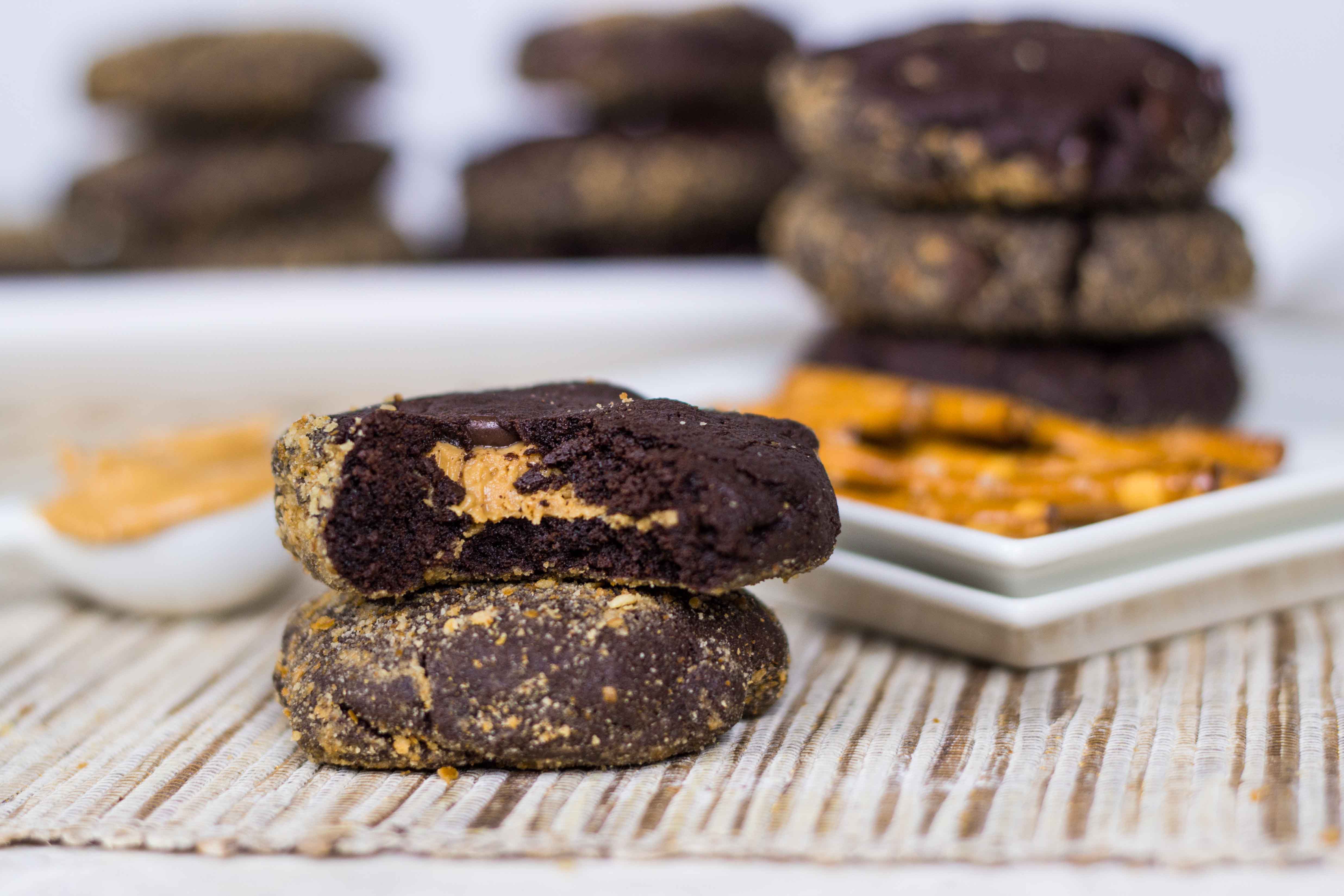 I could chalk this combination of ridiculousness up to hormones. Or the fact that The Beast was out of town and I could make the kitchen as messy as I wanted without judgment or guilt (and boy-oh-boy did it ever get messy). It's my nature to make excuses, but really…take my weakness for salty sweet things and make it your strength, because if you have dark chocolate peanut butter cup pretzel cookies in your hands, is there anything you can't accomplish right now?


Dark Chocolate Peanut Butter Cup Pretzel Cookies
Super dark chocolate cookies stuffed with peanut butter and rolled in pretzel crumbs!
Author: Katie of Veggie and the Beast
Recipe type: Dessert, Cookies
Serves: 24
Ingredients
8 ounces baking chocolate, roughly chopped
4 tablespoons unsalted butter
⅔ cup all-purpose flour
3 tablespoons good-quality cocoa powder (I like Ghirardelli)
½ teaspoon baking powder
½ teaspoon baking soda
½ teaspoon salt
2 large eggs
¾ cup dark-brown sugar, packed
2 tablespoons granulated sugar
2 teaspoons pure vanilla extract
⅔ cup semisweet chocolate chips
½ cup creamy peanut butter
¼ cup powdered sugar
~1 cup pretzel crumbs (pulse pretzels in the food processor until fine)
Instructions
Preheat oven to 350.
Melt the chocolate pieces and the unsalted butter in a double broiler (or a makeshift double broiler - simmer water in a pan and set a glass bowl over the top). Stir frequently, and remove from heat as soon as it melts.
Whisk together the flour, cocoa, baking powder, and salt in a separate bowl.
In a large bowl, beat together the eggs, sugars and vanilla until fluffy. Slowly mix in the melted chocolate. Gradually add the flour, scraping the bowl after each addition, until just combined.
In a separate bowl, beat together the peanut butter and powdered sugar until fluffy. Set aside.
Line a cookie sheet with parchment paper. Scoop heaping tablespoons of dough, roll into a ball, and set on the parchment paper, then flatten with your hand. Drop about 1 teaspoon of the peanut butter filling in the center of the dough, then fold the dough around the peanut butter. If the peanut butter comes out of the top, just grab some extra dough to fill in the gap. Once you have a ball of dough with the peanut butter in the center, flatten the ball slightly and then drop into the pretzels crumbs. You can coat one side or all over (I did a bit of both). Repeat with remaining dough, then bake for about 11 minutes. Watch carefully after 10 minutes, because you want these just a bit underdone.
Notes
Do NOT refrigerate the dough. It will become hard and difficult to work with. I used Skippy Natural peanut butter and it worked splendidly.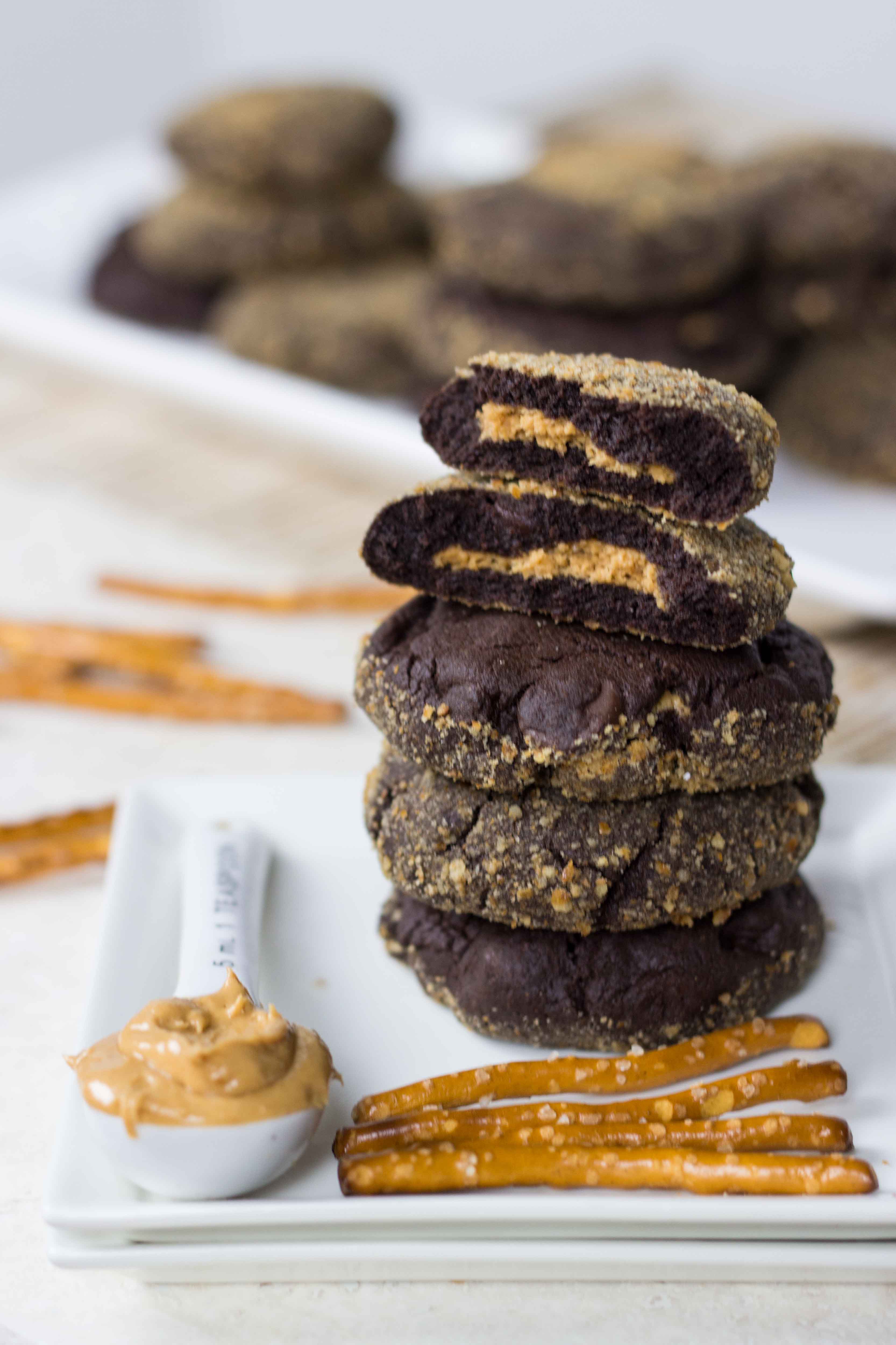 Cookie empowerment. Look out, world.
Chocolate cookie recipe adapted from Martha Stewart. Recipe inspired by Sweet Pea's Kitchen.
10 Responses to "Dark Chocolate Peanut Butter Cup Pretzel Cookies"