Blueberry Cream Cheese Cake with Brown Butter Cream Cheese Frosting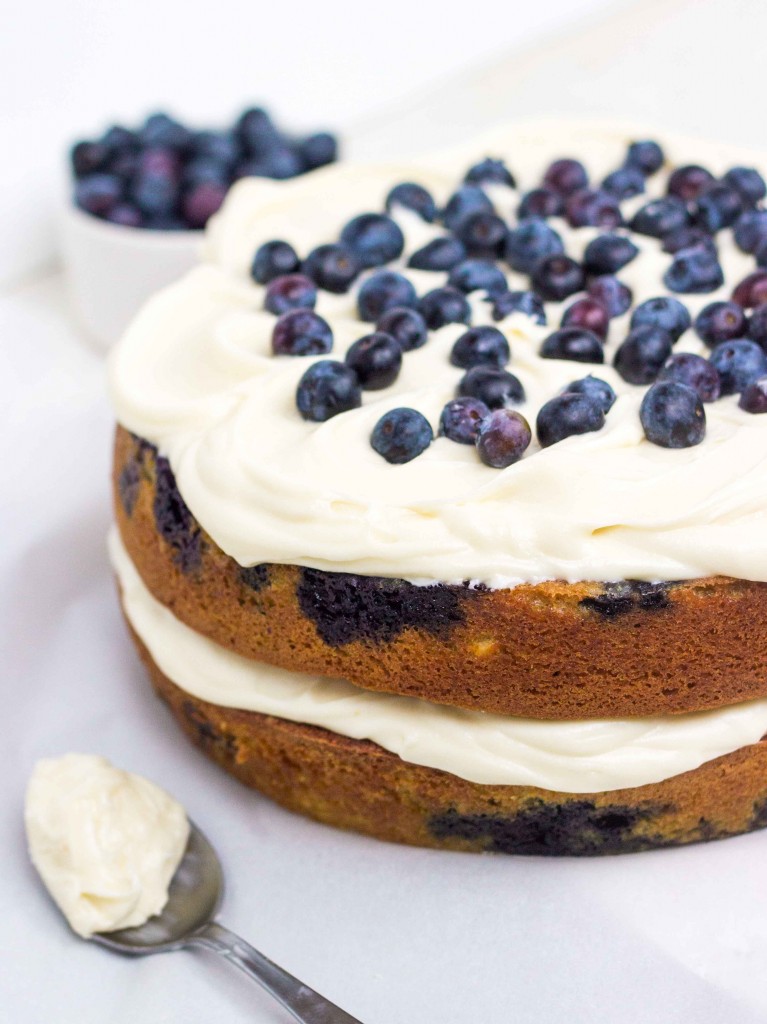 I wanted to bake you guys a healthy blueberry snack this week.
As you might have guessed from the lengthy post title that mentions "cream cheese" twice, this is not it.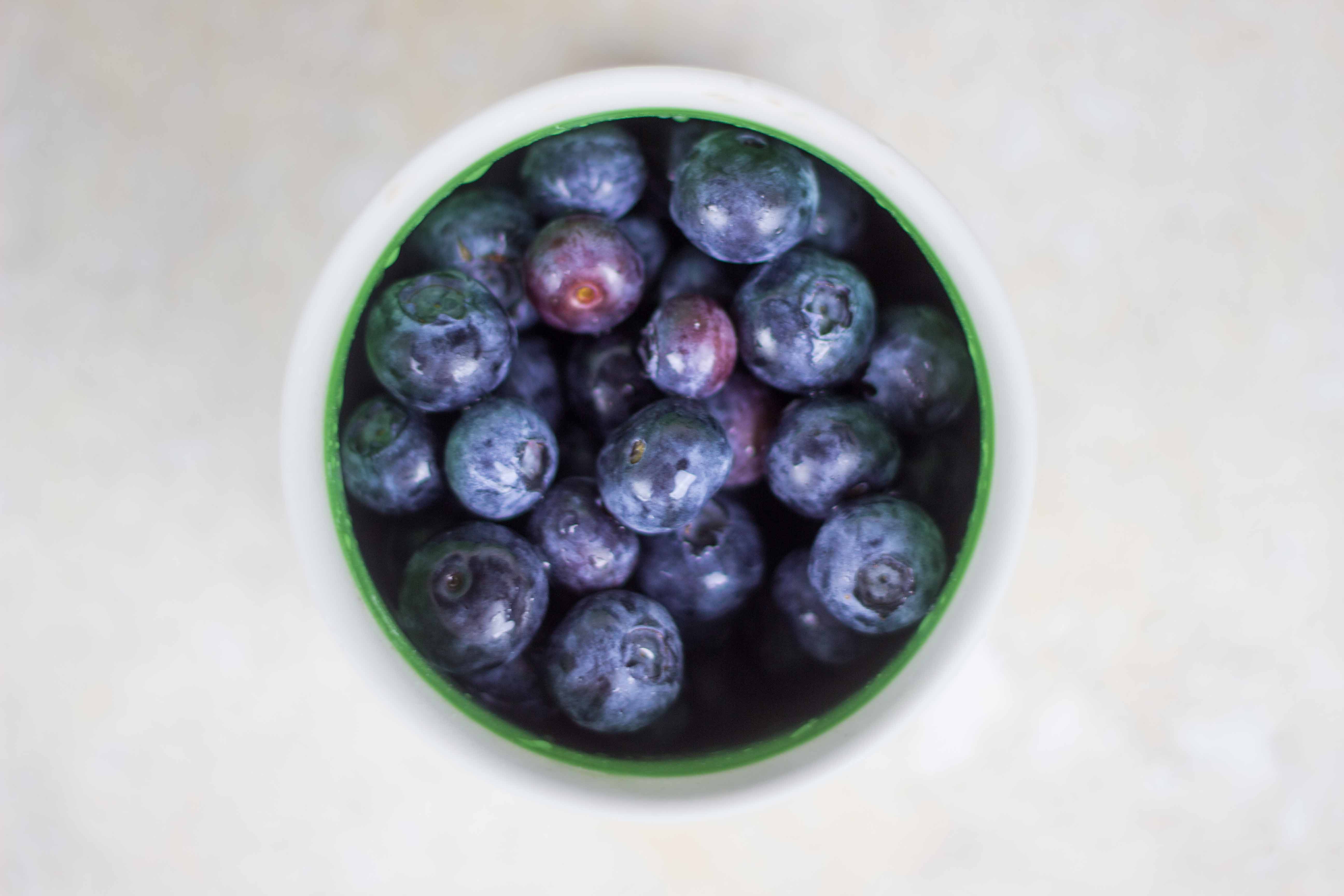 That healthy snack actually ended up in the garbage. I do plan on reworking the recipe, because I liked the idea of it (chewy banana oat blueberry bars), but I think this cake is better for this week, don't you? Not that I have any reason to bake a cake; It isn't anyone's birthday, there aren't any holidays this week, and I don't have my own blueberry bush that provides an unlimited supply of fresh berries. Sometimes I just need to bake a cake, and Monday was one of those days.
Plain old Mondays are just so blah. Even once you get through the day (which is guaranteed to move like molasses) you still have 4 MORE DAYS until the weekend. To make the struggle easier to handle, I think every Monday should be deemed "Cake Monday." Just think of how happy people would be. It would be like the year's first 60-degree day in Minnesota, when everyone walks around smiling and greeting each other, with casual comments like "How about this day?" to strangers on the street (Note that Minnesotans may always be nice, but they're not always friendly. You should have seen us during this year's May 3rd blizzard).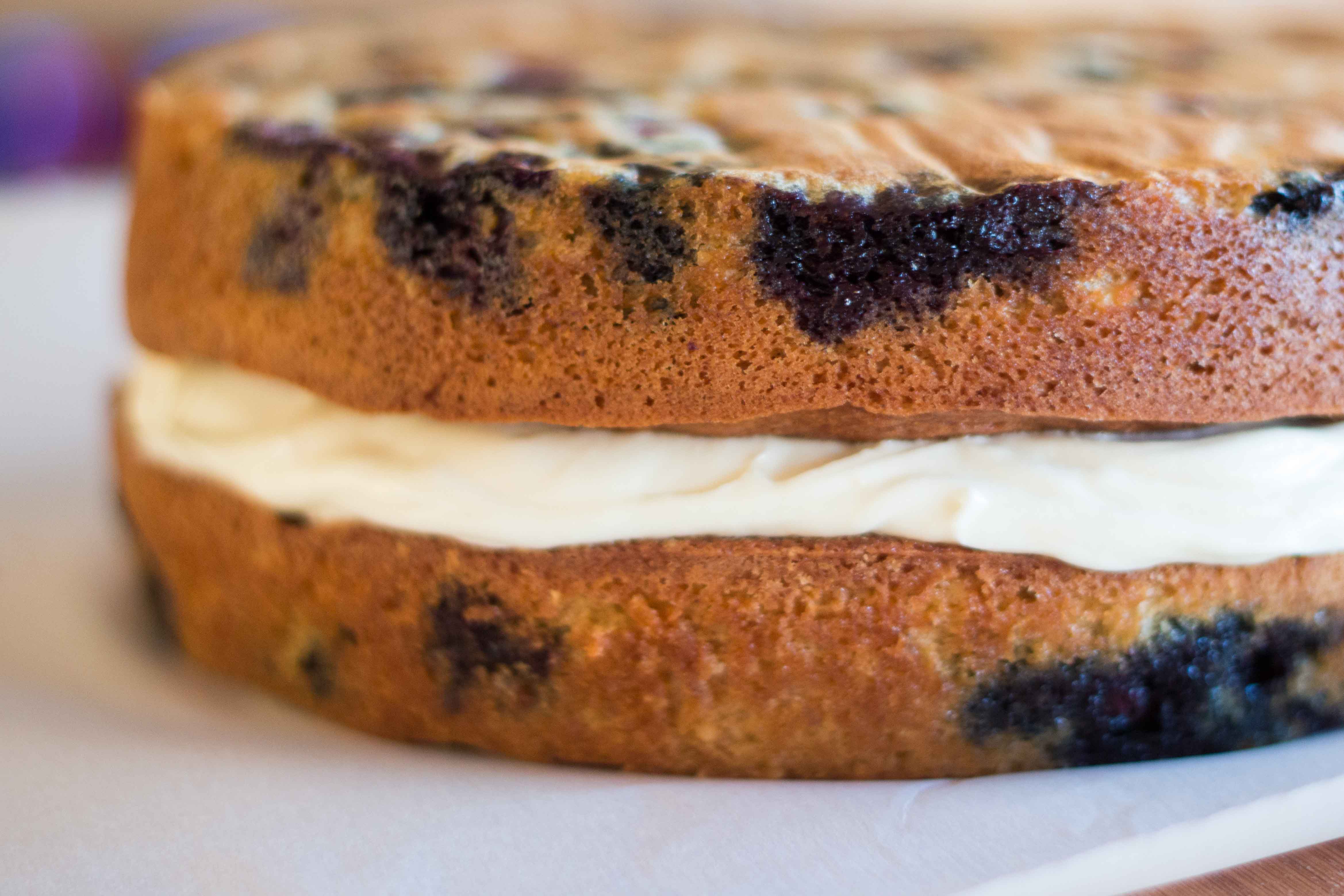 And and and!!!…if every Monday was "Cake Monday" then we'd probably have leftover cake for the remainder of the week. See how I plan ahead? You're welcome.
Although my love for this cake may seem unusual at first, since it doesn't include chocolate, peanut butter, OR coconut, you need only to look at the amount of cream cheese and brown butter to understand my feelings.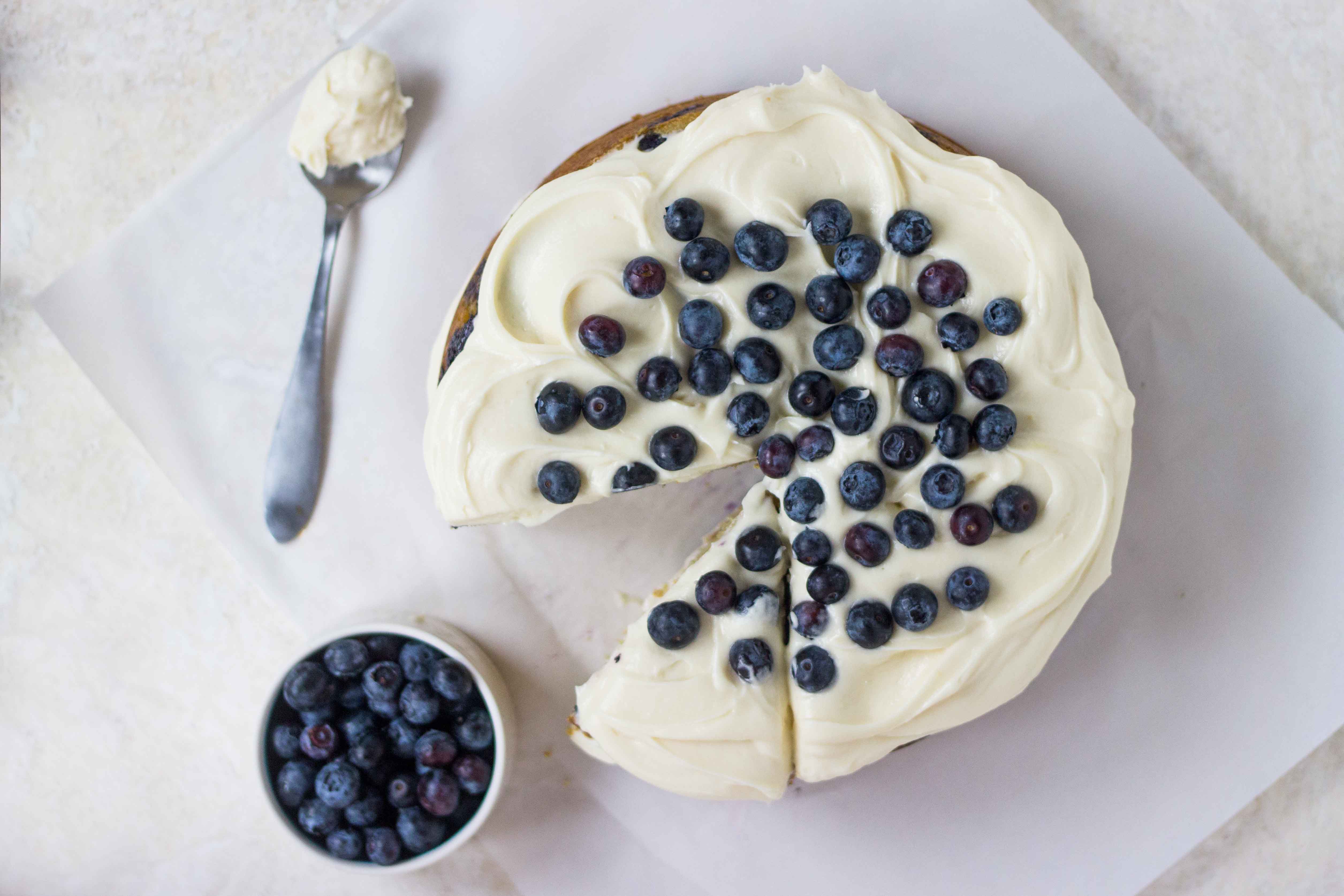 You see, this cake batter starts with butter and cream cheese, both softened, and then whipped together until totally smooth and creamy. Then we add both white and light brown sugars, vanilla, a touch of cinnamon, and buttermilk. After folding in some cornstarch-coated blueberries, the cake bakes up all airy, light, and golden. As if that's not enough yumminess for one cake, I added brown butter cream cheese frosting, which is wonderfully creamy, yet with a hint of caramel from the brown butter. The sprinkling of blueberries on top gives a lightly sweet and tart flavor, and highlights the blueberries hidden in the cake…and to be honest, they're just pretty, and I like pretty.


Blueberry Cream Cheese Cake with Brown Butter Cream Cheese Frosting
Super moist and flavorful blueberry cream cheese cake topped with brown butter cream cheese frosting! The perfect summer treat.
Author: Katie of Veggie and the Beast
Recipe type: Dessert, Cake, Summer Recipes
Serves: 10-12
Ingredients
Blueberry Cream Cheese Layer Cake
2 cups unbleached all-purpose flour
1 teaspoon baking powder
1 teaspoon baking soda
½ teaspoon salt
¼ teaspoon ground cinnamon
½ cup unsalted butter, softened
8-ounces cream cheese, softened
¾ cup granulated sugar
¾ cup light brown sugar, packed
4 eggs
1 teaspoon vanilla extract
¾ cup buttermilk
1½ cups blueberries, tossed with 1 tablespoon cornstarch
Extra blueberries for garnish
Brown Butter Cream Cheese Frosting
8-ounces cream cheese, softened
1 stick butter, cut into chunks
3 cups powdered sugar
½ tablespoon vanilla extract
1 tablespoon heavy whipping cream
Instructions
Preheat oven to 350 degrees.
Whisk together the flour, baking powder, baking soda, salt, and cinnamon in a bowl.
In a separate bowl, beat together the softened butter and cream cheese until smooth and creamy. After they come together, whip them on high for a couple minutes.
Add the sugars and beat until fluffy. Add the eggs and the vanilla and mix until combined.
Add ⅓ of the flour mixture to the wet ingredients, then pour in ⅓ of the buttermilk. Repeat this twice until all of the flour and buttermilk is incorporated in the batter.
Toss the blueberries and cornstarch in a separate bowl, and then gently fold into the batter.
Cut out 2 circles of parchment paper to fit the bottom of 9-inch circle pan. Liberally grease the pans and then add the parchment on the bottom.
Divide the batter evenly between the two pans. Bake for 30-35 minutes until a knife inserted in the center comes out clean.
While the cakes are baking, brown the butter. Place the butter in a small saucepan over medium-low heat. Once it melts whisk it constantly. Eventually bubbles will form, and you will smell a nutty aroma, and you will see brown specks form at the bottom of the pan. Remove from heat and continue to whisk for another 30 seconds. Pour the brown butter into another bowl, then cover it with saran wrap and place it in the fridge for about an hour so that it becomes the consistency of softened butter.
Transfer to a cooling rack, keeping the cakes in the pan for 10 minutes. Top the pan with a cooling rack, then grab the cooling rack and the pan, and gently flip it to make the cake pop out of the pan right onto the cooling rack. Let it cool completely.
While the cakes are cooling, get the frosting together. In a large bowl combine the brown butter and cream cheese, and beat on medium-high until light and fluffy. Gradually add the vanilla and powdered sugar until both are fully incorporated. Pour in the whipped cream, and beat on high for 2-3 minutes until super fluffy.
Once the cakes are cooled, top one of the cakes with half of the frosting, then top with the other cake and spread with the remaining frosting. I used the back of a spoon to make attractive waves. Top with additional fresh blueberries.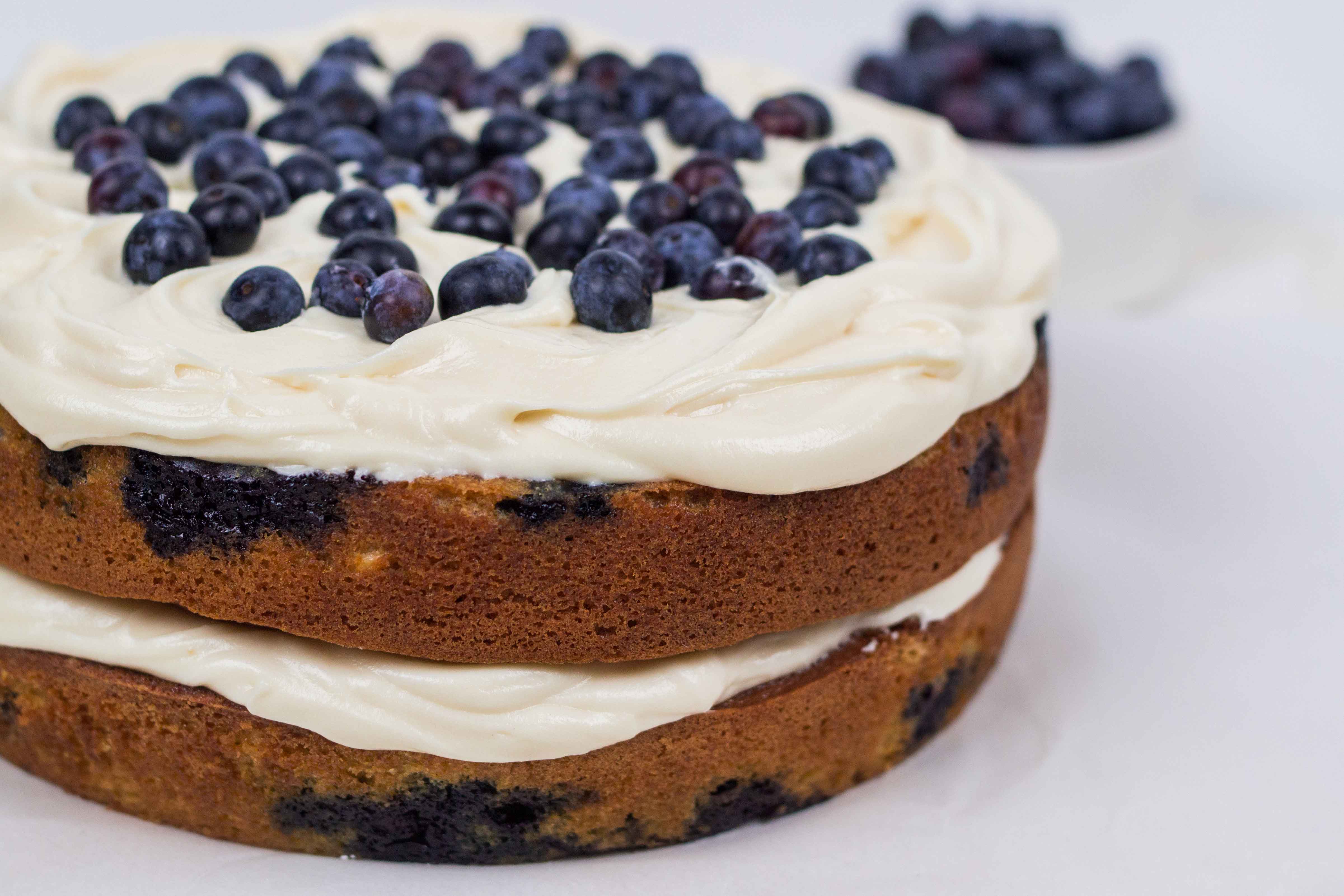 Summery, decadent, and downright pretty – plan your "Cake Monday" accordingly. It's going to be a thing.
27 Responses to "Blueberry Cream Cheese Cake with Brown Butter Cream Cheese Frosting"
Pingback: Fours | kitchen whimsies