Whole Wheat Zucchini Oat Waffles for Two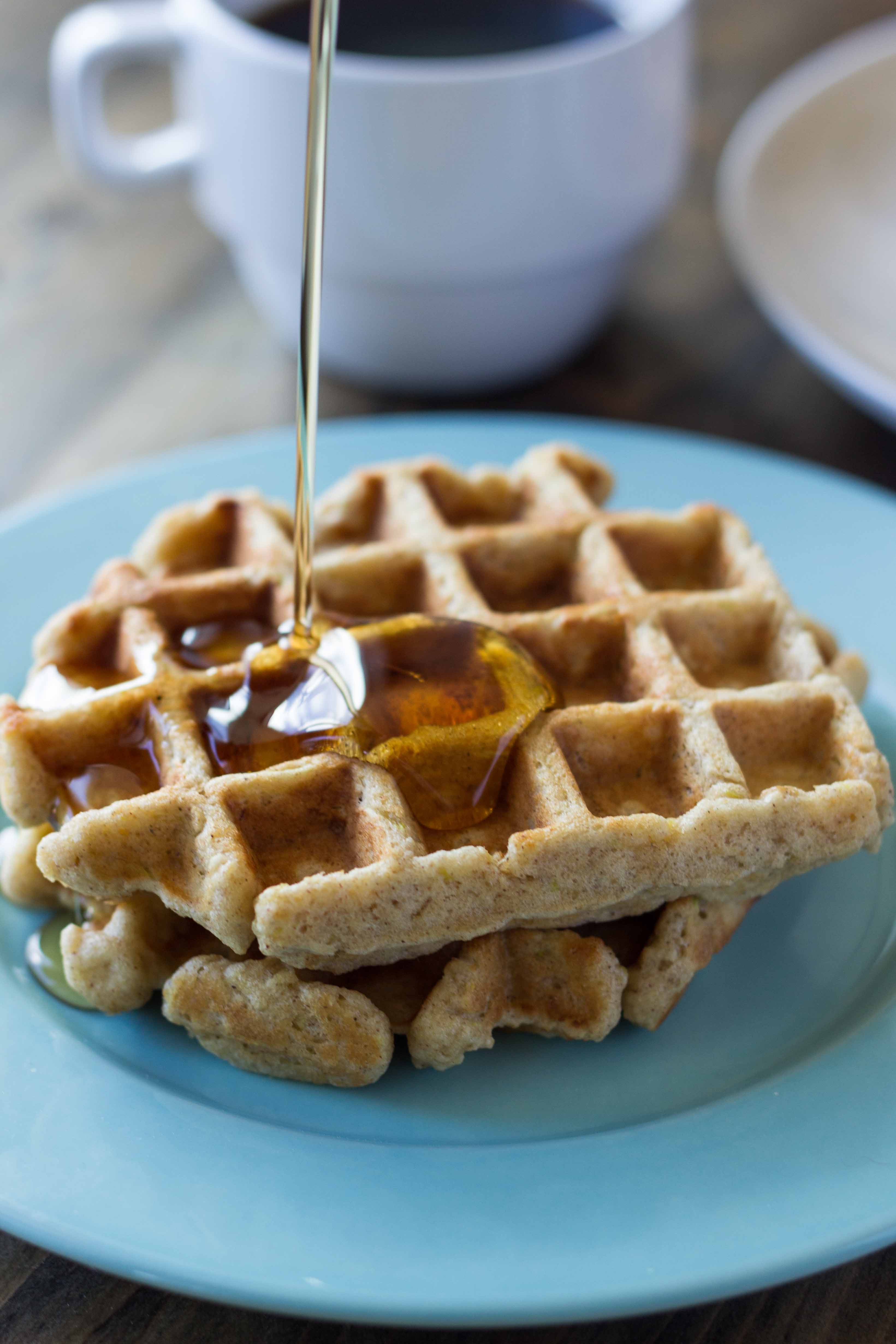 Last summer The Beast and I planted a community garden with tomatoes, green beens, herbs, peppers, and zucchini. Despite the variety of seeds in the ground, we mostly just reaped zucchini…like, a LOT of zucchini. Really big zucchini. I mean seriously.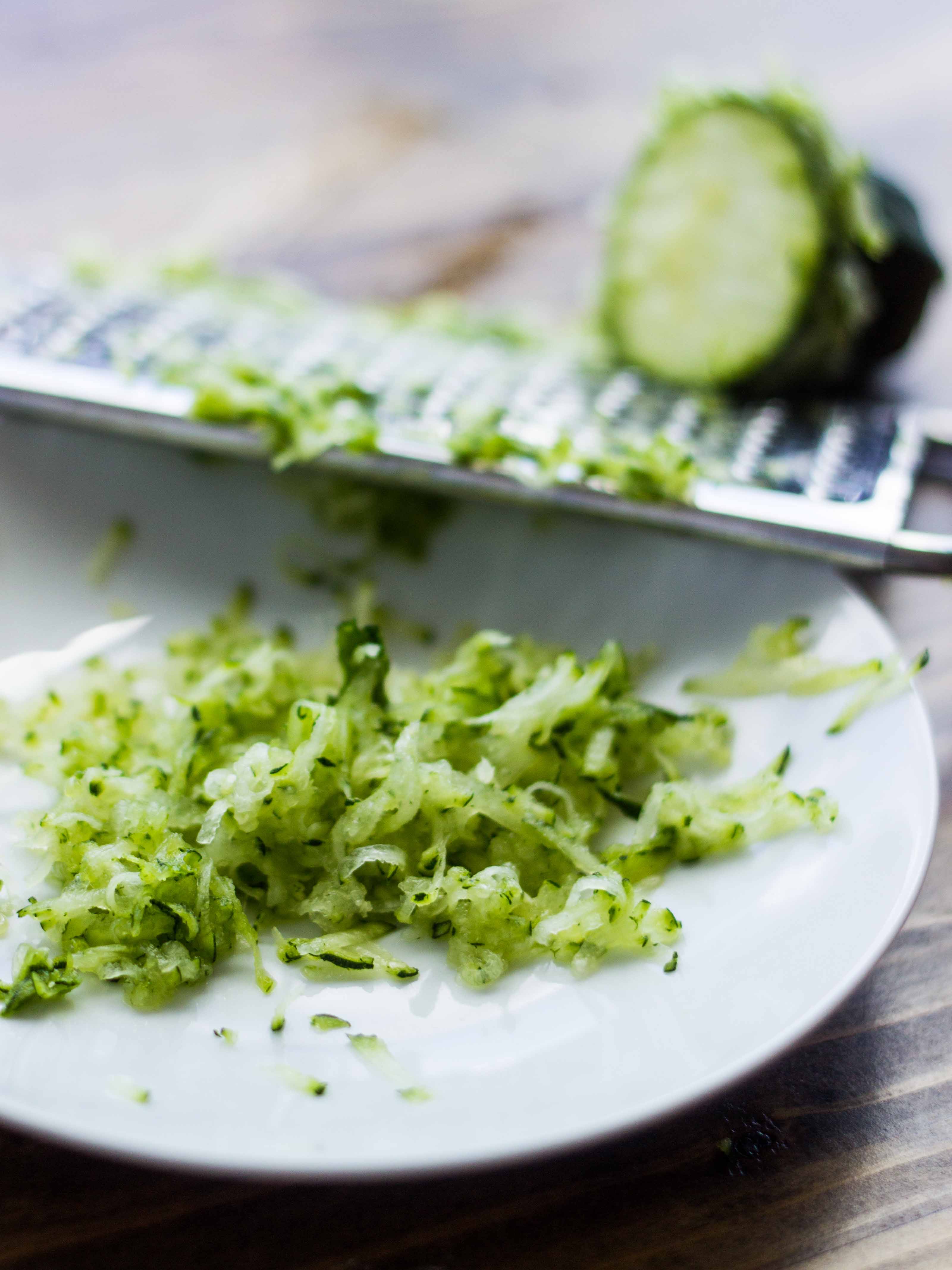 We ate so much zucchini that I got a bit zucchini'd out, if you will. I made a very tasty galette with grilled corn, put together an addictive chocolate zucchini cake, and ate more zucchini slices in my salads and sandwiches than I care to think about.
As irony would have it, this year we have no community garden, but I'm craving zucchini like whoa. I blame this Buzzfeed article.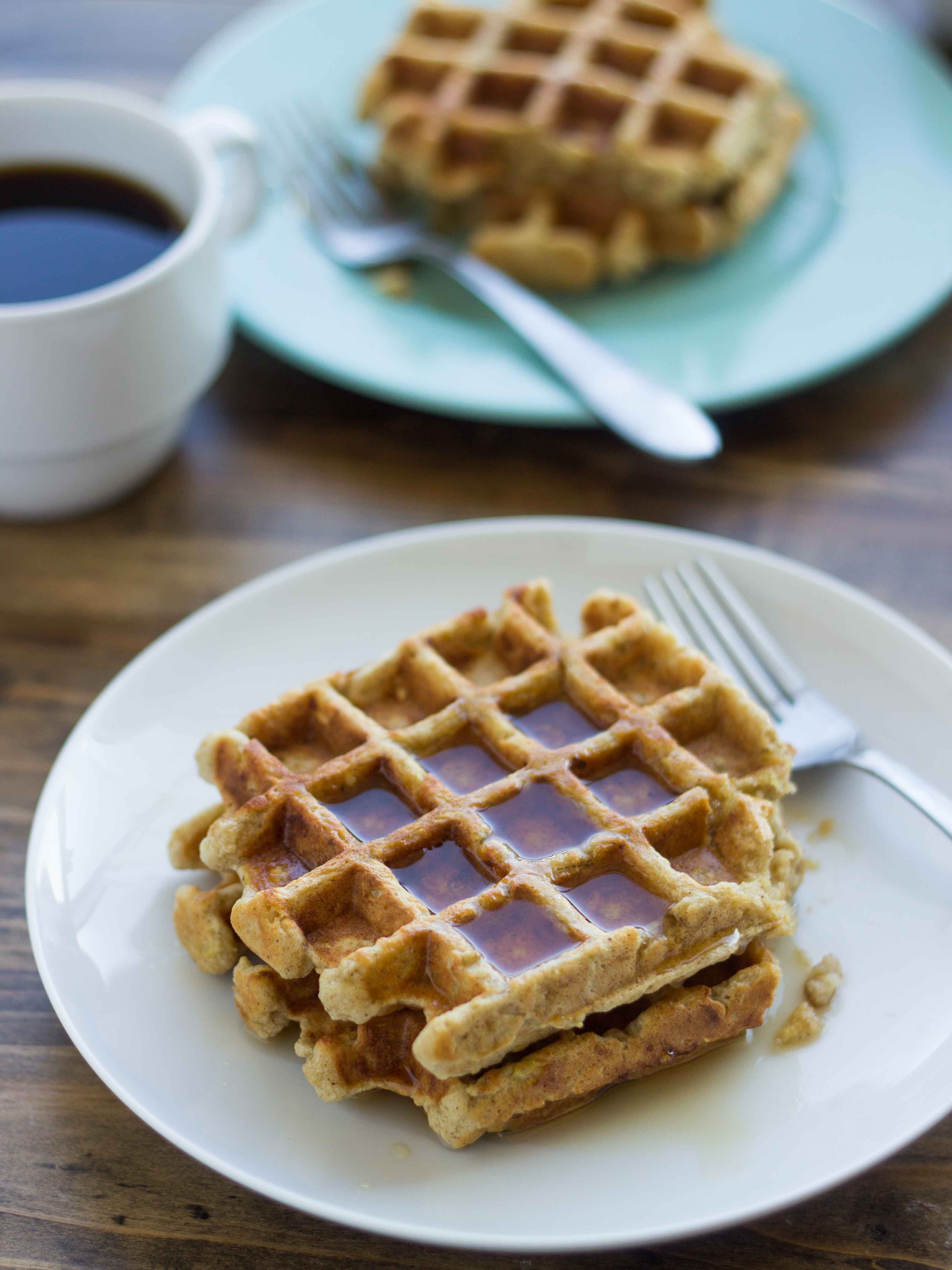 Like carrots in carrot cake, adding zucchini to baked goods does not result in a vegetable flavor or texture. The squash adds moisture, and a boost of fiber and nutrients meaning that any baked good involving the veggie can probably be considered health food. It's science.
All joking and misguided justifications aside, these waffles really will start your morning off right. They're quick to put together, and include wholesome, nutrient-dense ingredients like whole wheat pastry flour, old-fashioned oats, Greek yogurt, zucchini…and then just a bit of butter and dark brown sugar, because we all need a little fat and sweetness in our lives. The resulting waffles are lightly sweet and fluffy on the inside, but crisp and golden on the outside. They're hearty without being heavy, and filling without weighing you down for the rest of the day.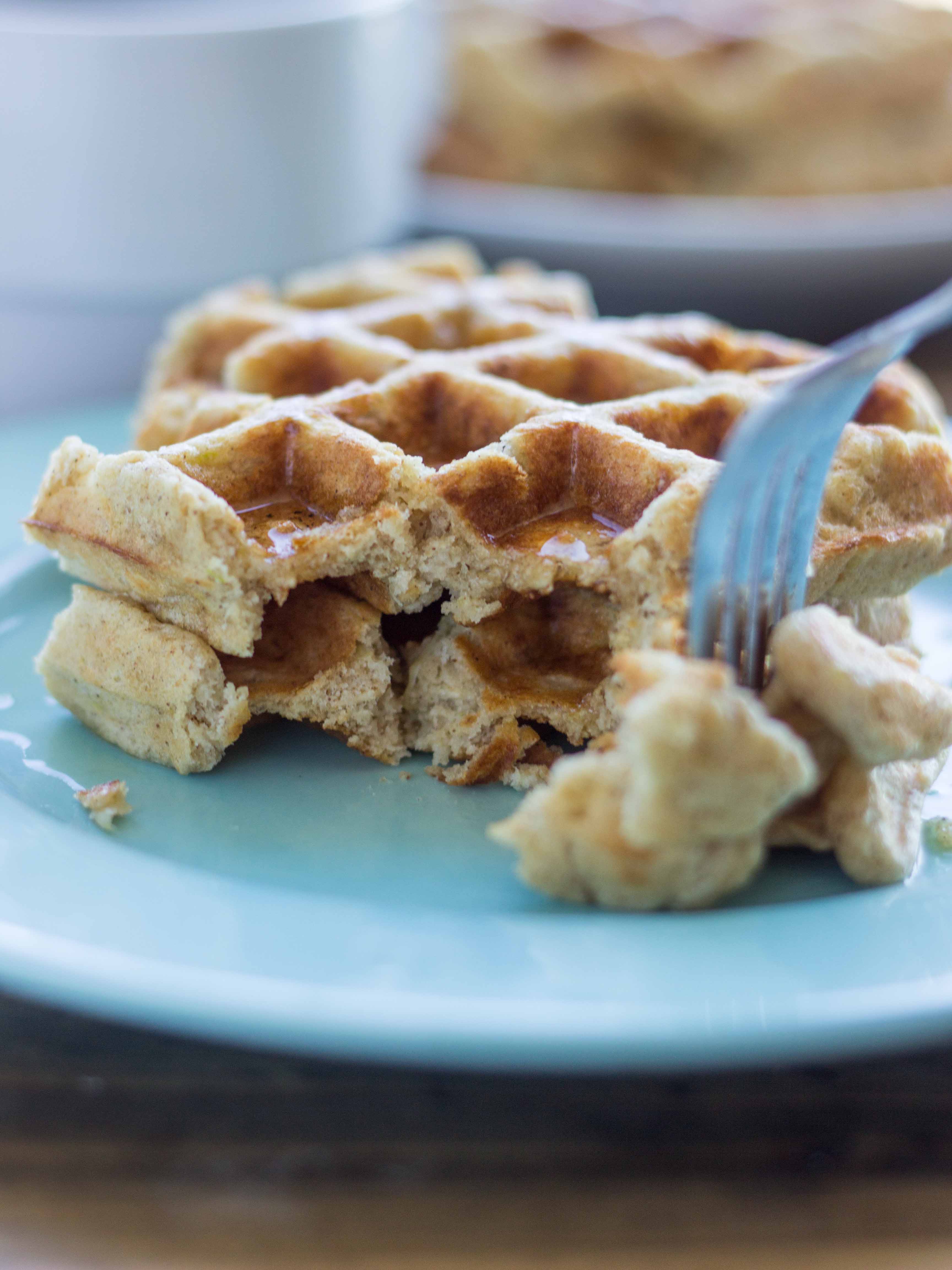 This recipe makes enough for two people (two waffles each), and each serving boasts 18 grams of protein, nearly 7 grams of fiber, 30% of your daily calcium needs, and under 400 calories. What! Yes.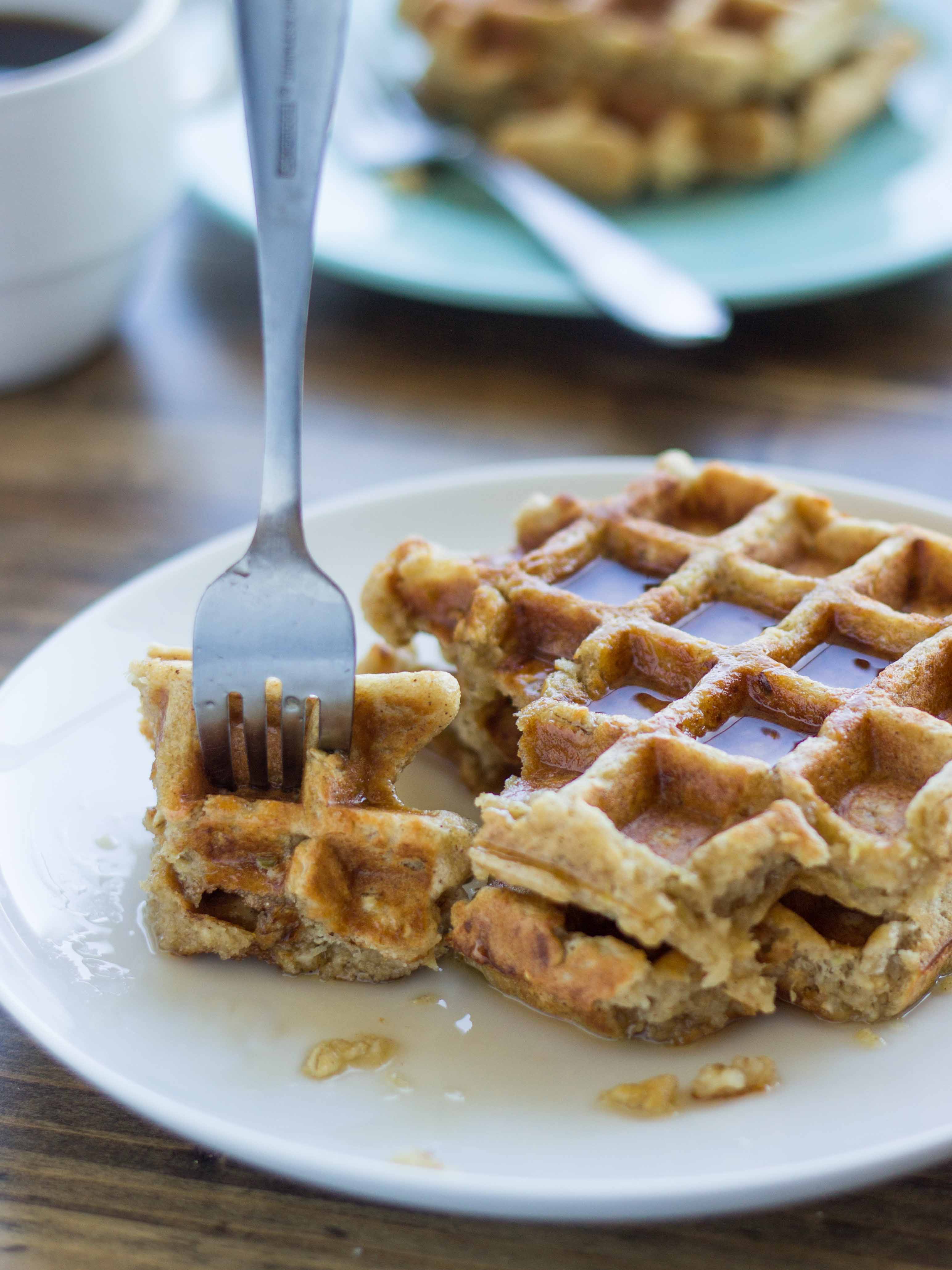 Healthy, homemade, bring-on-the-day breakfast for the win.


Whole Wheat Zucchini Oat Waffles for Two
Whole wheat zucchini waffles that are lightly sweet and fluffy on the inside, but golden and crisp on the outside! Packed with calcium, fiber, and 18 grams of protein in each serving.
Yield: 2 servings
Prep Time: 10 minutes
Cook Time: 10 minutes
Total Time: 20 minutes
Ingredients:
¾ cup Greek yogurt (I used 2% plain)
½ cup grated zucchini* (I also peeled mine, but it's not necessary)
1 large egg
1 tablespoons butter, melted
1 teaspoon vanilla extract
¾ cups whole wheat pastry flour
½ cup old-fashioned oats
½ tablespoon baking powder
1 tablespoons dark brown sugar
¼ teaspoon salt
½ teaspoon ground cinnamon
Directions:
Preheat your waffle iron.
Combine yogurt, eggs, melted butter, and zucchini in a large bowl.
In a separate bowl, whisk together the flour, oats, baking powder, brown sugar, salt, and cinnamon.
Stir the dry ingredients into the wet ingredients until just combined. The batter will be thick, but that's what keeps your waffles crisp on the outside and fluffy on the inside! No one likes limp waffles, am I right?
Coat your waffle iron with nonstick spray, then scoop the batter onto the waffle plates. Cook the waffles according to your waffle iron's instructions. My waffle iron makes two deep-pocket waffles at a time, so I had to cook my waffles in two separate waves.
Top with maple syrup (or whatever you want), and enjoy!
*After grating my zucchini, I placed it in a paper towel and squeezed it to get out the excess water.
12 Responses to "Whole Wheat Zucchini Oat Waffles for Two"
Pingback: High Protein Zucchini Waffles

Pingback: Marla Meridith | Gluten Free Oat Waffles