Roasted Sweet Potato & Balsamic Caramelized Onion Pizza
Back to life. Back to reality. This song has been in my head for 5 days. No joke.
The Beast and I returned from our 9-day vacation on Sunday afternoon, but my mind is stuck in Key West. I keep obsessively looking at my vacation pictures and remembering how last week totally kicked this week's ass. BUT, onward we go.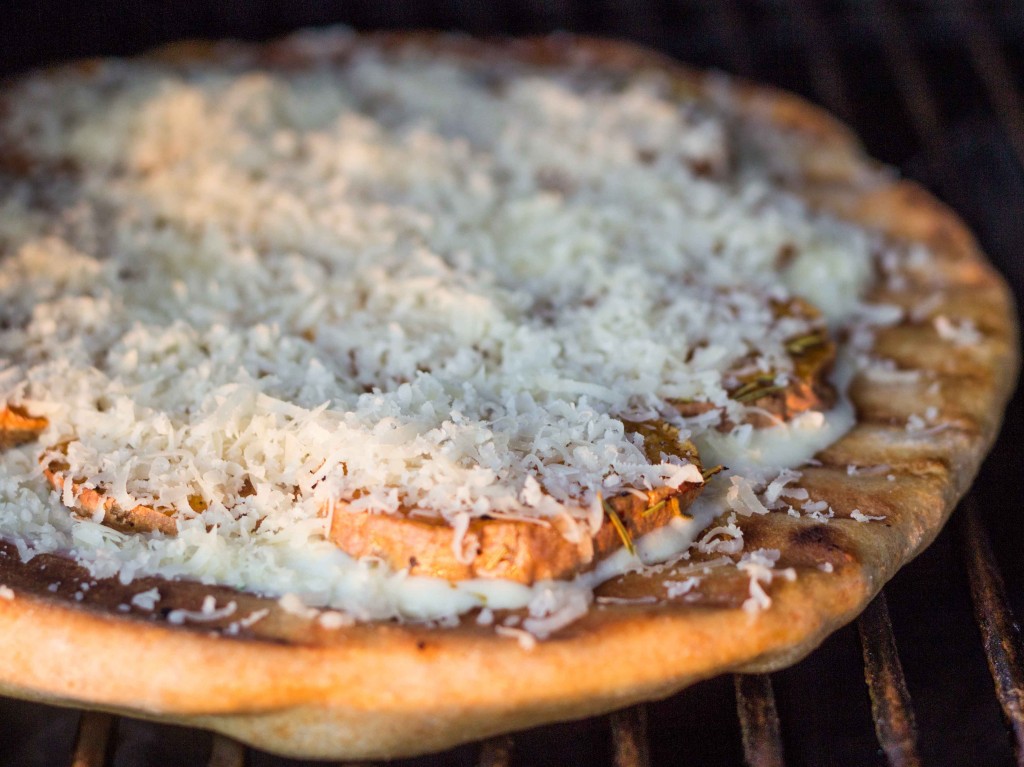 One plus of being home? Cooking again. Over vacation I layered avocado, tomato, and hummus on sliced bread nearly everyday, and I helped put together one fruit salsa, but that sums up my culinary work throughout the 9 days. For a girl who loves to be in the kitchen, and loves to love what she eats, stirring sauces and turning on the oven has proven to be the best therapy for easing back into the rhythm of daily life.
I also keep reminding myself that my favorite season is hiding just around the corner. Although summer definitely has its perks, I love fall's crisp air, colors, clothes (boots!), and food. I never want to wish time away, but the season of pumpkin, chai, and butternut squash always gives me this warm, happy feeling.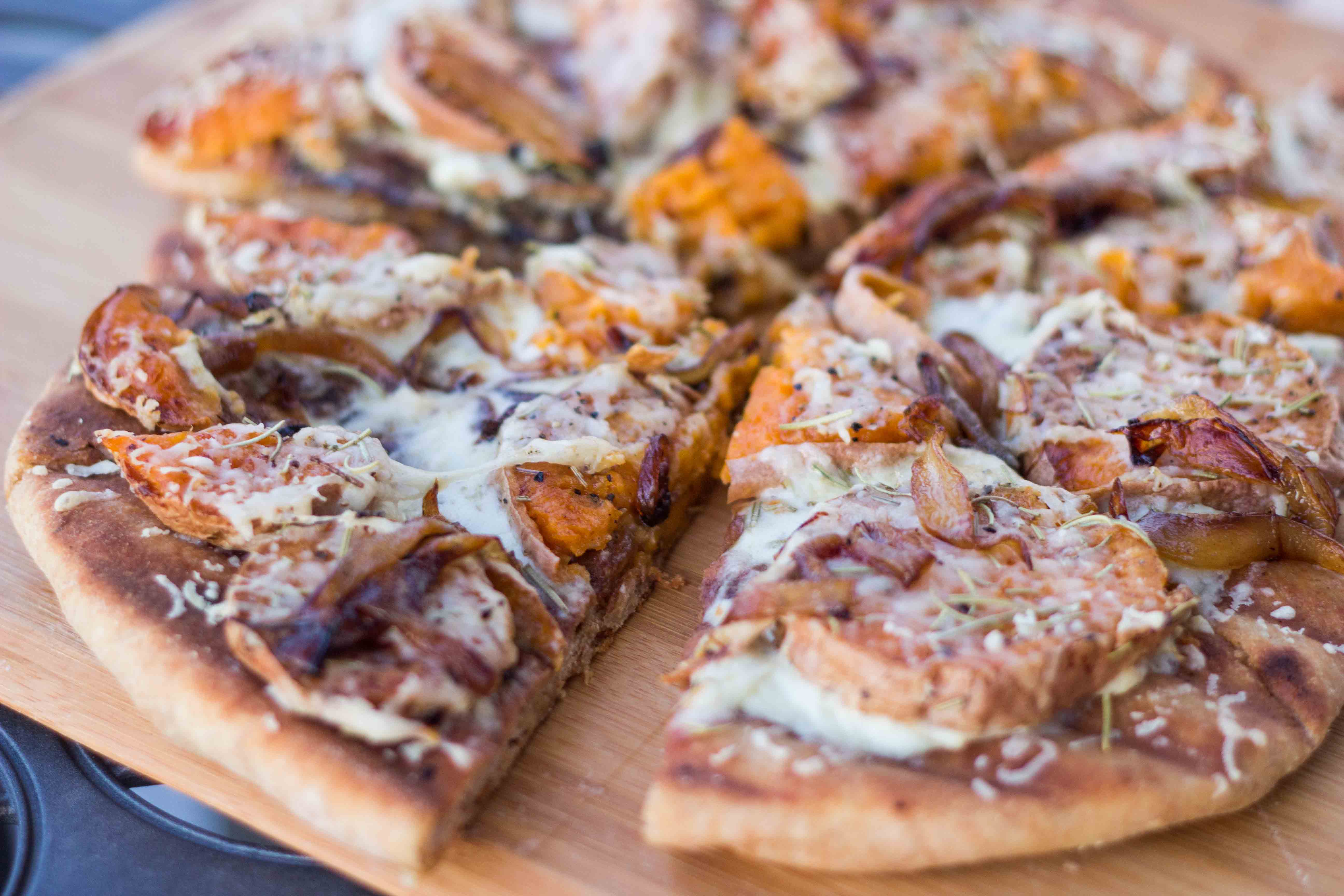 Speaking of happy feelings, THIS PIZZA. Although I should be taking advantage of juicy heirloom tomatoes and fresh basil (which I plan to do in the next few days), this savory and rich pizza just needed to happen. It's a play on one of my favorite pizzas from an amazing pizza shop in Minneapolis, which includes thinly-sliced potatoes, caramelized onions, rosemary, and a wonderful amount of cheese.
My version starts with simple whole wheat dough, which I then top with a creamy, fontina and parmesan-spiked béchamel sauce. Instead of white potatoes I use sweet potatoes, and roast them with salt, pepper, and rosemary. The caramelized onions, although a bit time intensive, are worth every minute spent over the skillet; They're sweet, rich, and swirled with a touch of acidity from balsamic vinegar. This pizza might not be super summery, since sweet potatoes shine brightest in the fall, but it IS one of the most comforting pizzas to ever be thrown on my grill. True story.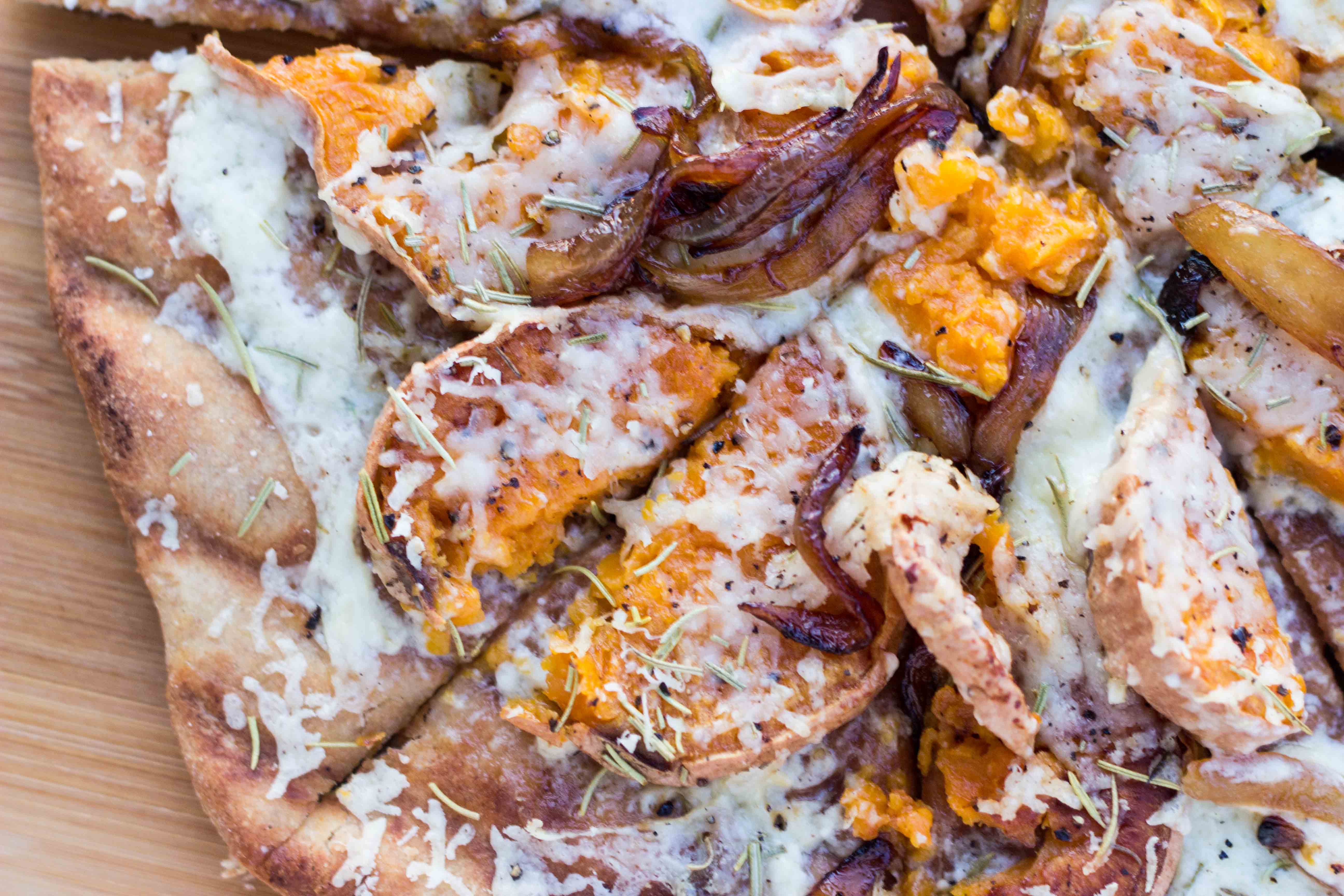 I give quick pizza grilling instructions in the recipe below, but if you want a full step-by-step picture tutorial, check out this post. Pizza grilling is ridiculously simple, fast and fun, plus you get a great grill flavor on the crust! Do it.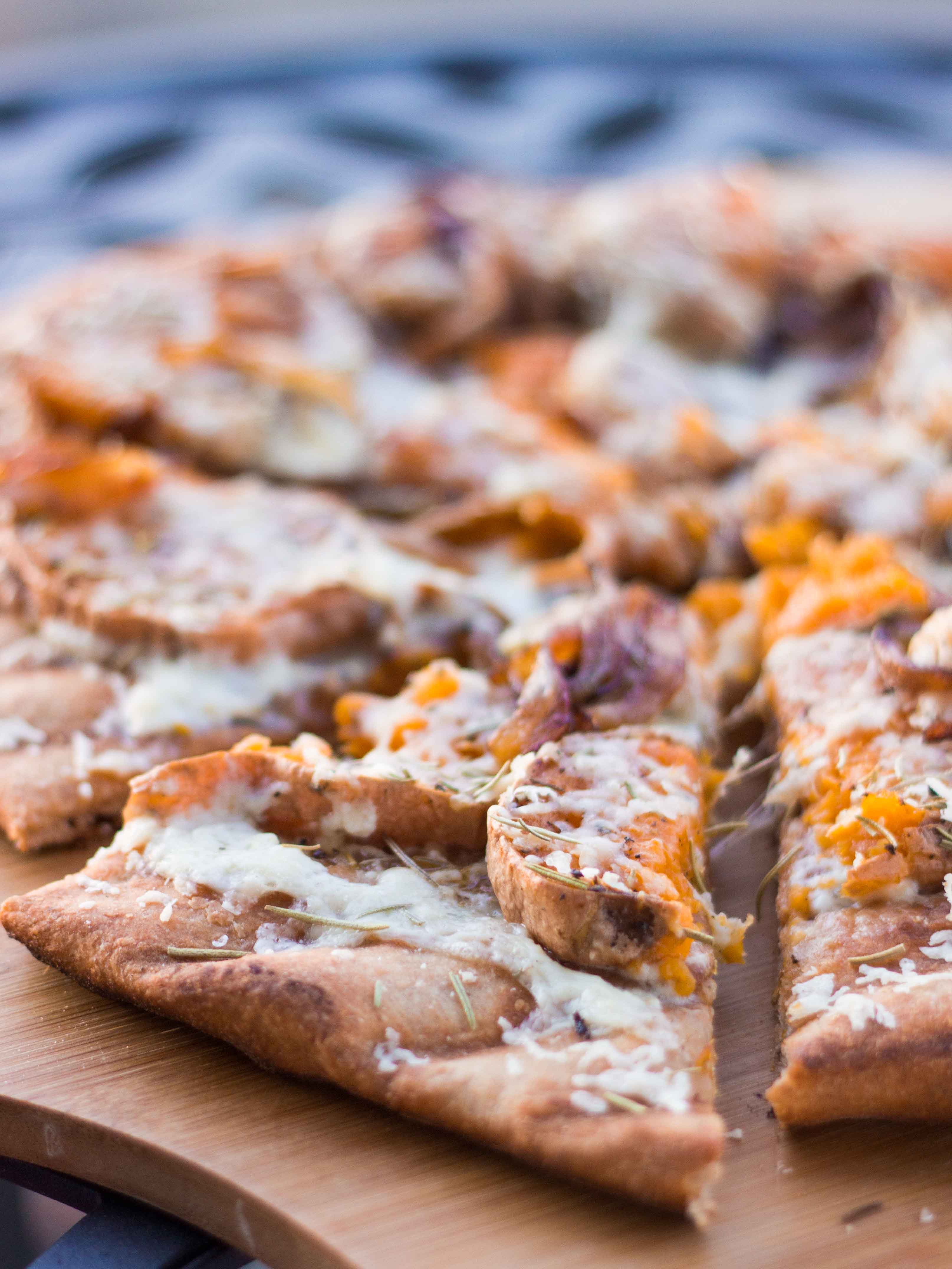 Side note: Knowing how to A) grill pizza and B) caramelize onions may result in you eating pizza multiple times per week. Don't say I didn't warn you.

Rosemary Roasted Sweet Potato & Balsamic Caramelized Onion Grilled Pizza
A sweet-yet-savory pizza covered in a creamy fontina and parmesan sauce, rosemary-roasted sweet potatoes, and balsamic caramelized onions.
Yield: 1-2 servings
Prep Time: 45 minutes
Cook Time: 20 minutes
Total Time: 1 hour 5 minutes
Ingredients:
Pizza
1 grapefruit-sized ball of your favorite pizza dough
Olive oil for brushing
Rosemary Roasted Sweet Potatoes, ingredients below
Balsamic Caramelized Onion, ingredients below
Rosemary White Sauce, ingredients below
½ cup fontina, shredded
3 tablespoons parmesan, shredded
Roasted Sweet Potatoes
1 medium-sized sweet potato, cut into about ¼" slices
1 tablespoon olive oil
¼ teaspoon kosher salt (or to taste)
¼ teaspoon black pepper (or to taste)
1 teaspoon rosemary
Balsamic Caramelized Onions
1 tablespoon olive oil
1 small yellow onion, sliced
¼ teaspoon granulated sugar
¼ teaspoon salt
¼ cup water (if needed)
1 teaspoon balsamic vinegar
Rosemary White Sauce
1 teaspoon olive oil
1 teaspoon unbleached all-purpose flour
1 clove garlic, minced
½ cup milk (I used 1%)
½ teaspoon salt
½ teaspoon rosemary
⅛ teaspoon freshly grated nutmeg
¼ cup fontina, shredded
¼ cup parmesan, shredded
Directions:
Preheat oven to 400 degrees.
For the sweet potatoes: Place the sweet potatoes in a bowl, and pour in the olive oil, salt, pepper, and rosemary. Stir to combine, then spread on a greased baking sheet. Bake for 20 minutes, flipping once.
For the onions: Heat the olive oil in a large skillet. Add the onions and cook for 10 minutes over medium-low heat, stirring occasionally. After 10 minutes sprinkle in the salt and sugar. Continue to cook for another 30-35 minutes, stirring occasionally and adding oil if the onions begin to stick. You can also add a bit of water if the onions look dry. Once they are caramelized, remove them from the heat and stir in the balsamic vinegar.
For the sauce: In a small saucepan, heat the olive oil over medium heat. Add the flour and stir for 30 seconds to form a paste. Pour in the garlic, milk, salt, rosemary and nutmeg. Bring to a light boil, and whisk constantly for 5-7 minutes, until thickened. Remove from heat and stir in the cheese until smooth.
Generously flour a surface, form your dough into a ball, then flatten with your hands. Use a rolling pin to roll the dough out to about 12-inch diameter. Brush some olive oil on one side. Place on the grill oil-side down, and cook for 10 minutes over medium heat (note: this will go faster if you are using a charcoal grill). Remove from the grill, and reduce the grill heat to low. Brush the other side of the dough with olive oil, then flip the dough so the cooked side is facing up. Top the pizza the cheese sauce, half of the fontina, potatoes, remaining cheese (fontina and parmesan), and an extra sprinkle of rosemary. Place back on the grill and cook on low heat for about 7-10 minutes, until the cheese is melted. Remove from heat, top with caramelized onions, and enjoy!
3 Responses to "Roasted Sweet Potato & Balsamic Caramelized Onion Pizza"