Peanut Butter Protein Muffins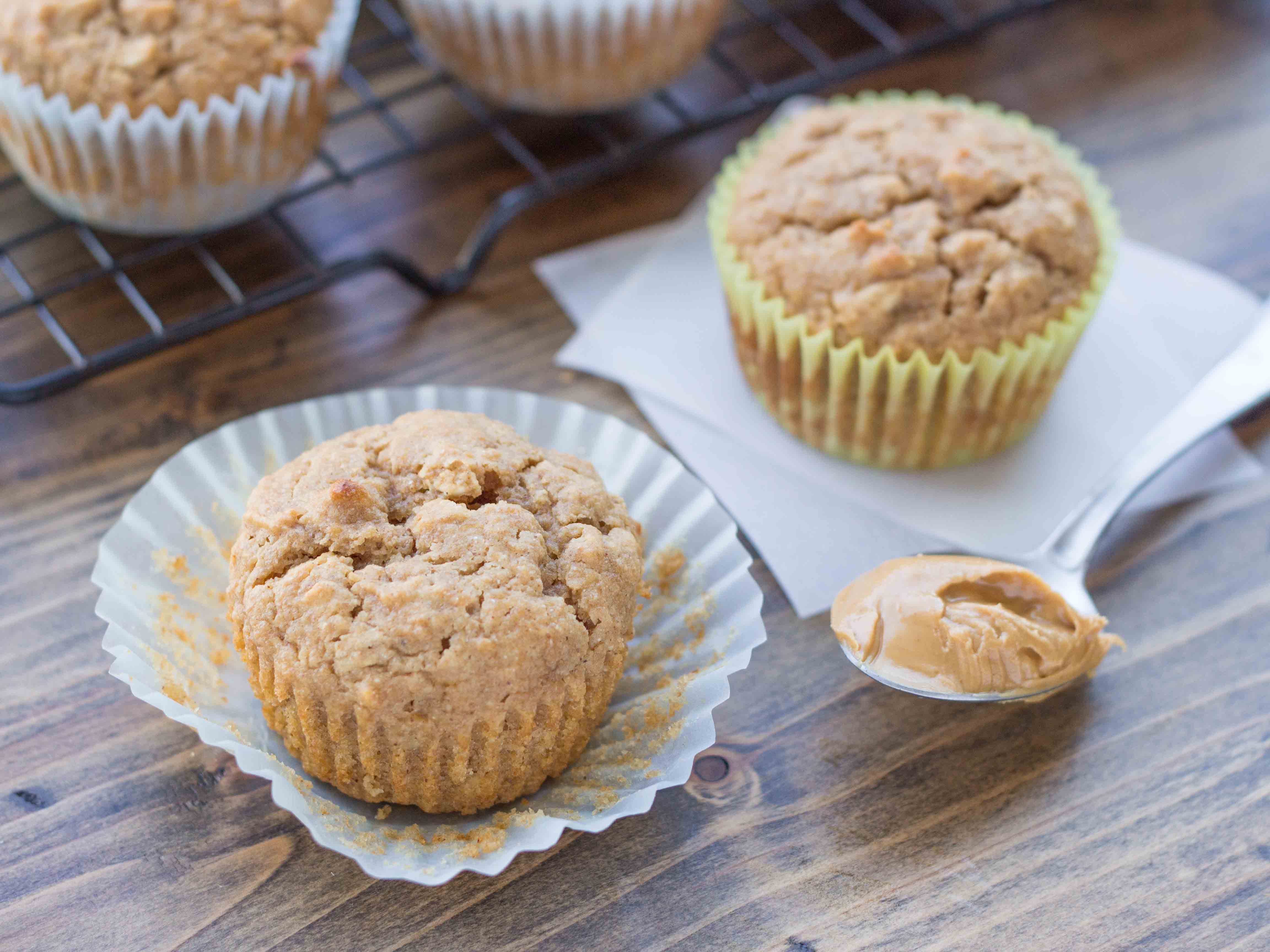 An alternate title for this post could be, "Something I should have with me at all times to avoid becoming a huge b*tch." I really can't go more than 3 hours without eating. I become a different person. I become a hateful person.
I'm usually thinking about food, so I rarely forget to eat, but there have been a few times when I haven't realized I'm hungry until I get home from work and freak the geek out. It's these times when The Beast hands me a granola bar, crackers, nuts…really anything to help improve his unfortunate situation.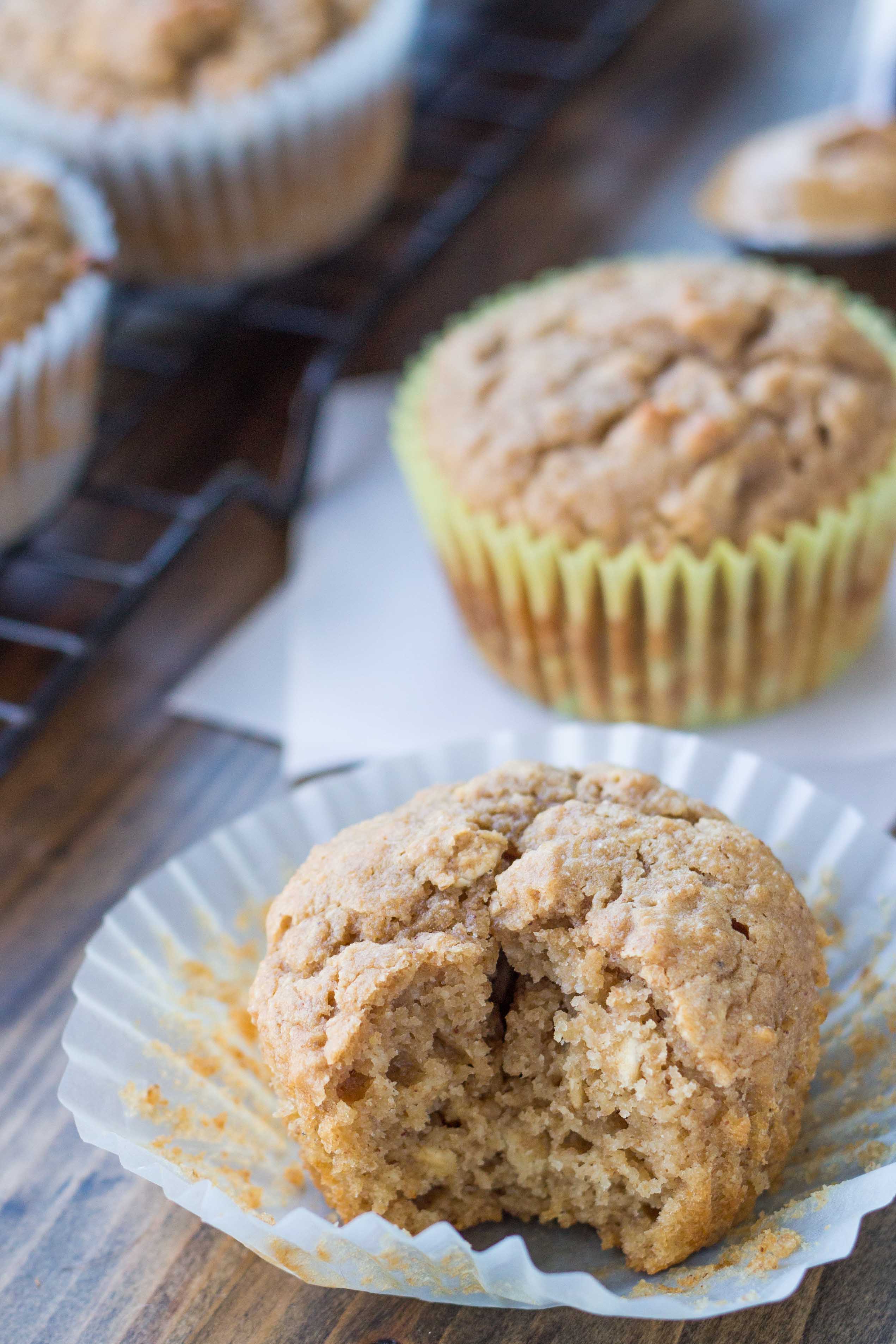 When I'm left to my own devices, I tend to dive into the peanut butter jar after work. Although there's something so wonderfully college-eque about eating peanut butter out of the jar, it makes me feel a bit lazy. So why not take that comfort and put it in a muffin, right?
Each 185-calorie muffin serves up 7 grams of protein, nearly 3 grams of fiber, and plenty of that rich peanut butter flavor I crave in the afternoon. To give these muffins their protein power I used spelt flour, wheat germ, old-fashioned oats, Greek yogurt and, obviously, peanut butter. The resulting muffin is moist, filling, and perfectly peanut buttery.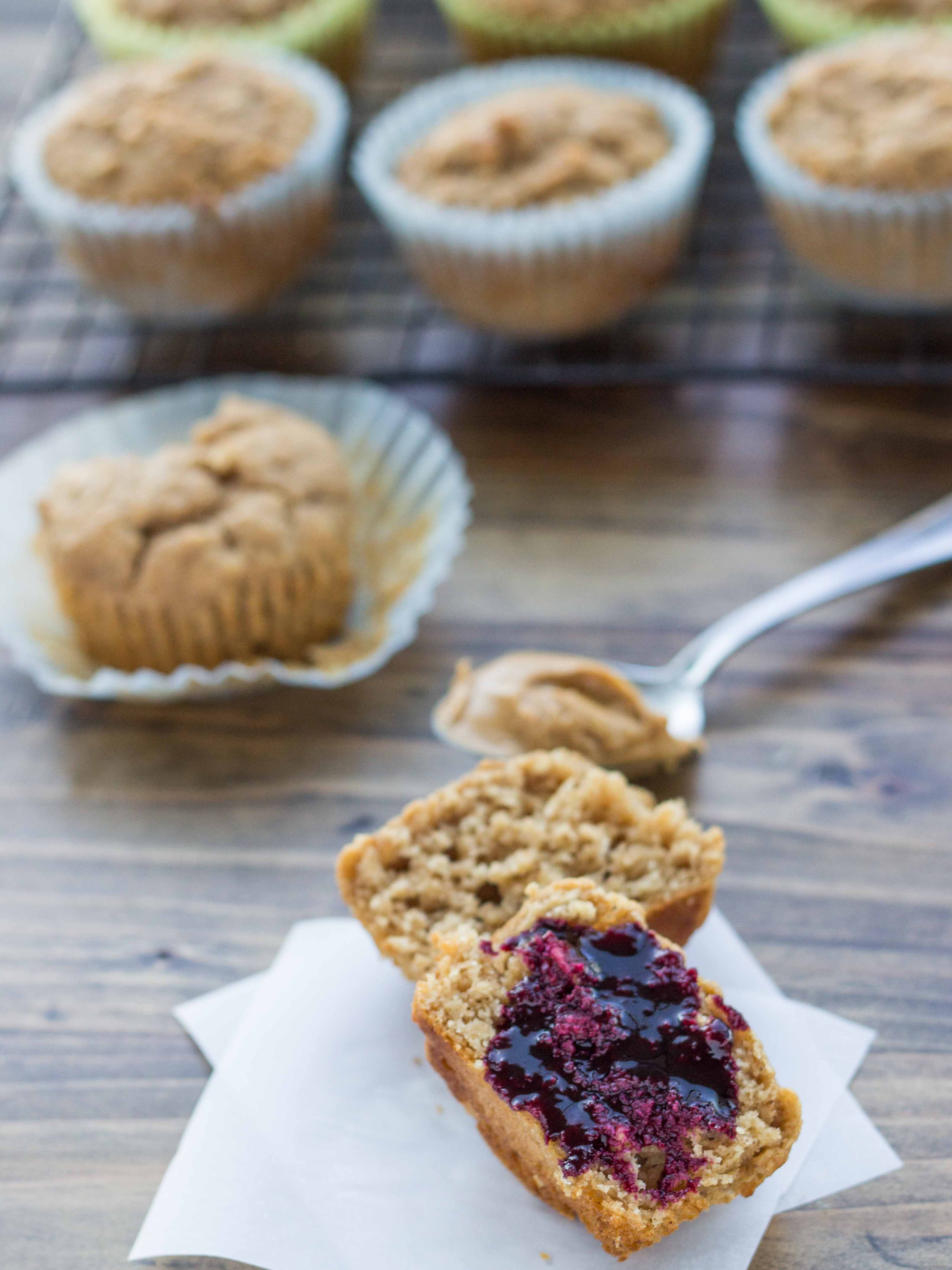 These muffins can be eaten plain, spread with jam, or, if you're crazy like me, covered in even more peanut butter. Although the just-baked muffins smell deliciously inviting, they will taste better the next day. Give the muffins a good 8-12 hours to deepen in flavor and boost moistness, and you will have a perfect snack to avoid a midday "hangry" episode.
Protein-conscious peanut butter lovers: This is your muffin.


Peanut Butter Protein Muffins
The perfect healthy snack! Each muffin has under 200 calories, 7 grams of protein, and TONS of peanut butter flavor!
Yield: 12 muffins
Prep Time: 10 minutes
Cook Time: 15 minutes
Total Time: 25 minutes
Ingredients:
¾ cup whole grain spelt flour (or whole wheat pastry flour)
½ cup quick oats
¼ cup wheat germ
1 teaspoons baking powder
½ teaspoon baking soda
½ teaspoon ground cinnamon
¼ teaspoon salt
½ cup natural unsweetened applesauce
⅔ cup creamy peanut butter
3 tablespoons honey
3 tablespoons dark brown sugar, packed
1 large egg
2 teaspoons vanilla extract
½ cup 2% plain Greek yogurt
Directions:
Whisk together the flour, oats, wheat germ, baking powder, baking soda, cinnamon and salt in a bowl. Set aside.
In another bowl, stir together the applesauce and peanut butter. Mix in the honey, sugar, egg, and vanilla, and then stir in the Greek yogurt.
Slowly add the dry ingredients to the wet ingredients.
Drop the batter into 12 lined and greased muffin tins.
Bake at 375 for 15-18 minutes, until a toothpick/knife inserted in the center comes out clean.
Allow to cool completely. Store in an airtight container. Since this is an oil-free quick bread, the muffin flavor and texture will improve overnight.
20 Responses to "Peanut Butter Protein Muffins"
Pingback: Helane's Blog--Week #3--Healthy Foods -