Caramel Apple and Brie Galette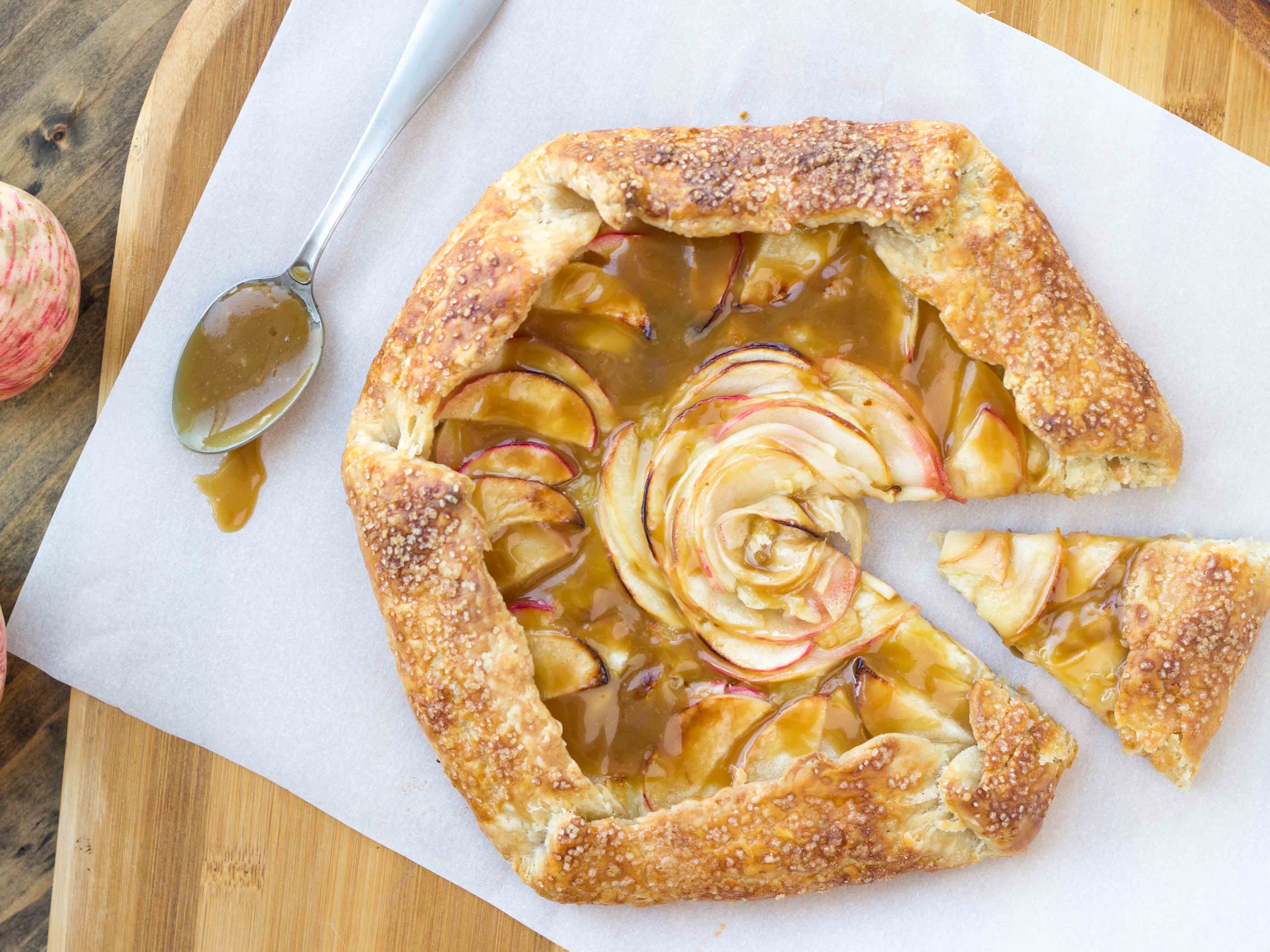 It's the unofficial last week of summer, and one of the hottest weeks yet in Minnesota, but here I am bringing you a fall dessert. Shame on me.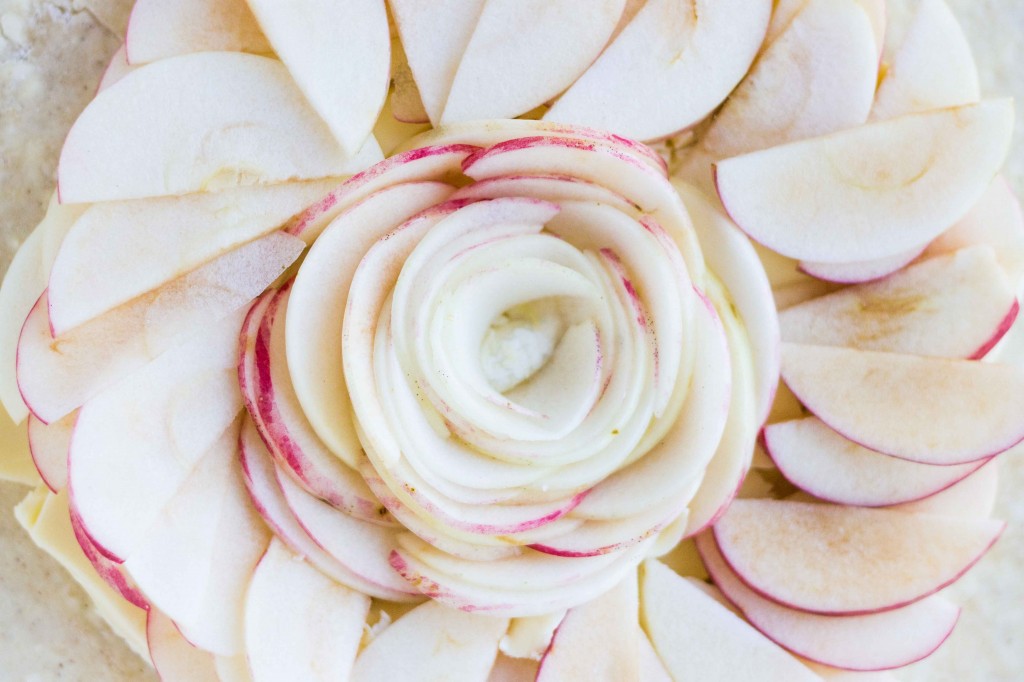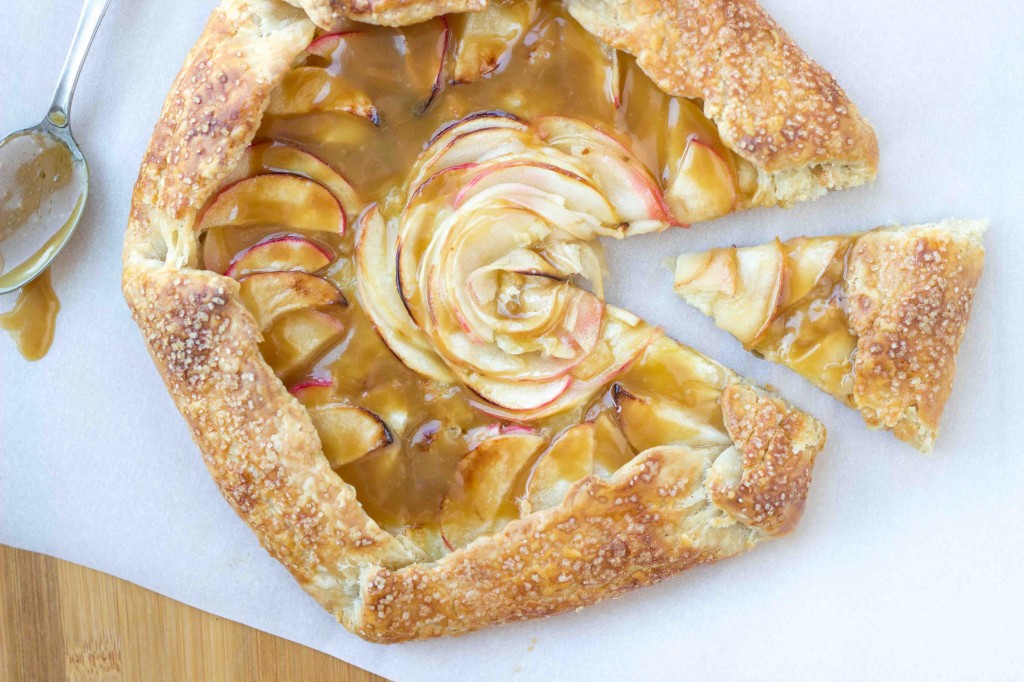 Last week The Beast returned from a trip to his dad's house in Wisconsin with a 5 gallon bucket of wild apples. These are truly wild apples, with their dark spots and funny shapes, but more importantly they're crisp, pucker-up tart, and the perfect vehicle for rich and buttery caramel.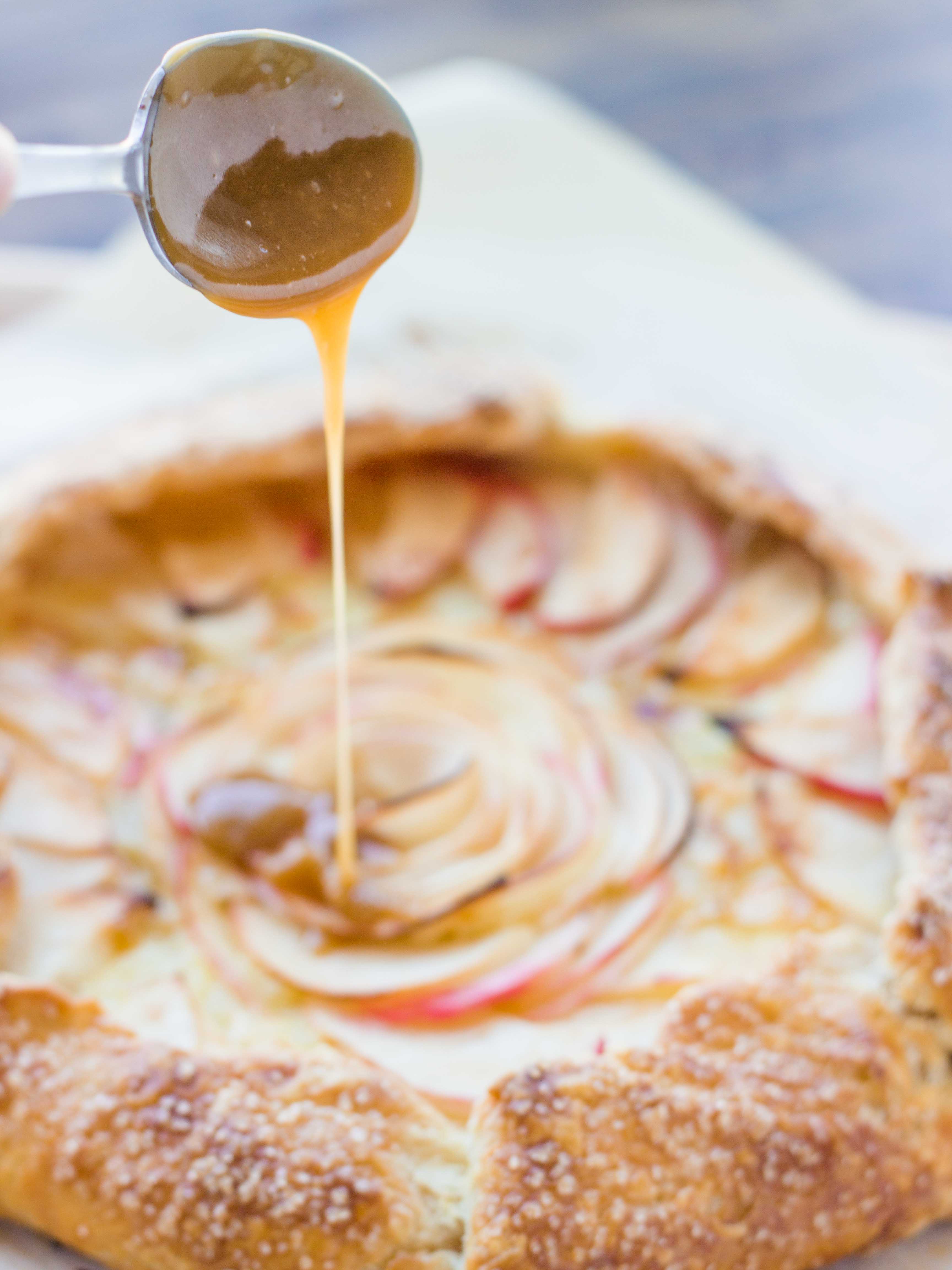 Truth be told, apple desserts aren't usually my autumn treat of choice because, well, when pumpkin is in the picture I often can't think of anything else. It takes a truly special dessert to make me crave apples….preferably a truly special dessert that involves a golden, buttery crust, rich and creamy brie, and that caramel…oh-me-oh-my that caramel.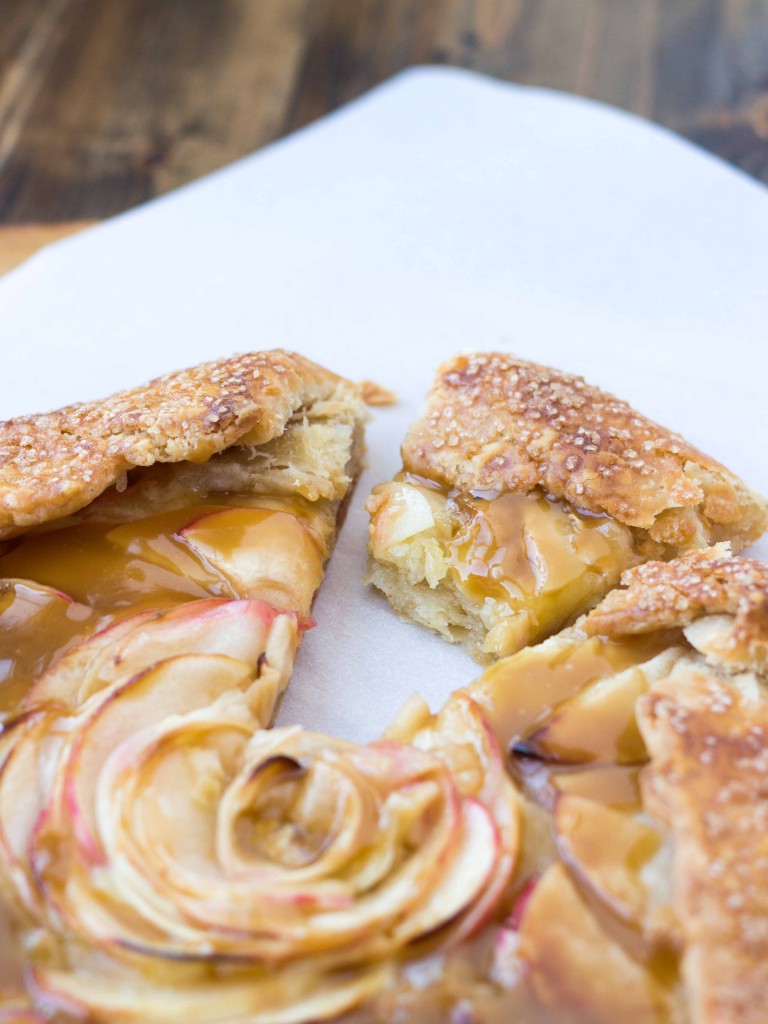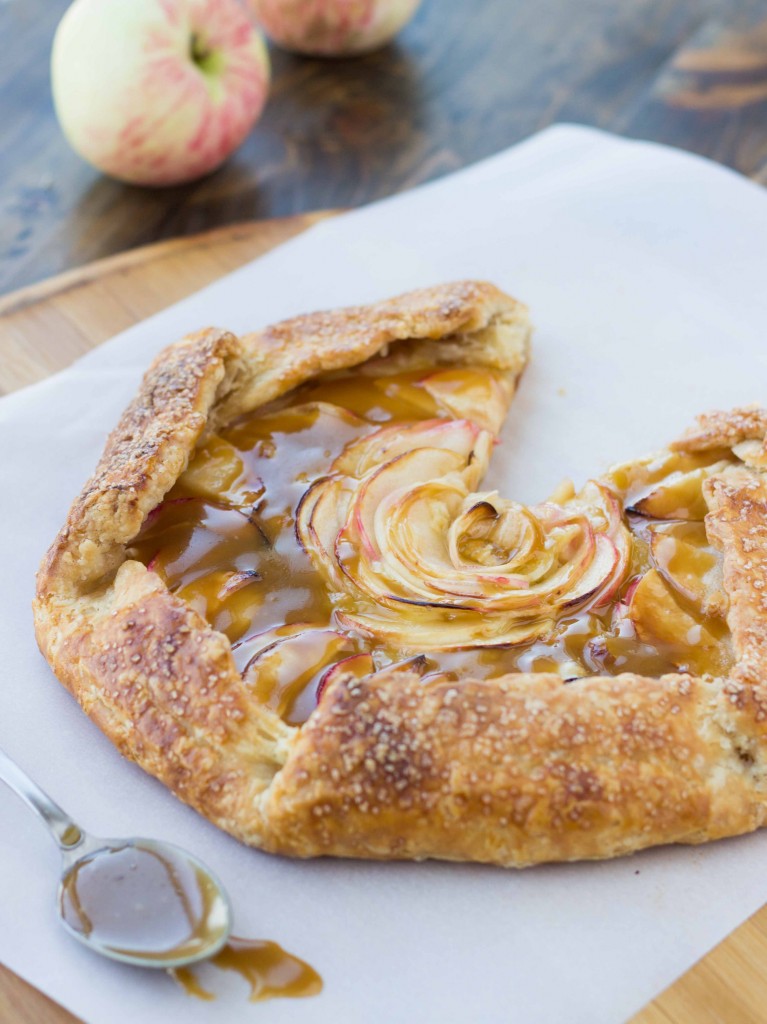 The crust is similar to the one used in my other galette recipes, which is adapted from the wonderful Smitten Kitchen. In this version I used all-purpose flour (because whole wheat just doesn't belong here), a little sugar, and a touch of cinnamon to add a bit of warmth to the dough. I personally dislike the rind of brie, so I cut that off, sliced the remaining brie into strips, and then arranged the slices on top of the dough. I covered the brie in thinly-sliced apples, and created a rose pattern because I needed to try to make something as beautiful as this. After the galette baked up all golden and bubbly with brie, I spooned on some thick caramel, and then devoured the buttery, crisp, tart, and sweet loveliness.
To my shock and dismay, it only took 2 apples to cover the brie, meaning I still have a 5-gallon bucket of apples sitting in my kitchen. Apple recipe inspiration is welcome (and encouraged) in the comments! What's your favorite apple recipe?


Caramel Apple and Brie Galette
A free-form tart ("galette") with a buttery crust, creamy brie, tart apples and smooth caramel. The perfect fall dessert.
Yield: 8-10 servings
Prep Time: 1 hour 15 minutes
Cook Time: 35 minutes
Total Time: 1 hour 50 minutes
Ingredients:
Galette Dough
1¼ cups unbleached all-purpose flour
¼ teaspoon cinnamon
½ tablespoon granulated sugar
¼ teaspoon salt
8 tablespoons (1 stick) cold unsalted butter, cut into pieces and chilled again
¼ cup 2% Greek yogurt
2 teaspoons fresh lemon juice
¼ cup ice water
Filling
2 small apples (honeycrisp work well), very thinly sliced
8 ounces brie
2 tablespoons lemon juice
½ tablespoon raw (turbinado) sugar
1 egg mixed with 1 tablespoon water
Caramel Drizzle
¼ cup brown sugar
1 tablespoons water
3 tablespoons unsalted butter, cubed
¼ cup heavy cream
1 teaspoon vanilla extract
½ teaspoon kosher salt
Directions:
Mix together the flour, cinnamon, sugar, and salt. Place in the refrigerator for a half hour.
After 30 minutes, combine the butter pieces and the flour in a food processor and pulse 4-6 times, until there are only small beads of butter left.
In a separate bowl, stir together the sour cream, lemon juice, and water. Add the wet ingredients to the flour mixture, using a wooden spoon to stir together. When it's fully combined, use your hands to form a ball of dough. Wrap in plastic and refrigerate for at least an hour.
Place a pizza stone in the oven and preheat to 400 degrees.
After the dough has chilled in the fridge for an hour, place it on a floured surface and roll out into a 12-inch circle. At this point I transferred my dough to a piece of parchment paper. You can just roll it out on parchment paper, but know that the parchment paper WILL move all over the place, and it WILL drive you crazy.
Place the slices of brie in the middle of the dough, leaving a 2-inch border.
Place the apple slices in overlapping circles over the brie. Once you have a couple inches open in the middle, start placing the apple slices cut-side down into the brie, again in a circle pattern. You'll need very thin slices for this, as they have to bend easily to make a rose. If you don't want to deal with the rose, just continue to place the slices in circles and be done with it. It will still be pretty, I promise.
Brush the egg wash over the dough, making sure to cover all edges. Sprinkle the whole galette (dough and filling) with the raw sugar.
Bake for 30-35 minutes, until the crust is golden and the filling is bubbly.
While it's baking, combine the brown sugar and water in a small saucepan. Once it starts to boil, add the butter. When the mixture begins to boil again, add the cream, vanilla, and salt, then bring to a boil and whisk constantly for 5 minutes. Remove from the heat. You do not want the caramel to cool completely before spooning it onto the galette, because it will thicken a bit and be less smooth. I recommend starting the caramel when the galette has about 10 minutes left of cooking time.
Allow the galette to cool for a few minutes, and then spoon the warm caramel over the filling.
Slice and serve warm.
4 Responses to "Caramel Apple and Brie Galette"