Nutella-Stuffed Pumpkin Brown Butter Chocolate Chip Muffins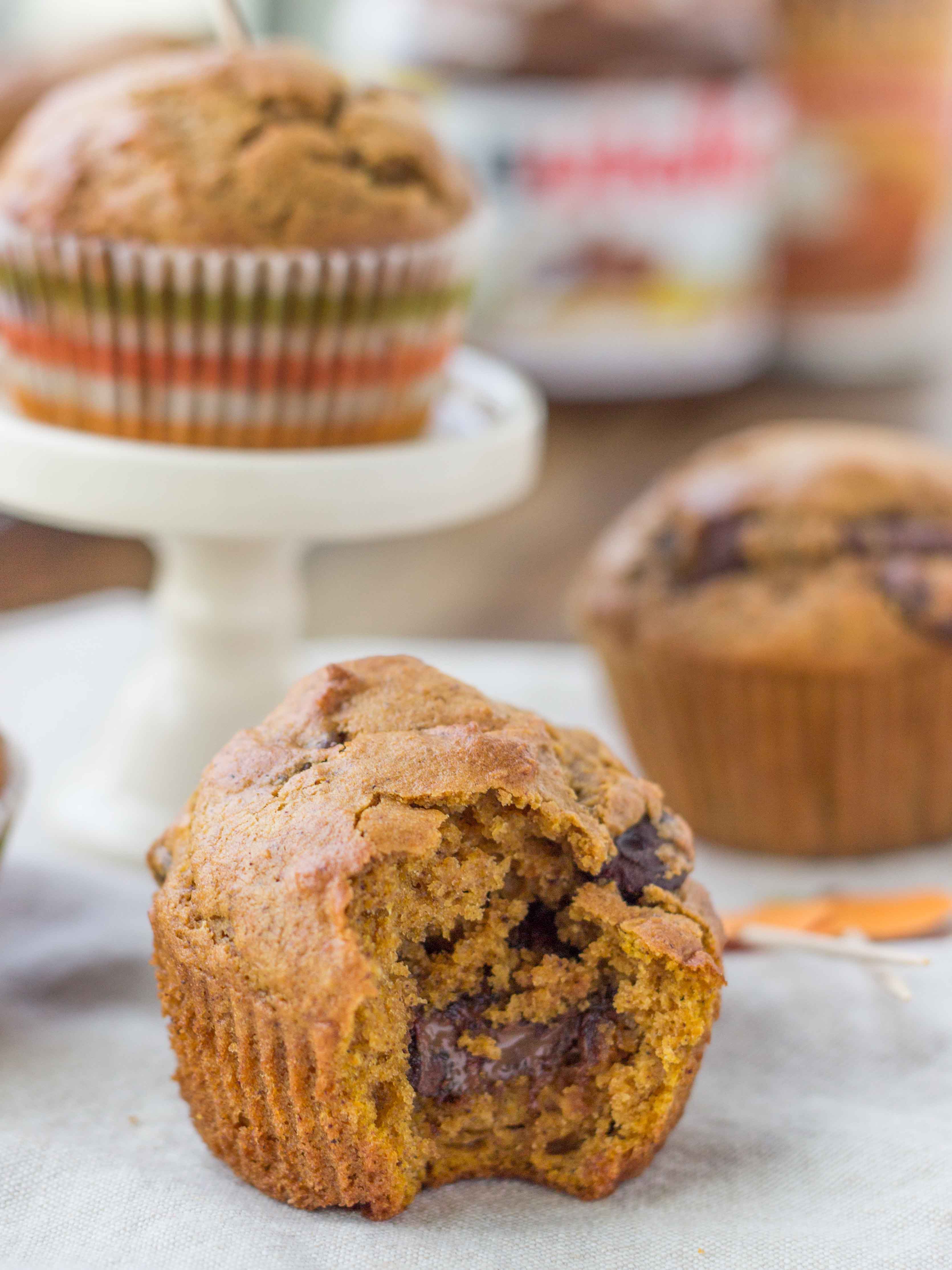 The Beast and I agree that fall is hands-down the best season. While I love it for the weather, the clothes, the FOOD, and the memory of meeting The Beast 3 years ago, he loves it because it marks the opening of bow season in Wisconsin. Girls and boys are different.
Bow season starts this coming weekend, but The Beast left last Saturday for a couple days to get some last minute things ready at "Deer Camp" before the big weekend. Since he started his fall activity a bit early, I decided to dive into autumnal baking. He left around 11:30 on Saturday, and I immediately threw myself into the task of browning butter.
Side note: I'm helpless when presented with cute baking supplies, which is why these muffins are dressed up in seasonal liners and pumpkin-topped toothpicks. Necessities, obviously.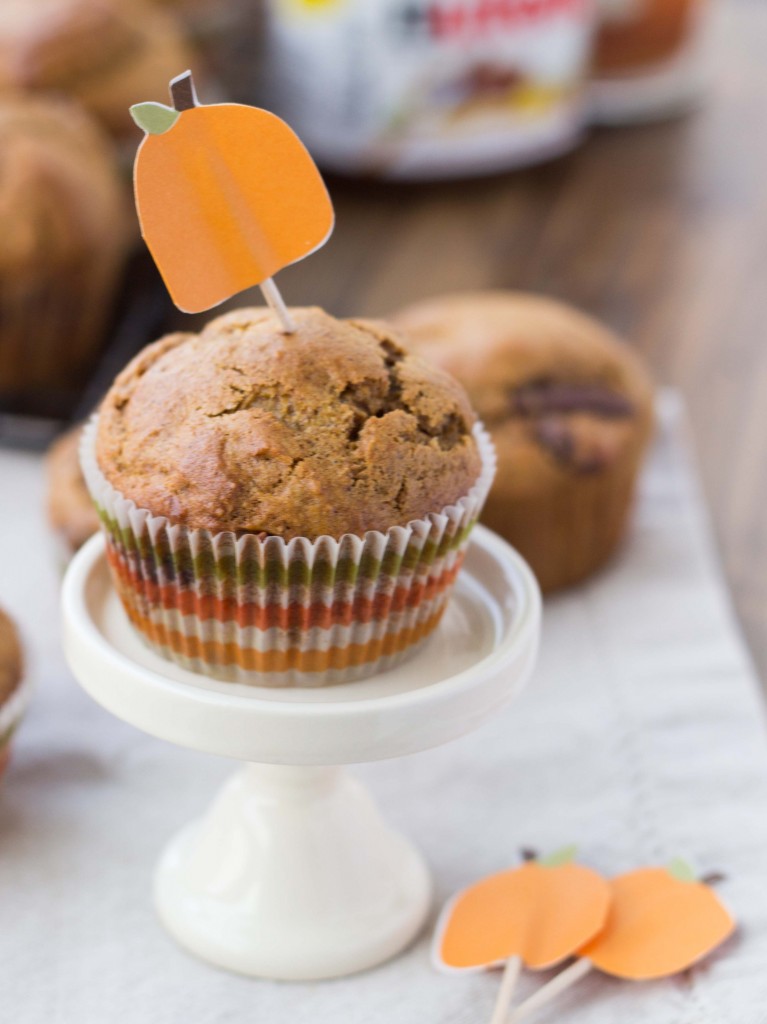 Last year I posted Nutella-Swirled Banana Muffins, which are 100% whole wheat, full of healthy things like wheat germ and Greek yogurt, and have just a hint of Nutella throughout. These muffins are kind of like those, but a tad naughtier. They ever-so-slyly walk the line between muffins and cupcakes. I've decided to call them "dessert muffins," because I firmly believe all cupcakes need frosting. I personally would not choose these for breakfast (hellooooooo sugar high!), but if you want to call them breakfast and focus on all that vitamin A you're getting from the pumpkin puree, go for it!
The muffin tops are golden, while the interior is fluffy, perfectly pumpkin spiced, filled with an addictive caramelized brown butter flavor, and studded with rich dark chocolate morsels. As if that weren't enough, Nutella hides in the center of all that goodness. It's pretty much everything you could ever want in a fall muffin.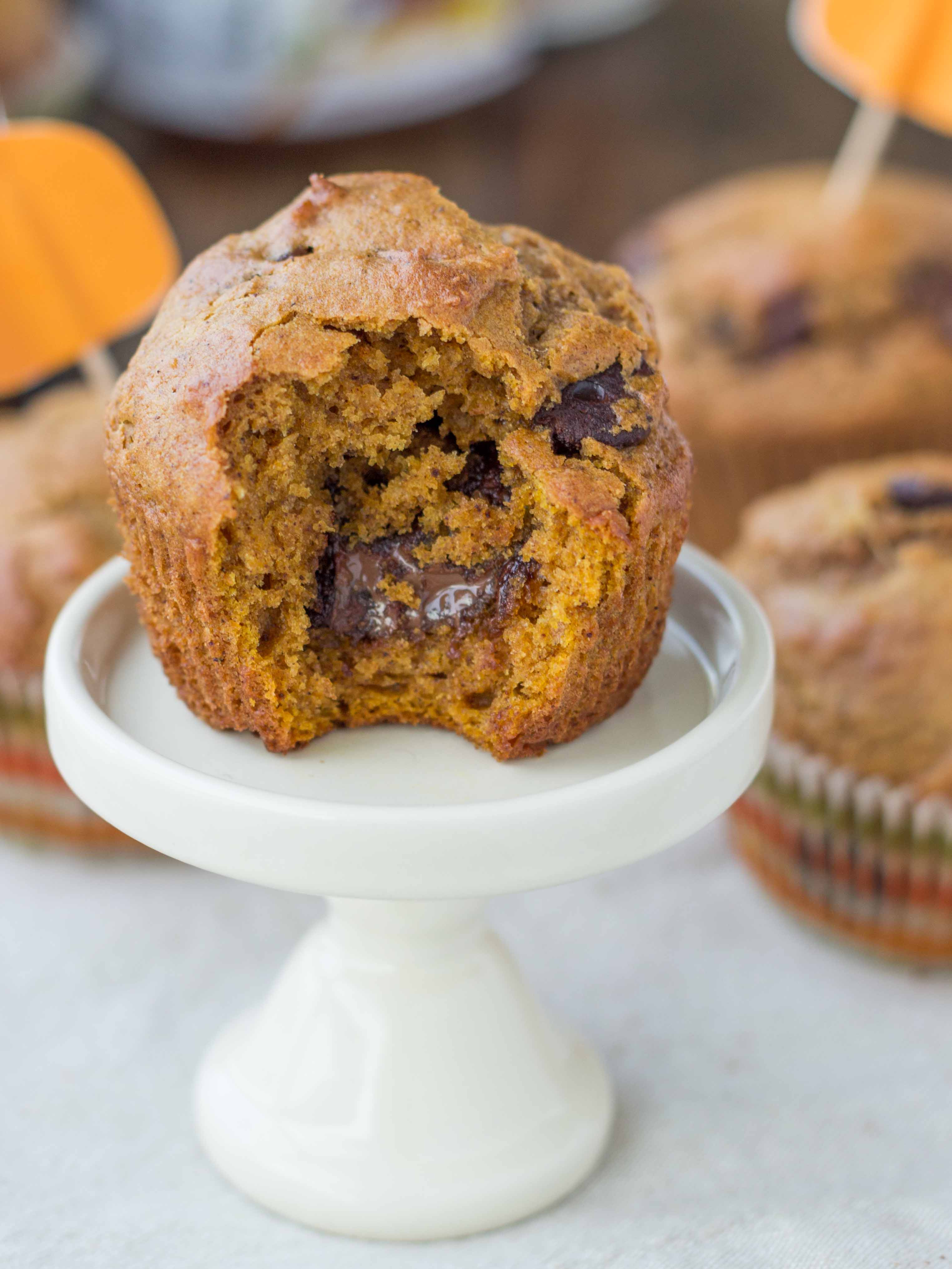 To ensure the results were large, round-top muffins, I used a baking technique I found on Sally's Baking Addiction. As I mention in the recipe, I filled the muffin liners to the top, and then baked the muffins for 5 minutes at a higher temperature (425 degrees), then baked them for the remaining time at a lower temperature (350 degrees). Isn't the science of baking fun?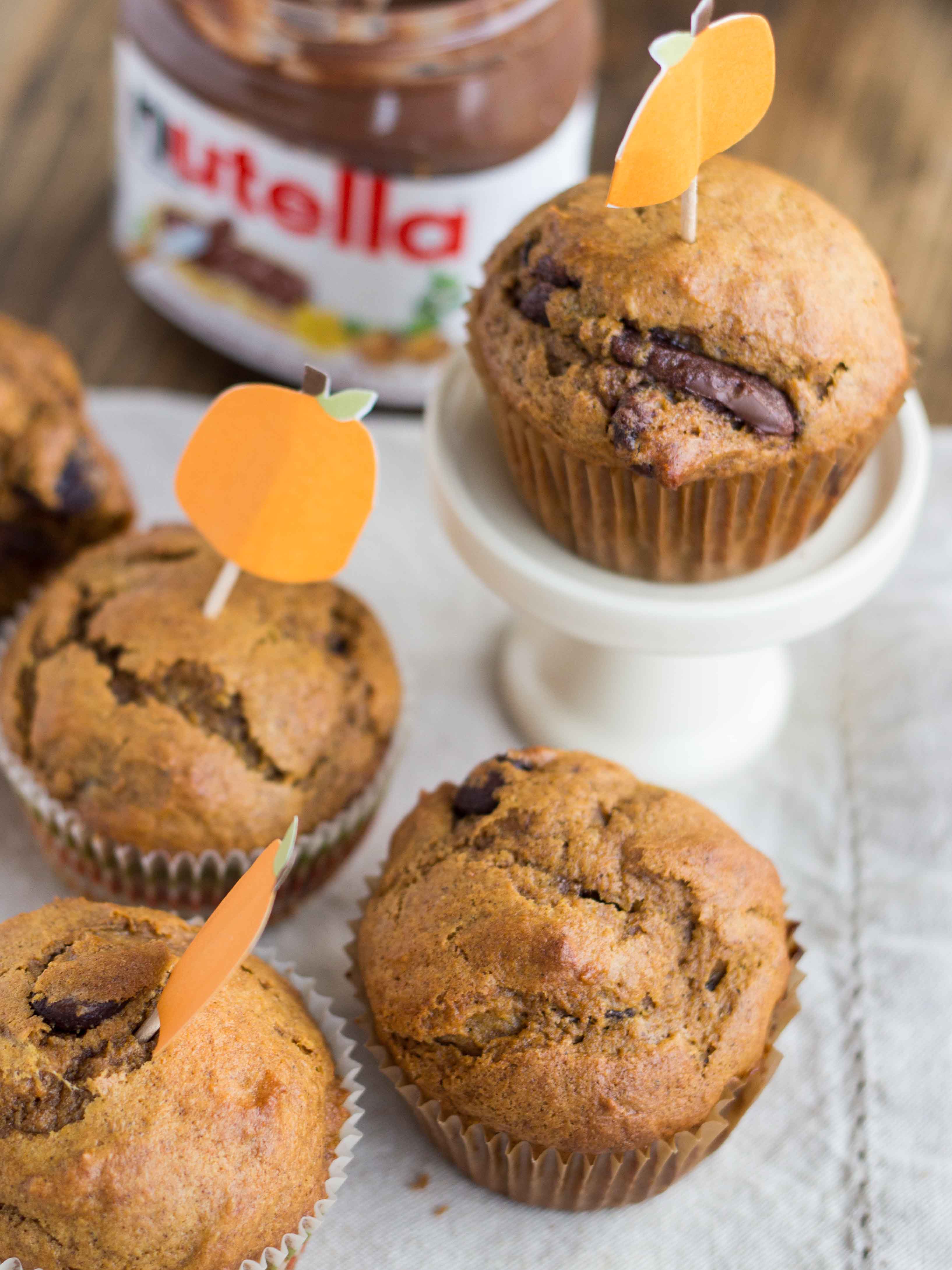 The Beast returned from his hunting weekend with several pictures of deer, which he admired on his laptop as I wrote this post. I can't make too much fun of him, since the picture at the top of this post is now my phone background. We're both a bit weird about our fall habits.

Nutella-Stuffed Pumpkin Brown Butter Chocolate Chip Muffins
Nutella-stuffed pumpkin muffins with brown butter and dark chocolate chips. Everything you could ever want in a fall-themed muffin.
Yield: 14 muffins
Prep Time: 20 minutes
Cook Time: 20 minutes
Total Time: 40 minutes
Ingredients:
½ cup (1 stick) unsalted butter
1 cup pumpkin puree (room temperature)
½ cup white sugar
½ cup dark brown sugar
2 eggs (room temperature)
2 teaspoons vanilla extract
1 cup whole wheat pastry flour
½ cup unbleached all-purpose flour
1 teaspoon baking soda
2 teaspoon cinnamon
½ teaspoon nutmeg
½ teaspoon ground cloves
¼ teaspoon allspice
½ teaspoon salt
½ cup 2% plain Greek yogurt
⅔ cup dark chocolate chips
14 teaspoons hazlenut spread (Nutella)
Directions:
Cut the butter into chunks, and then put in a small saucepan over medium-low heat. Whisk constantly. You'll start to see foam on top, but keep whisking. When you see brown specks on the bottom of the pan, remove from heat and whisk for another 30-45 seconds. Transfer to a large mixing bowl, and allow to cool for a few minutes.
Combine the flours, baking soda, spices, and salt in a bowl. Set aside.
Mix the pumpkin and sugars into the slightly-cooled brown butter until the mixture is creamy and fluffy. Mix in the egg and vanilla.
Gradually add the dry ingredients to the wet ingredients. Fold in the Greek yogurt, then the chocolate chips.
Line muffin tins with liners and coat with cooking spray. Scoop 1 heaping tablespoon of batter into the liners, drop 1 teaspoon of Nutella onto the center, then top the Nutella with another tablespoon of batter. The top of the batter should be even with the top of the muffin liner. The batter will fill 14 muffin tins.
Bake at 425 for 5 minutes, reduce temperature to 350, and bake for another 13-15 minutes. When they're done, a knife/toothpick inserted in the center should come out clean (except for the melty Nutella in the center, obviously).
5 Responses to "Nutella-Stuffed Pumpkin Brown Butter Chocolate Chip Muffins"