Shredded Brussels Sprout, Cream Cheese & Balsamic Pizza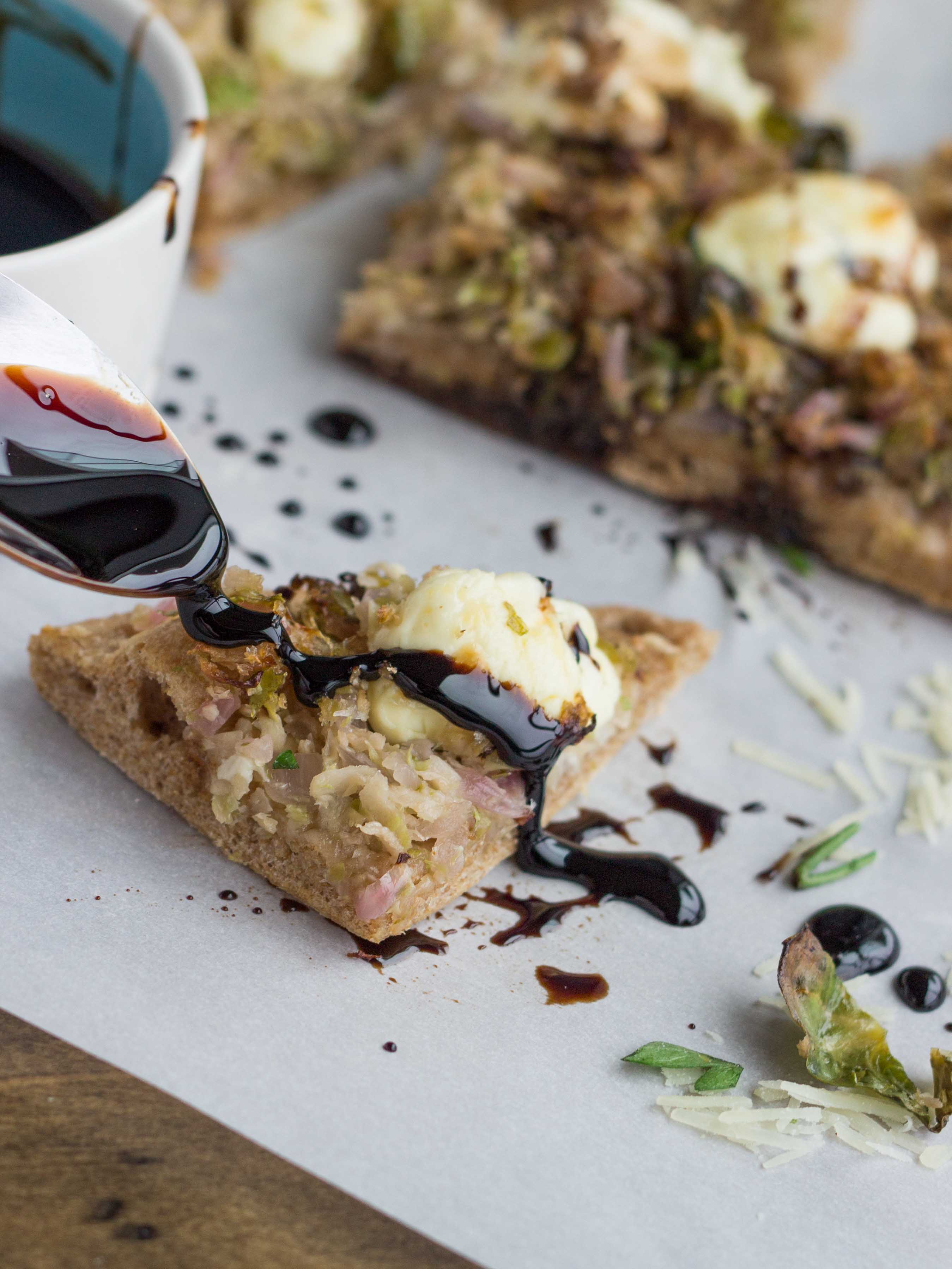 It's here! It's here! 'Tis the season for brussels sprouts!
You probably assume that when I say "the season" I'm referring to the colder months, since that's when brussels sprouts are at their peak. Although that's a fair assumption, you're wrong; it's brussels sprout season in my house because it's deer hunting season, which draws The Beast to Wisconsin, and me to the kitchen to indulge in brussels sprouts without any judgement from my sprout-hating roommate.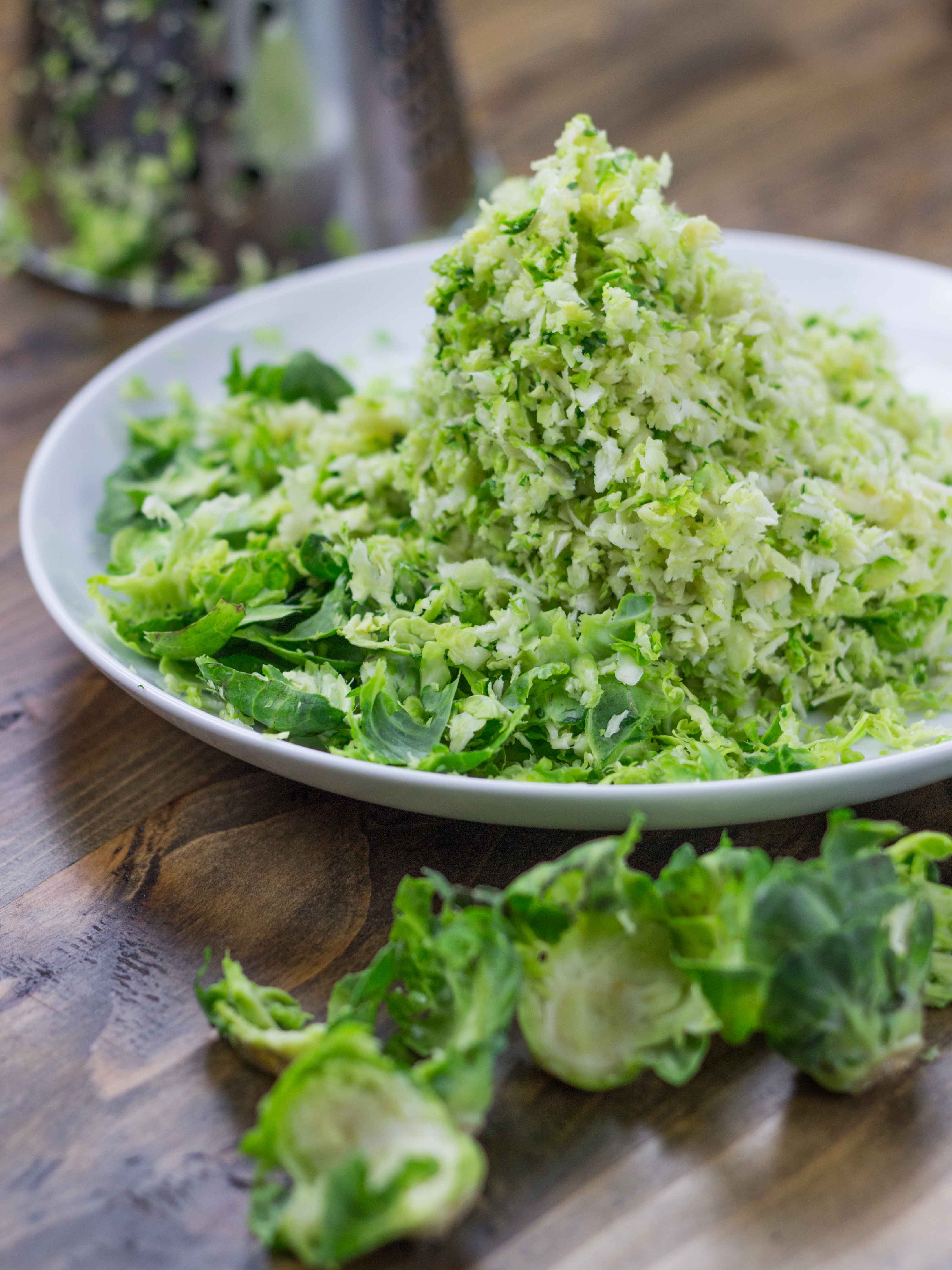 One time I asked him to purchase brussels sprouts for me while he was at the store and he came home, put them in the fridge, and stuck a post-it on the bag that just said, "VOM" with a very bold underline. I'm met by the same response, only vocally ("GROSS! VOM!"), when I tell him I'm making brussels sprouts when he's out of town. There's not much in this life that can work the man up or make him complain, but those little green cabbages sure elicit a response from Mr. Even Keeled.
Because I believe brussels sprouts should be more than a side dish, I often make brussels sprout pizzas when The Beast is away. Last year I made a shredded brussels sprout, brown butter and mozzarella version that I DEVOURED in one sitting. That pizza was the inspiration for the one pictured here, except this one is even better. It has quickly climbed to the top 3 in my list of favorite pizzas (and yes, I do have a list). I sent texts to my friends and family about this pizza. I posted an ugly picture of it on Instagram without any shame. I love it so much, in fact, that I made it twice in 3 days.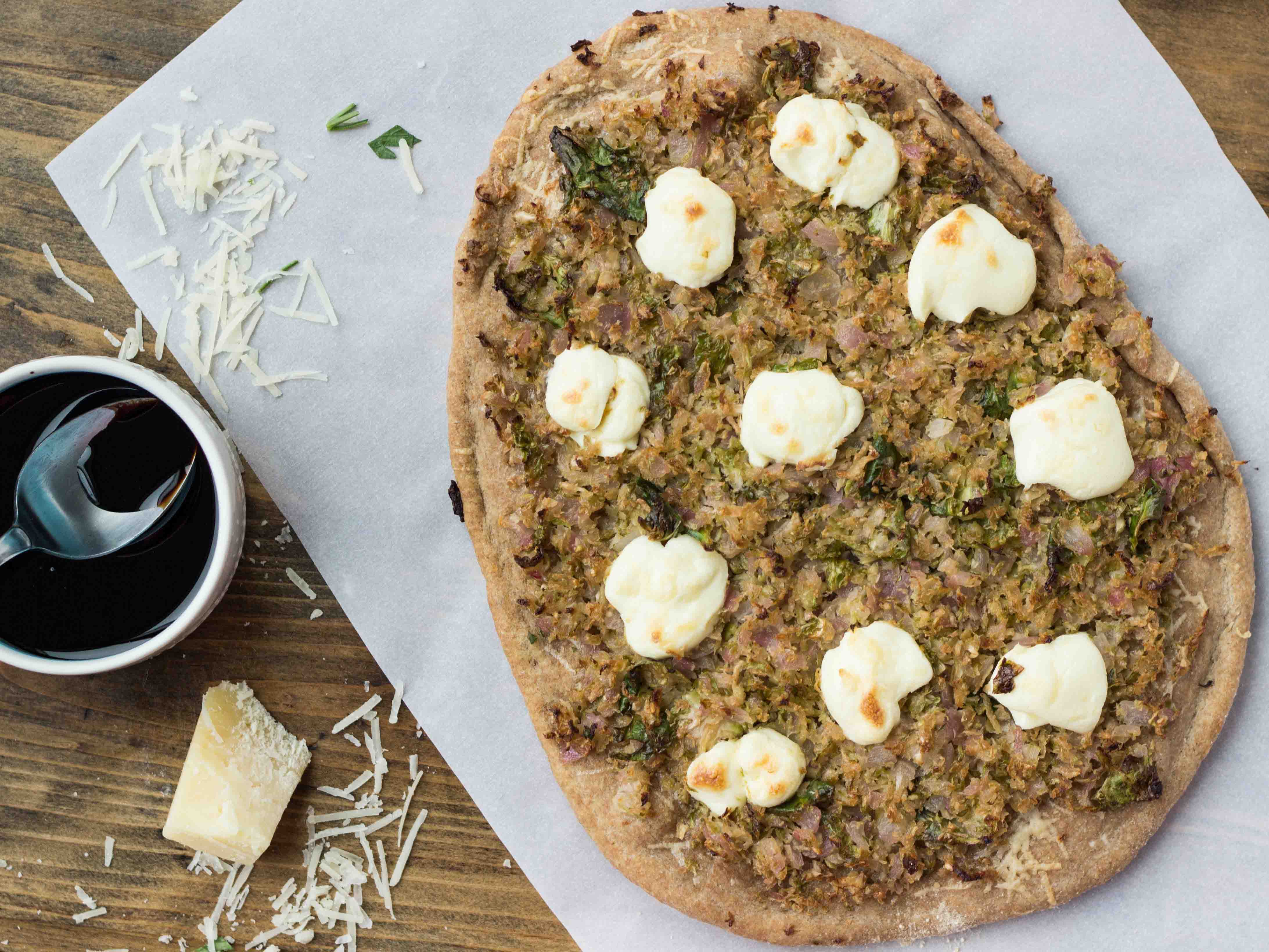 So, now that I'm done freaking out (wait, am I done? not sure), let's talk about what's going on here: this dream pizza starts with a whole wheat crust (but you can use your favorite pizza dough – it doesn't have to be whole wheat), then we sauté onions in garlicky butter until they're softened, and add a squeeze of lemon and stir in the brussels sprouts, cooking them just until they turn bright green. To assemble we simply roll the dough out (about 10 inches), brush on a touch of olive oil, add a light sprinkling of parmesan, spoon on the brussels sprout and onion mixture, and then top it all with beautiful dollops of cream cheese. It's the cream cheese that seals the deal for me. Have you ever put cream cheese on pizza? I hadn't, but now I will. I will in a big, bad way.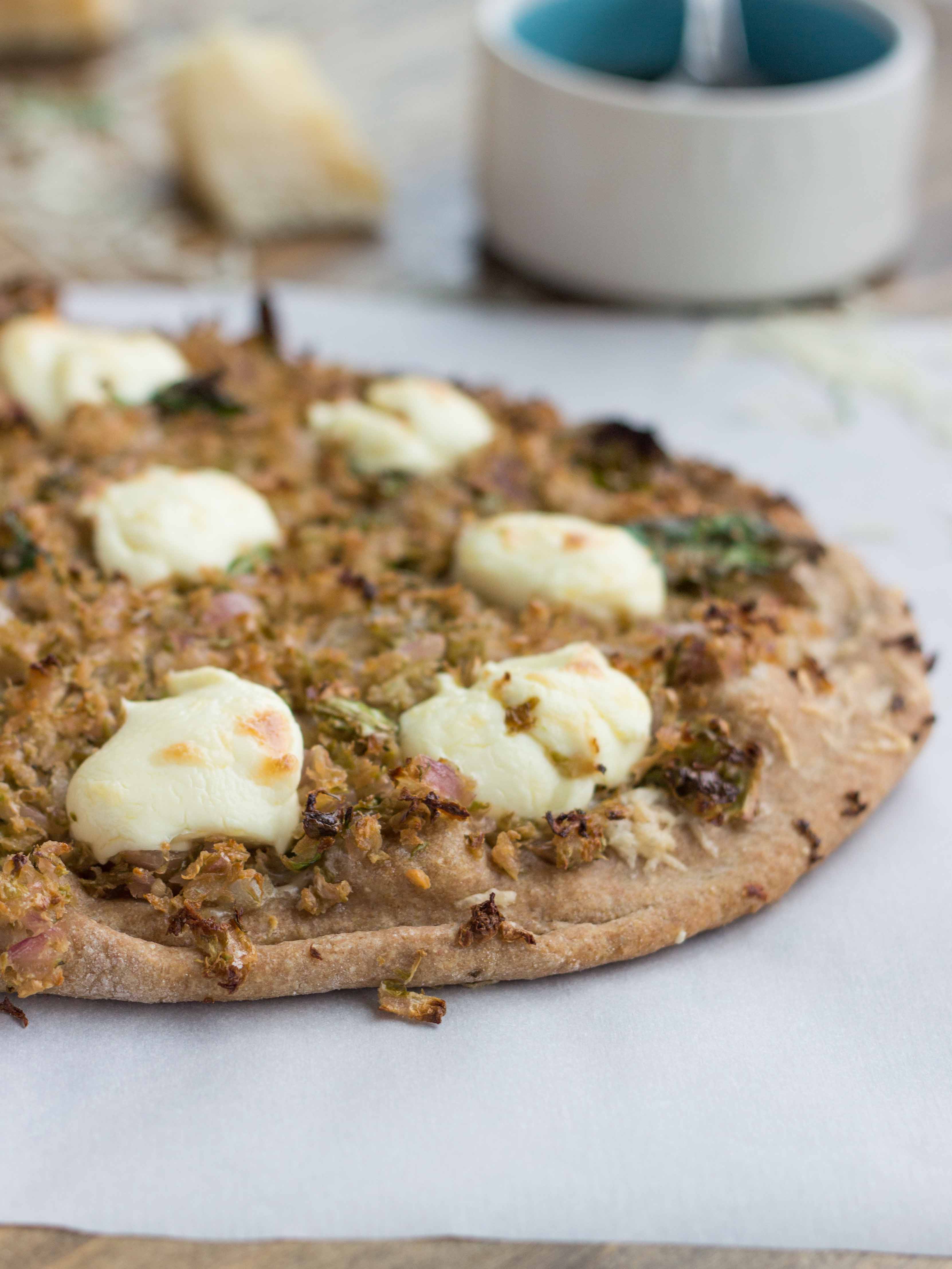 Once the pizza comes out of the oven, we do a quick drizzle of a thick, sweet balsamic reduction that brings everything together. It's truly a beautiful thing.


Shredded Brussels Sprout, Cream Cheese & Balsamic Pizza
Buttery brussels sprouts and onions are layered over parmesan on a whole wheat crust, and topped with dollops of cream cheese.
Yield: 2 servings
Prep Time: 10 minutes
Cook Time: 20 minutes
Total Time: 30 minutes
Ingredients:
Brussels Sprout Cream Cheese and Balsamic Pizza
1 baseball-sized ball whole wheat pizza dough
2 tablespoons unsalted butter
1 clove garlic, minced
6 ounces brussels sprouts, shredded (about 2 cups)
1 small leek, sliced from base to leaves (or 1/4 cup chopped red onion)*
Salt to taste
Pepper to taste
Juice of 1/2 lemon
1 teaspoon olive oil
¼ cup shredded parmesan
10 teaspoons cream cheese
Balsamic Drizzle
½ cup balsamic vinegar
1 teaspoon honey
Directions:
Preheat oven to 400 degrees. If you have a pizza stone, put it in the oven as it preheats (this will help you get a crisp crust).
Bring the balsamic vinegar and honey to a low boil in a small saucepan. Let simmer for 25-30 minutes, whisking occasionally, and then transfer to a bowl until ready to use (it will thicken as it cools, which is why you should do this at the beginning).
Heat the butter in a medium-sized skillet over medium-low heat. Add the garlic and cook for 30 seconds, then add the leek/onions and cook for 1-2 minutes, until just starting to soften. Add the brussels sprouts, lemon, salt and pepper. Cook for another 3-5 minutes.
Roll the dough out into a 10-inch circle (or larger/smaller depending on how thick you want the crust). Top with the leeks/onions and brussels sprouts, leaving about a slight border around the sides. Top with teaspoons of cream cheese, dispersing evenly. I coated my teaspoon lightly with cooking spray so that the cream cheese would be easier to dollop on the pizza.
Bake for 18-20 minutes.
Drizzle balsamic over the pizza, cut, and eat!
*The first time I made this I used leeks, and the second time I used red onion. Both are fabulous, so go with whatever you prefer!