Smoky Kale and Chipotle Grilled Cheese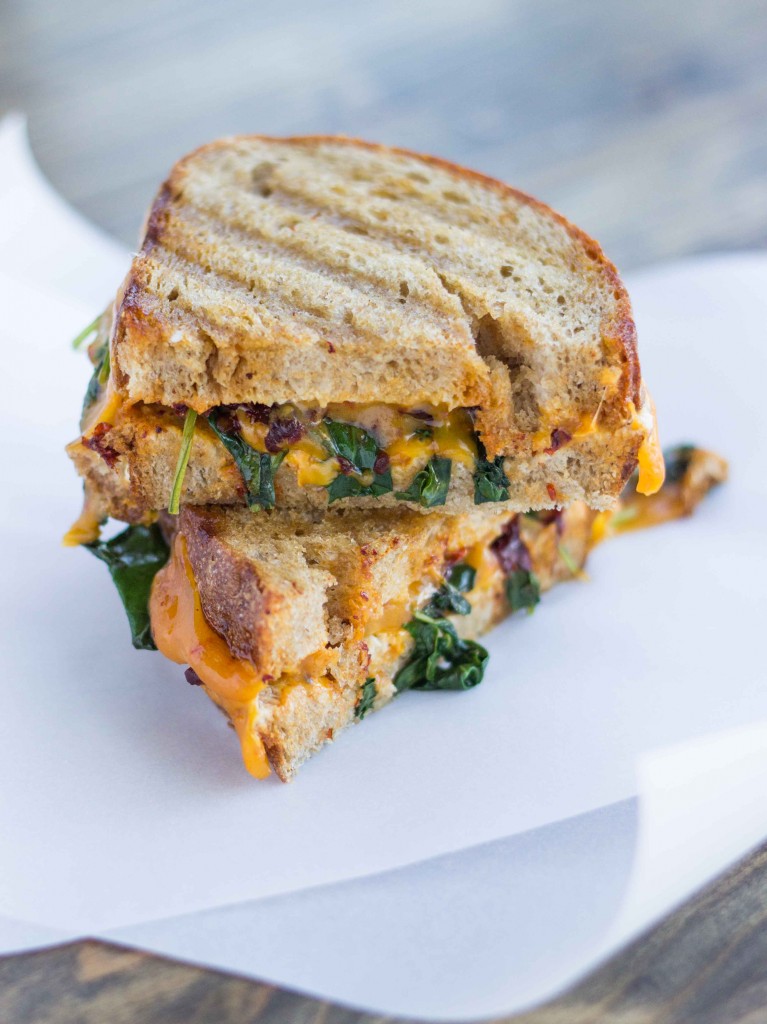 I eat grilled cheese year-round, but it feels more appropriate to curl up with a cheesy, toasty, buttery sandwich when it's starting to get cold outside. Especially if you dip that goodness in some warm soup. Ahhh yes.
Last week was a perfect week for grilled cheese. Not to go all Game of Thrones on you, but winter is coming, folks. I've started wearing my boots with warm socks, and even pulling on my hat and mittens when I take Teia out for a walk. The shift in seasons definitely calls for a hot and spicy sandwich, don't you agree?
In this post, I tell you how to sauté kale, make it smoky and spicy, and eat it with cheese between 2 slices of bread. It seems simple, yes, but kale in grilled cheese is a thing in my life, and it occurred to me that it might not be a thing in yours, so I thought we should talk about it.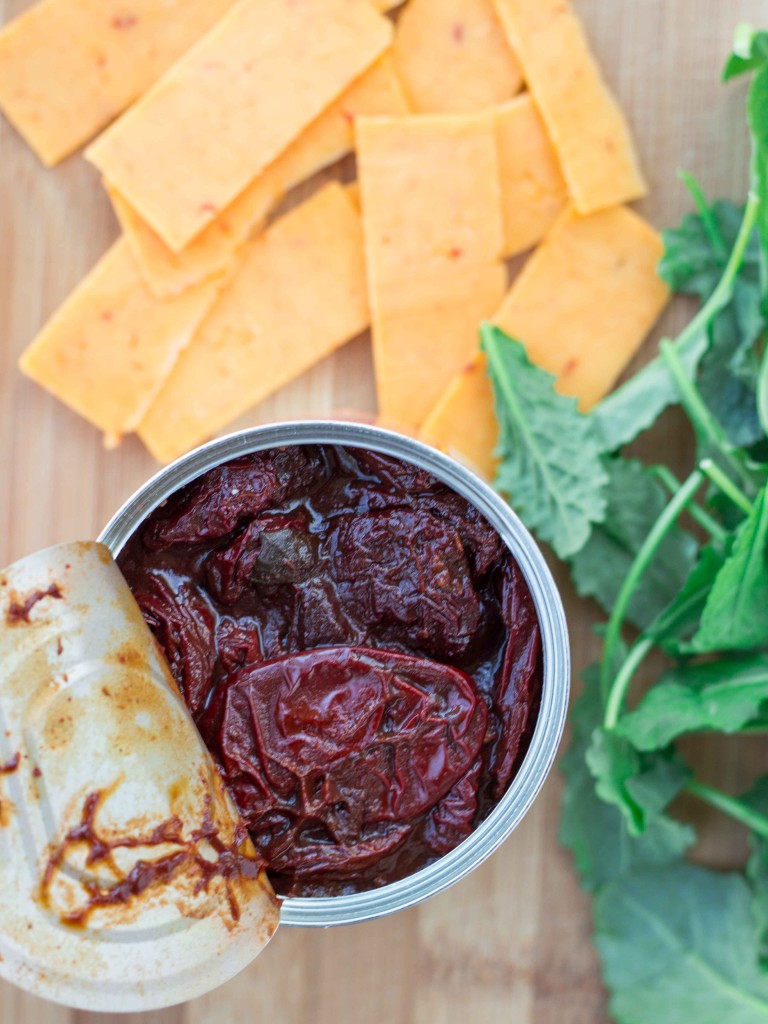 I know some people think that kale is just WEIRD. They think it's tough, bitter, and hard to work with. Admittedly, it's not the most forgiving vegetable. No one has ever bitten into kale's thick, uncooked center stem and ENJOYED it. You need to cut those guys out and either throw them away or juice them, but definitely, DEFINITELY don't leave them in there.
I opted to use baby kale in this recipe, because it's much less tough than lacinado kale, doesn't have those darn stems, and its flavor is less strong. If you're using lacinado kale, just cut out the large center stems, chop it up, and pick the recipe up from there.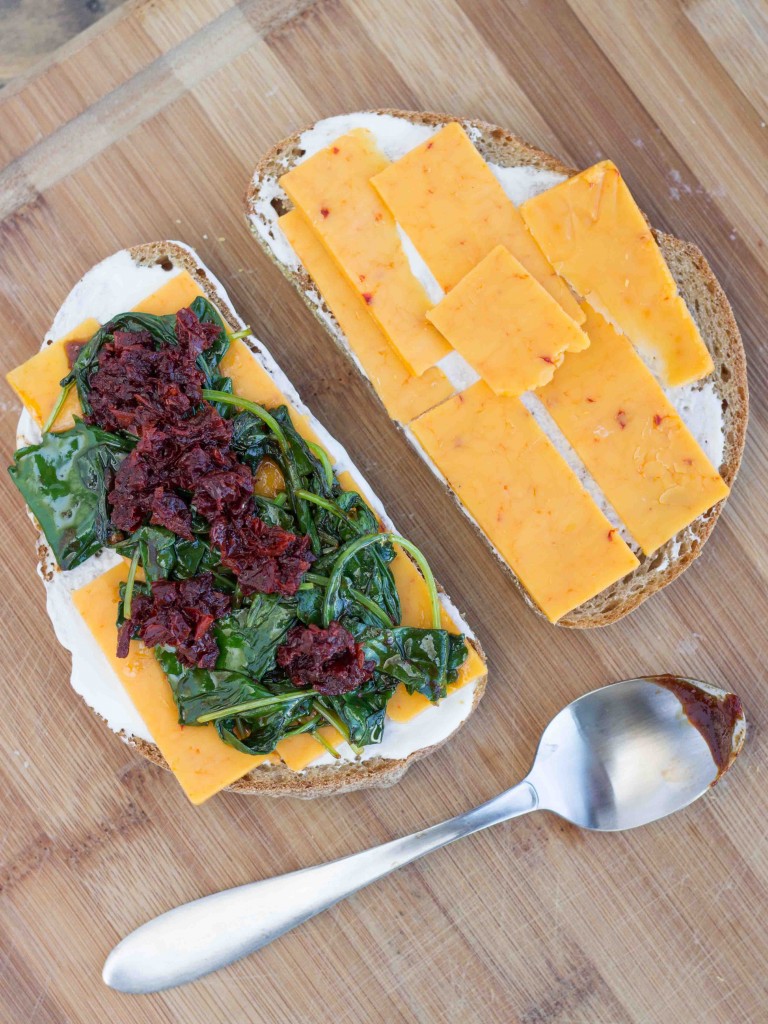 To start things off, we heat up some olive oil in a skillet, add a cup of baby kale with a sprinkle of salt, and cook it until it wilts and loses that tough exterior that turns so many people off. Once it's done cooking, stir in just a teaspoon of adobo sauce to give it a smoky flavor. When it's time to layer the sandwich, we smooth on some sour cream (to help cool down the heat), then cheddar cheese, then smoky kale, then a chopped chipotle pepper, and then MORE cheese.
As a side note, remember when I didn't eat cheese for a month? I feel like I've been making up for those 30 cheeseless days with 90 days of eating ALL THE CHEESE.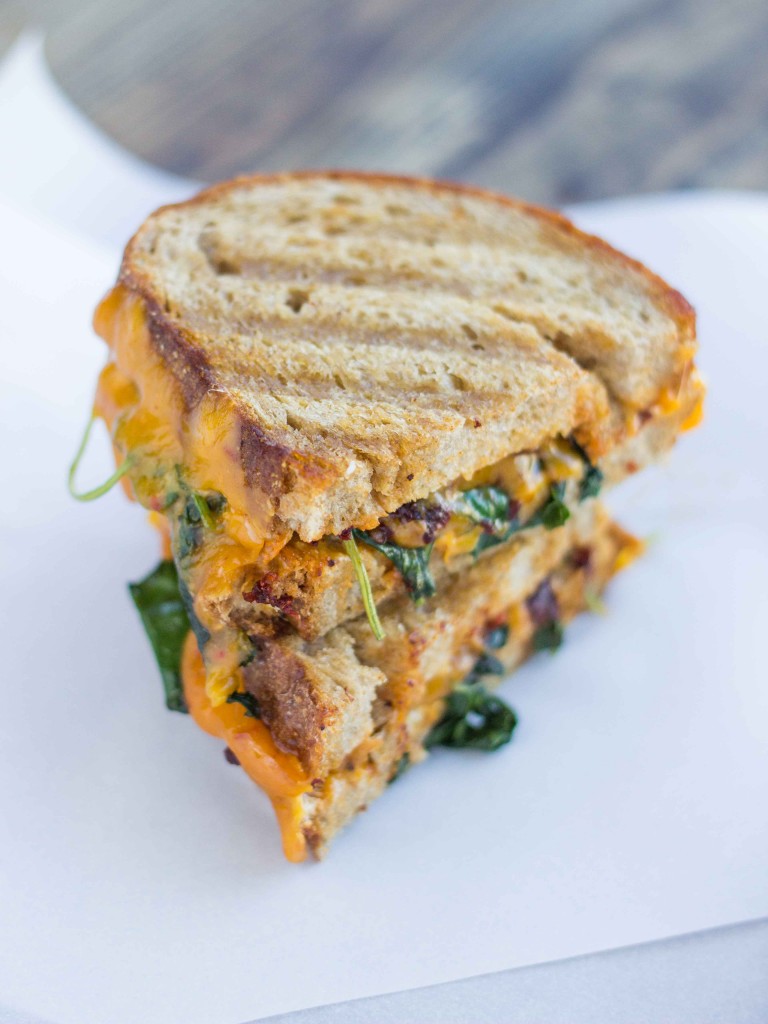 If you can't handle spice, do NOT make this sandwich as-is. I eat spicy food every day, and this sandwich still made me sweat. Those who are spice-adverse can just sauté the kale in the olive oil, forego the chipotle pepper and adobo sauce, and just have a nice grilled cheese and greens sandwich. You can even swap the chipotle cheddar/pepperjack for sharp cheddar or provolone. There's no shame in that.


Smoky Kale and Chipotle Grilled Cheese
A sandwich for those who like it hot! A hit of adobo sauce brings baby kale to life, while chipotle pepper and spicy cheddar give this grilled cheese a serious kick.
Yield: 1 sandwich
Prep Time: 10 minutes
Cook Time: 10 minutes
Total Time: 20 minutes
Ingredients:
1 tablespoon olive oil
1 cup baby kale, packed
1/8 teaspoon kosher salt
1 teaspoon adobo sauce
1/4 - 1 chipotle pepper in adobo sauce, seeded and chopped (See note)
2 ounces chipotle cheddar or pepperjack cheese
1 tablespoon sour cream
2 slices of your favorite bread
1 teaspoon butter or margarine, softened
Directions:
Heat the olive oil in a skillet over medium heat. Add the kale, and saute for 1-2 minutes, until wilted. Add the adobo sauce and cook for another 30 seconds. Remove from heat and set aside.
Slice the chipotle pepper lengthwise, and use a spoon to scoop out the seeds. Chop up what you want to use (the full pepper will be very spicy, so start with 1/4 - 1/2 of the pepper if you want it less hot).
Layer the sandwich like so: sour cream, cheese, kale, chipotle pepper, cheese, and more sour cream! Spread just a little softened butter or margarine on the outside of the bread so it gets a bit golden when grilled.
Grill the sandwich on a griddle, in a George Foreman, or in a fry pan until golden brown.
You can find a can of chipotle peppers in adobo sauce in the Mexican section of most grocery stores. You're only using one pepper for this recipe, so I recommend using the rest in enchilada sauce, chili, or on more grilled cheeses!
4 Responses to "Smoky Kale and Chipotle Grilled Cheese"
Pingback: Smoky Kale and Chipotle Grilled Cheese |