Roasted Brussels Sprouts with Lemon, Thyme, and Goat Cheese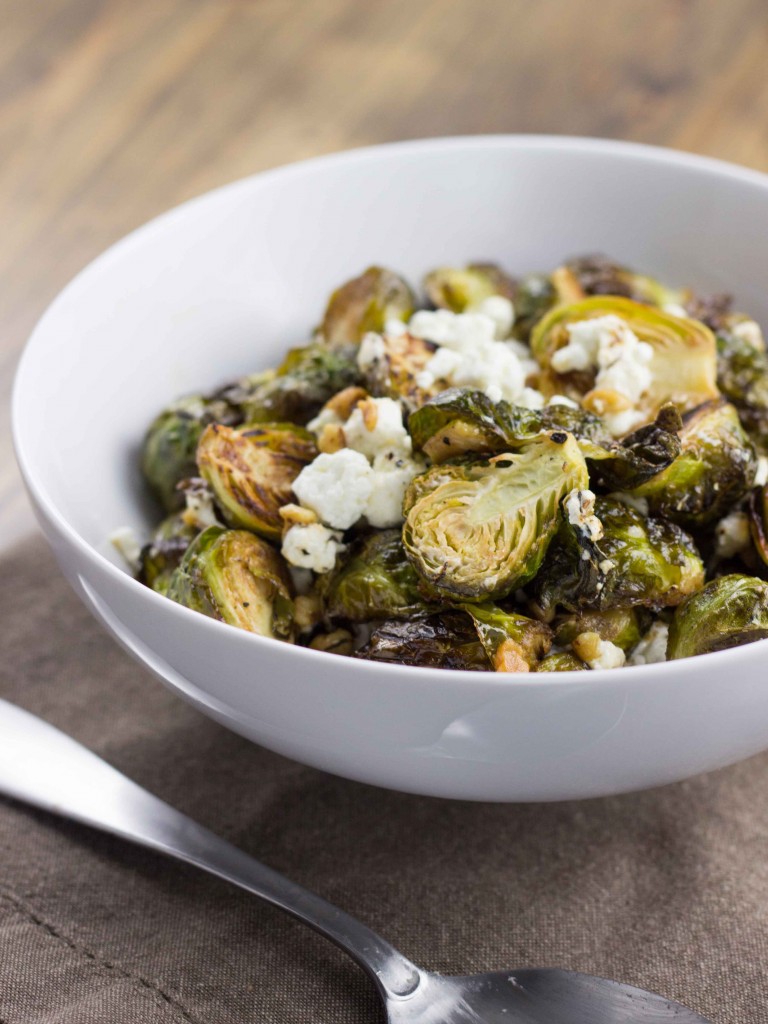 Happy [almost] Thanksgiving! As is the case every year, my mind has already jumped to Christmas. This Buzzfeed list spoke directly to my heart. I'm totally one of those people. I keep a Santa doll up on one of our shelves all year because loving Christmas is part of who I am, so a subtle piece of Christmas should always be on display in my house. I know…
Before we dive headfirst into Christmas food (OMG COOKIES), I figured I owed you at least one solid Thanksgiving recipe. Being a vegetarian, my Thanksgiving feast is all about the sides and the desserts; give me stuffing, my mom's green bean and artichoke casserole, roasted brussels sprouts, a slice of pie, and boom – done – nap time.
Although I've posted a couple brussels sprout recipes on my blog, my favorite way to prepare the cute little cabbages is quite simple: cut the sprouts in half, mix with olive oil, lemon, thyme, salt, pepper, and a touch of garlic powder, then roast until golden. Toss in some walnuts about 7-10 minutes before the sprouts are done, and then mix in some goat cheese crumbles when you take them out of the oven. Lemon and thyme bring brightness and depth to the nutty, slightly crisp brussels sprouts, and I love the creamy goat cheese mixed with the crunch of the walnuts.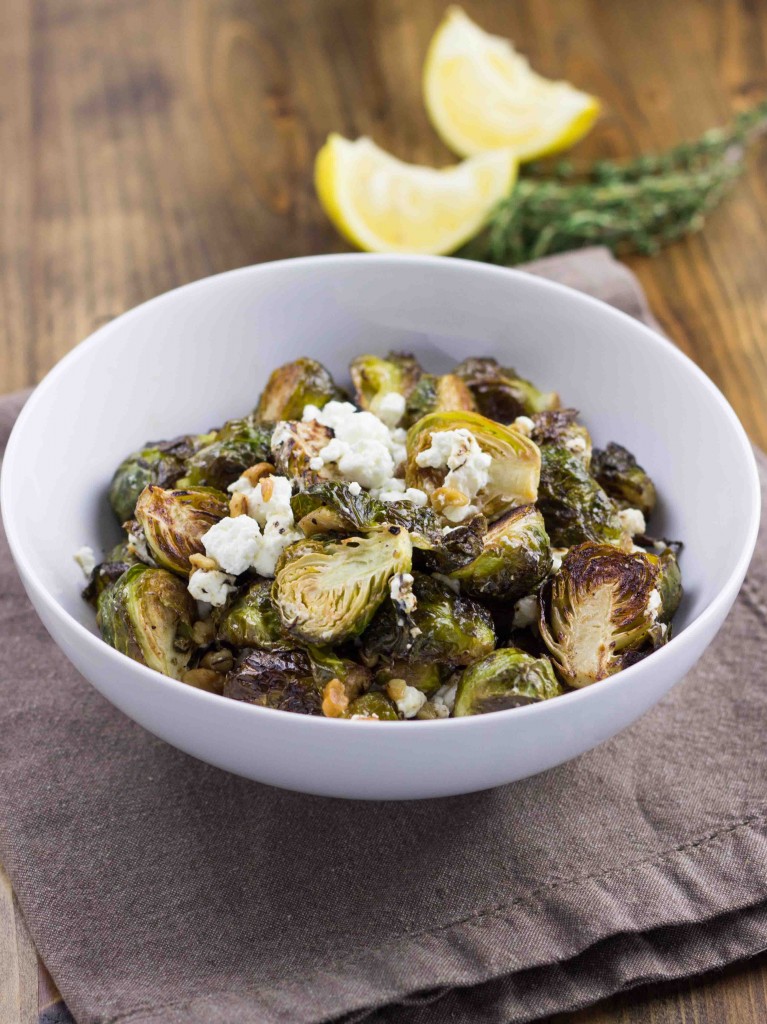 When I bring these brussels sprouts to Thanksgiving I need to swap the goat cheese for parmesan, because my mom doesn't "like" goat cheese (although I think she would if she gave it a try). If you're not a goat cheese person, feel free to make the same swap or omit it entirely.
It's a simple yet divine little side dish, which is vegetarian (obviously), gluten free, and easily vegan (just leave off the goat cheese and/or offer it on the side). What are you bringing to your Thanksgiving table?

Roasted Brussels Sprouts with Lemon, Thyme, and Goat Cheese
Lightly-crisp roasted brussels sprouts with lemon, thyme, goat cheese and walnuts. Simple, healthy, and a perfect Thanksgiving side.
Yield: 4-6 servings
Prep Time: 5 minutes
Cook Time: 30 minutes
Total Time: 35 minutes
Ingredients:
1 pound brussels sprouts, cut in half
2 tablespoons olive oil
1 tablespoon fresh thyme leaves
Juice of half a lemon
½ teaspoon kosher salt
¼ teaspoon black pepper
¼ teaspoon garlic powder
2 tablespoons chopped walnuts
½ cup crumbled goat cheese
Directions:
Preheat oven to 400 degrees
In a large bowl, toss the brussels sprouts with the olive oil, thyme, lemon, salt, pepper, and garlic powder.
Line a baking sheet with parchment paper or coat with non-stick spray. Roast the brussels sprouts for about 20-23 minutes, stirring the sprouts a few times to ensure they cook evenly. Remove from oven, sprinkle in the walnuts, then bake for another 7-10 minutes. The brussels sprouts are done when they're lightly golden on the outside, and tender inside.
Transfer the cooked brussels sprouts to a bowl, toss with goat cheese, and serve.
8 Responses to "Roasted Brussels Sprouts with Lemon, Thyme, and Goat Cheese"
Pingback: Maple Roasted Brussels Sprouts with Walnuts, Blue Cheese & Cranberries | FamilyFreshCooking.com — Family Fresh Cooking

Pingback: Beating the Blues