Gluten Free Coconut Almond M&M Cookies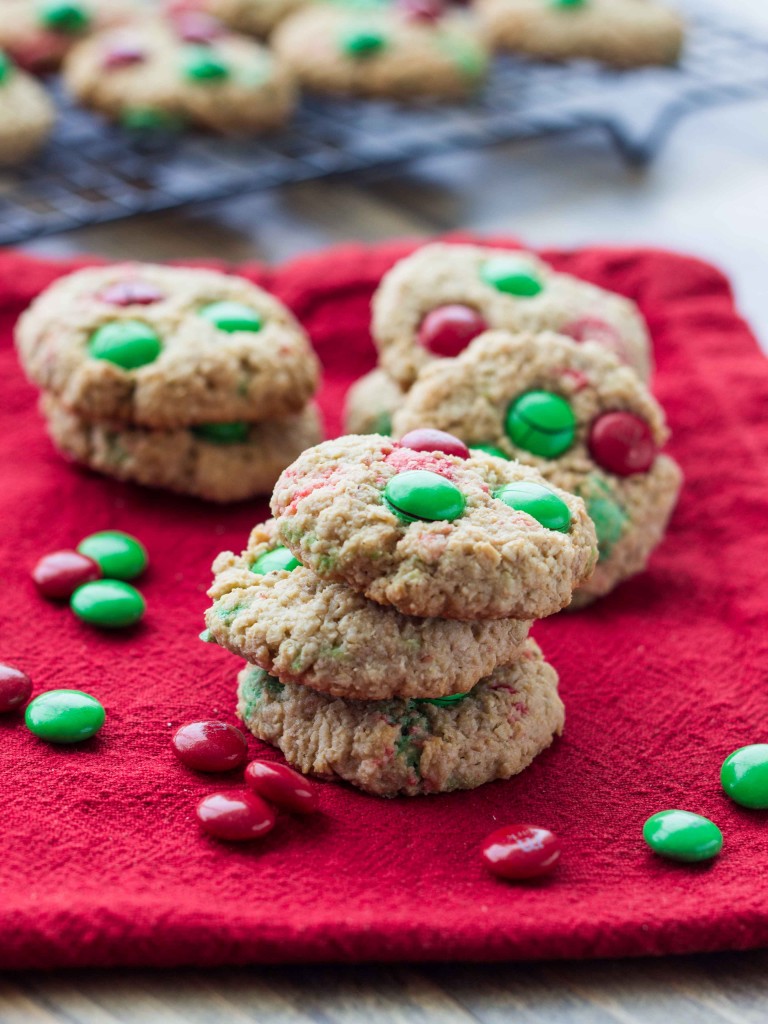 Despite my epic sweet tooth, I'm not someone who regularly buys candy. Apart from the not-so sporadic impulse buy of Justin's dark chocolate peanut butter cups, or Trader Joe's dark chocolate peanut butter cups (okay, I really REALLY like peanut butter cups), I usually prefer to get my sweet fix through baked goods.
My whole outlook on candy changes when holiday M&Ms come out. For about a month, I like to forget that I generally try to avoid artificial dyes, and instead go all out on the Christmas-colored treats.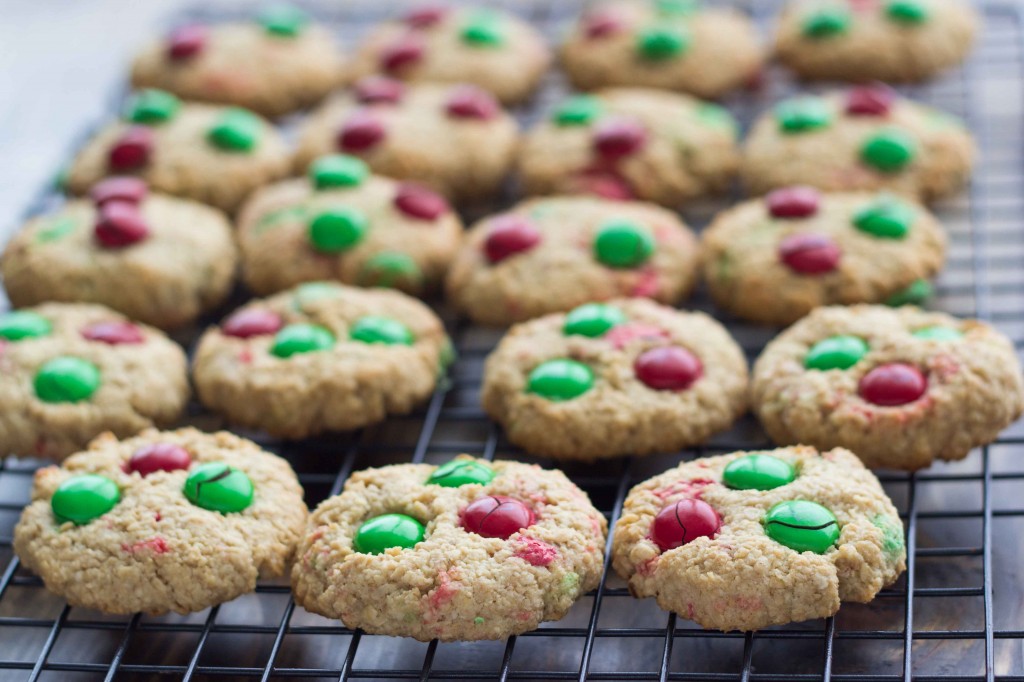 Last week I went to Target to pick up some necessities (chocolate chips, vanilla extract, nail polish etc.), and somehow ended up in the holiday section. To my credit, I only left that holiday section with one item. Can you guess what it was?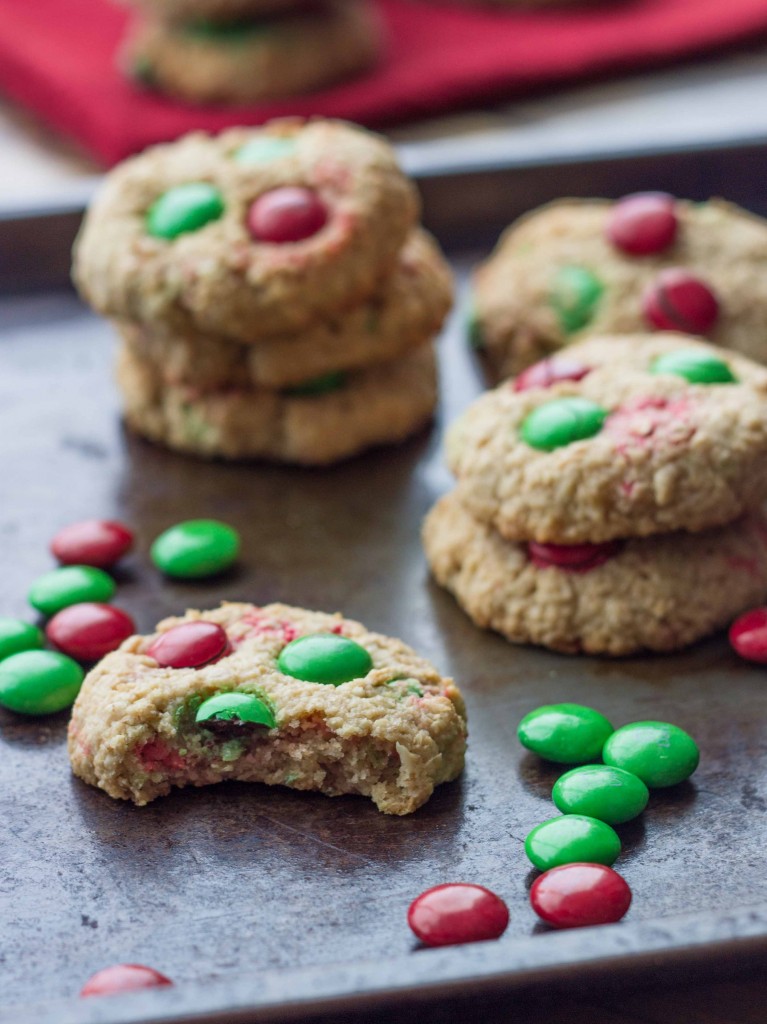 While these may look like just another M&M cookie, I promise that they are special. They're gluten free, but I would argue that they're more delicious than their gluten-ful counterparts. The almond flour, oats, and coconut pack tons of texture and flavor, while the honey, dark brown sugar, and coconut oil give them a soft, chewy interior. And then, of course, there's the crunch and smooth, dark chocolate of the festively-colored M&Ms.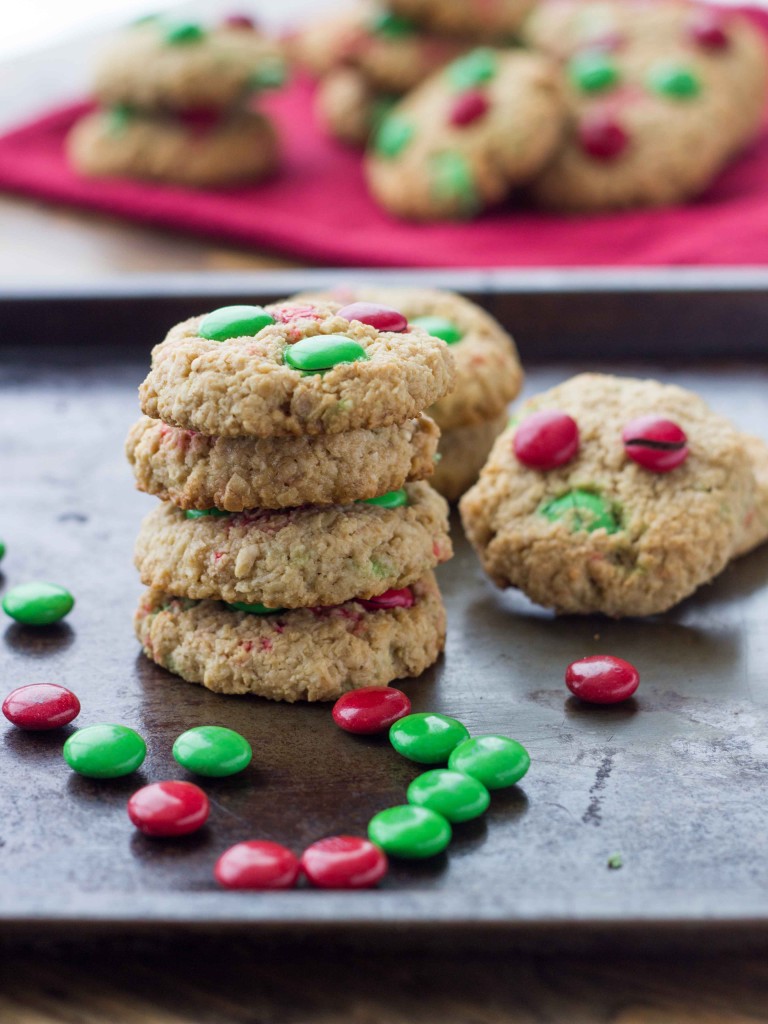 I've only recently begun baking with almond flour, but I've already fallen in love with its texture and flavor. It can be a bit pricey, so I buy it from the bulk section at my co-op or Whole Foods. If your grocery store doesn't have a bulk section, you should be able to find the Bob's Red Mill brand in the baking aisle.
I should also add that I've been on a vanilla soy milk kick lately. If you're a tea drinker, buy some Tazo Chai Tea, steep it until it's good and strong, and then pour in some vanilla soy milk – bam, mornings are better.
Anyway, I digress. The vanilla soy milk in these cookies adds a bit of extra moisture, but I assume that almond, coconut, or dairy milk would work just as well.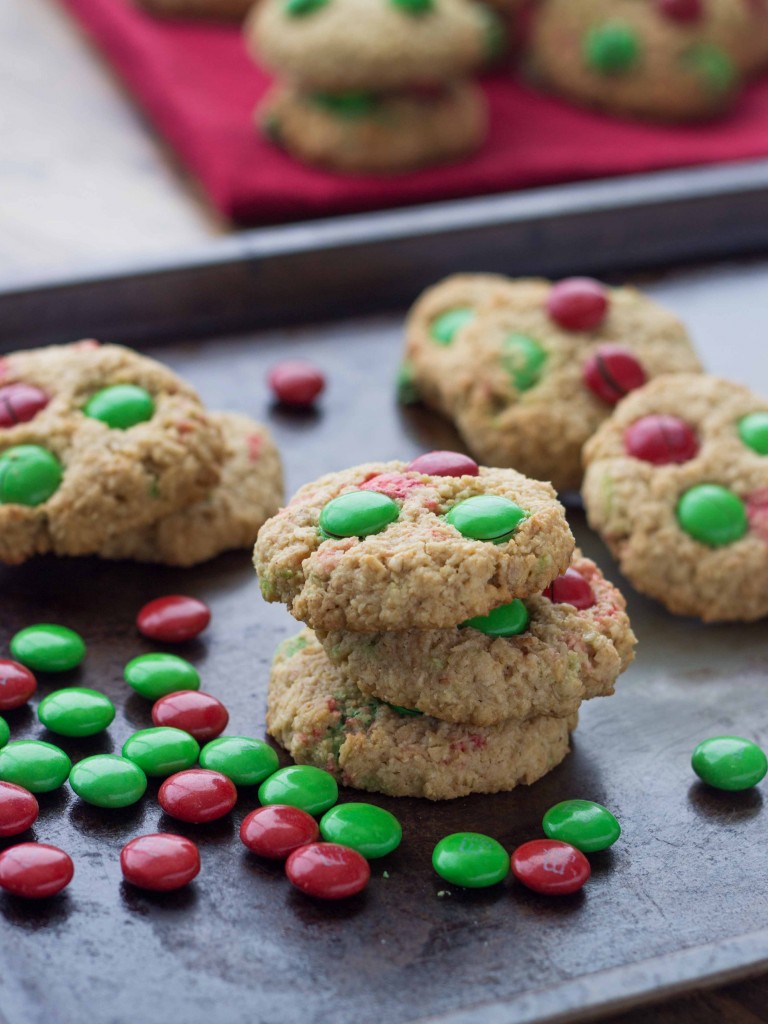 If you're not an M&M fan, first off I encourage you to reconsider, but if you'd rather forego the candy, then I recommend swapping them out for dark chocolate and/or white chocolate chips.
What are you baking this holiday season?


Gluten Free Coconut Almond M&M Cookies
Chewy M&M cookies made with oats, almond flour, and coconut. Each cookie is full of texture and flavor, and completely gluten free!
Yield: 20 cookies
Prep Time: 1 hour 10 minutes
Cook Time: 10 minutes
Total Time: 1 hour 20 minutes
Ingredients:
2 1/2 tablespoons coconut oil, melted
2 tablespoons honey
1/4 cup dark brown sugar, packed
1 large egg
2 tablespoons vanilla soy milk
1 teaspoon vanilla extract
1 1/2 cups gluten free quick oats
1 cup almond flour
1/2 cup shredded unsweetened coconut
1/2 teaspoon baking powder
1/2 teaspoon salt
1/3 cup dark chocolate M&Ms
1/4 cup dark chocolate M&Ms (for topping)
Directions:
Whisk together the coconut oil, honey, and dark brown sugar. Mix in the egg, vanilla soy milk, and vanilla extract.
In a separate bowl, whisk together the oats, flour, shredded coconut, baking powder, and salt.
Gradually add the dry ingredients to the wet ingredients. Fold in 1/3 cup of M&Ms.
Refrigerate for at least 30 minutes.
Preheat oven to 350.
After the dough is done chilling, scoop a tablespoon of dough, shape into a ball, and flatten with your hands. Place on a parchment-lined cookie sheet, and firmly press 2 or 3 more M&Ms into the top of each cookie. Repeat with remaining dough.
Bake for 10-13 minutes, until the edges just start to turn golden.
4 Responses to "Gluten Free Coconut Almond M&M Cookies"