Chai Spice Cake with Vanilla Bean Buttercream (Vegan)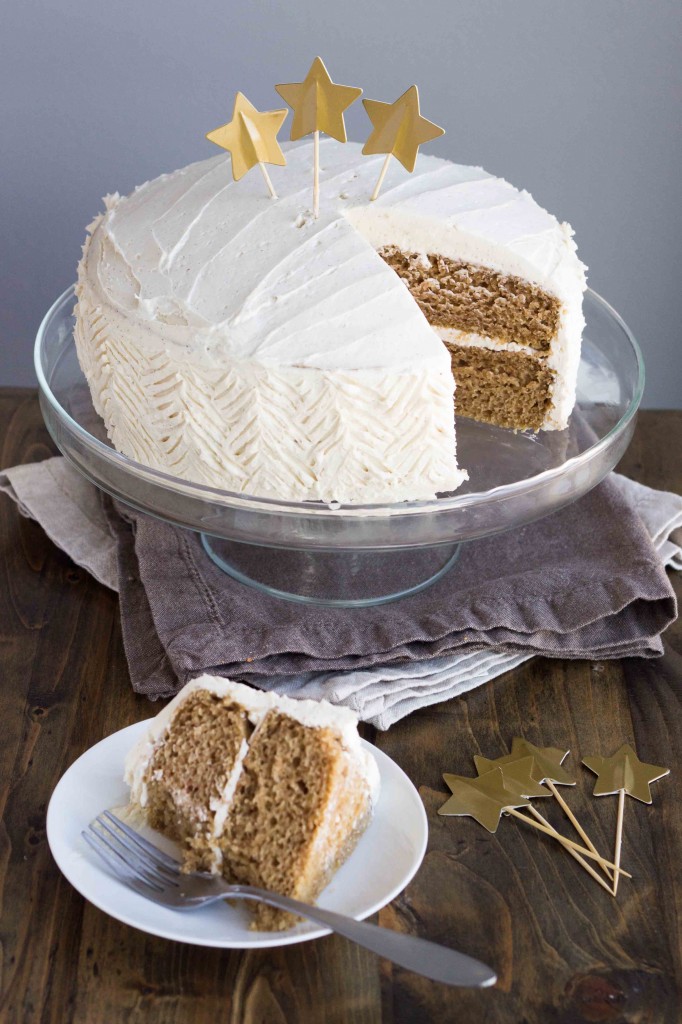 So. I made myself a vegan birthday cake. If you knew me in real life you'd realize how funny this is. If you knew me in real life you'd know that birthdays are a BIG DEAL in my family, and they are usually wrapped up by diving head first into a bucket (literally a bucket) filled with oreos, chocolate pudding, and cool whip. Dang girl, is it good.
I plan on eating both cakes today. It's my birthday, so I get to cake myself as much as I want to! Birthdays are the BEST, aren't they?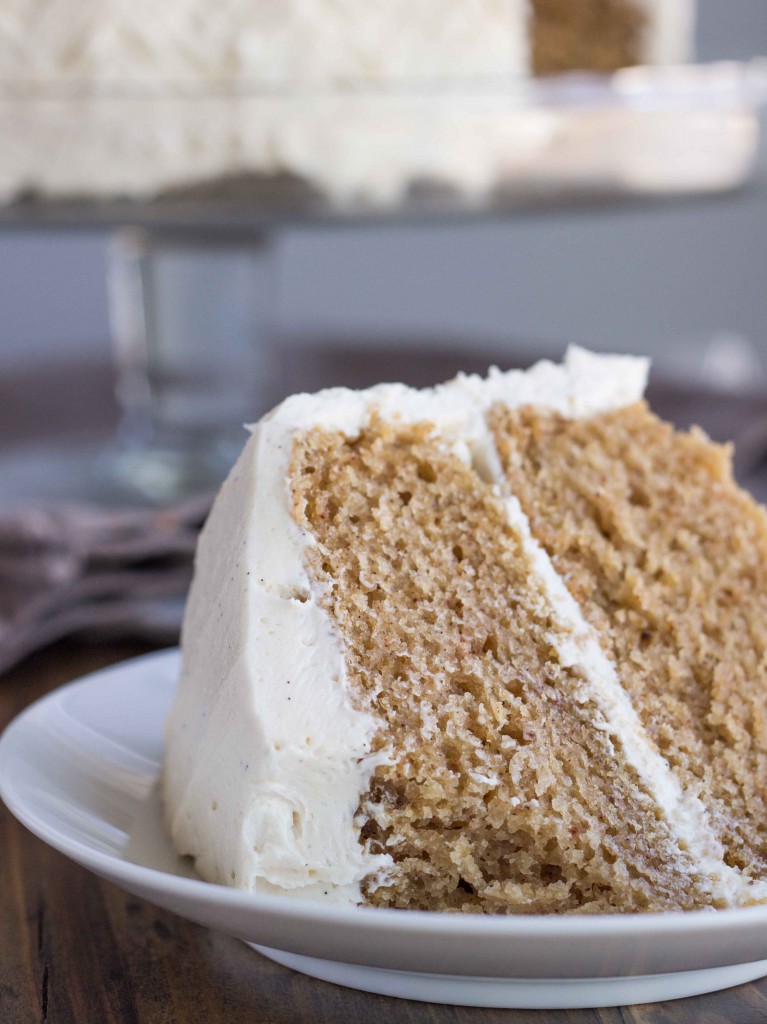 As I've mentioned before, I love vegan baking. Regular baking with dairy and eggs is a challenge in itself, so once you take away those magic ingredients it's kind of like a sick, addicting torture to try to get it right. Read into that what you will.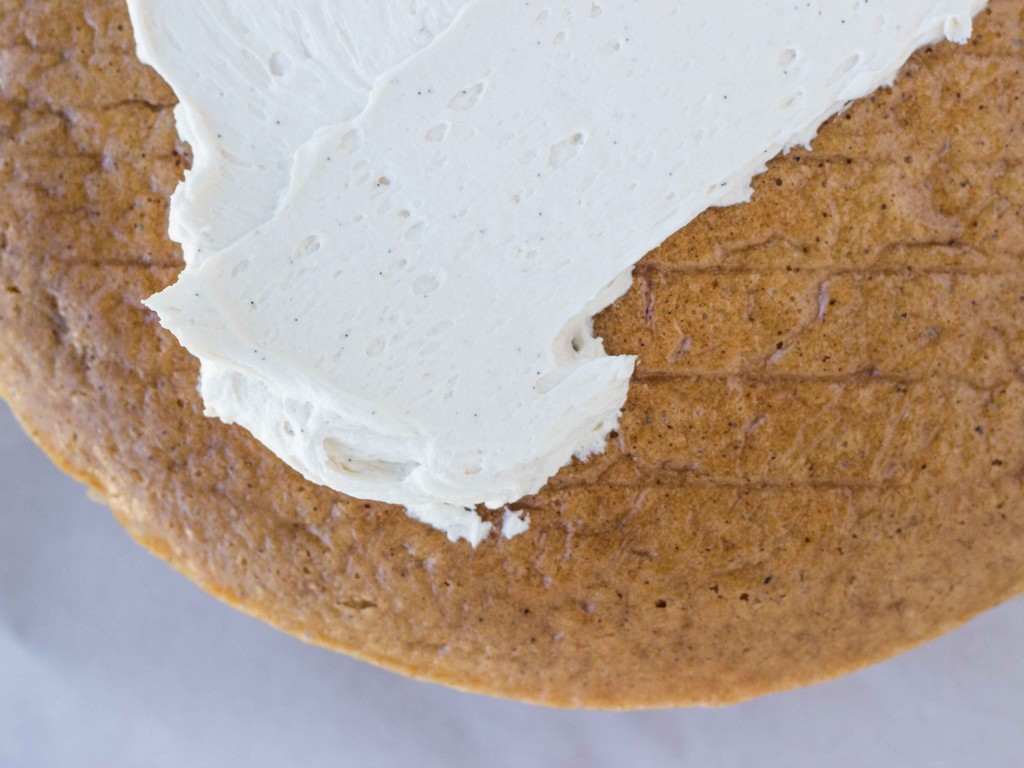 Baking layer cakes puts me in a strange zone of concentration where time zooms past and daylight fades far too quickly. There's so much detail and planning involved, and so much riding on what happens when you flip that cake pan upside down and hope everything baked evenly and no cake bits got stuck in the process. It's exciting and heartbreaking at the same time. It's an unpredictable, sugar-filled drug, and it's definitely my drug of choice (unless we're counting wine, because wine wins everything).
Speaking of sugar-filled drugs…can you ever frost a cake and not run your finger through it for a taste? I apparently can't.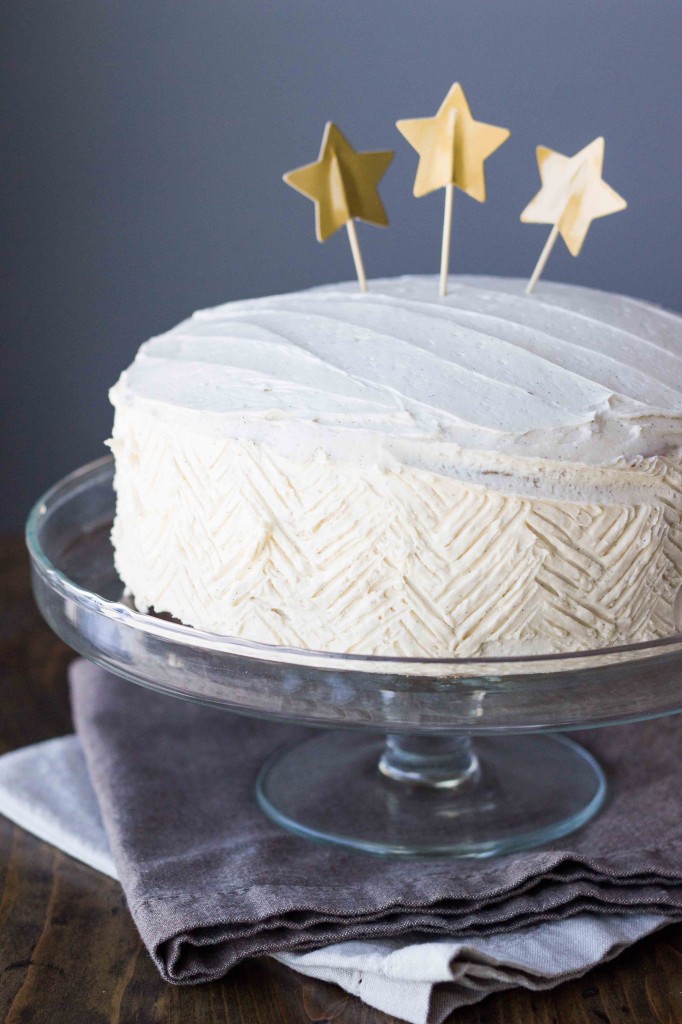 This birthday cake, which we'll refer to as Birthday Cake #1, is fluffy, sweet, and spiced like my favorite wake up/warm up drink: Chai Tea. I drink 2 very (VERY) strong cups of chai tea every morning. Without my tea I'm lost, crabby, and fairly non-functional. It ain't pretty.
I like to drink my chai tea out of the mug I brought back from studying abroad in Greece. It has a couple chips in the rim. That's how you know its loved.
I also like to drink my chai tea in cake form, it turns out.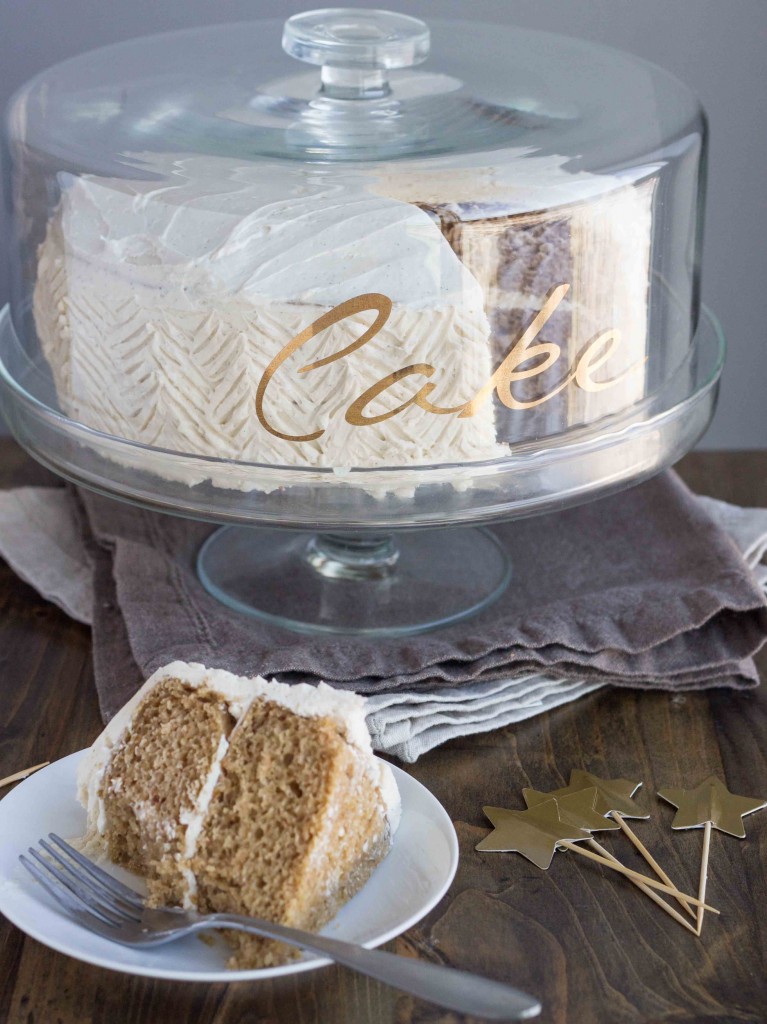 On top of the chai-spiced cake goes a thick, creamy [butter-free] buttercream with that wonderfully decadent and sweet hint of vanilla bean. I've only recently discovered how much I love baking with real vanilla bean, so it needed to make an appearance in my [1st] birthday cake.
The 2nd birthday cake, the [VERY] non-vegan birthday cake, is the filling to these cupcakes. I'll take one of each. Please and thank you.


Vegan Chai Spice Cake with Vanilla Bean Buttercream
A fluffy vegan cake infused with the spices of Chai tea, and topped with a decadent vanilla bean buttercream.
Yield: 10-12 servings
Prep Time: 20 minutes
Cook Time: 35 minutes
Total Time: 55 minutes
Ingredients:
Chai-Spice Cake
2 cups minus 2 tbsp vanilla almond milk
2 tablespoons apple cider vinegar
3 cups unbleached cake flour
1/2 tablespoon baking powder
1 teaspoon baking soda
1 teaspoon ground cardamom
1/8 teaspoon ground allspice
1 teaspoon ground cinnamon
1/8 teaspoon ground cloves
2 1/2 teaspoons ground ginger
1 teaspoon fine sea salt
1 1/2 cups raw sugar, processed until fine
1/4 cup canola oil
1/2 cup brewed chai tea
1 tablespoon vanilla extract
1/2 teaspoon almond extract
Vanilla Bean Frosting
2 cups (4 sticks) vegan butter, at room temperature
3 1/2-4 cups powdered cane sugar, sifted
1 vanilla bean, split down the middle and scraped
1 teaspoon vanilla extract
1-2 tablespoons vanilla almond milk (optional)
Directions:
For the Cake
Preheat oven to 350 degrees.
Combine the apple cider vinegar and almond milk. Set aside (make sure it sits for at least 5 minutes).
Sift together the flour, baking powder, baking soda, spices, and salt. Set aside.
In a large bowl, beat together the sugar, oil, and chai tea. Stir in the vanilla and almond extracts.
Alternate adding the flour and the almond milk to the batter, starting with the flour. Before adding the last splash of almond milk, mix the batter enough to eliminate any lumps. Add the remaining milk, mixing until just combined.
Grease two 9-inch pans and line with parchment paper. Divide the batter between the two pans. Bake for 30-35 minutes. Let sit in the pan for at least 10 minutes before carefully flipping onto a cooling rack to cool completely. Wrap tightly in plastic wrap and place in the fridge until you're ready to frost.
For the Frosting
Beat the vegan butter until creamy. Gradually add the powdered sugar to the butter, scraping the sides with a spatula as needed.
Mix in the vanilla bean and vanilla extract. I added about 1 tablespoon of almond milk at this stage, but you can vary the amount of liquid based on your consistency preference. Whether adding milk or not, beat the frosting for another 2-3 minutes until whipped and creamy.
To Frost the Cake
Place one cake half on a piece of parchment paper. Spread about 1/2 cup of frosting on the top of the cake, then top with the other cake half. Cover the cake with a thin layer of frosting (this will be your crumb coat). Place the cake in the fridge for another 30 minutes to allow the crumb coat to set.
Remove the cake from the fridge, and cover with another layer of frosting. You can be done now, or you can place the cake in the fridge for another half hour, and then add another layer of frosting. I added a third layer, and then used a fork to make hatch marks in the sides of the cake.
Cake recipe adapted from Oh, Ladycakes.
For the sugar, I processed Sugar in the Raw in my food processor until very fine - almost the texture of powdered sugar.
The tea should NOT be the sweetened chai tea liquid (i.e. what Caribou/Starbucks use to make chai lattes). Use a chai tea bag (black tea with spices), and steep it normally before measuring out 1/2 cup.
47 Responses to "Chai Spice Cake with Vanilla Bean Buttercream (Vegan)"
Pingback: simply click the up coming site

Pingback: Chai Cake | Kim Makes Things

Pingback: chai tea spiced cake with coconut frosting (dairy-free, plus vegan optional) | butter loves company

Pingback: Fall Reading and Links - Honest Beans