Molten Nutella Lava Cakes for Two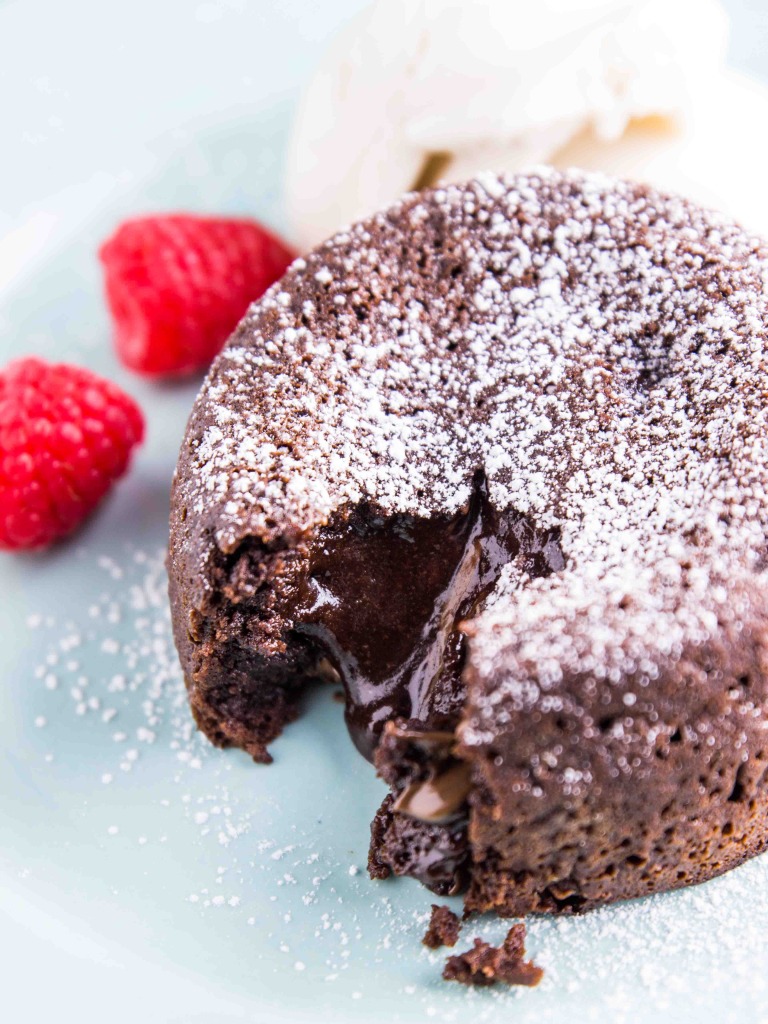 I keep picturing myself diving face first into that melty, Nutella-filled center. It's just so shiny, warm and inviting.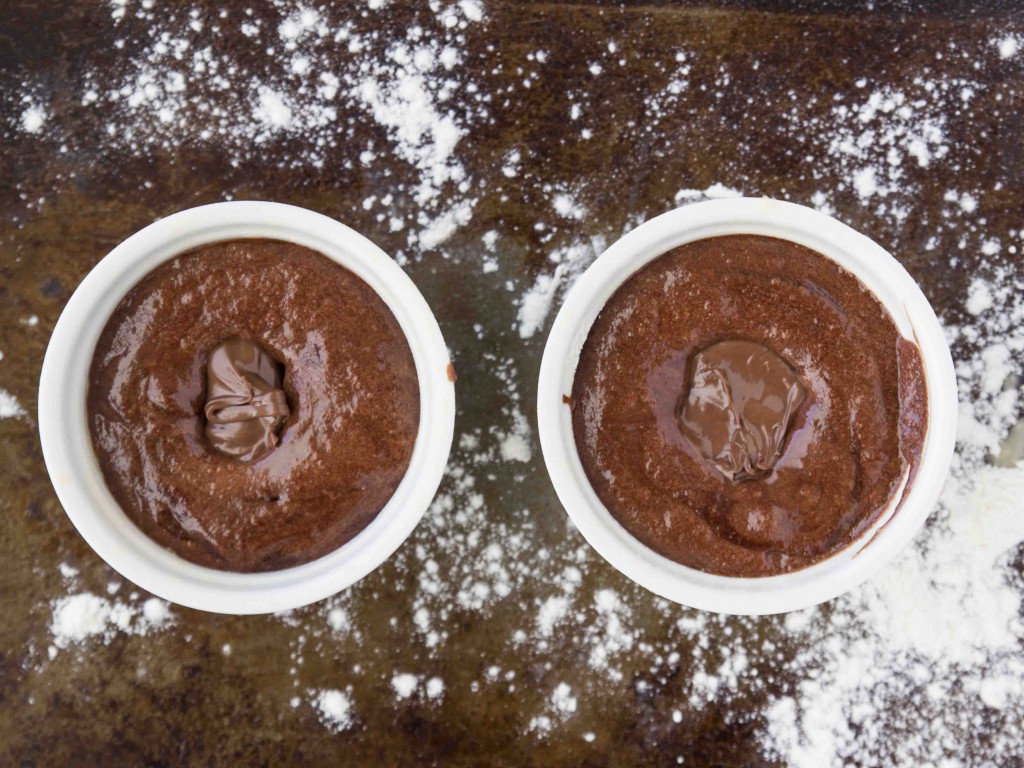 Cloaking myself in melted chocolate sounds like the perfect way to deal with the situation we have going on outside right now. My mom works at a bank and gets to talk about this weather with chilled, pink-cheeked Minnesotans who rotate in and out all day, and she kind of loves it. She's one of those genuinely "Minnesota Nice" folks. She's a rare gem, that one.
I, on the other hand, want to hole up in my house and hibernate until things improve. If only I was still in school and could take advantage of all these school closings. We only had one snow day in my 4 years of high school, and that was the one morning in all of eternity when my parents didn't watch the news, so my dad drove me to school anyway. Still harboring some teenage drama about that morning.
So, instead of waking up to cozy weekday mornings in pajamas and slippers, I'll come home from work and warm up to a ridiculously gooey, Nutella-filled chocolate cake. I suppose that works, eh? Yes.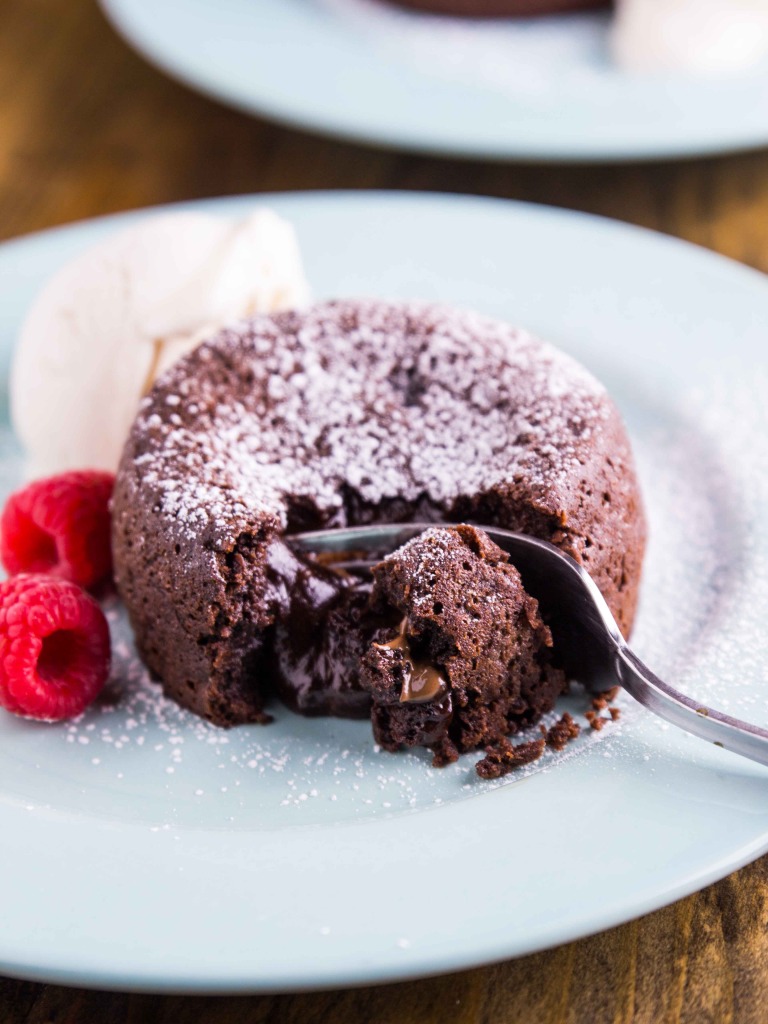 I first set my eyes on a chocolate lava cake in the early 2000s at the Applebee's near my parent's house. I didn't know how the fancy chefs at Applebees got that gooey chocolate center in that cake, but I knew they changed my life forever. Last winter, a good 10+ years after my first lava cake experience, Ryan and I (okay, mostly me) devoured a NUTELLA-filled lava cake at a restaurant in our neighborhood. No regular molten chocolate lava cake would ever do it for me again. Ya gotta put some Nutella in that SOB, folks.
…except you don't really need to, if Nutella isn't your thing. You can just leave it out, and the recipe will work just fine, but I highly (highlyhighlyhighly) recommend that little dab of Nutella in the center.
If you're like Ryan and I, who usually forego the crowded restaurants on Valentine's Day, then this is the perfect dessert to make an at-home date night feel extra special. This recipe is one of those treasures that looks and tastes impressive, yet is secretly quick and simple. Plus, it makes just enough for two people, aaaaand I have a sneaking suspicion that it would taste great with a glass of red wine.
Although I think most things taste great with most wine, so take my advice with a grain of salt.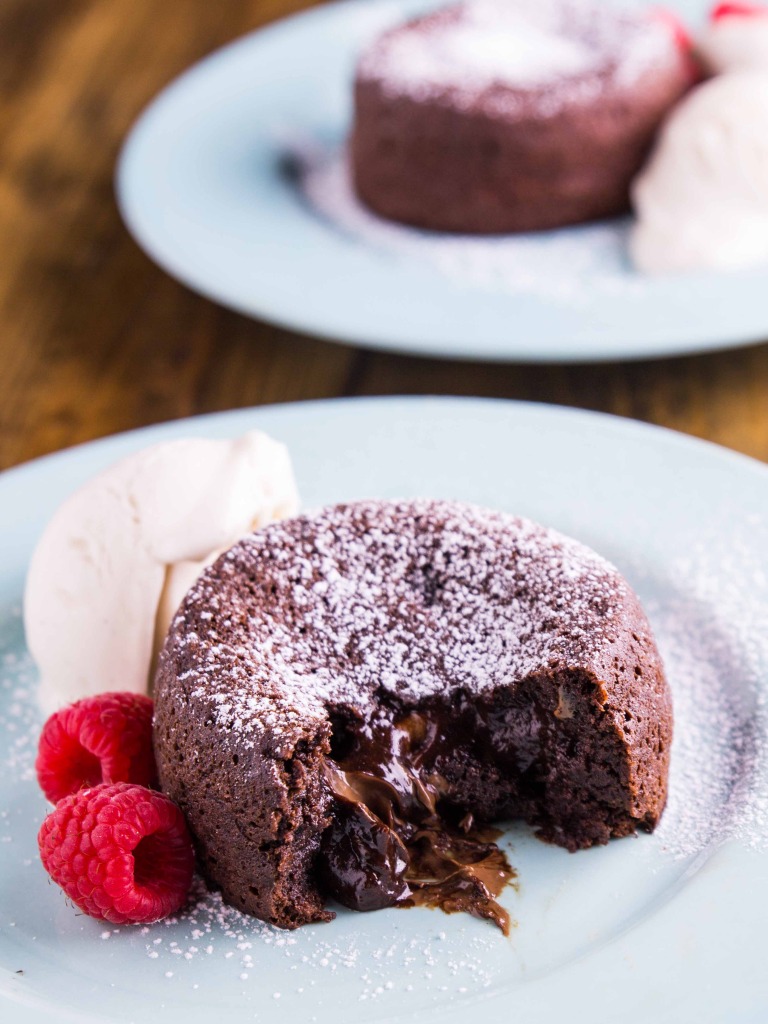 You may think molten lava cakes are too complex to make at home, but I promise you can do it. The trickiest part of the process is getting the timing right. The first time I made these I feared over-baking the cakes and losing that gooey chocolate center, so I took them out of the oven at 9 minutes…and they totally melted into a hot mess all over my plate. The next time I took them out after 10 minutes and they were absolute perfection. Oven times will vary, so just keep your eye on the cakes after about 9 minutes.
Things to look for while you're baking the cakes:
You want the outsides of the cake to rise up and be a little golden, and pull away from the sides of the ramekin.
You may still see the Nutella in the center – that's okay, as long as the top of the cake looks as though it's been cooked.
You don't want the cake to look like it's jiggling. If it's clearly jiggling, then give it another minute.
After you've let the cakes rest for a minute, then carefully inverted them on a dessert plate, you have one deep, dark chocolate cake to dig into. The outside of the cake is fluffy and soft, and the inside is wonderfully messy and full of melted chocolate and Nutella goodness. I like serving mine with raspberries (for the prettiness factor), and vanilla bean ice cream (for those cool/warm and vanilla/chocolate dichotomies), but those details aren't really important right now, are they? This photo tells you everything you need to know…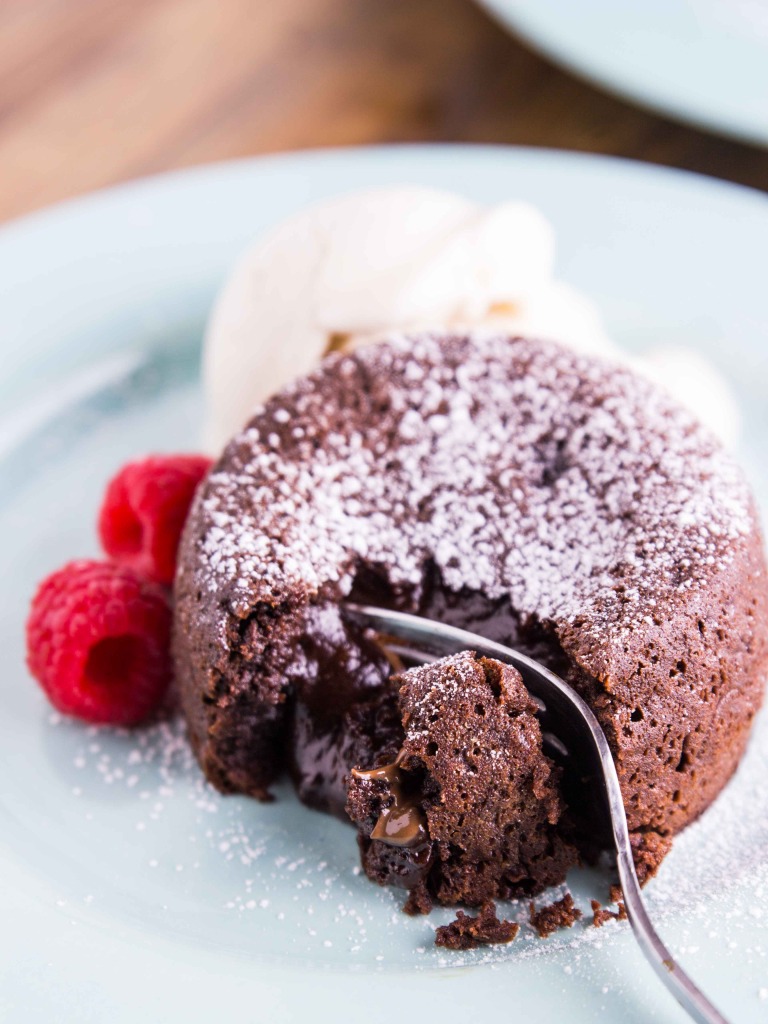 Happy ridiculous winter to all of yous. Have some melted chocolate cake and try your darndest not to go insane.


Molten Nutella Lava Cakes for Two
Deep, dark chocolate cakes filled with melted, gooey chocolate and rich Nutella. A perfect dessert for a special date night, but quick enough to whip together whenever you have a craving for something decadent.
Yield: 2 cakes
Prep Time: 10 minutes
Cook Time: 10 minutes
Total Time: 20 minutes
Ingredients:
4 tablespoons (1/2 stick) unsalted butter
1/2 cup bittersweet chocolate chips
1 egg
1 egg yolk
3 tablespoons granulated sugar
1/8 teaspoon salt
1 tablespoon natural cocoa powder
2 tablespoons Nutella
2 teaspoons powdered sugar (optional, for garnish)
Directions:
Preheat the oven to 450°.
Liberally grease two 7-ounce ramekins - it's crucial that the cakes don't stick! I used a paper towel to spread softened butter all around the inside of each ramekin. You can also sprinkle a little flour after you grease the ramekins, although the second time I made these I did not use flour and they slid right out.
Combine the butter and chocolate in a glass bowl set over a pot of simmering water. Stir until melted.
In a separate bowl, beat the egg with the egg yolk, sugar and salt on high until thickened and pale. This will take a good 3-4 minutes, so be patient. Scrape down the side of the bowl as needed.
Whisk the cocoa powder into the melted chocolate, and then quickly whisk the mixture into the eggs. Don't overmix - stop once everything is incorporated.
Spoon the batter into the ramekins, then drop 1 tablespoon of Nutella into the center of each ramekin.
Bake for 10-12 minutes, until the sides are firm and the centers are still soft, but not jiggly. A minute can make a big difference, so keep an eye on the cakes.
Let the cakes cool for 1 minute in the ramekins, and then set a plate face-down on top of each ramekin. While wearing an oven mitt, carefully flip the ramekin and plate over. Let stand for 10 seconds and then carefully lift the ramekin.
Sift a bit of powdered sugar on the top of each cake, garnish with raspberries and a scoop of vanilla bean ice cream - not necessary, but hiiiiiiiiighly recommended.
34 Responses to "Molten Nutella Lava Cakes for Two"
Pingback: Pecados deliciosos | oquefaltafazer

Pingback: Molten Nutella^o^ | sasida97