Soft & Chewy Whole Wheat Beer Pizza Crust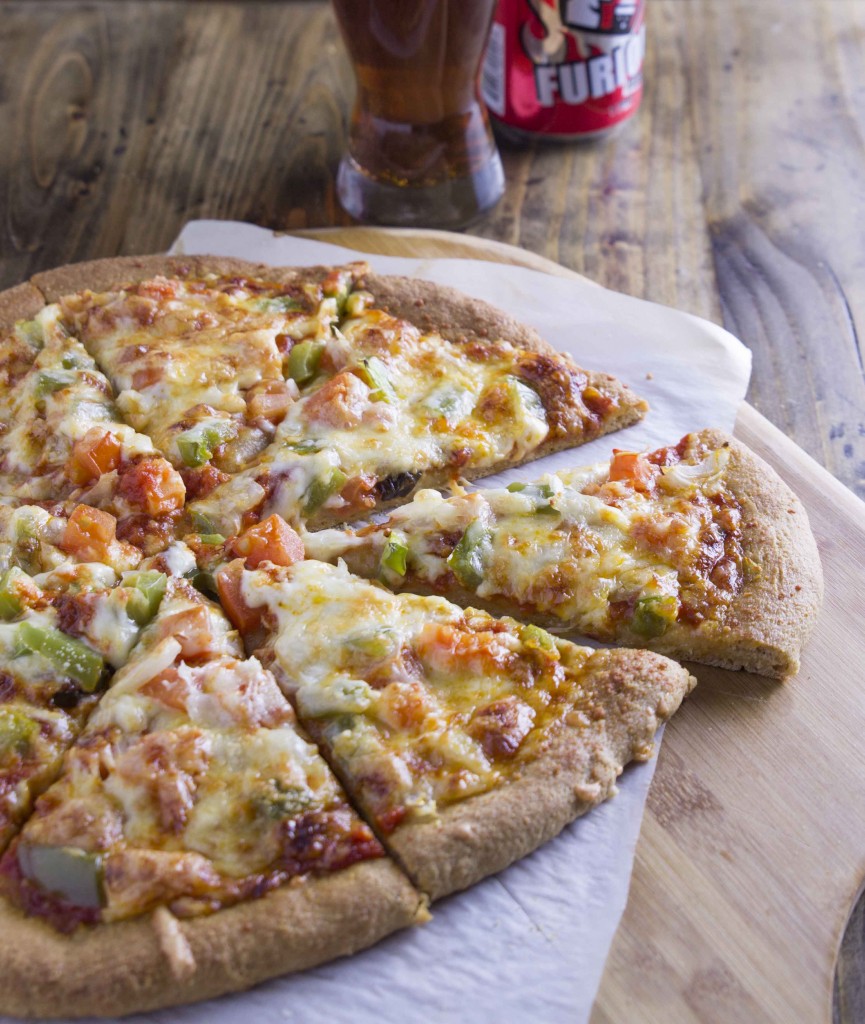 When Ryan and I started dating, I knew we were a good match. I'm sure I based this assessment on personality, sense of humor and blah blah blah but also, despite the whole big-time meat eater and long-time vegetarian mashup, we share food extremely well.
If we share fries, he chooses the soft, thick ones and I go for the smaller, crispier ones.
When we order sandwiches, he doesn't eat the pickle on the side, so I get to eat all the pickles on the side.
When we eat pizza that's cut in squares, he prefers the chewy inside pieces while I prefer the crusty exterior.
Of course, what goes next to the fries, in the sandwich, or on the pizza is a different story for a different day. Once we make those ingredient decisions, we fall into easily-shared meal happiness.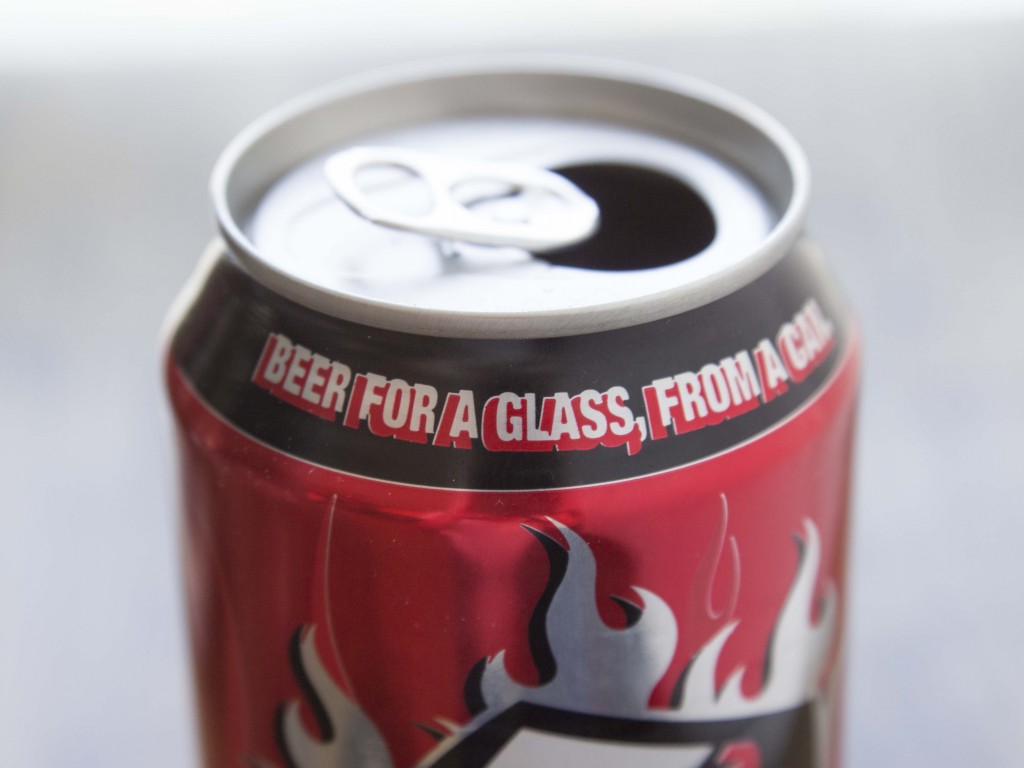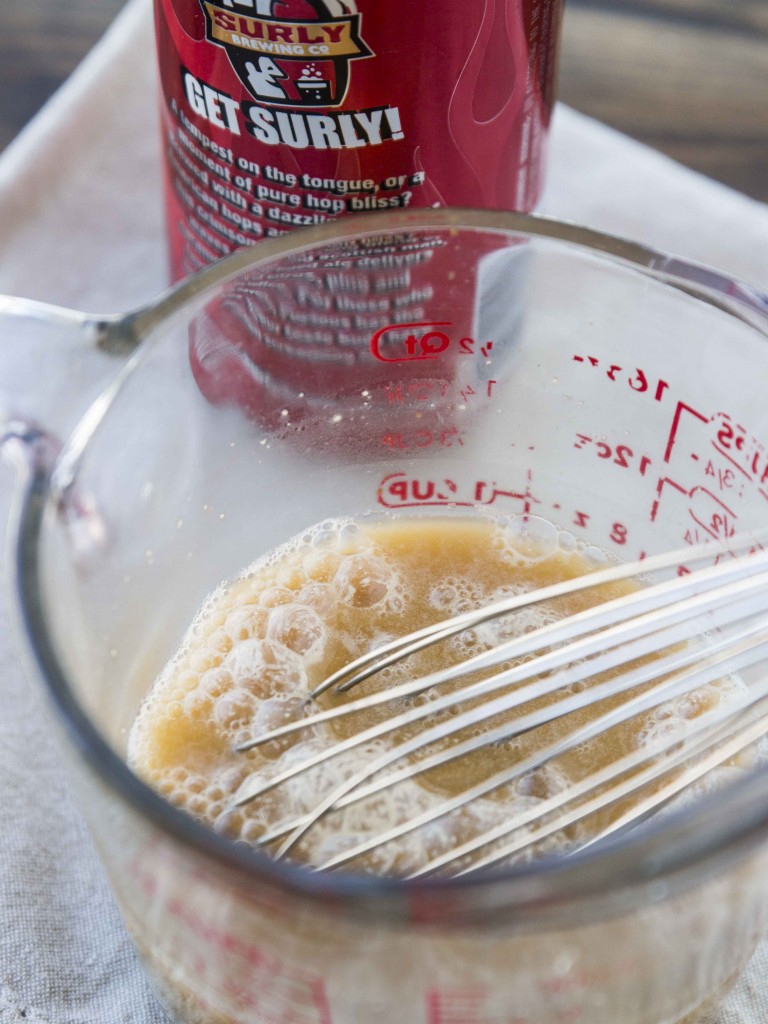 Admittedly, the pizza crust I make at home caters to my tastes more than his. My usual pizza dough works best as a thin, crispy flatbread. Sure, I like that crispiness, but mostly I like that rolling the dough out thin results in a bigger pizza, and more pizza is better than less pizza. #logic
Ryan, on the other hand, would prefer a pizza with a softer, chewier crust. If it's too crispy he just doesn't eat it. Although I like gobbling up his scraps, I thought I'd make a crust just for him.
Since this pizza crust was all about Ryan, I also made it with beer instead of water. Specifically, I made it with the same beer that one of our favorite pizza places in town uses in their crusts. Surly Furious, a beer brewed here in Minnesota, is very hoppy and fairly dark. It's one of those beers that Ryan loves, but I find a bit too flavorful (I'm a wimp with beer). Put it in pizza though, and we both agree that it adds a richness and depth to the dough that's downright irresistible.
…So irresistible that you might end up over-eating, but if you make it at home, you can make it with 100% whole wheat flour. This means you can feel good about devouring waaaaaay too much pizza. Whole grains justify everything. Fact.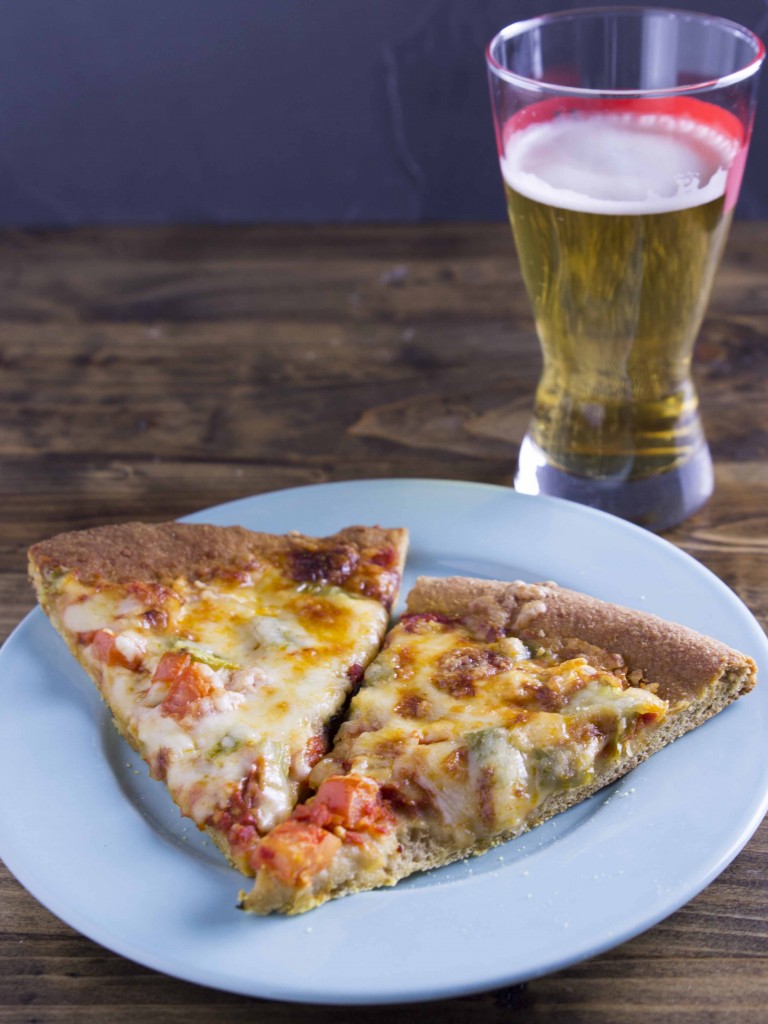 This dough takes some time, but you must be patient. If you cut the rise time your pizza won't be chewy enough. It's the hard truth, and we all must accept it.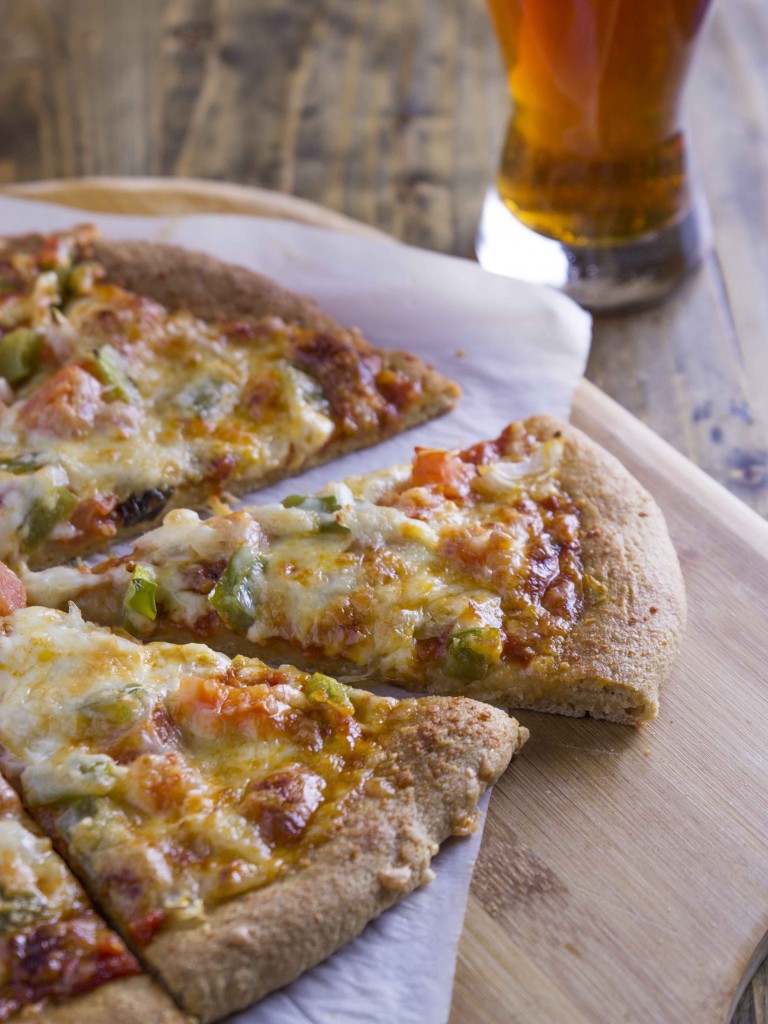 Although I'm always a crust person, this crust especially blew my mind. I've made it twice so far -the first time I rolled the dough into a 10-inch circle, and the second time (when I took these photos) I rolled it into a 12-inch circle. Both times the crust was soft, chewy, and full of flavor, so choose your diameter based on how thick you like your crust. Easy peasy.
Ryan, whose plate is usually littered with leftover crusts that are too crunchy for him, devoured all of his pieces and said it was the best crust I've ever made. Mission accomplished!
…but I kind of missed eating his crust leftovers.


Whole Wheat Beer Pizza Crust
A soft, chewy whole wheat crust with an extra boost of flavor from hoppy, dark beer.
Yield: 1 pizza (serves 2-4)
Prep Time: 2 hours 30 minutes
Cook Time: 20 minutes
Total Time: 2 hours 50 minutes
Ingredients:
2/3 cup dark, hoppy beer, warmed (I used Surly Furious - go MN brews!)
2 1/4 teaspoon active dry yeast
1 teaspoon granulated sugar
2 tablespoons extra-virgin olive oil, divided
1-1 1/2 teaspoons fine sea salt
1 1/2 cup white whole-wheat flour (plus more for kneading)
Directions:
Whisk together the warm beer with the sugar and the yeast. Let sit for 5 minutes, until bubbly and foamy.
Whisk in 1 tablespoon of olive oil. Pour in 1 1/2 cups flour and the salt. If you have a stand mixer with a knead hook, let it do its thing for 5 minutes. If you don't, use a wooden spoon to incorporate the flour, then turn out onto a floured surface and knead for 5 minutes. This is the stage where you may need to add a few more tablespoons of flour. It will come together and be more elastic. You want the dough to bounce back when you poke it.
Transfer the dough to a lightly-oiled bowl and flip it around so the oil coats it fully. Cover loosely with plastic wrap and let it rise in a warm place for 2 hours.
Turn the dough out onto a parchment-lined surface. Cover with a warm, damp towel and let rise for another 20 minutes.
At this point you can refrigerate the dough if you're not using it right away.
Preheat oven to 400. If you have a pizza stone, put it in the oven while it preheats.
Roll the dough into a 10-12 inch circle (depending on how thick you want the crust) Pinch the sides to form a slightly raised crust. Brush 1 tablespoon of oil on the top of the crust.
When you're ready to bake, add your favorite toppings, and then bake for 20-25 minutes.
12 Responses to "Soft & Chewy Whole Wheat Beer Pizza Crust"