Whole Wheat Banana Chocolate Chip Muffins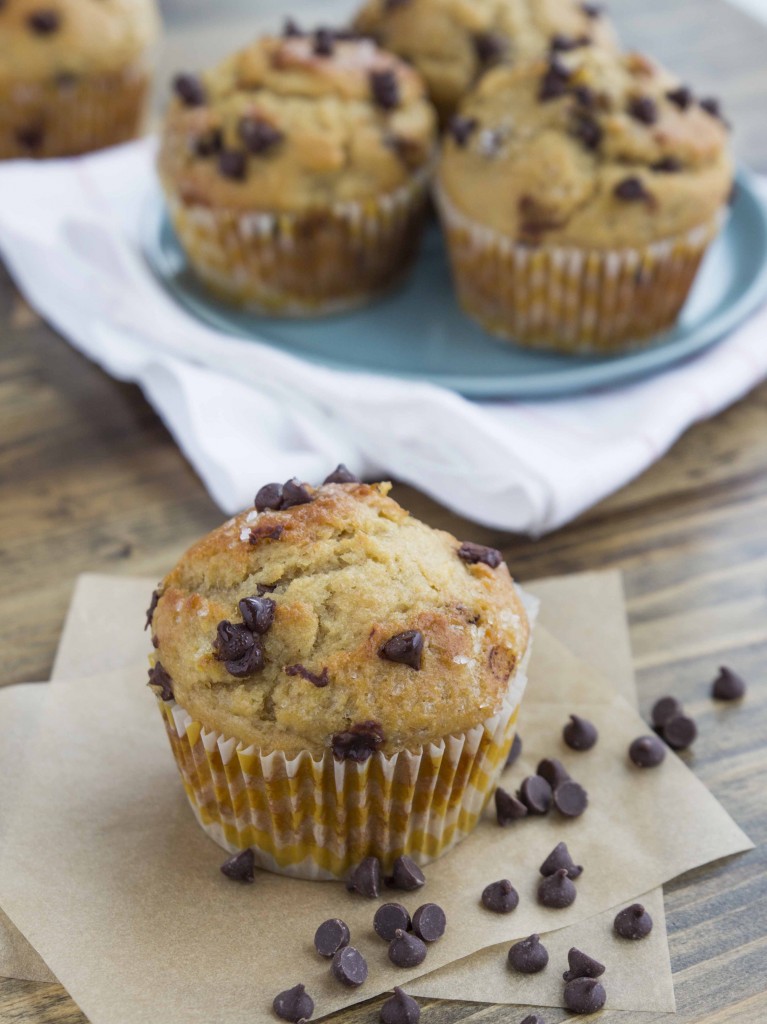 Do YOU know the muffin man?
I do. I've gotten to know the muffin man all-too-well over the past few months. It's become embarrassingly clear that when I'm stressed, I go to the muffin man. He is my zen, apparently.
Sure, I love eating muffins, but I think it's the process of making muffins that really feels therapeutic: you don't need a mixer, you don't need fancy ingredients, but you get to see these little blobs of dough grow SO TALL in the oven. It's like magic. I also like to sprinkle on some sparkling sugar to make the magic even prettier.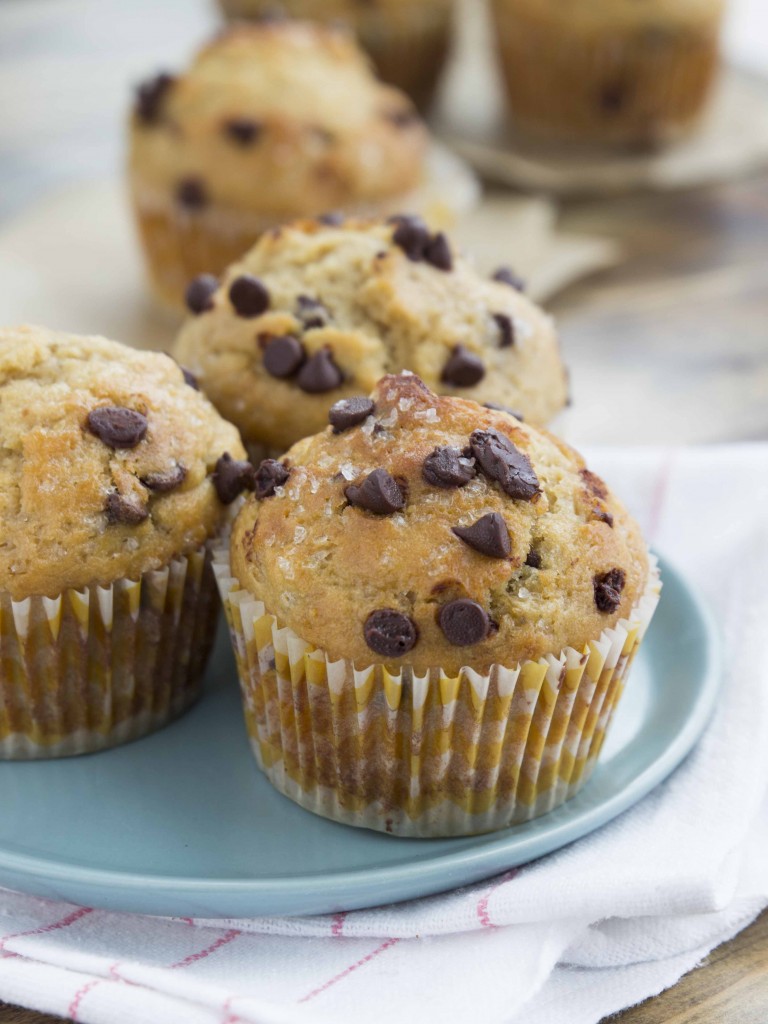 This winter has been a big crazy mess. It started wonderfully with a trip to Miami with my mom and sister. That trip was fantastic – relaxing, warm, beachy…the perfect way to kick off 2014. Over the next couple months my family had some health scares, Ryan's hydroponic basil farm froze solid and he lost his whole crop, and all the while I didn't really process any of it fully because I was in the midst of a cookbook frenzy.
You know you love being in your kitchen when, even when life is so ridiculous you don't remember to take your keys out of the door, and even when one of your sources of stress is a cookbook deadline, you still bake to calm your nerves.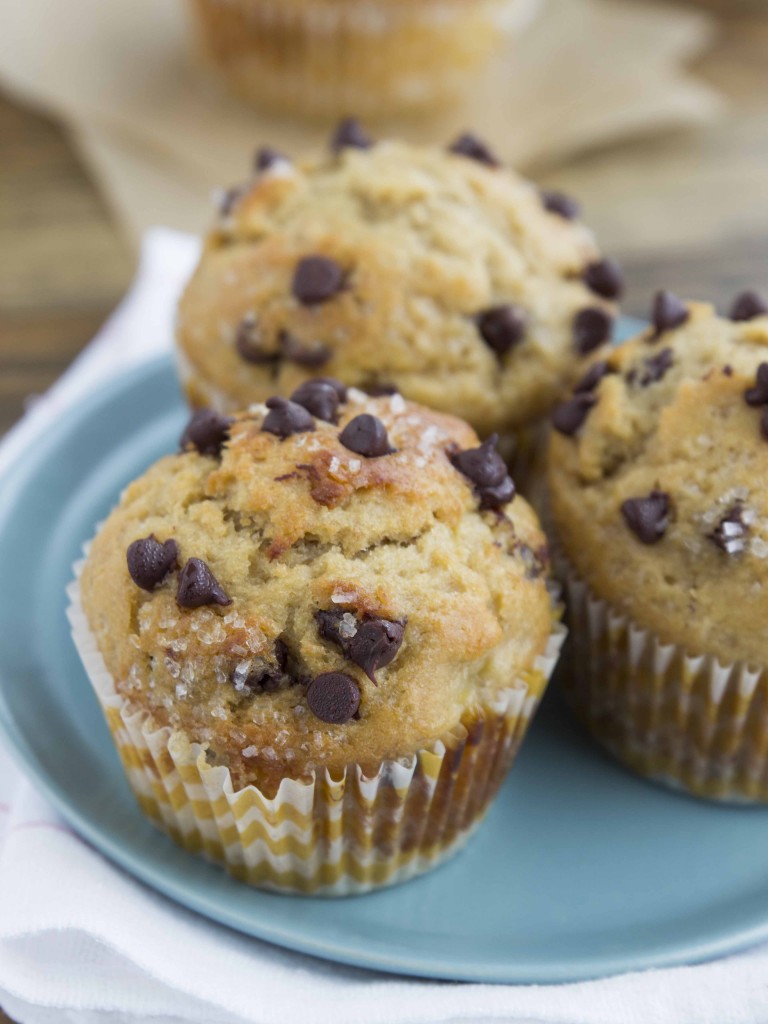 Last night, for example, after coming home from a full day at the office, then photographing and editing two cookbook recipes quickly before the sun went down, I decided to relax by using some past-prime bananas to make sky-high banana chocolate chip muffins.
I might be a bit crazy. That's fair. Ryan pretends not to notice.
I consider these "bakery style" because they bake up tall – the muffin top is actually as tall (if not taller) than the muffin bottom – and they're topped with crunchy sparkling sugar for a little extra fanciness. Apart from their good looks, these muffins are also fluffy, sweet, and full of healthy ingredients like whole wheat flour, Greek yogurt and bit of coconut oil. Sure, there's some sugar and chocolate going on, but I totally give you permission to only focus on the healthy stuff.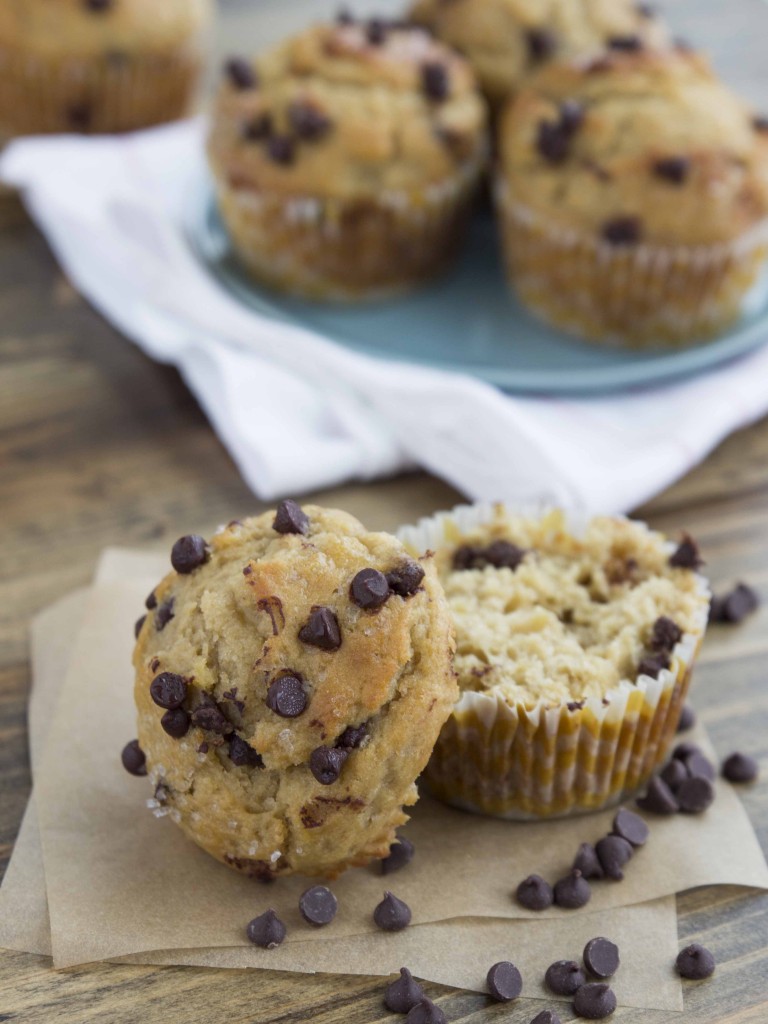 I've been eating these as breakfast (accompanied by a spoonful of peanut butter, because I'm perpetually hungry), snack, and dessert. They're so good I haven't even been tempted to make another batch of muffins this week!…yet.
I'm not alone in my stress muffin-ing, right? That's a thing for other people?


Whole Wheat Banana Chocolate Chip Muffins
Tall, fluffy, bakery-style banana chocolate chip muffins made with whole wheat flour, Greek yogurt, and coconut oil.
Yield: 12 muffins
Prep Time: 10 minutes
Cook Time: 20 minutes
Total Time: 30 minutes
Ingredients:
1/2 cup granulated sugar
2 cups whole wheat pastry flour
2 1/4 teaspoon baking powder
1/4 teaspoon salt
3 very ripe bananas, mashed
1/4 cup milk (I used whole milk, but any milk will do)
1/2 cup plain nonfat Greek yogurt
3 tablespoons coconut oil, melted
2 large eggs
2 teaspoon vanilla extract
1/4 cup dark brown sugar, packed
1/2 cup mini chocolate chips
1 teaspoon cornstarch
1 tablespoon sparkling sugar (optional), for topping
Directions:
Preheat oven to 400 degrees.
In a large bowl, whisk together the granulated sugar, flour, baking powder, and salt. Set aside.
In another bowl, mix together the bananas, milk, yogurt, coconut oil, eggs, and vanilla.
Pour the wet ingredients into the dry ingredients and stir with a fork or wooden spoon until just incorporated. Don't over mix.
Set aside 2 tablespoons of chocolate chips, then mix the remaining chocolate chips with the cornstarch. Fold the chips into the batter.
Divide the batter between 12 lined and greased muffin tins (about a heaping 1/4 cup each). Top with remaining chocolate chips and sparkling sugar.
Bake for 18-22 minutes, until golden on top and a knife inserted into the center comes out clean. Let cool completely before unwrapping, otherwise the sides will stick to the liner.
7 Responses to "Whole Wheat Banana Chocolate Chip Muffins"
Pingback: Society South | Masterful Muffins