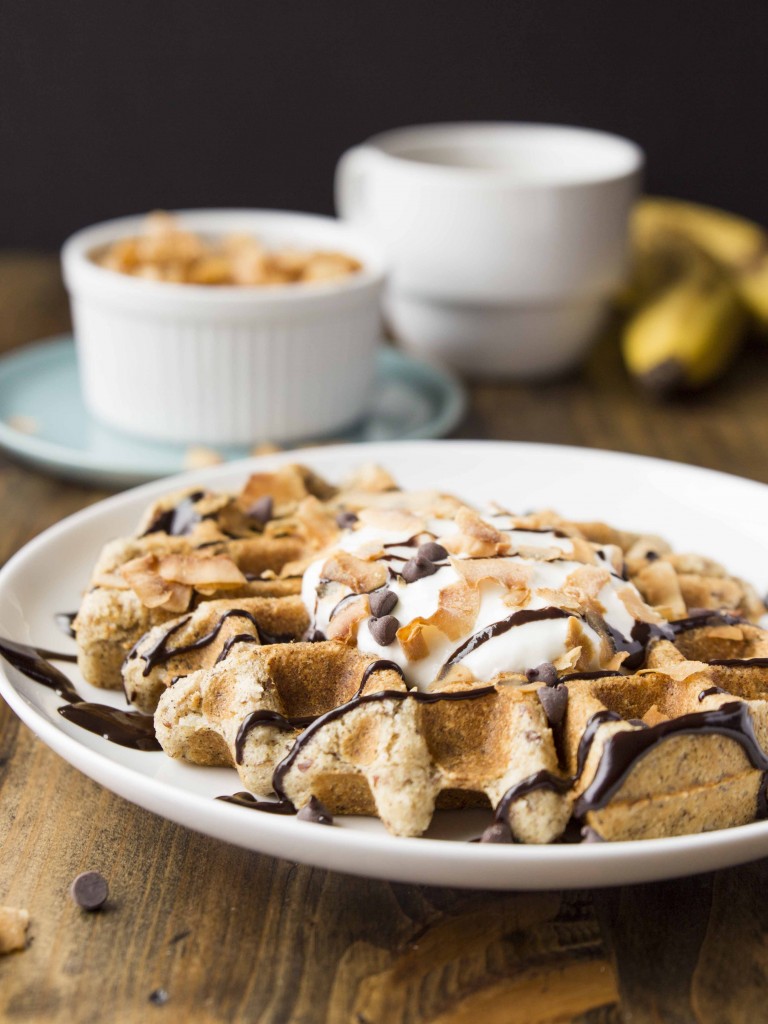 At the beginning of our relationship, I asked Ryan what he usually ate for breakfast (a very important, soul-exploring question, mind you). He answered that he didn't eat breakfast. I almost ended it right there.
It's the most important meal of the day! Do you not care about how your day goes? Who are you? What does this all mean?
Obviously I got over it. Some crazy, unfortunate people just aren't hungry in the morning. I am NOT one of those people. Give me all the sweetened carbs and all the crispy fried hashbrowns. Or just oatmeal if we're being scrappy, but at least put some melty peanut butter in there.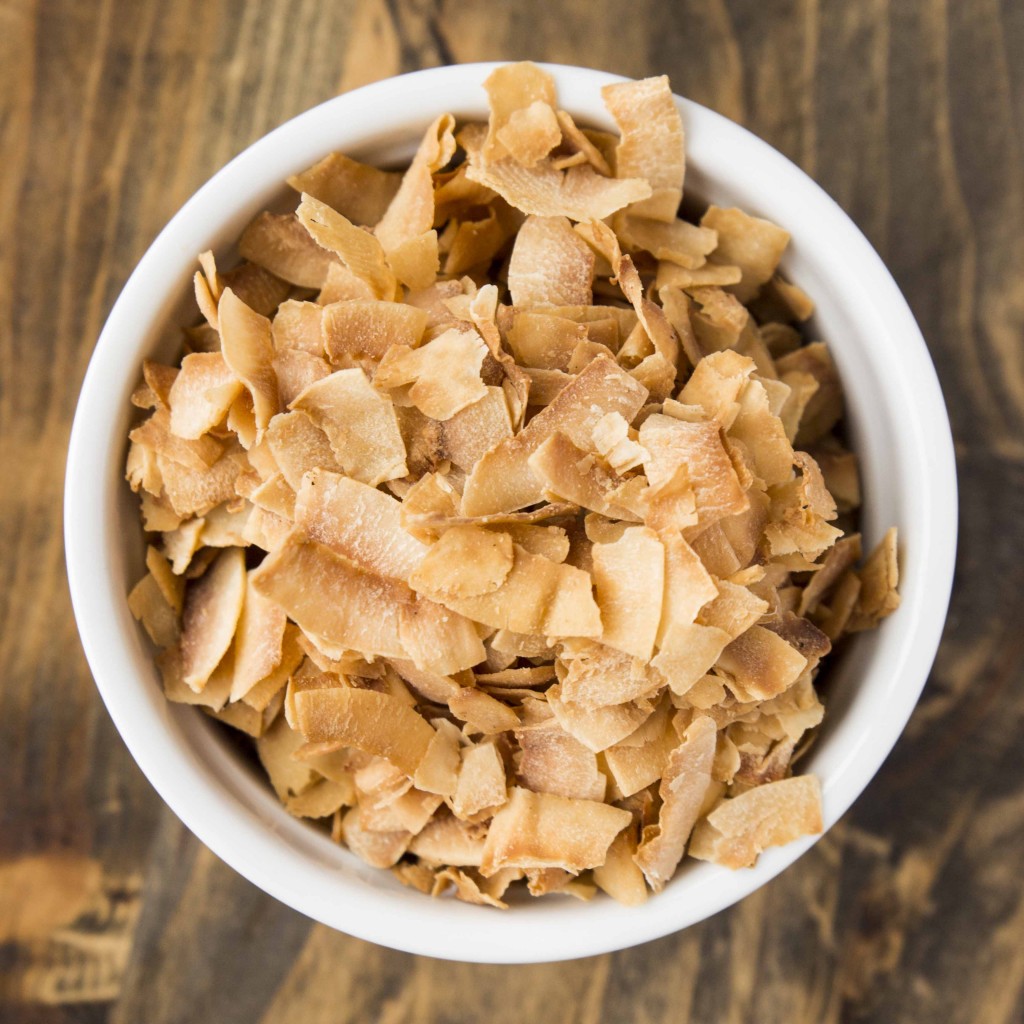 Sometimes I can convince him to make French toast with me on cozy weekend mornings. Sometimes I make waffles and he'll eat part of one. Sometimes I make pancakes and I am the only one who eats them because he doesn't like pancakes. Who doesn't like pancakes?
Saturday night Ryan went out with his dude friends for beers and games until 3:30 in the morning, and then he crashed at a friend's house. Pity, because he probably would have actually enjoyed (and eaten!) the waffles I made on Sunday morning.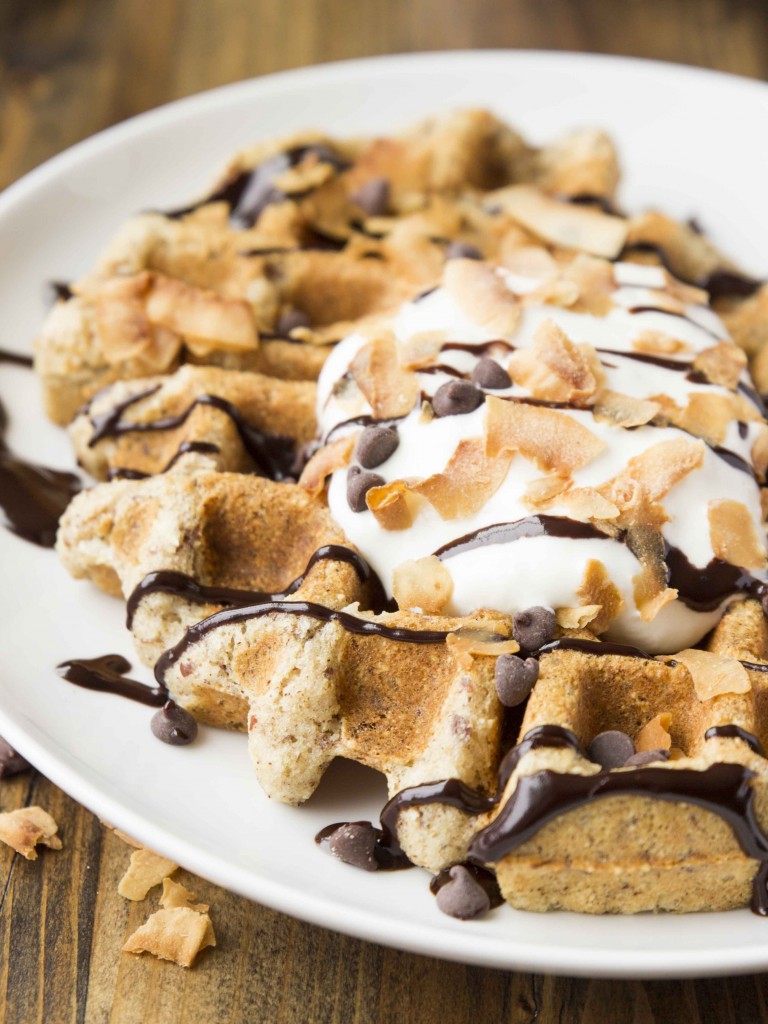 Instead of making a whole batch of waffles, eating one serving, and leaving the rest to be forgotten in our overcrowded freezer, I made just one waffle. One big, golden brown, deep-pocket waffle that tastes like a coconut macaroon. I also whisked together a chocolate coffee syrup, because I'm completely addicted to coffee lately, and I've always been addicted to chocolate.
I usually use whole wheat pastry flour for waffles, but this time I pulverized quinoa seeds in a coffee grinder to make flour. I always have quinoa on hand, but I never want to pay the premium for quinoa flour, so I just make my own. Bam.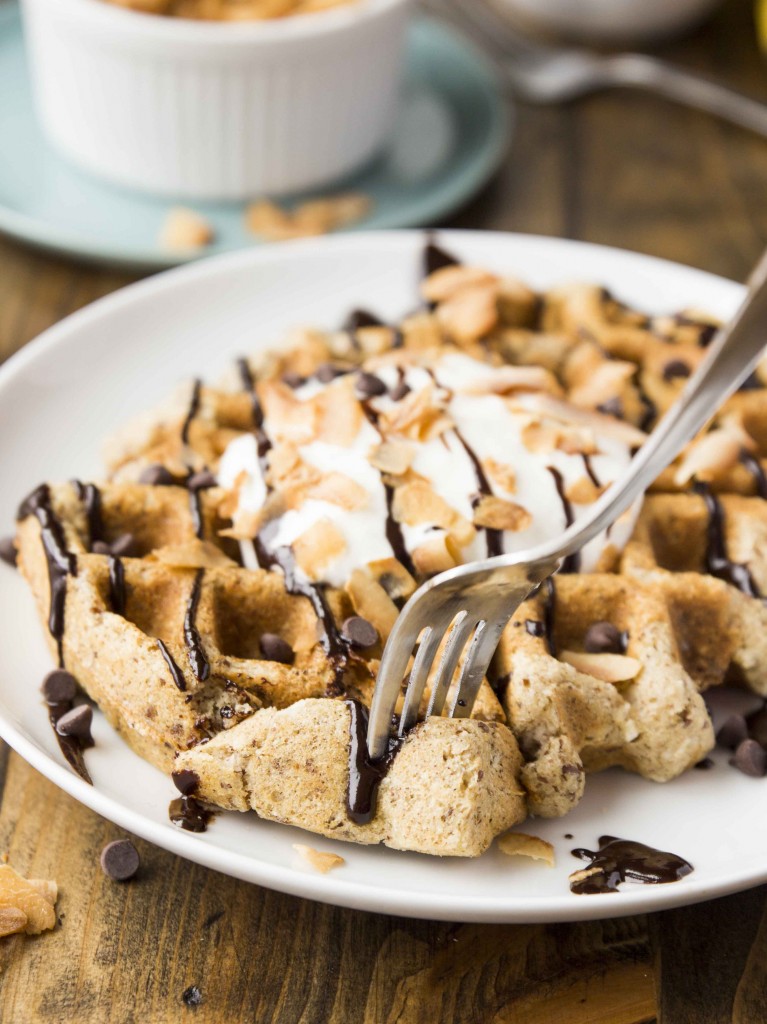 The resulting waffle is crispy on the outside, fluffy on the inside, and full of texture from the shredded coconut. The syrup is mostly chocolatey, with just a hint of coffee to balance out the sweetness. This waffle is also vegan and gluten free, but rivals (or maybe even defeats) any dairy, egg, and gluten-filled counterpart.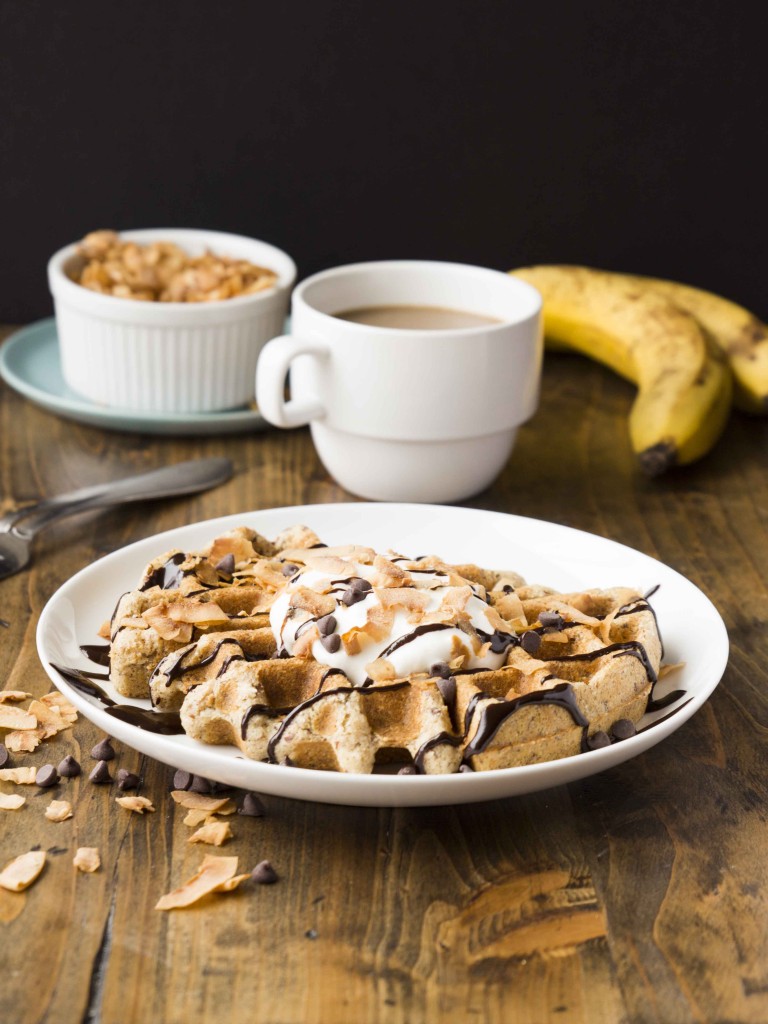 To add a bit of decadence, I topped mine with a little whipped coconut cream, mini chocolate chips, and toasted coconut flakes. You can leave out those extras, but why not indulge? It is the most important meal of the day, and I'm fairly certain that pretty, decorated food sets the stage for one badass day.


Single Lady Coconut Macaroon Waffles with Chocolate Coffee Syrup
A coconut macaroon in waffle form! Crisp on the outside, fluffy on the inside, filled with coconut flavor, and topped with a simple chocolate coffee syrup. This recipe serves just 1, but it can easily be multiplied as needed.
Author:
Katie of Veggie and the Beast
Recipe type:
Breakfast, Vegan, Gluten Free
Ingredients
Coconut Macaroon Quinoa Waffles
1 tablespoon ground flax mixed with 3 tablespoons warm water
¼ cup quinoa, processed into flour, or a scant ½ cup quinoa flour (see note)
3 tablespoons finely shredded unsweetened coconut
2 tablespoons almond meal
¾ teaspoon baking powder
¼ teaspoon cinnamon
Small pinch of salt
½ teaspoon coconut oil, melted
1 teaspoon cane sugar
⅓ cup plus ½ tablespoon light coconut milk
½ teaspoon vanilla extract
⅛ teaspoon coconut extract (optional)
Flaked, toasted coconut and whipped coconut cream, for topping (optional)
Chocolate Coffee Syrup
1 tablespoon hot coffee
½ tablespoon coconut oil
½ tablespoon mini chocolate chips (vegan, if desired)
1 tablespoon cocoa powder
½ tablespoon maple syrup
Instructions
Preheat waffle iron.
Combine the flax and water. Set aside.
Whisk together the quinoa flour, coconut, almond meal, baking powder, cinnamon and salt.
In another bowl, combine the melted coconut oil, cane sugar, coconut milk, and extracts. Stir in the flax and water mixture.
Pour the wet ingredients into the dry ingredients.
Cook waffle according to your irons instructions. While the waffle is cooking, pour the hot coffee over the coconut oil and mini chocolate chips. Stir until the chips are melted. If necessary, you can microwave the mixture for 10-15 seconds. Whisk in the cocoa powder and maple syrup.
Top the cooked waffle with the chocolate coffee syrup, and whipped coconut cream, toasted coconut, and additional chocolate chips (if desired).
Notes
To make quinoa flour, I simply ground quinoa seeds in my coffee grinder. I've found that my coffee grinder works the best for this, but let me know how it works if you try it in your blender or food processor.
You Might Also Like...