Vegan Salted Caramel Pecan Rolls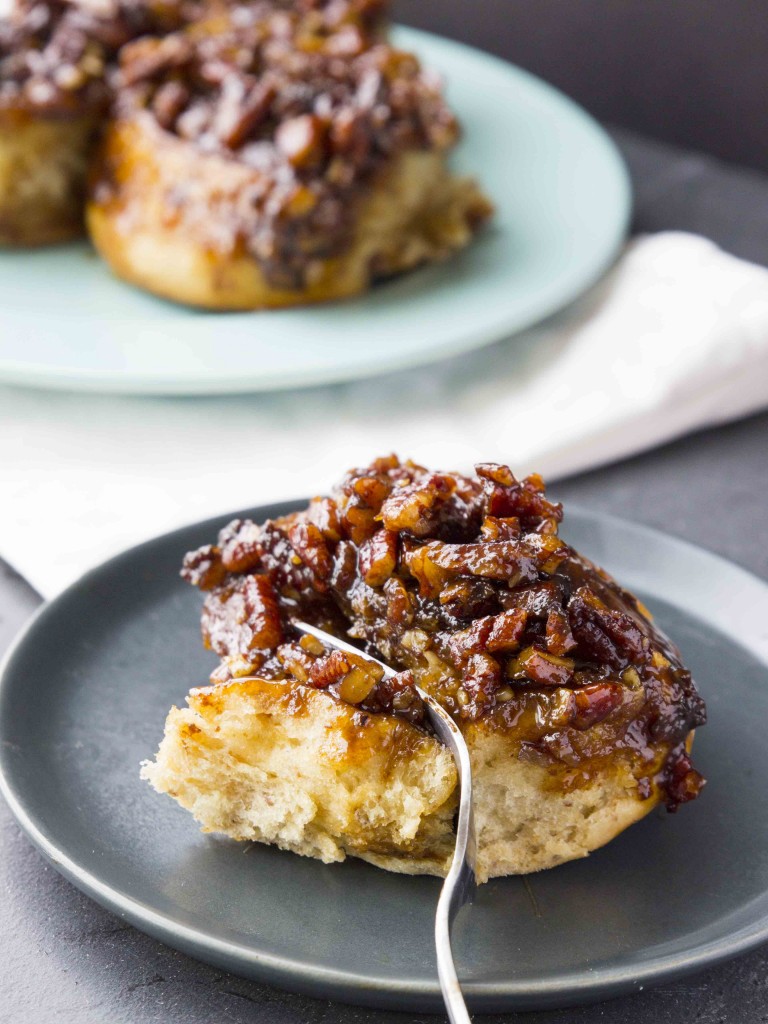 I've been on a yeasty baking kick lately. I find it strangely satisfying when a ball of dough doubles in size in about an hour. It's like magic…magic that leads to really fluffy, chewy, delicious things.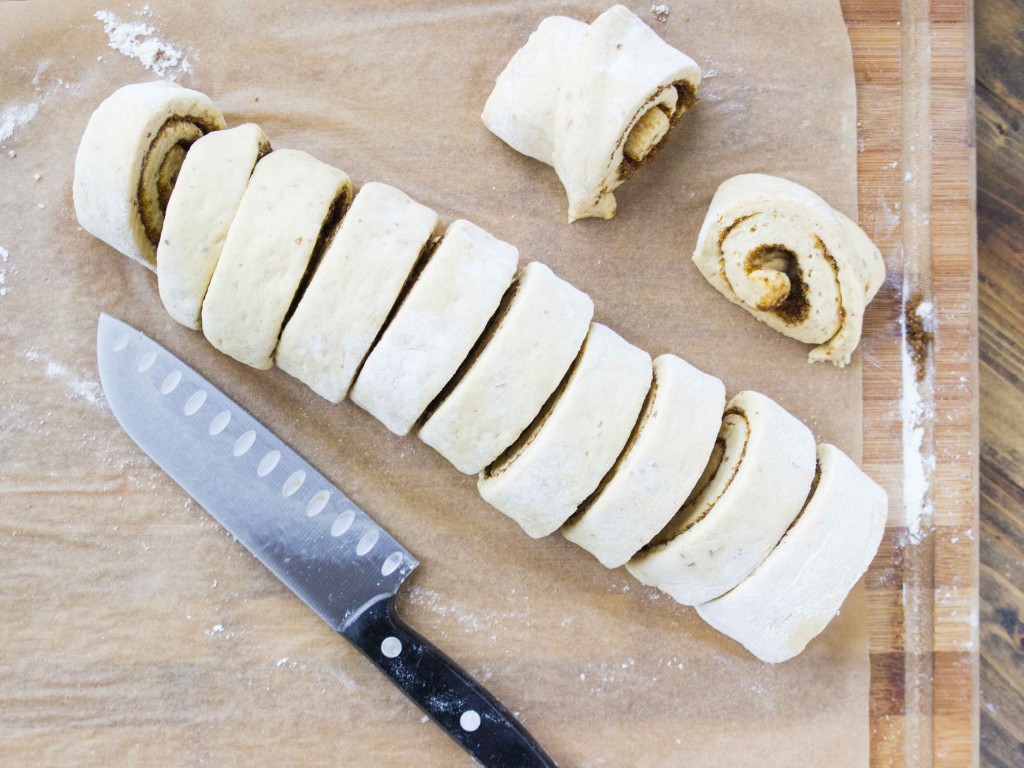 This prolonged carb high has led to many versions of sweet rolls. For the past several weeks, I've arrived at our Sunday family dinners with a new version of sugary, rolled-up goodness. The version I'm sharing today has been my very favorite.
They're Teia's favorite, too.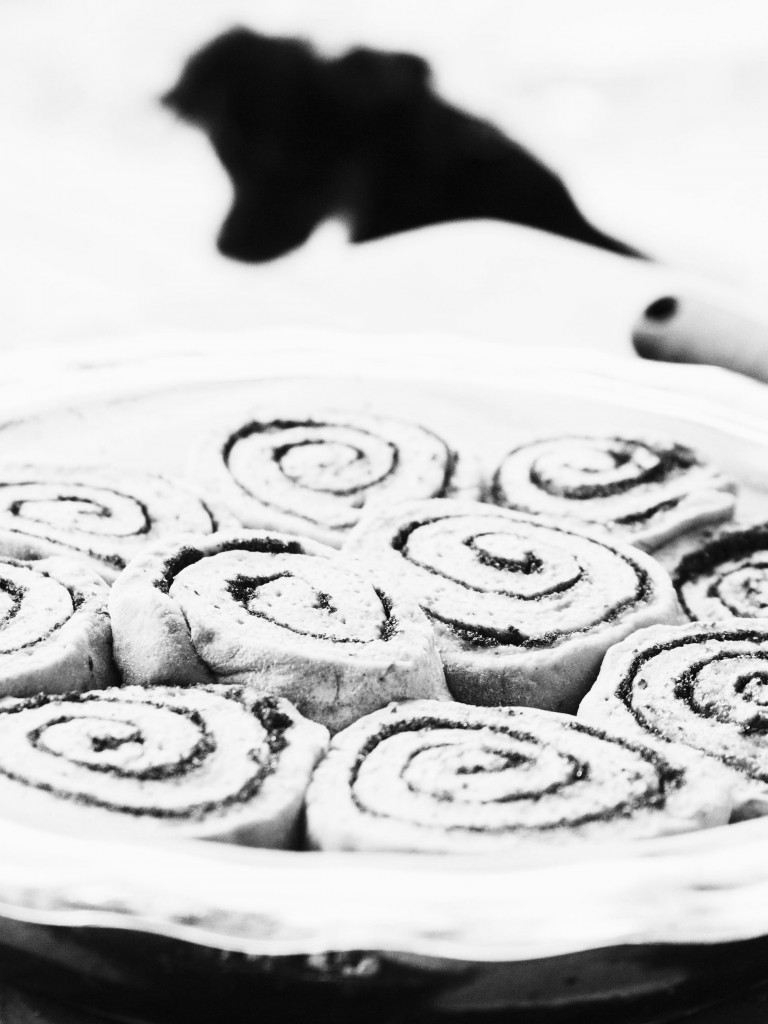 It all started on Easter morning, when I scanned my Instagram feed and saw that eeeeeeveryone was making cinnamon rolls. I suddenly had a craving that wouldn't go away. Unfortunately, I had overslept and needed to leave for brunch at my parent's house in about an hour. A google search for quick cinnamon rolls brought me to Minimalist Baker's beautiful blog (one of my very favorites), so I threw together "The World's Easiest Cinnamon Rolls" before I left my home, baked them at my parent's house, and bam, craving fixed in record time.
Over the next couple weeks I played around with the simple recipe, and ended up with these salted caramel pecan rolls. They're 100% vegan, made with mostly whole wheat flour, and pretty darn easy. I have a new favorite sweet roll, and it's going to make its way into my weekend mornings a wee bit too often.
I recommend you make these for Mother's Day, and every Sunday after that for the rest of eternity.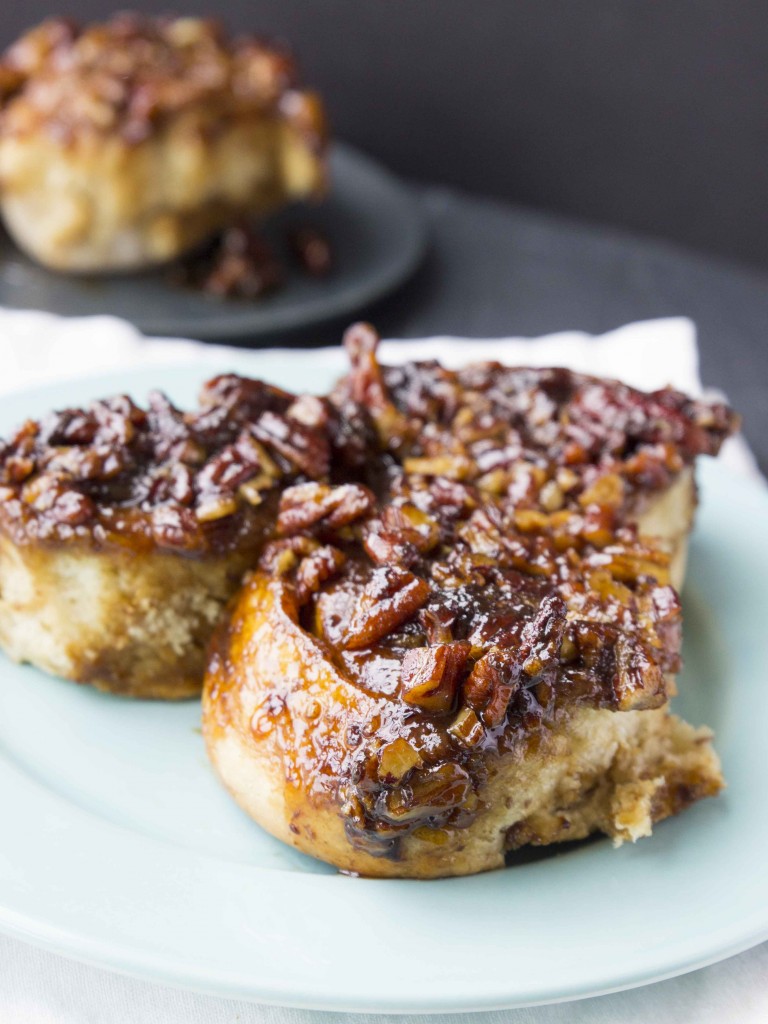 I covered my rolls tightly with plastic wrap, stored them on the kitchen counter, and took bites when I passed by for 4 days before I felt weird about it. Since there is no dairy in the recipe, I had no qualms about leaving them on the counter. You can refrigerate them if you want, but they will dry out faster, so you'll want to eat them within a day or two. They taste best when warmed in the microwave, although I ate them at room temperature (…with a fork, directly from the pie pan), so do as I say, not as I do.


Vegan Salted Caramel Pecan Rolls
Quick, single-rise vegan sweet rolls covered in a sweet and lightly salted caramel pecan topping.
Yield: 10 rolls
Prep Time: 1 hour 10 minutes
Cook Time: 20 minutes
Total Time: 1 hour 30 minutes
Ingredients:
Sweet Roll Dough
1 cup unsweetened almond milk, warmed
3 tablespoons coconut oil
1 tablespoon cane sugar
1 packet (2 1/4 teaspoon) instant yeast
1 teaspoons vanilla extract
1 tablespoon ground flax mixed with 3 tablespoons warm water (1 "flax egg")
1/4 teaspoon salt
2 cups whole wheat pastry flour
1 cup unbleached all purpose flour
1 tablespoon vegan butter, melted
1/2 cup dark brown sugar
Salted Caramel Topping
1/2 cup dark brown sugar
1 tablespoon water
3 tablespoons vegan butter
1/2 cup full fat coconut milk
1/4 teaspoon salt (or more to taste)
1/2 cup chopped pecans
Directions:
Warm the milk and coconut oil in a small saucepan over medium heat until the oil is melted, and the milk is warm to the touch but not so hot that it burns your finger - If it's too hot it will kill your yeast, so it's important to check! Remove from heat and whisk in the sugar and yeast.
Let the milk, yeast, and sugar sit for 10 minutes. The yeast will activate in this time, and you should see it bubble up. If you don't, your yeast is dead and you'll need to start over.
Pour the milk mixture into a large mixing bowl. Whisk in the vanilla, flax egg, and salt. Add the flour 1/2 cup at a time, mixing well after each addition.
Turn the dough out onto a floured surface, and knead for 3-5 minutes until it comes together into a smooth ball. Lightly oil a bowl, then add the dough and turn it around to coat it with the oil. Cover loosely with plastic wrap and let rise in a warm place for 1 hour.
While the dough rises, get the caramel together. Combine the brown sugar and water in a small saucepan over medium-low heat. Once the sugar melts down, add the vegan butter. Once the butter melts, whisk in the coconut milk. Bring to a boil, and let boil for 1 minute while whisking. It will slightly thicken in this time, but won't be overly thick - it will thicken more as it cooks in the oven with the rolls. Remove from heat and whisk in the salt (taste and adjust salt level to your liking).
Pour the caramel into a greased 9-inch pie pan that is at least 1 1/2 inches deep. Top with the chopped pecans.
Preheat oven to 400.
Turn out the risen dough onto a floured piece of parchment. Roll it into a large rectangle (mine was about 15 x 13 inches). Brush on the melted vegan butter, then sprinkle on the brown sugar, using your hands to spread it evenly over the surface. Gently roll up the dough, keeping it as tight as possible.
Cut off the end pieces, then slice the remaining dough into 10 pieces. Place the rolls on top of the pecans and caramel in the pie pan.
Bake for 20-22 minutes, until lightly golden on top.
Immediately (and carefully!) invert the pie pan onto either a large plate or cutting board lined with parchment. Let the pie pan sit, inverted, for 15-30 seconds before lifting.
Best served fresh from the oven, but can be reheated in the microwave before eating.
17 Responses to "Vegan Salted Caramel Pecan Rolls"