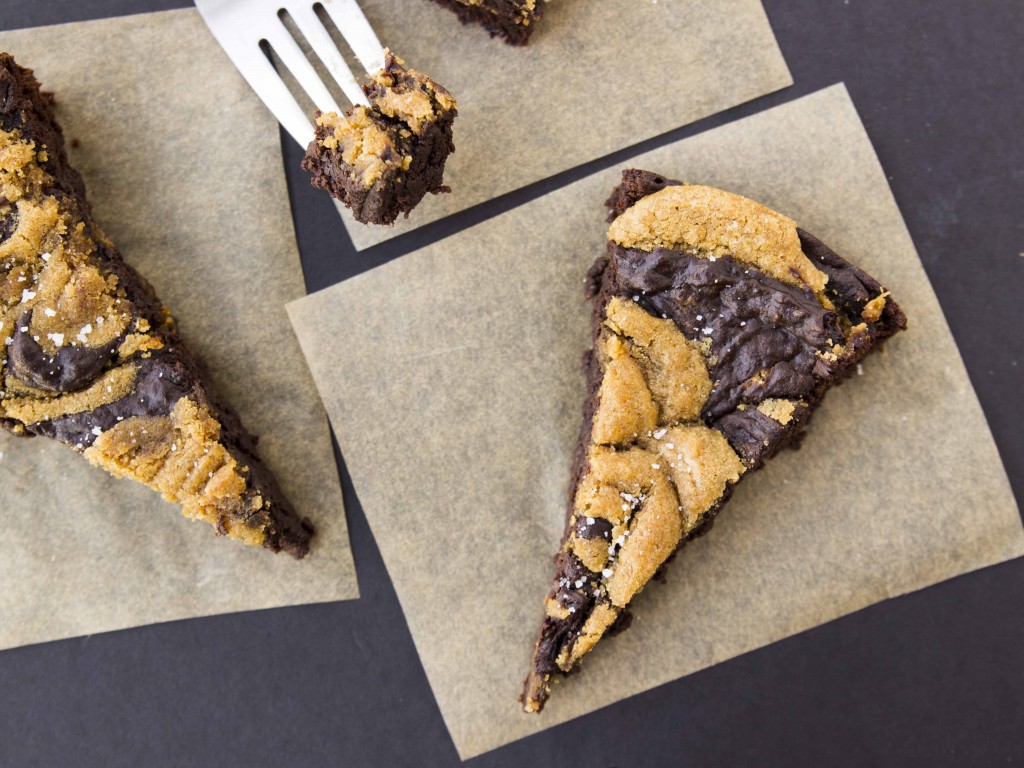 In elementary school, my best friend and I went through a phase where we pretended we had a cooking show, and my dear mom would record us making things like boxed brownies and cakes. I'd like to say this was cute of us, but to give you a visual, I believe I was in the midst of my overly-curled thick bangs, crooked pre-braces teeth, and screen-printed animal t-shirt phases. Adolescence went well for me.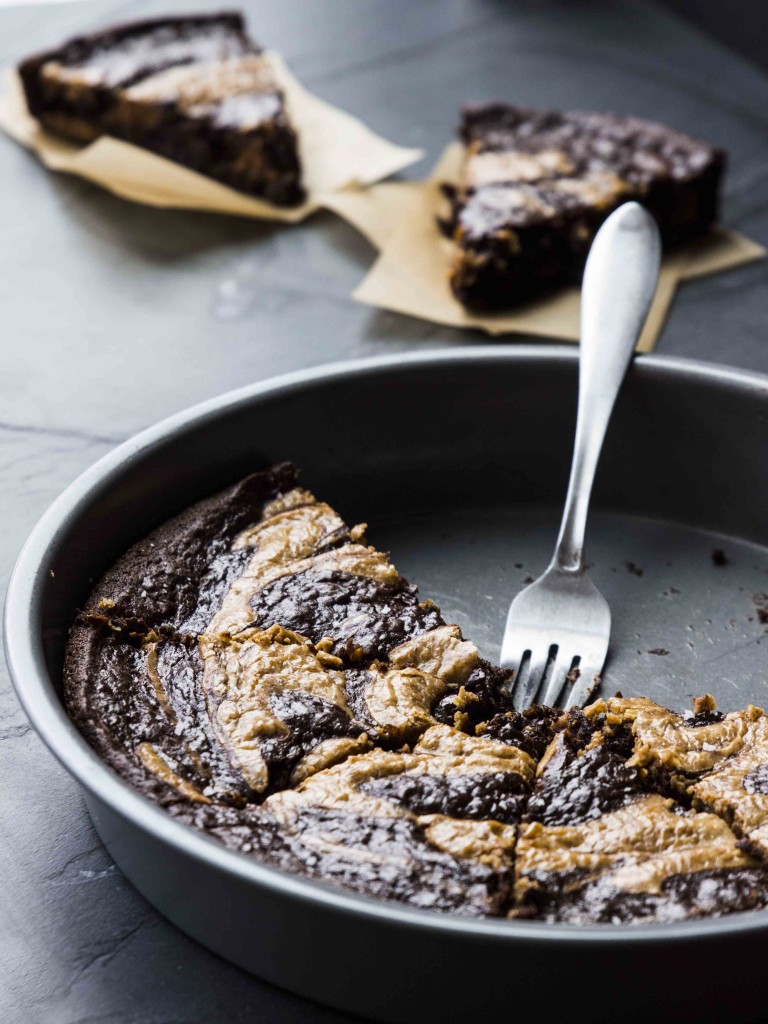 During one of these video shoots, I was in charge of putting together the liquid ingredients for our boxed brownies. Instead of 1/3 cup of water I filled the measuring cup to 1 1/3 cup. My mom captured us removing flat, rubbery , inedible brownies from the oven.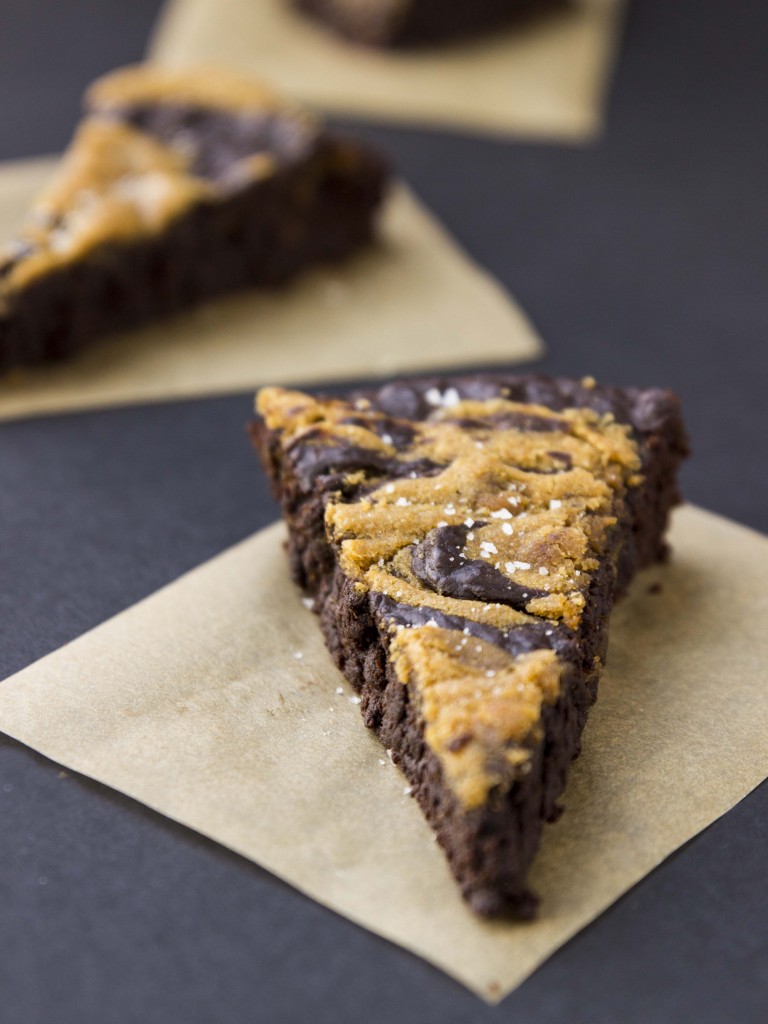 So here I am, likely one of the only people to ever mess up boxed brownies, telling you how to make brownies. Oh life, you're so ironic.
THESE brownies though, are anything but rubbery. The chocolate base is rich, dark, chewy, and swirled with a lightly-sweetened peanut butter mousse. Right when you take them out of the oven, sprinkle on some fleur de sel (or sea salt, if we're being less fancy), and you have fudgy, sweet-yet-salty heaven.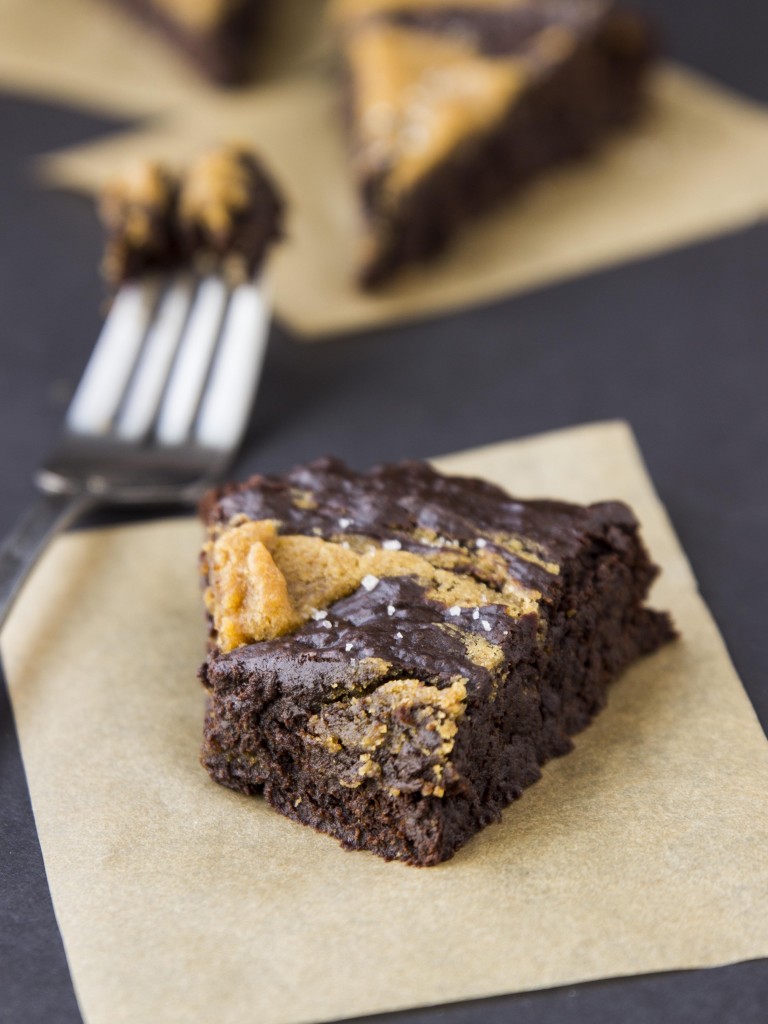 So much better than a box…especially if I'm involved.

Vegan Peanut Butter Swirl Brownies
Chewy, fudgy vegan brownies swirled with peanut butter and topped with fleur de sel.
Author:
Katie of Veggie and the Beast
Recipe type:
Dessert, Brownies
Ingredients
1 tablespoon chia seeds, ground until fine
4 tablespoons warm water
2 ounces unsweetened baking chocolate
3 tablespoons coconut oil, divided
½ cup unsweetened almond milk
½ cup cane sugar
¼ cup plus 1 tablespoon dark brown sugar, divided
½ tablespoon vanilla extract
½ cup unbleached all purpose flour
½ cup dark chocolate cocoa powder
¼ teaspoon baking powder
⅛ teaspoon fine sea salt
¼ cup full fat coconut milk or coconut cream, chilled (should be solid)
¼ cup peanut butter or almond butter
Fleur de sel, for topping
Instructions
Preheat oven to 325 degrees. Place an oven rack in the lower third of your oven.
Grind the chia seeds in a coffee grinder until fine. Mix with the warm water and set aside for 5 minutes to thicken.
Place the unsweetened baking chocolate with ½ tablespoons coconut oil in a glass bowl over a pot of simmering water. Stir until the chocolate and oil are melted.
Combine the remaining coconut oil and almond milk in a small saucepan over medium heat. Once the coconut oil melts, add the cane sugar and ¼ cup brown sugar, and whisk until dissolved. Transfer to a large mixing bowl, and mix in the vanilla extract and melted chocolate. Whisk in the chia/water mixture.
In another bowl, sift together the flour, cocoa, baking powder, and salt.
Gradually whisk the dry ingredients into the wet ingredients, scraping down the sides as necessary.
In a separate bowl, beat the coconut milk until whipped, and then add the peanut butter and remaining dark brown sugar. Beat until everything is incorporated. It should be fluffy and similar in texture to a mousse.
Pour half of the chocolate batter into a well-greased 9-inch round or square pan . Dollop on half of the peanut butter mixture. Top with remaining batter and peanut butter, then use a knife to decoratively swirl the brownies.
Place on the lower rack in the preheated oven, and bake for 25 minutes. The brownies are done when a knife inserted in the center comes out clean. Remove from the oven and immediately sprinkle with fleur de sel.
Eat plain, or topped with coconut whipped cream, or ice cream and melted peanut butter (mmmmmmm).
Notes
I used ground up chia seeds as the binder here because I'm currently fascinated with vegan baking and the magic of chia seeds. You can also sub 1 tablespoon ground flax with 3 tablespoons warm water (the ground chia seeds soak up liquid like a sponge, which is why there is more water in the chia egg). Feel free to use a chicken egg if you'd prefer, but make sure your liquid mixture is not hot before adding the egg, otherwise you could end up with brownie batter scramble (ewwww).
If you're looking for a more indulgent (and much less vegan) version of salty-sweet peanut butter brownies, make
these
. You won't regret it.
You Might Also Like...