Thai Chopped Peanut Salad with Crispy Sesame Tofu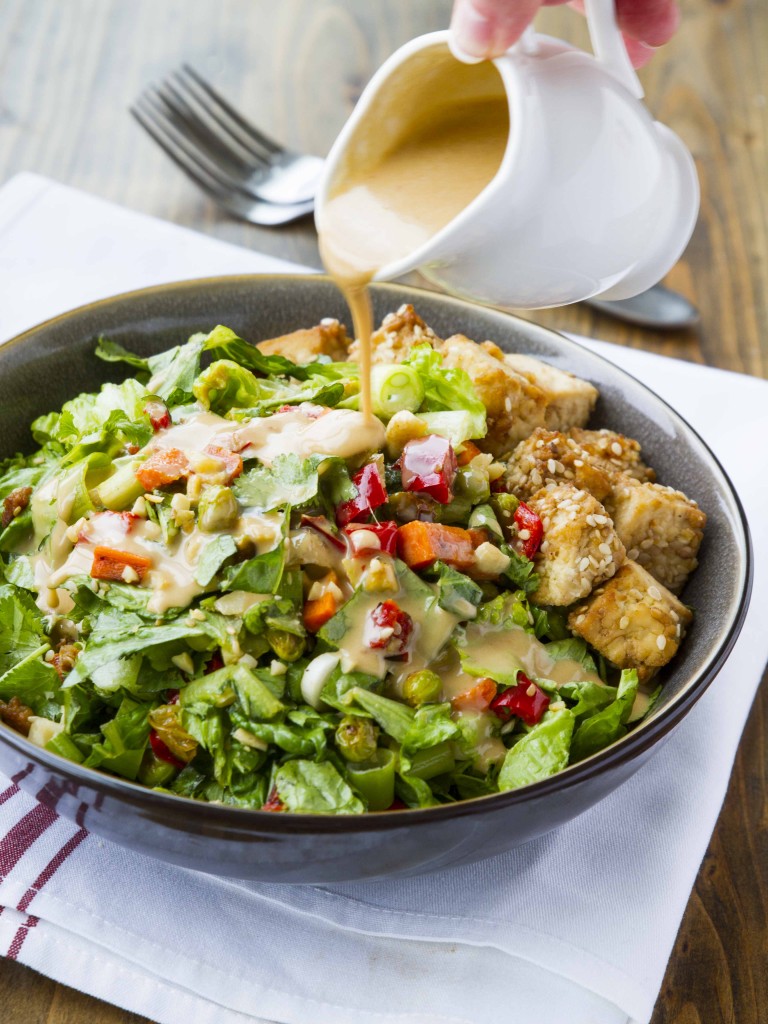 Happy first week of summer! It's not official, but after this past weekend it might as well be. I spent 4 days relaxing, walking my dog around various lakes, drinking beer in the sunshine, and starting to get a little tan (which really just means extra freckles, but still).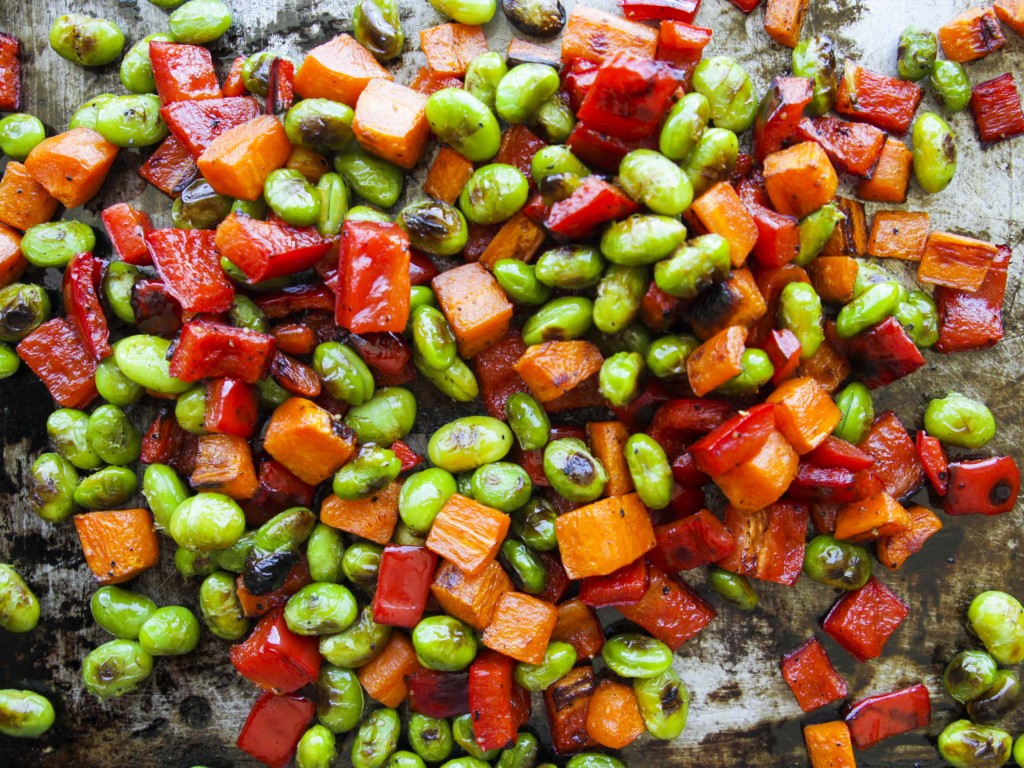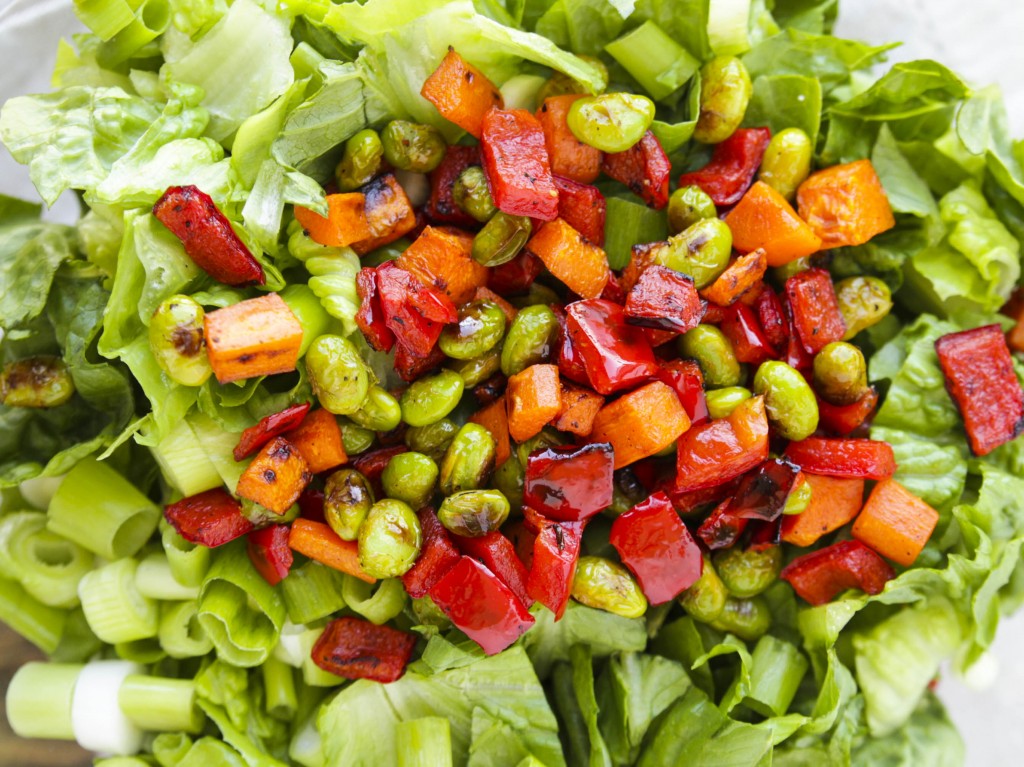 I took Friday off to reset myself after a stressful week, and ended up making this salad kind of by accident. I've been all about Thai peanut sauces lately (sidebar – I made this for dinner on Thursday – super love), but wanted something somewhat light for my day-off lunch. I've also been putting Cookie + Kate's crunchy baked tofu on errrrrything, so naturally I needed to incorporate it somehow.
This salad is based off of my favorite "You Pick Two" item at Panera Bread. I'm that person who orders "The Big Mac without the meat" (not anymore, but I used to), or "The mediterranean salmon salad without the salmon," and "The Thai Chopped Chicken Salad without the chicken." It's usually met with a friendly "ha! okay," sometimes with a cocked eyebrow, or every so often with an understanding nod, which makes me think I'm not the only one who orders meat-centric meals without the main attraction (or what most would consider the main attraction).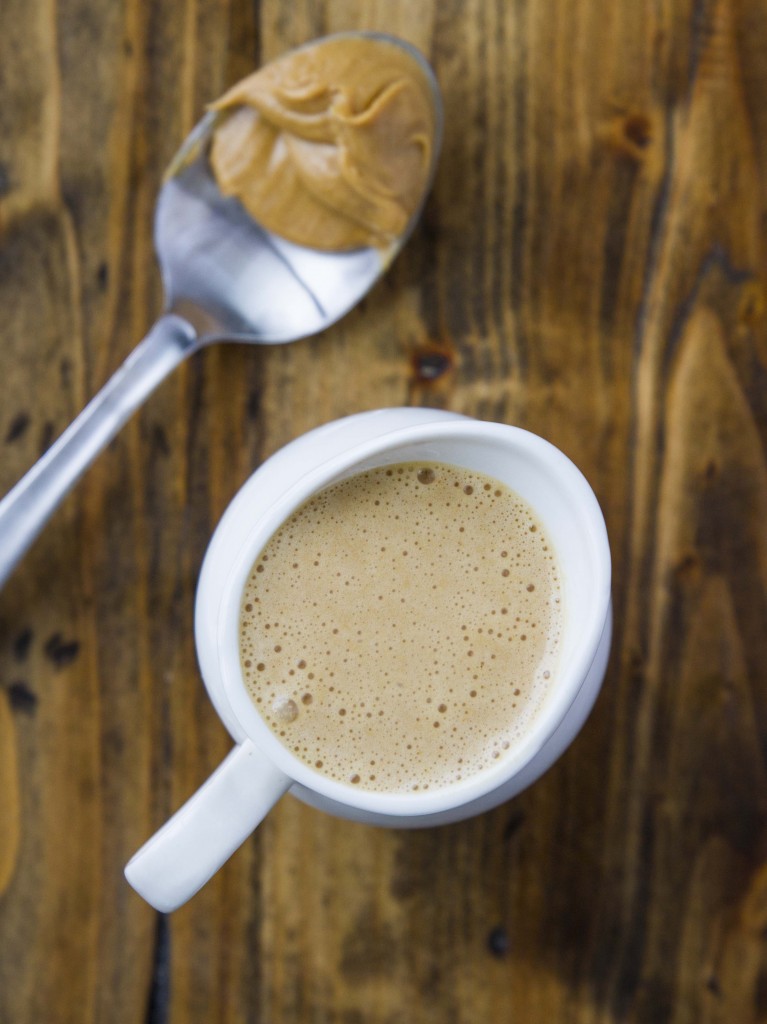 I veered from Panera's version with the lack of chicken (duh), but also the wonton strips and the double dressing. I love me those wonton strips, but didn't want to buy a big bag of fried deliciousness to have around the house, because DANGER, so the crunch in my version comes from the cashews and sesame-crusted baked tofu. Since it always seems unnecessary to me that Panera serves the salad with 2 dressings, I put my energy towards a flavorful Thai peanut dressing. It's creamy from a little coconut milk, rich from the peanut butter, and tangy from brown rice vinegar. I added sweetness with honey, but feel free to swap it out with agave or brown sugar to keep this salad vegan.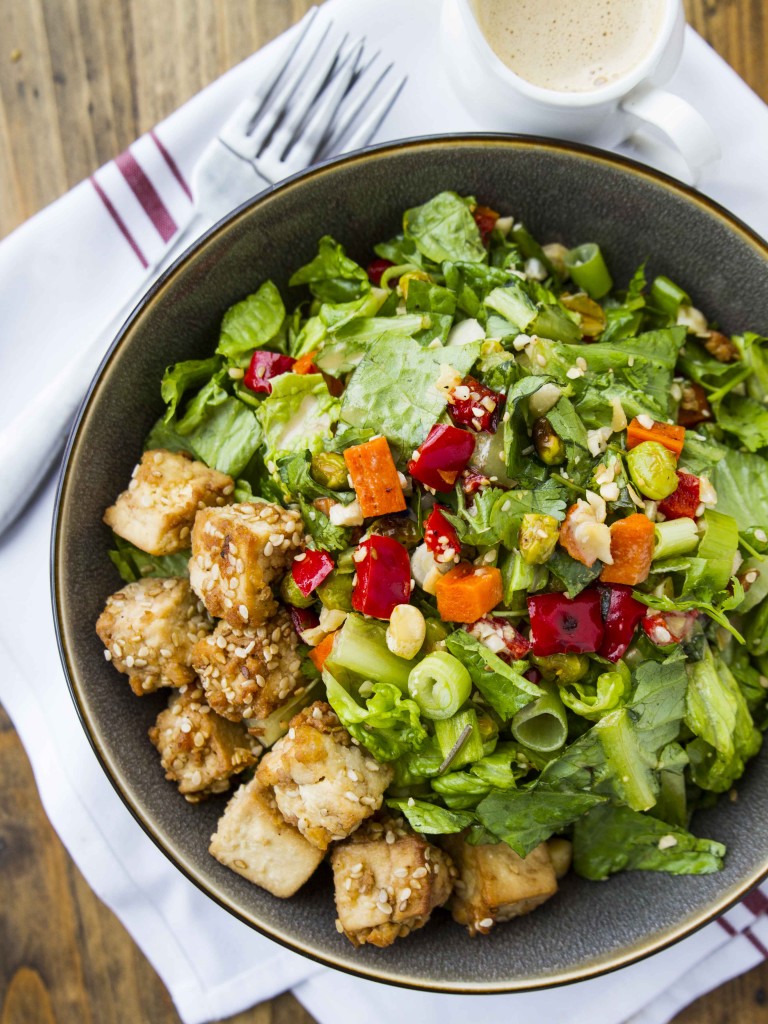 I charred some edamame, red bell pepper, and carrot pieces by quickly broiling them (while watching them oh-so carefully), and then mixed all of the above together with romaine, cilantro, and sliced green onions.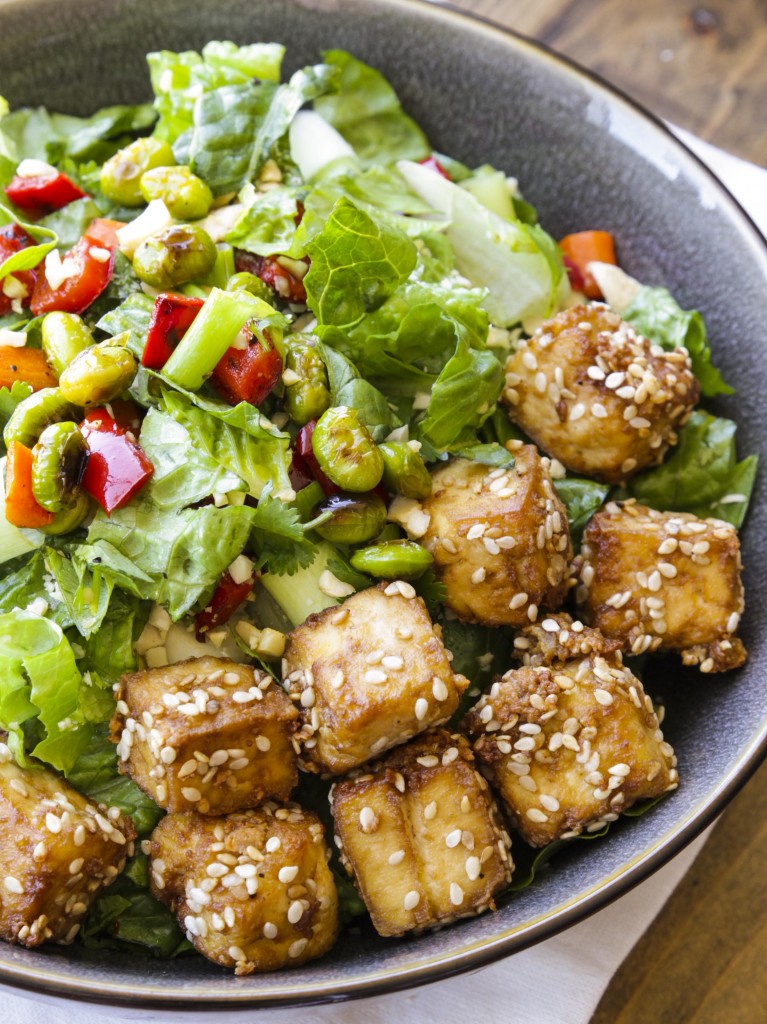 As I mention in the notes below, you don't want to toss the dressing into the salad until you're ready to serve, because it will take the crunch out of the romaine, and overpower the sesame tofu. Instead, let each person drizzle as much or as little dressing as they want on their serving. You probably won't use all of the dressing, so feel free to keep it in the fridge and use it on other salads (or Thai pizza? hmmm…interesting) throughout the week.


Thai Chopped Peanut Salad with Crispy Sesame Tofu
A vegan, gluten free take on Panera Bread's Thai Chopped Chicken Salad with broiled veggies, crisp romaine, crunchy sesame-coated tofu, and a tangy, rich peanut vinaigrette.
Yield: 4-6 servings
Prep Time: 10 minutes
Cook Time: 35 minutes
Total Time: 45 minutes
Ingredients:
For the Salad
1 red bell pepper, chopped into 1/4-inch pieces
1 carrot, peeled and chopped into 1/4-inch pieces
1 cup frozen shelled edamame
1 tablespoon olive oil
4 ounces romaine leaves, chopped
1/2 cup fresh cilantro, chopped
2 green onions, sliced
1/4 cup raw cashews, chopped
Crispy Sesame Tofu, recipe follows
Thai Peanut Dressing, recipe follows
Crispy Sesame Tofu
1 14-ounce container extra firm tofu
1 tablespoon toasted sesame oil
1 tablespoon reduced sodium tamari
2 tablespoons sesame seeds
2 tablespoons cornstarch
Thai Peanut Dressing
1/4 cup creamy peanut butter
2 tablespoons unseasoned brown rice vinegar
2 tablespoons fresh lime juice
2 tablespoons non-GMO canola oil
1 tablespoon reduced sodium tamari
3 tablespoons honey (or agave, for vegan option)
3 garlic cloves
1-inch square piece fresh ginger, peeled and roughly chopped
1/2 teaspoon salt
1/4 teaspoon crushed red pepper flakes
4 tablespoons light coconut milk
Directions:
Set oven to broil. Place an oven rack in the top third of your oven. Toss together the red pepper, carrot, edamame and olive oil in a bowl. Transfer to a baking sheet, and broil for 5-7 minutes, stirring/shaking the pan 3 times and checking frequently to keep the veggies from burning.
Preheat oven to 400 degrees.
Slice the tofu block lengthwise, and wrap in a kitchen towel. Place between 2 chopping boards, and place something heavy on top (I use my dutch oven). Let sit for 10 minutes.
After the 10 minutes are up, slice each tofu slab lengthwise again so you have 4 pieces total. Slice each piece down the middle, creating 2 columns, and then slice so you have 4 rows. Place the tofu pieces in a bowl.
Whisk together the sesame oil and tamari. Pour over the tofu and gently fold in. Sprinkle in the sesame seeds and fold again. Dust the cornstarch over the tofu and stir until fully incorporated.
Transfer to a parchment-lined baking sheet and bake for 25-30 minutes, stirring halfway through, until golden.
To make the dressing, simply combine all ingredients in a blender, and process until smooth. Set aside.
Toss together the broiled veggies with the romaine, cilantro, green onion and cashews. Transfer into individual bowls, and top with the sesame tofu. Drizzle with the dressing.
Serves 4 as an entree, 6 as a side. You won't need all of the dressing, so I recommend letting each person drizzle on as much as they want.
Do not stir the dressing into the salad if not eating right away - it will make the romaine less crisp, and overpower the sesame flavor of the tofu.
25 Responses to "Thai Chopped Peanut Salad with Crispy Sesame Tofu"
Pingback: #HealthyRecipe // Thai Chopped Peanut Salad with Sesame Tofu | MBSIB: The Man With The Golden Tongs