Red Lentil, Smashed Chickpea and Millet Burgers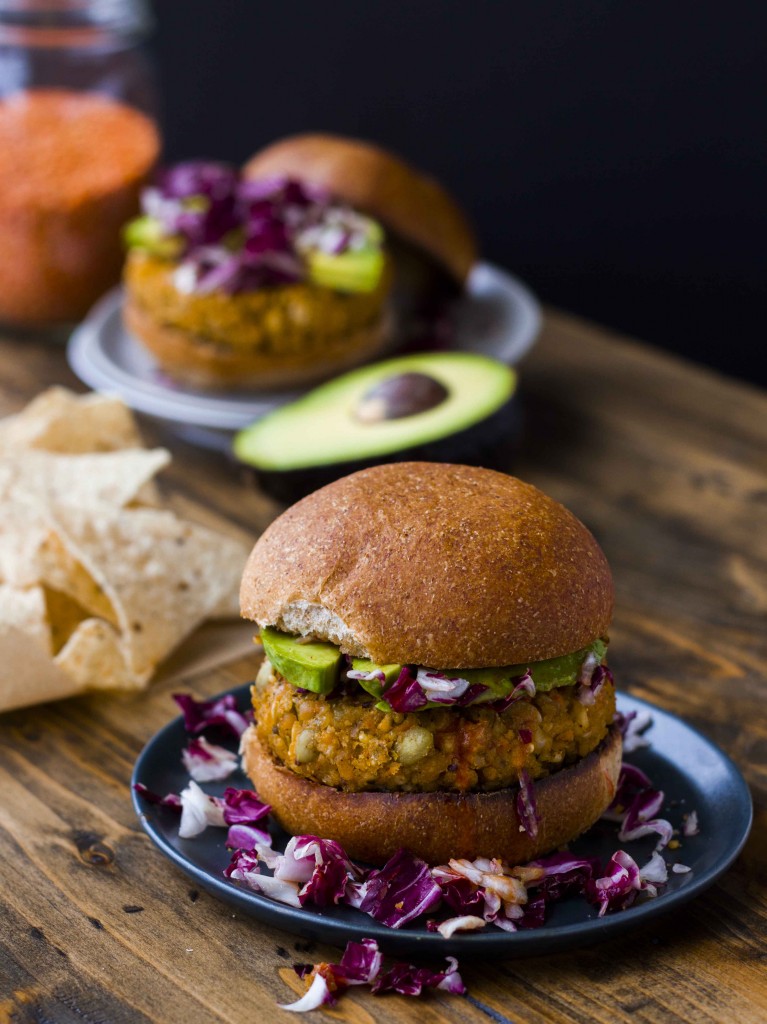 It took an embarrassing amount of veggie burger consumption to realize that I could actually make my own.
For years, the term "veggie burger" brought to mind a flat, dingy-brown frozen patty. Sure, it became edible once thrown in my George Foreman grill (hey, college), but I considered it nothing more than a quick protein source and a vehicle for condiments.
It's important to note that this was during a time when I would dip my tomato slices in ketchup, and then scoop up any leftover ketchup with a spoon, sometimes swirling it in the adjacent yellow mustard. I had a condiment problem.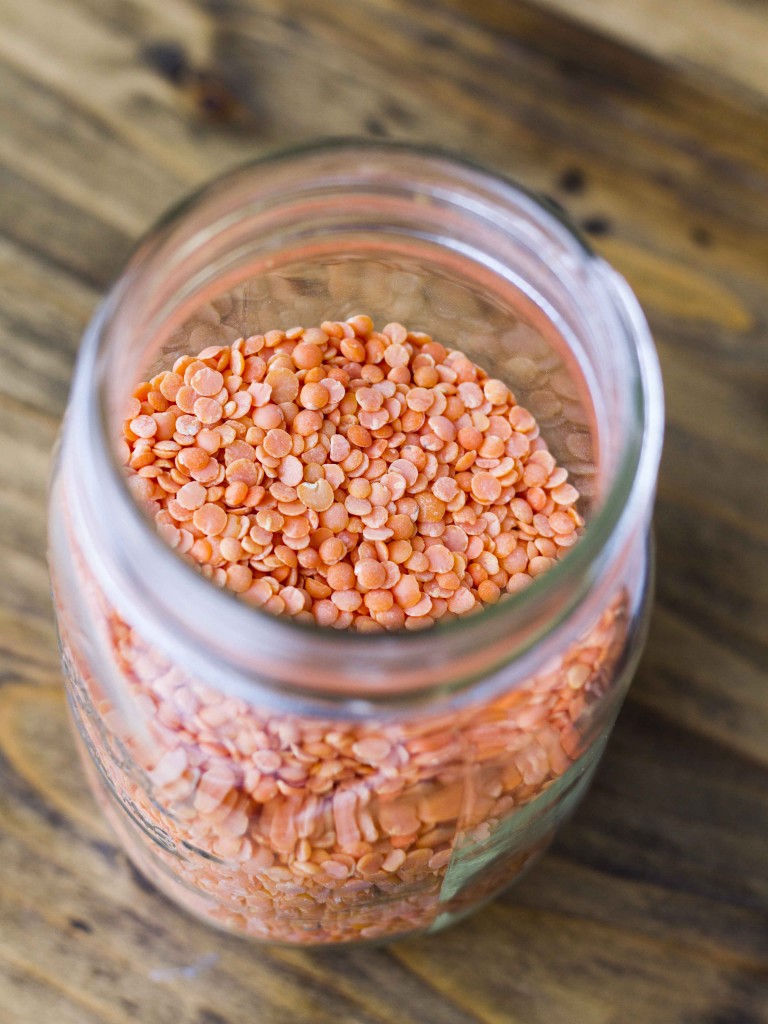 I've since discovered that there are plenty of frozen veggie burgers that need not be doused in a condiment to cover their flavor, but I still prefer making my own patties. I also prefer burgers full of vegetables and grains, which don't even try to resemble beef burgers. Ryan is more open to these types of burgers as well, because a veggie burger will never replace beef (or venison) burgers for him, but a vegetable-filled burger falls into a different category altogether.
MEN. you know?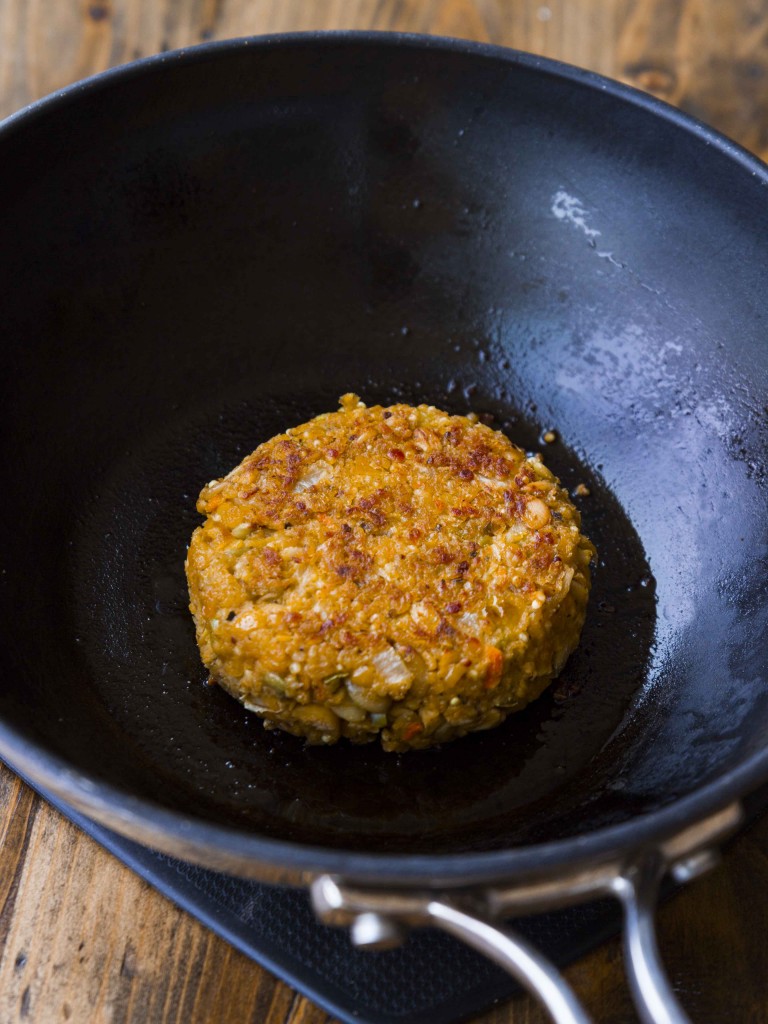 This patty, for instance, is colorful, protein-packed, and about as far away from a beef burger as possible. Red lentils, smashed chickpeas, and chewy millet make up the base, while pepitas, oats, green pepper and carrots add extra texture and flavor. To dry out the moisture a bit, and make the burgers easier to handle, I stirred in garbanzo bean flour, but any other flour should do the trick. You can play with the spices to your liking, but I find the combination below to be just salty/spicy/zesty enough for my tastes.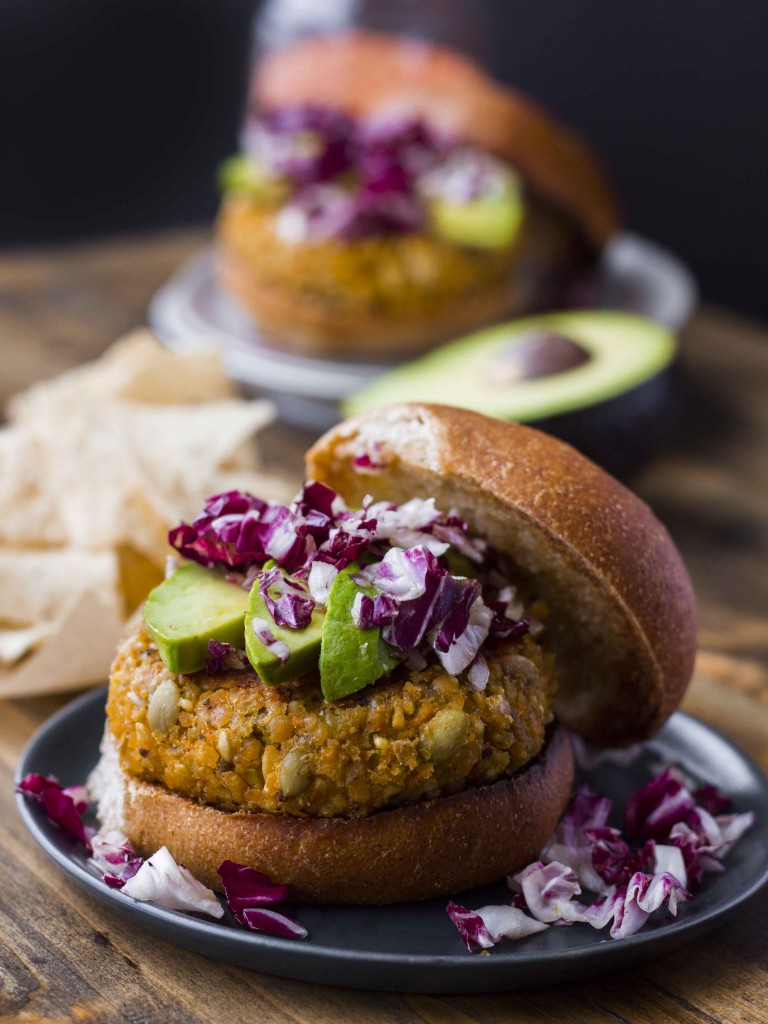 To add a little crunch to the outside, I like to pan-fry the patties after they're done baking. It's an unnecessary step, so if you're pressed for time (or hungry), you can eat them right from the oven.
I used a flax egg in this recipe, but if you're not concerned with keeping it vegan then a chicken egg should work just fine. Serve the cooked patties on a bun, open-faced on a thick piece of crusty bread, or crumbled over greens.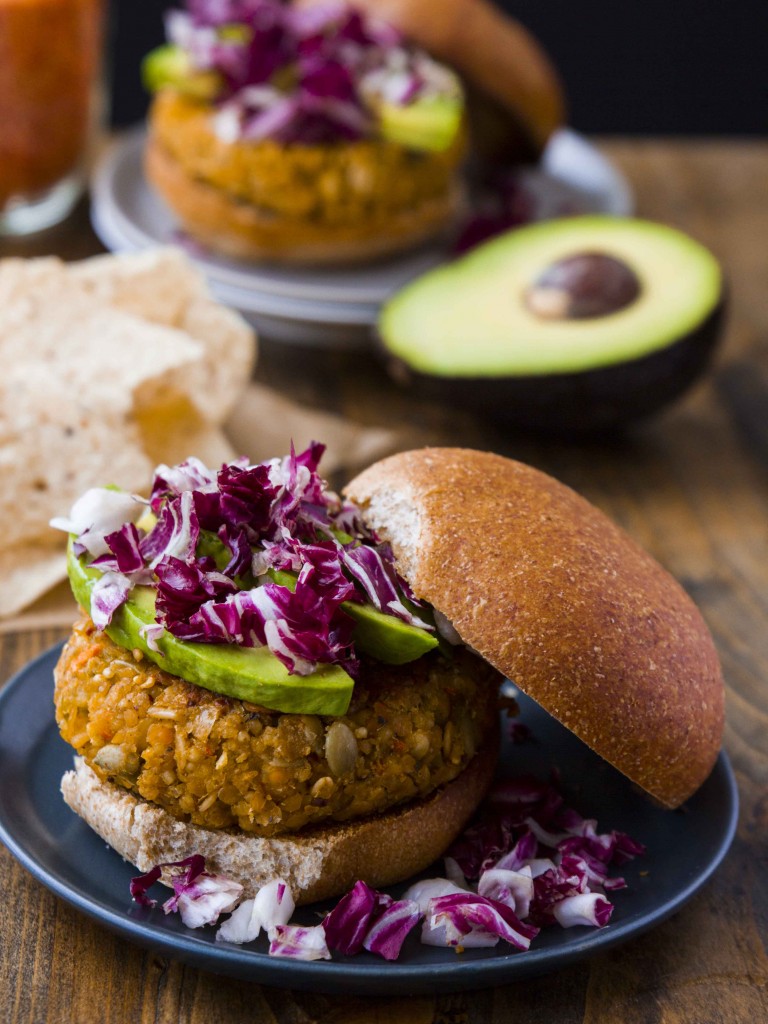 I have not tried grilling these, but it would probably work well if you throw them on the grill AFTER they bake in the oven. Don't throw the raw burger dough on, or else you'll have a crumbly mess to clean up. The patties will keep in the fridge for several days, but can also be frozen after baking.


Red Lentil, Smashed Chickpea and Millet Burgers
A hearty, healthy veggie burger made with red lentils, chickpeas, and millet. Vegan, gluten free, and packed with protein.
Yield: 7 burgers
Prep Time: 1 hour
Cook Time: 20 minutes
Total Time: 1 hour 20 minutes
Ingredients:
1/2 cup split red lentils, picked through and rinsed
1/2 cup hulled millet
1 teaspoon fine sea salt, divided (or more to taste)
1/2 tablespoon olive oil
2 cloves garlic, minced
1/2 yellow onion, diced
1/2 green pepper, diced
1 (15-ounce) can chickpeas, drained, rinsed, patted dry, and smashed with a fork
1 carrot, peeled and grated (scant 1 cup)
1/4 teaspoon ground black pepper
1 teaspoon chili powder
2 teaspoons ground cumin
1 teaspoon dried oregano
1 tablespoon whole grain mustard
1/4 teaspoon crushed red pepper (optional)
1/4 cup hulled, raw pepitas (pumpkin seeds)
1/4 cup gluten free old fashioned oats
1/4 cup garbanzo bean flour (or gluten free all purpose flour)
1 flax egg (1 T ground flax mixed with 3 T warm water)*
7 teaspoons olive oil (optional, for pan frying)
Directions:
In a small saucepan, combine the lentils with 1 cup water. Bring to a boil, reduce to a simmer, and cook for 10-15 minutes, until softened. Drain excess water and transfer to a bowl mixing bowl.
You can cook the millet at the same time as the lentils, or use the same pan after the lentils are cooked. Pour the millet into a saucepan over medium heat, and toast for about 5 minutes, until lightly golden. Pour in 1 cup water and 1/4 teaspoon salt. Bring to a boil, then reduce heat to low, cover, and simmer for 15 minutes, until most of the liquid is absorbed. Remove from the heat and let sit for 10 minutes. All of the water should be absorbed at this point. Pour the millet into the bowl with the lentils.
Heat 1/2 tablespoon olive oil in a saucepan over medium heat. Add the garlic and cook until fragrant (about 30 seconds), then add the onions and 1/4 teaspoon salt. Cook until the onions are starting to soften, then add the green pepper. Cook for 3-5 minutes, until the green pepper is softened as well.
Pour the stir-fried vegetables into the bowl with the lentils and millet, and refrigerate until ingredients are completely cool (at least 30 minutes).
Preheat oven to 350.
Add all remaining ingredients except the flour and egg (flax or chicken egg) to the bowl with the chilled lentils, millet, and veggies. Stir until the spices are incorporated fully into the mixture, then taste and adjust seasoning to your liking. Mix in the flour, followed by the egg.
Shape 1/2 cup of the mixture into a patty, packing tight with your hands so it sticks together well. Place on a parchment-lined baking sheet. Repeat with remaining patties (you should end up with 7).
Bake for 10-12 minutes on each side. After they're done baking, let them sit on the baking sheet for a couple minutes before moving - this will allow them to set up more.
You can eat them as-is, but I like to pan fry them to make the outside a little crispy and golden. To do so, just use 1/2 teaspoon olive oil for each side of each patty (so 1 teaspoon total for each patty). Fry over medium heat for about 3 minutes on each side.
Serve on buns (gluten free, if desired), with your favorite toppings - I like avocado, chopped radicchio, hot sauce, and hummus (bean on bean on bean, I know).
*If not vegan, feel free to replace the flax egg with a chicken egg.
21 Responses to "Red Lentil, Smashed Chickpea and Millet Burgers"
Pingback: Link Love Sunday | Add A Little