Hey.
You in the skillet.
You're pretty.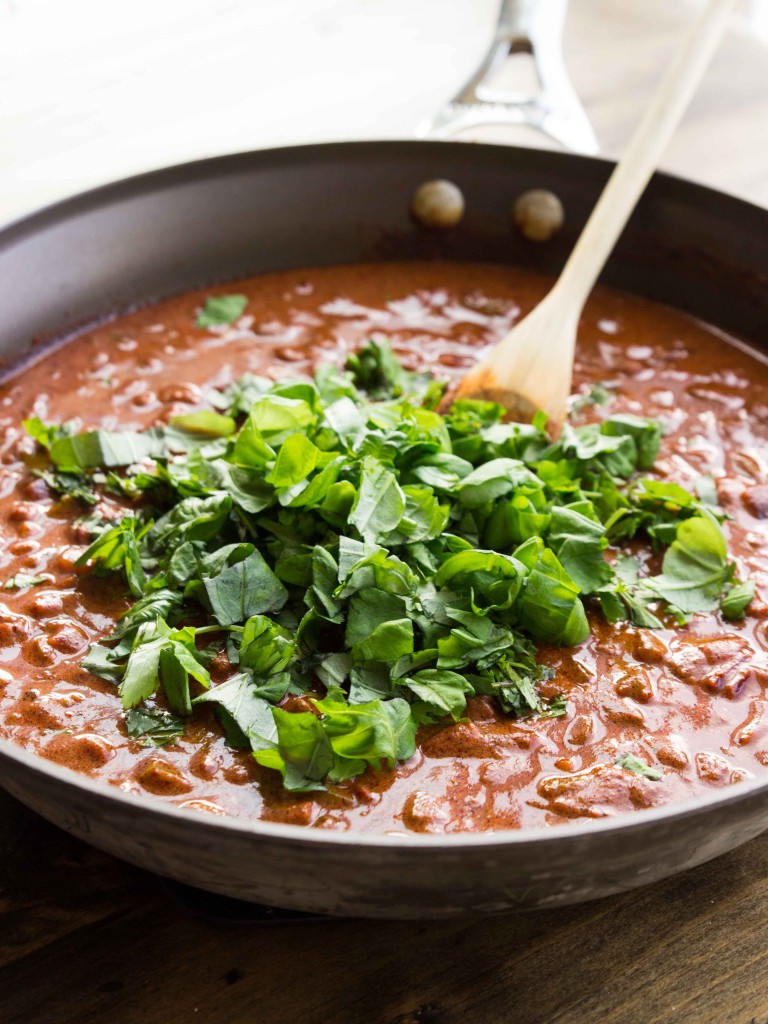 This dish is like a new best friend, who I met once (well twice now), and I just know we'll be hanging out at least every couple of weeks. I knew I'd found a new go-to staple meal as soon as I threw this together last week, because A) Italian B) Mexican C) Flavor for days (reference points A and B), and D) 30 MINUTES. Srsly.
Although cooking relaxes me, and every so often I like making drawn-out, multi-step recipes (ahem, gnocchi), I'm usually trying to do about 500 things when I get home from work (P.S. – HOW do people who have kids do it? I have no time and I only have a dog. Yeesh). Anyway, unless I want to eat grilled cheese every day of my life (which I kind of sort of do, actually, but let's pretend I'm an adult), 30-minute meals save my sanity.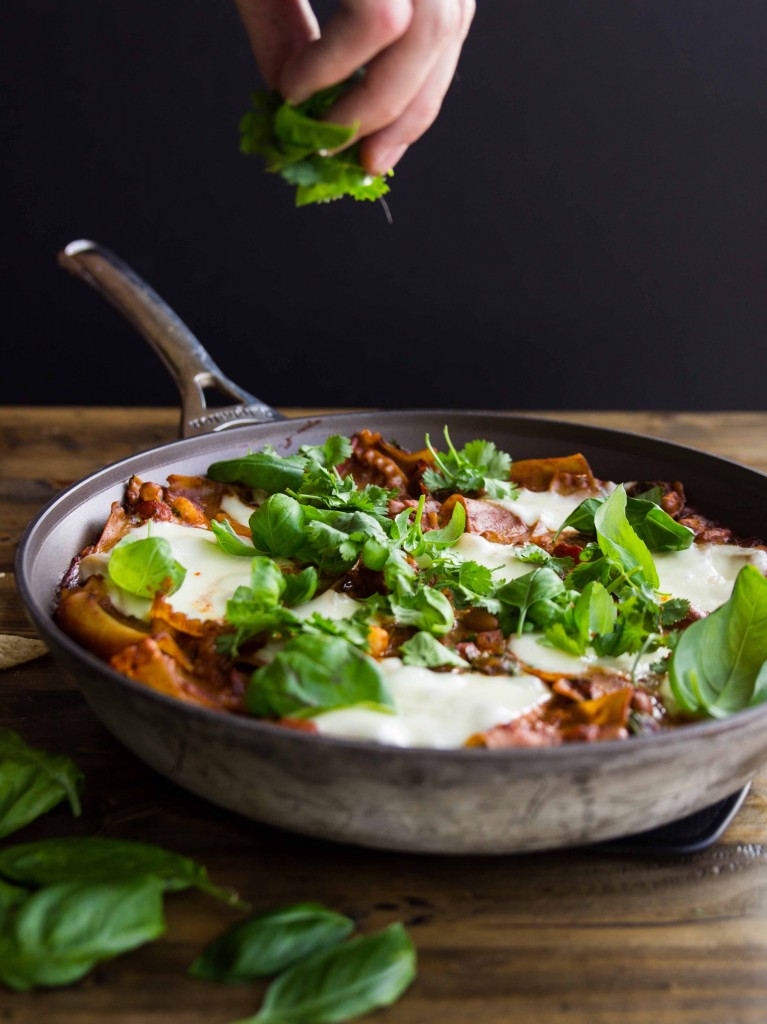 Enchiladas are usually not a 30-minute endeavor, and often require either buying funky-tasting canned sauce, or making your own at home. I prefer to make my own, but sometimes I just don't want to dedicate 15 minutes to sauce simmering. To keep things simple, fast, and tasty, in this recipe we're just making a creamy, rich enchilada sauce in the same pan as all the veggies. To give the skillet a little Italian flair, we're using broken up whole wheat lasagna noodles, and then stirring in loads of fresh basil, and topping it all off with creamy fresh mozzarella.
Totally easy, completely homemade, and no scary, chemical-laden enchilada sauce required. Italia-Mex fusion comfort food at its finest, and on your table in 30 minutes! How great is that?
30-Minute Enchilada Skillet Lasagna
Sautéed vegetables, creamy homemade enchilada sauce, lasagna noodles, and 2 types of cheese bring together two comfort food favorites in one easy peasy, 30-minute skillet dinner.
Author:
Katie of Veggie and the Beast
Recipe type:
Lasagna, Enchiladas
Cuisine:
Mexican, Italian
Ingredients
6 ounces whole wheat lasagna noodles
2 tablespoons non-GMO canola oil
2 cloves garlic, minced
½ red onion, diced
1 green pepper, diced
½-3/4 teaspoon fine sea salt (or to taste)
3 tablespoons chili powder
½ cup vegetable broth
1 cup milk (I used whole milk)
1 tablespoon unbleached all-purpose flour
1 (15-ounce) can diced tomatoes with green chiles
2 tablespoons tomato paste
1 teaspoon dried oregano
1 teaspoon ground cumin
¼ teaspoon red pepper flakes
½ cup fresh cilantro, chopped (plus more for garnish)
½ cup fresh basil leaves, chopped (plus more for garnish)
1 (15-ounce) can pinto beans, rinsed and drained
1 cup canned hominy or corn kernels
4 ounces sharp cheddar cheese, shredded (about 1 cup)
4 ounces fresh mozzarella, thinly sliced
Instructions
Preheat oven to 400 degrees.
Bring a large pot of water to a boil. Break each lasagna noodle into 4 pieces. Boil according to package directions, until al dente (for me this was about 4-5 minutes).
Heat the oil in a large oven-safe skillet. Add the garlic and cook over medium-low heat until fragrant, about 30 seconds. Pour in the onion, pepper, and ¼ teaspoon salt. Cook for 3-5 minutes, until the vegetables have started to soften.
Sprinkle the chili powder over the veggies, and cook for 30 seconds, stirring constantly.
Combine the milk and broth, and whisk in the flour until smooth. Pour this mixture into the skillet, and then add the tomatoes, tomato paste, oregano, cumin, red pepper flakes, and remaining salt. Let simmer for 5 minutes, then fold in the pinto beans, hominy/corn, cheddar, and lasagna noodles. Top with fresh mozzarella slices.
Bake for 15 minutes. Top the skillet with additional basil and cilantro. Serve as-is, or topped with sour cream and a side of tortilla chips.
You Might Also Like...