White Chocolate Raspberry Greek Frozen Yogurt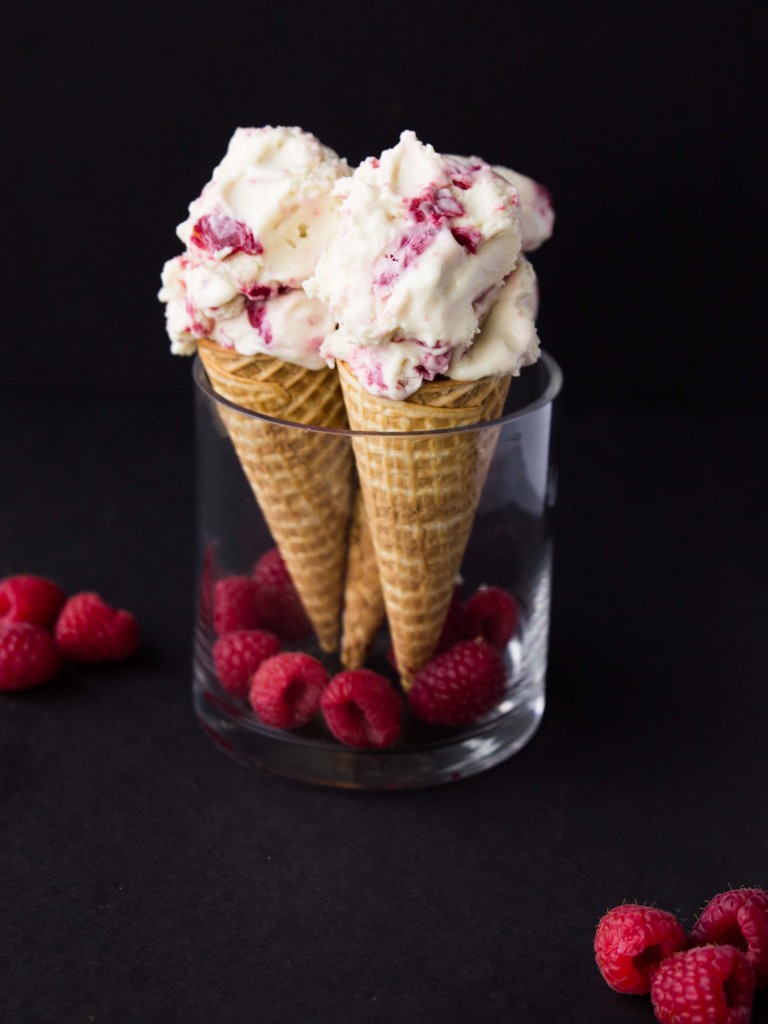 My mom has taught me many things in life. Compassion, perseverance, healthy self deprivation, and the fact that you should never feel bad about buying gifts for yourself.
So, after a few years of eyeing ice cream recipes on my favorite blogs, I decided to bite the bullet and gift myself yet another bulky, specialized kitchen appliance. Thanks, mom!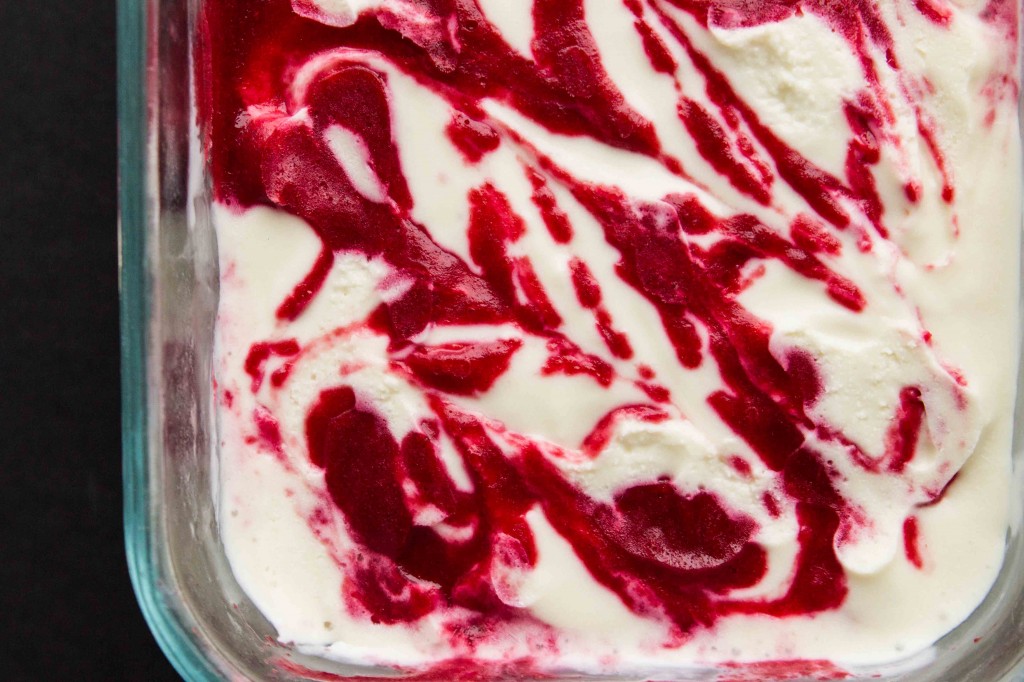 Over the past couple years, Ryan has grown accustomed to the fact that our kitchen cabinets will always be filled to the brim. Gone are the days where the only inhabitants of those cabinets were (expired) cans of Manwich and unused mixing bowls from his mom. Between my blog props and dishes, my kitchen appliances, and my affinity for dry grains and legumes, the kitchen has most certainly become MY space.
The day my ice cream maker arrived in the mail, Ryan skeptically eyed the large box and asked where it would go. I had no answer, because I had never even seen an ice cream maker. When I realized it should be stored in the freezer so you're ready to get your ice cream on at a moment's notice, I rejoiced in the easy solution! No cabinet maneuvering necessary! Of course, we had to clear out our freezer of frozen baked goods and half-eaten bags of peas, but it was a small price to pay.
To warm Ryan up to the ice cream maker, I decided to make one of his favorite things. There are 2 food items in this world that he will seek out: buffalo chicken (NOT what this post is about), and white chocolate frozen yogurt. Do you see where I'm going with this?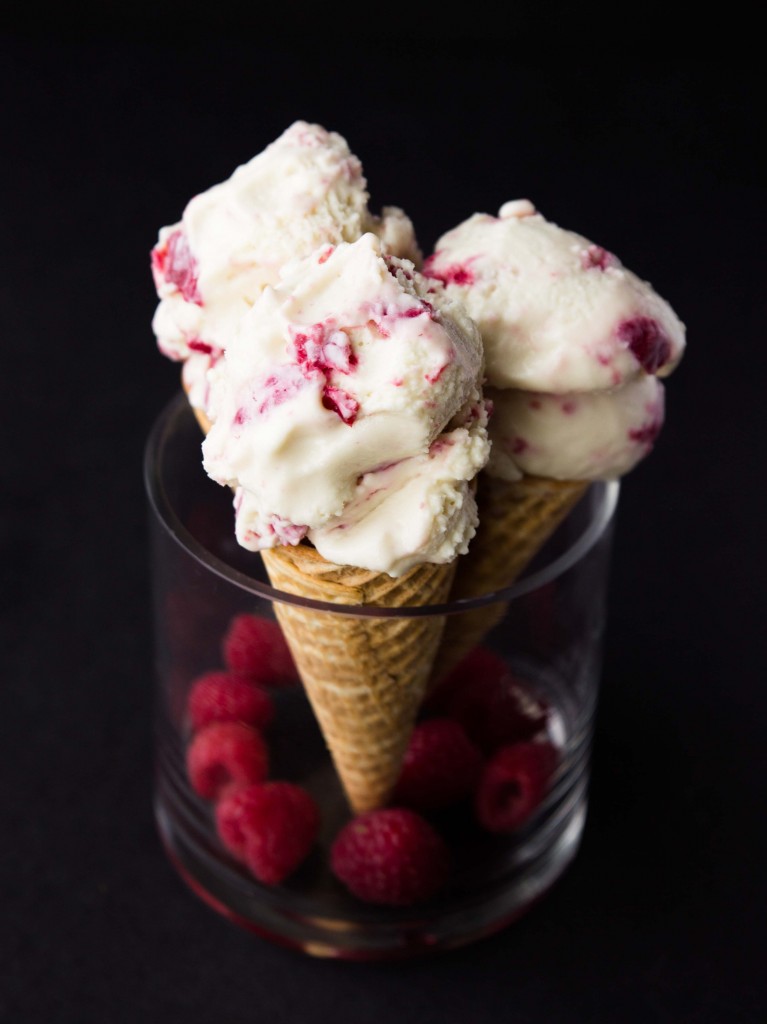 When I saw Ashley's recipe for Greek frozen yogurt, I knew I had found my base. I used her tactic for keeping the frozen yogurt scoopable (vodka!), and only slightly modified the fruit swirl (raspberries instead of strawberries, with a bit of extra sweetness from vanilla and agave). Of course, the most important aspect was the white chocolate, so I packed this dessert full of that rich white chocolate flavor by whisking high-quality white chocolate chips with warmed full-fat coconut milk. It's similar to how you make ganache, but you don't let it firm up before swirling it into the frozen yogurt base.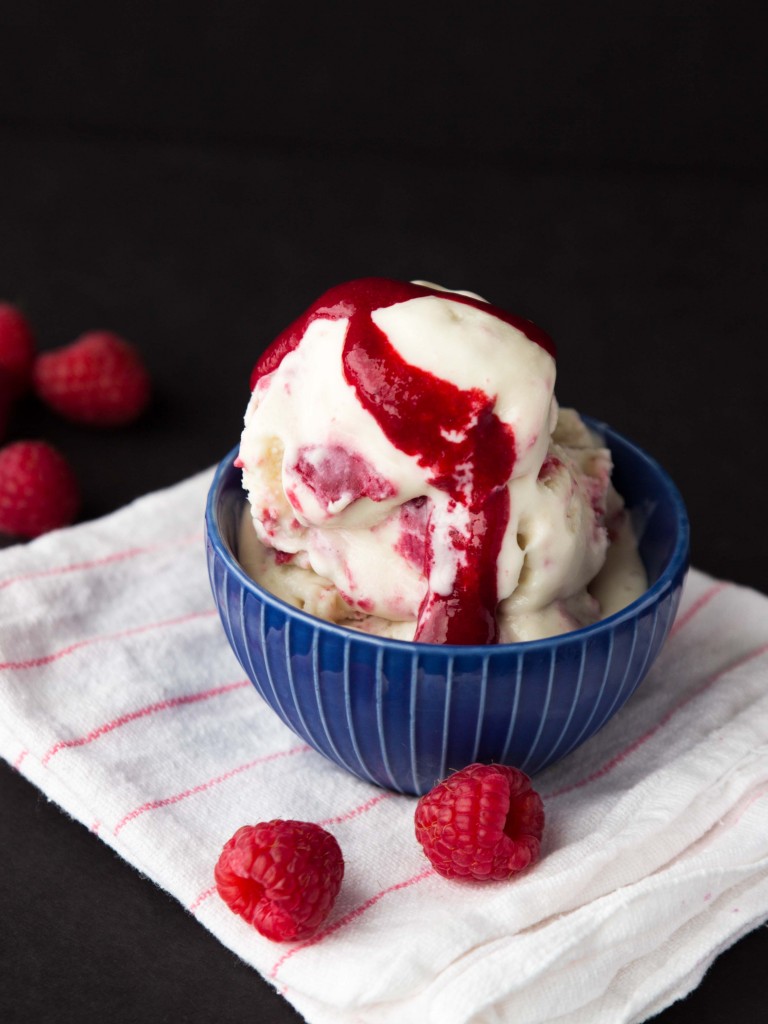 My first attempt at this yogurt was pretty good, but not worthy of sharing with you. The second time I used agave instead of cane sugar, and coconut milk instead of whole milk, and those tweaks worked together to result in the creamiest, richest, most perfectly-sweetened frozen yogurt of all time.
Ryan says I can make this once a week, every week, for all eternity. I guess he's okay with that ice cream maker now.


White Chocolate Raspberry Greek Frozen Yogurt
Super rich and creamy frozen yogurt made with smooth white chocolate and an easy raspberry swirl.
Yield: 8-10 servings
Prep Time: 4 hours 30 minutes
Total Time: 4 hours 30 minutes
Ingredients:
1 cup full fat coconut milk
3/4 cup high quality white chocolate chips
2 cups whole milk Greek yogurt
1/3-1/2 cup plus 1 teaspoon agave nectar, divided
1 1/2 teaspoons vanilla extract, divided
1/8 teaspoon fine sea salt
2 cups frozen raspberries, thawed
2 tablespoons vodka (gf if desired)
Directions:
Place the white chocolate chips in a bowl. Bring the coconut milk to a simmer in a small saucepan. Pour the hot coconut milk over the white chocolate chips, and let sit for a few minutes. After a few minutes, use a whisk to beat together the white chocolate and milk until totally smooth. Set aside.
Combine the yogurt, 1/3 cup agave, 1 tsp vanilla, and sea salt in a food processor. Process until totally smooth, then pour in the white chocolate mixture. Taste and adjust sweetener to your liking, keeping in mind that it will taste less sweet when frozen (I used 1/2 cup agave and it was perfect).
Place the mixture in the refrigerator to chill for at least 4 hours. It will set up in this time and become thick.
While it's chilling, blend the thawed raspberries with the remaining 1/2 tsp vanilla and 1 tsp agave until smooth. Use a fine mesh strainer to strain the seeds.
Place the container you will use to store your ice cream in the freezer to chill.
Whisk the vodka into the chilled ice cream mixture, and then churn the ice cream per your manufacturers instructions. It's done when it is the consistency of soft serve, which for me took about 30 minutes.
Spoon 1/3 of the churned ice cream into your chilled container, and smooth into 1 layer. Top with 1 tablespoon of the raspberry sauce, then run a knife through it to swirl. Repeat this process 2 more times. You will have leftover raspberry sauce to use for topping - that's a good thing!
If you like the soft serve consistency, you can eat the ice cream right away. I chilled mine for 6 hours so it would be a scoop-able consistency that could be eaten out of a cone.
Adapted from Edible Perspective.
Some white chocolate chips are kind of waxy and gross. Since the white chocolate flavor is important in this recipe, I would buy a higher quality brand - I personally like Ghirardelli and the Whole Foods 365 brand.
The vodka is key to making this frozen yogurt scoop-able after it freezes. If you do not use the vodka, it will freeze into a hard block.
I have not tried this with low fat Greek yogurt. I assume it would work, but it won't be as dreamy and creamy.
17 Responses to "White Chocolate Raspberry Greek Frozen Yogurt"
Pingback: 25 Cool Summer Dessert Recipes