Whipped Basil Ricotta and Strawberry Crostini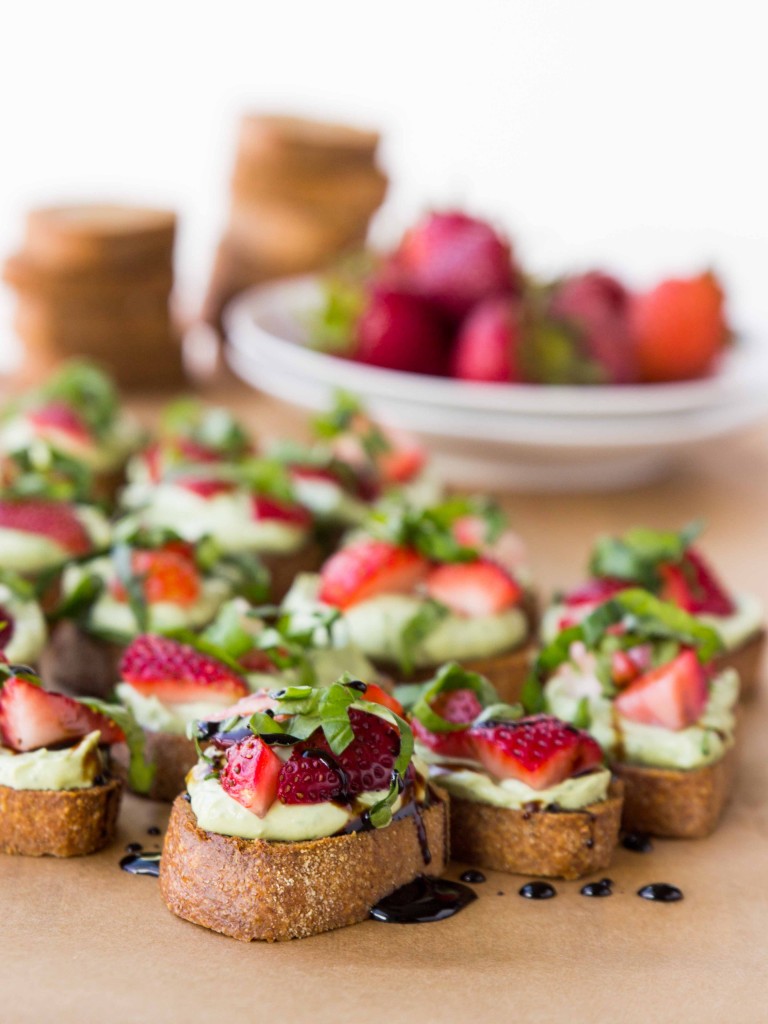 It's full-on summer mode over here. I'm just bathing in the glory of the sun, the heat, the humidity (Oh hiiiii, 80s hair), and the fresh foods.
Nearly every night Ryan and I open our back door, blast the "Wagon Wheel" Pandora Station (do it), make dinner, and then sit outside on our teeny little patio with our teeny little pup, eating yummy food and drinking chilled wine. It's kind of perfect.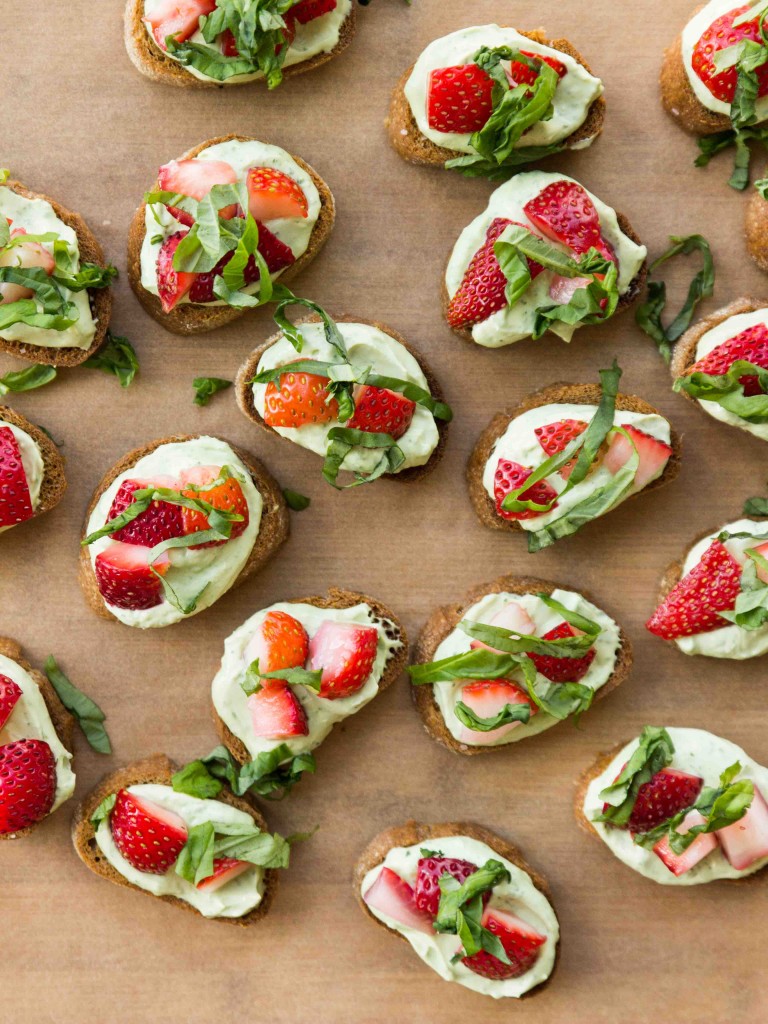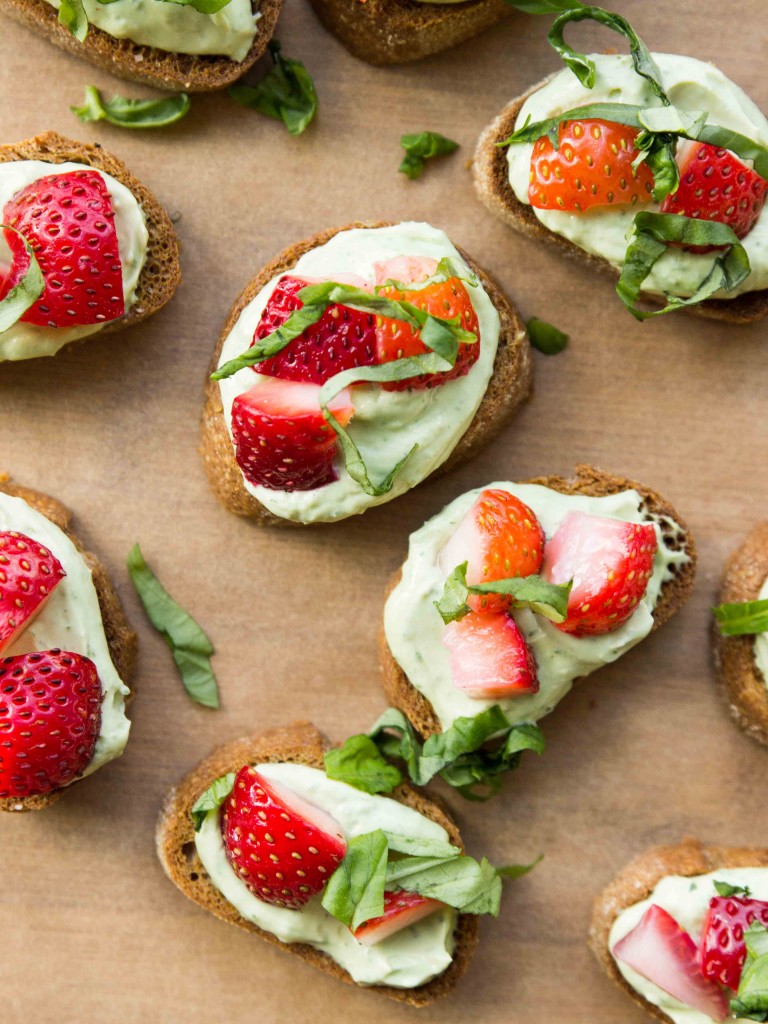 Being a Minnesotan forces you to cherish the summer weather. I actually feel guilty about missing the weather when I'm inside working all day.
These little crostinis are the definition of summer patio finger food. Simple, fresh, sweet-yet-salty, warm-yet-cold, juicy and creamy. Make them for guests as an appetizer, or make them when you're home alone and eat too many of them as an accidental dinner (I don't know anything about that though…).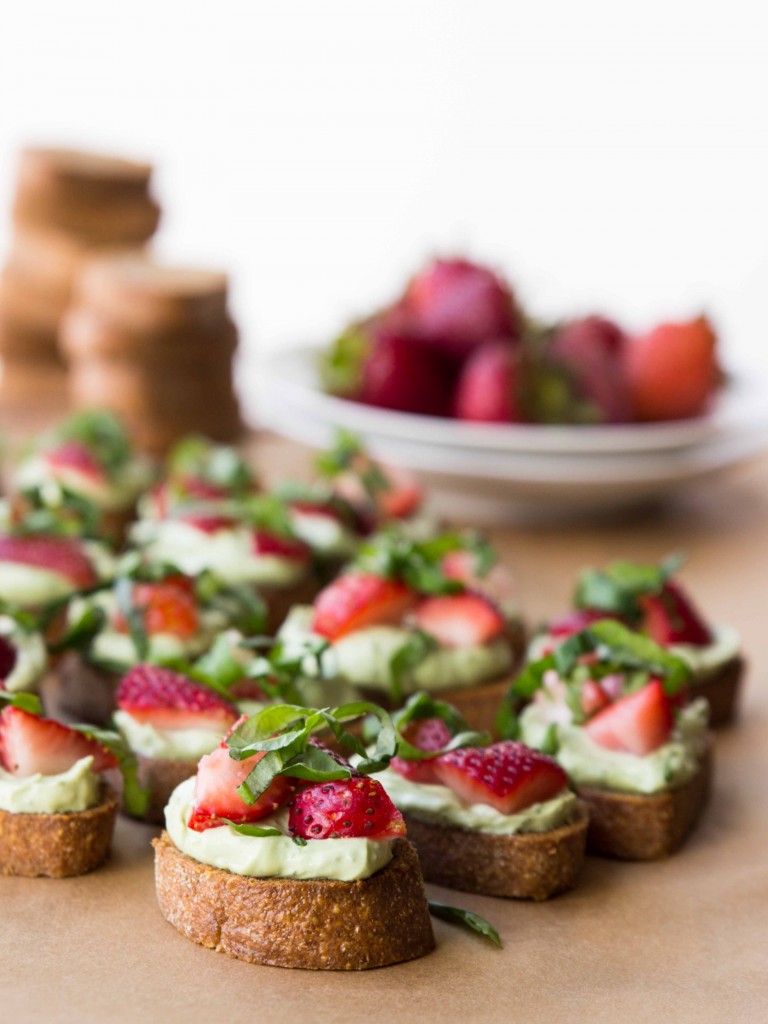 You can make the whipped basil ricotta and balsamic glaze ahead of time, so you really just need to slice and bake your baguette, chop up some strawberries, and you're good to go! From what I've read on the interweb, whipped ricotta is usually made using a mixer and whisk attachment. I made mine in the food processor, because I wanted the basil to puree into the ricotta, making it lightly green and infusing it with basil goodness. The ricotta gets thick, creamy, and whip-y when you pulse in the cream cheese. Oh yes.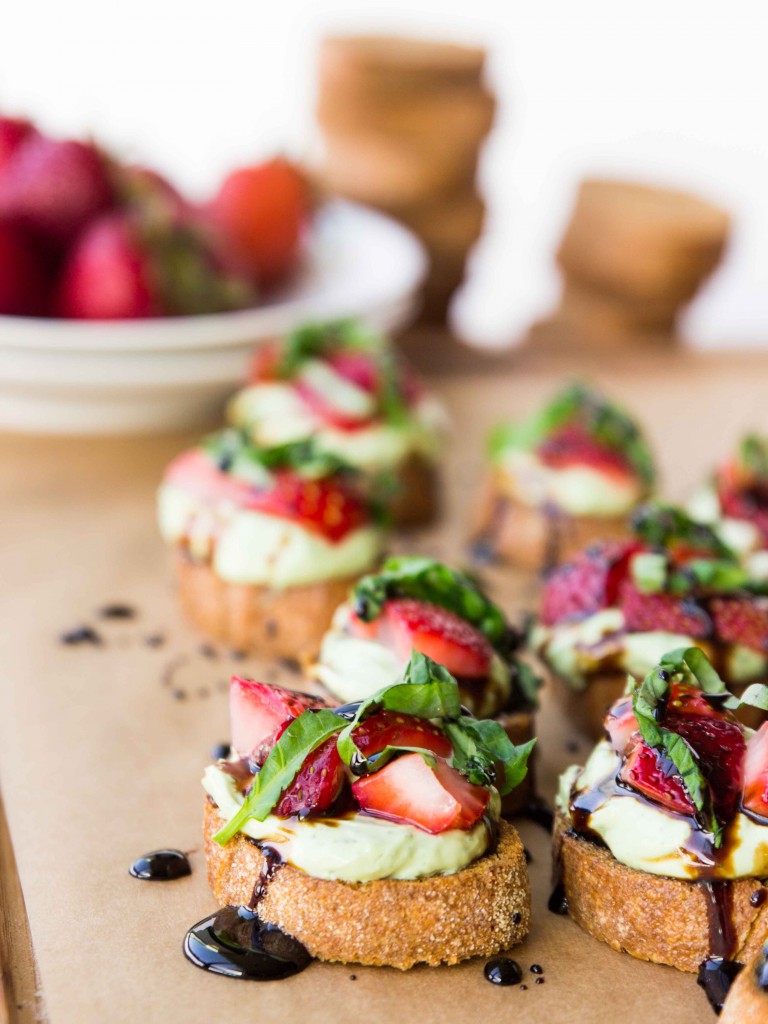 Happy official summer! Eat good foods and get outside.


Whipped Basil Ricotta and Strawberry Crostini
A simple, summery crostini made with juicy strawberries and creamy whipped basil ricotta, then finished off with a drizzle of sweet and tangy balsamic glaze.
Yield: 8-10 servings
Prep Time: 15 minutes
Cook Time: 15 minutes
Total Time: 30 minutes
Ingredients:
Whipped Basil Ricotta
1 (15-ounce) container whole-milk ricotta
3/4 cup fresh basil
1/2 teaspoon kosher salt (plus more to taste)
5 ounces cream cheese, softened
Strawberry Balsamic Crostini
1 (15-ounce) whole wheat baguette
1/4 cup olive oil
1/4 teaspoon kosher salt
1/2 pound strawberries, hulled and chopped
1/4 cup basil, sliced or chopped
1/2 cup balsamic vinegar
Directions:
Place the ricotta and 3/4 cup basil in a food processor, and process until smooth. There may be some small pieces of basil left, but the color of the ricotta should be a light green. Add salt and cream cheese, and pulse a few times until the cream cheese is fully incorporated. Taste and add more salt if you'd like.
Pour the balsamic into a small saucepan and bring to a boil. Reduce heat to medium-low, and let simmer for 15-20 minutes, until it has reduced by half. Set aside to cool while you get the other ingredients ready (it will thicken slightly in this time)
Preheat oven to 350.
Slice the baguette into 1/4-inch slices. Brush both sides with olive oil. Sprinkle the top of the bread with salt.
Bake for 15 minutes, until lightly golden.
Slice or chop the additional 1/4 cup fresh basil leaves for garnish.
Let the baked bread cool for 5 minutes, then spoon on the basil ricotta, top with strawberries and additional sliced basil, and finish with a drizzle of the balsamic glaze.
31 Responses to "Whipped Basil Ricotta and Strawberry Crostini"
Pingback: These 28 Recipes Prove That You Can Do Some Incredible Things With Strawberries - Viral Socially

Pingback: These 28 Recipes Prove That You Can Do Some Incredible Things With Strawberries « Hipstr News

Pingback: 28 Strawberry Recipes That Are Perfect for Welcoming Spring and Summer Into Your Life - Beast Viral

Pingback: TiffinSingh – Best recipes Ever

Pingback: HolidayFun.co