15-Minute Lemon Artichoke Spaghetti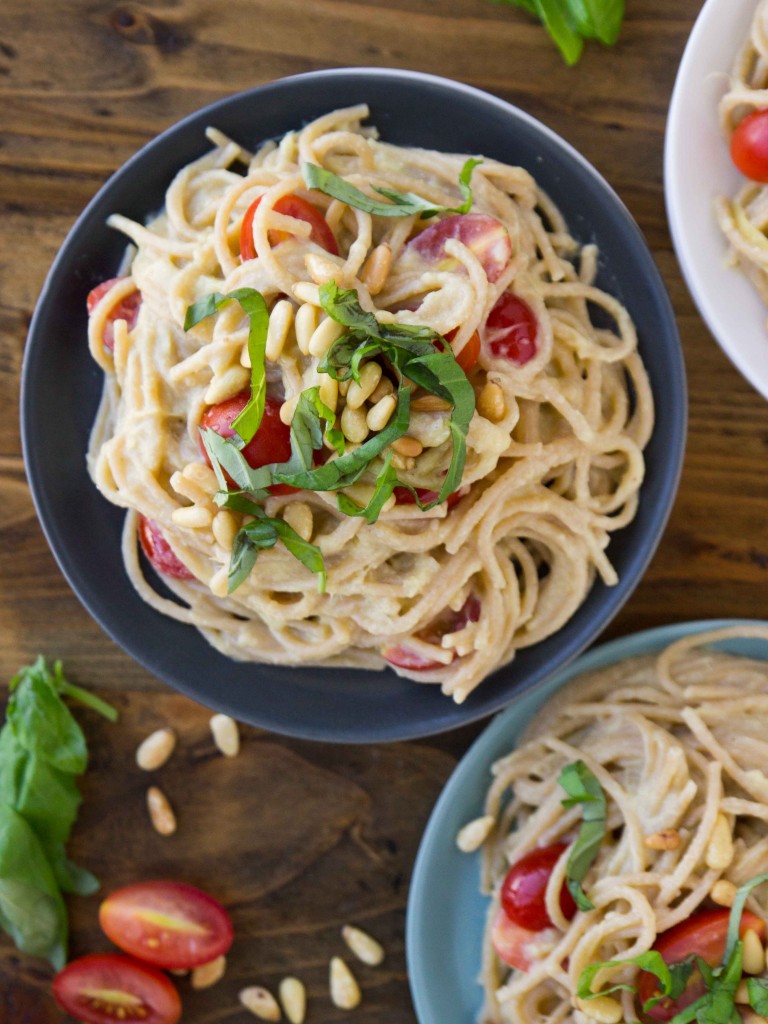 Oh hey, friends. Happy Monday. I don't usually post on Mondays, but I feel like breaking away from the norm this week. Go nuts, right?
I spent yesterday morning and early afternoon having some (mostly) productive kitchen time. I made one of my takeout faves for an upcoming guest post, an ice cream for later this week (SO excited aboooot that), and then I tried to make some mini tomato tarts. In my mind they were going to be so cute! and little! and tomato-y! and packed with flavor!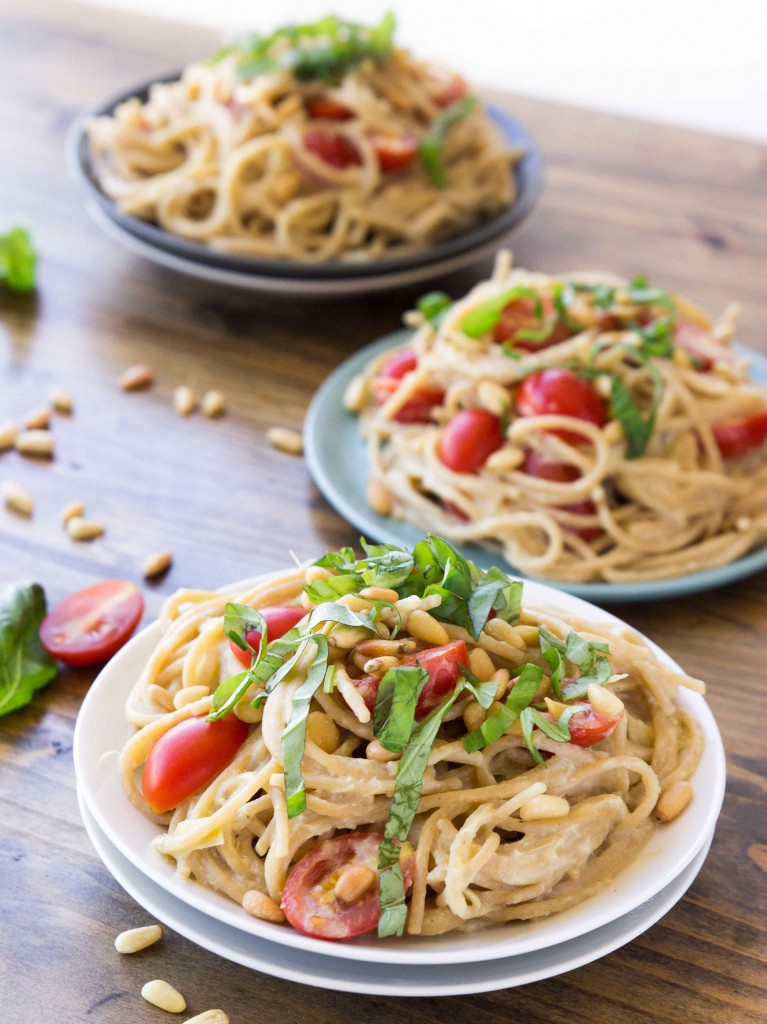 I made my go-to savory whole wheat pastry dough, bought a mini muffin tin, and confidently loaded those suckers up before throwing them in the oven. While they baked I set up my tripod and photo table, and even over-confidently took some test photos, because obviously things would be beautiful and perfect.
Oy, did those ever fail. SUPER fail. I think I'm going to compile all of my recipe fails to post at the end of the year. There have just been some truly epic issues in my kitchen as of late, and I feel the need to post them as a sort of therapeutic exercise.
That night I went to my parent's house and tried to go through some old stuff in my childhood room. In the process I found my rock collection (wait, am I really admitting I had a rock collection?), and sent Ryan a picture. "Hey that looks just like those "tarts" from earlier today," he replied.
Hey! Unfair! Except also pretty true.
Fortunately, the next recipe on my list to make was this lovely little lickety split pasta. I made it last weekend as a cold pasta salad, and it was AWESOME the day I made it, but the next day it was a bone-dry addition to my baby kale salad. When Ryan spooned up some leftovers that same day he said it tasted like I had added chalk. Not-so-yums.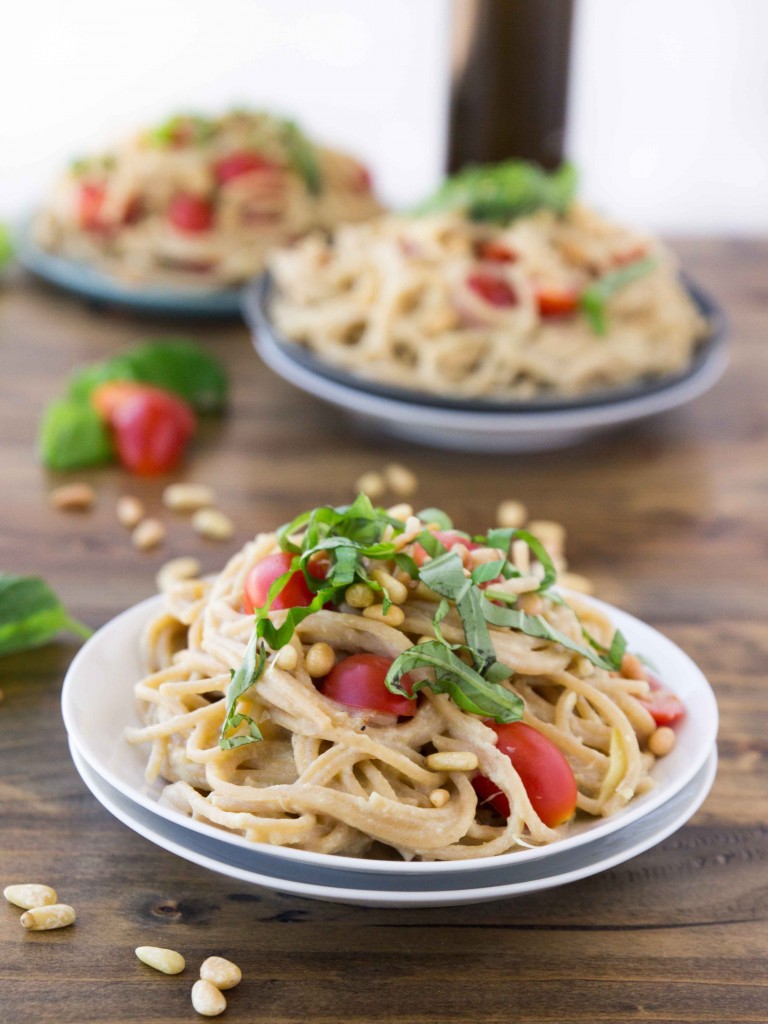 To fix the bone-dry issue, I boiled the canned artichokes with some vegetable broth (because those guys needed some LIQUID), and then used the broth to puree the artichokes into a sauce with lemon, garlic, olive oil, and pepper. SO EASY.
If you're not concerned with keeping it vegan, add a bit of crumbled goat cheese when you mix in the sauce. CREAMY GOODNESS. Or just leave it as-is, cause that's awesome too, and that's my lunch for the week.
And those tarts? In the trash. Eep.


15-Minute Lemon Artichoke Spaghetti
An easy, flavor-packed pasta you can whip up in 15 minutes! The creamy sauce is made from pureed artichokes, broth, lemon juice, and garlic - so simple and fresh tasting!
Yield: 4 servings
Prep Time: 5 minutes
Cook Time: 10 minutes
Total Time: 15 minutes
Ingredients:
8 ounces whole wheat or gluten free spaghetti
1 cup low-sodium vegetable broth
1 (14-ounce) can quartered artichoke hearts, drained and thoroughly rinsed
1 lemon, juiced (about 2 tablespoons)
1 clove garlic, minced
1/4 teaspoon black pepper
2 tablespoons olive oil
1 1/2 cup grape tomatoes, halved
1/4 cup toasted pine nuts
Fresh basil, for garnish
Directions:
Cook pasta according to package directions.
Bring the broth to a boil in a saucepan. Add the artichokes and boil for 2-3 minutes. Pour the liquid into a blender along with the lemon, garlic, pepper, and olive oil, and blend until completely smooth. Taste and adjust seasoning to your liking.
Toss the cooked pasta with the artichoke sauce, and mix in the cherry tomatoes. Sprinkle with pine nuts and fresh basil.
Because of the broth and canned artichokes, I found the sauce salty enough without adding any additional salt. If you have less salty broth or artichokes, taste and add pinches of salt until it's good for your tastes.
When reheating, just add a little water before microwaving and you'll be golden.
If you're not vegan, mix in 1/4 cup of goat cheese when you mix in the sauce - so good!
5 Responses to "15-Minute Lemon Artichoke Spaghetti"