Chocolate Pretzel Ice Cream with Salted Caramel Swirl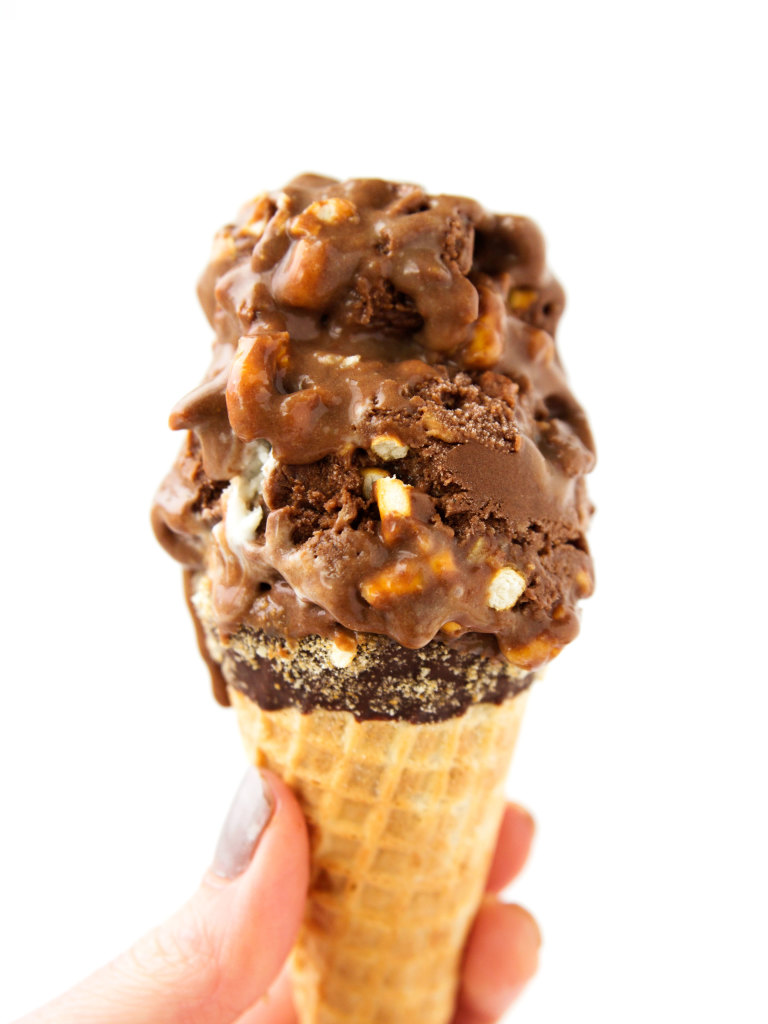 Although I'm never one to turn down a dessert, I'm just not into single-flavored ice cream. I'll take a few licks of a good chocolate cone, but then I get bored. Give me some texture, like broken up graham cracker pie crust, chunks of partially-frozen peanut butter, chocolate chips, sprinkles, chopped peanuts, etc. and it's a whole new world to me. This is why I love/hate fro-yo bars. When Ryan and I go he asks if I want to split something, but NO, because he's the guy who gets white chocolate fro-yo then mixes kiwi with caramel and those gelatinous lychee balls. I can't get on board with that, so we walk up to the counter with very different creations in our hands. Mine is usually double the weight of his, yet it's gone in half the time.
Now that I have an ice cream machine, I'm having fun putting my favorite toppings into my frozen treats. It's like Coldstone in here, but without the teenage workers who don't want your tips because it means they have to sing. I never know what to do there – can I just slip them a buck under the counter and call it good? Or is "the man" always watching? Deep thoughts.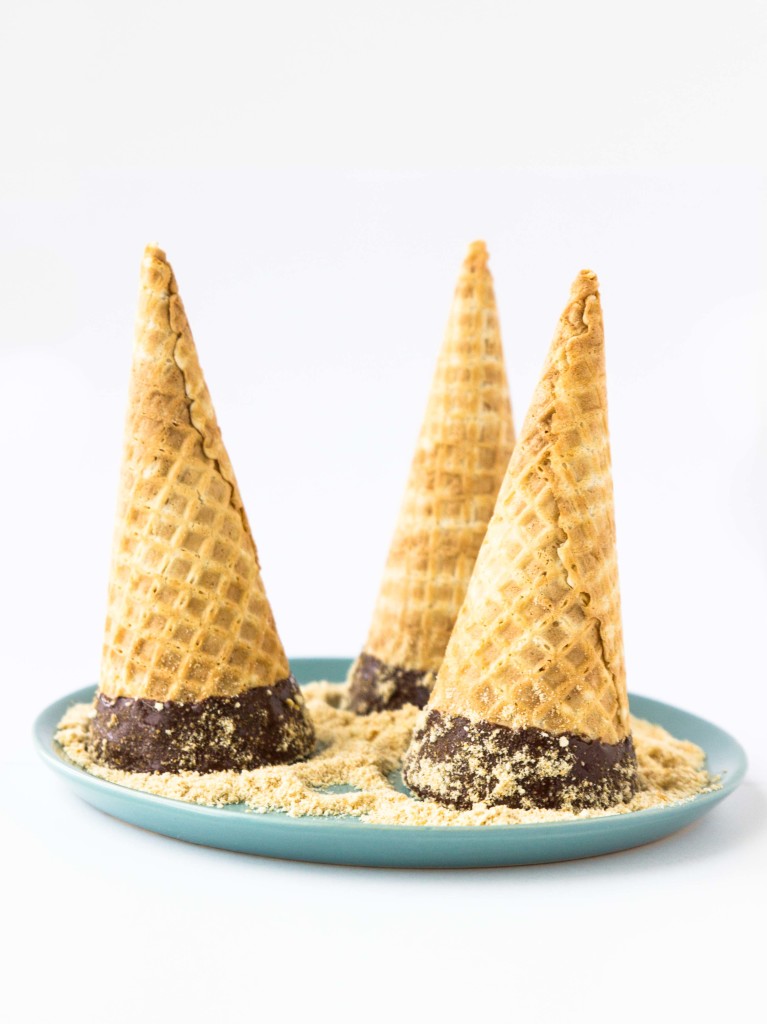 Anyway, I digress. Last week, after discovering Caribou's salted caramel cold press, my favorite Friday treat, has more sugar than I should consume in an entire day (60 grams!!!), I decided to make myself a proper salted caramel dessert to have at the end of the day, instead of in my morning coffee (…because that's better, right? Logic?). Since a salted caramel swirl, while delicious, wouldn't be enough texture for me, I layered in some pretzels for a little extra salted crunch.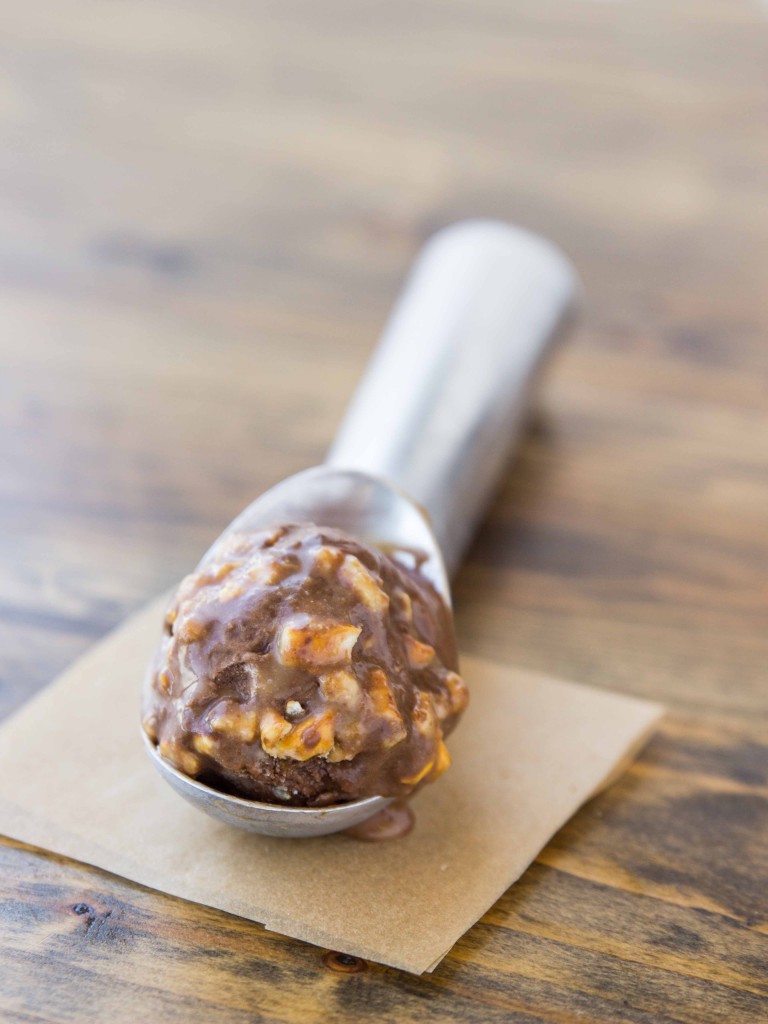 The resulting ice cream is super smooth, chocolatey (from both cocoa powder and semisweet chips), and salty from the sweet, buttery caramel and the little pretzel pieces. The pretzels lose a little of their crunch after being frozen, but they still give each lick/spoonful a little extra something…the extra something I need in order to devour the whole thing.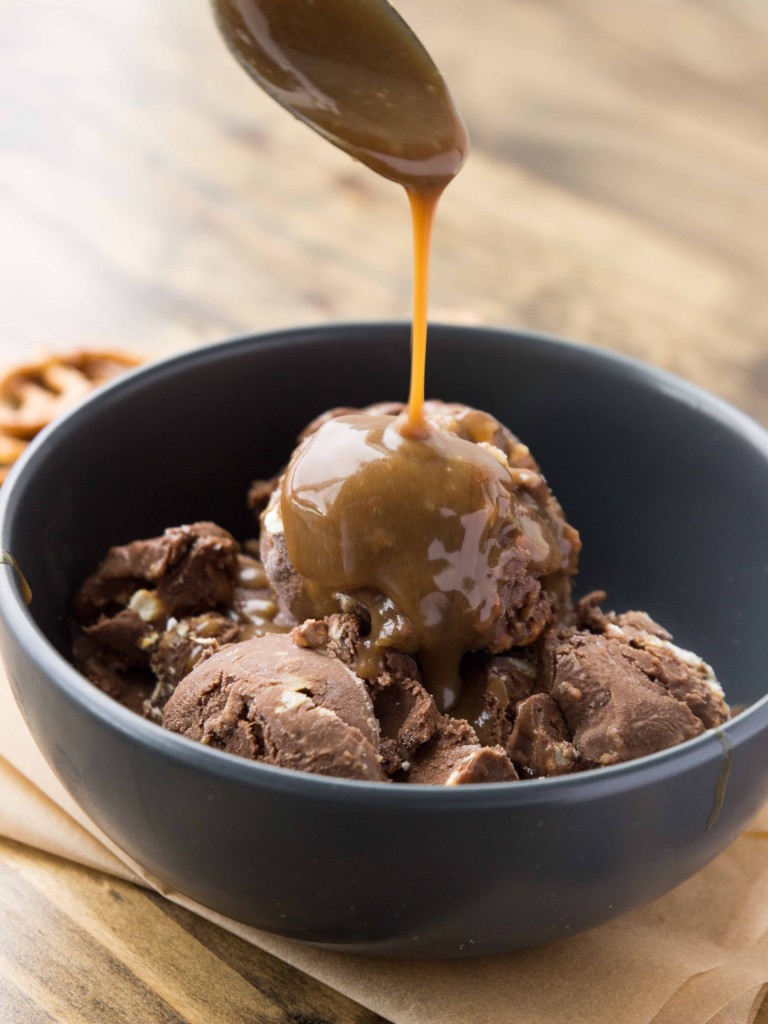 I made the ice cream with light coconut milk, and the result was perfectly creamy and perfect. I can only imagine full fat would make it even dreamier, but it's not necessary. To keep it vegan, I used vegan butter in the caramel, but regular butter would work fine if you'd prefer to use it. I added just a tablespoon of whiskey to the ice cream base, because vegan ice creams tend to be less scoopable than their dairy counterparts. It should be fine if you want to leave it out, but you'll probably want the ice cream to sit out for a few more minutes before serving.

Chocolate Pretzel Ice Cream with Salted Caramel Swirl
Smooth, creamy chocolate ice cream with a buttery salted caramel swirl, and crunchy crushed pretzels mixed throughout.
Yield: 6-8 servings
Prep Time: 3 hours
Cook Time: 10 minutes
Total Time: 3 hours 10 minutes
Ingredients:
Chocolate Pretzel Ice Cream
3 cups coconut milk (light or full fat)
3/4 cup coconut sugar or cane sugar
1/2 cup cocoa powder
1/8 teaspoon kosher salt
3 tablespoons cornstarch
1/2 cup dairy free semisweet chocolate chips
1 tablespoon whiskey
2/3 cup crushed pretzels
Salted Caramel
1/2 cup cane sugar
3 tablespoons vegan butter (or regular butter, if not vegan)
1/2 cup full fat coconut milk
1/4-1/2 teaspoon salt (to taste)
Directions:
Whisk together 2 cups coconut milk, the sugar, cocoa powder, and salt in a medium saucepan over medium heat until it's steaming but not boiling.
In another bowl, whisk together a 1/2 cup coconut milk and cornstarch. Pour into the chocolate mixture, and bring to a boil. Boil, whisking constantly, for 3-5 minutes. It should be the consistency of pudding.
Place the chocolate chips in a bowl. In a separate, small sauce pan, heat the remaining coconut milk to a low boil. Pour over the chocolate chips and let sit for 2 minutes. Whisk until smooth.
Pour the melted chocolate chips and coconut milk into the ice cream base. Refrigerate until chilled, at least 2 hours.
While the ice cream base chills, get the caramel together. Place the sugar in a small saucepan over medium-low heat. Stir with a wooden spoon until it melts down. It will start off by clumping, but eventually will liquify. Add the butter and stir until melted. Pour in the coconut milk, bring to a boil, and whisk constantly for 2-3 minutes. Place in the refrigerator until ready to use.
Whisk the tablespoon of whiskey into the chilled ice cream base. Churn the ice cream according to your ice cream maker's instructions. When it's done it should be the consistency of soft serve.
Once the ice cream is ready, spread 1/2 of the ice cream into your container. Top with 3 tablespoons caramel, and run a knife through it to swirl. Sprinkle on half of the pretzels. Top with the remaining ice cream, 3 more tablespoons of caramel, swirl, and then end with the remaining pretzels. Reserve remaining caramel for serving.
If you like the softer texture, serve right away. Otherwise, cover the top of the ice cream with parchment (to avoid ice crystals), and freeze for 4 hours. Let sit for 5-10 minutes before serving, to make it more scoopable.
Ice cream base adapted from Joy the Baker.
For the crushed pretzels, you don't want them to be a powder, but you also don't want them so big that the ice cream is difficult to eat. Try to get the biggest pieces no longer than about 1/2-inch. You can do this with your hands, but a couple pulses in a food processor will be quicker.
10 Responses to "Chocolate Pretzel Ice Cream with Salted Caramel Swirl"
Pingback: Food Love - A Cookie Named Desire