Grilled Tomato and Lemon Mascarpone Galettes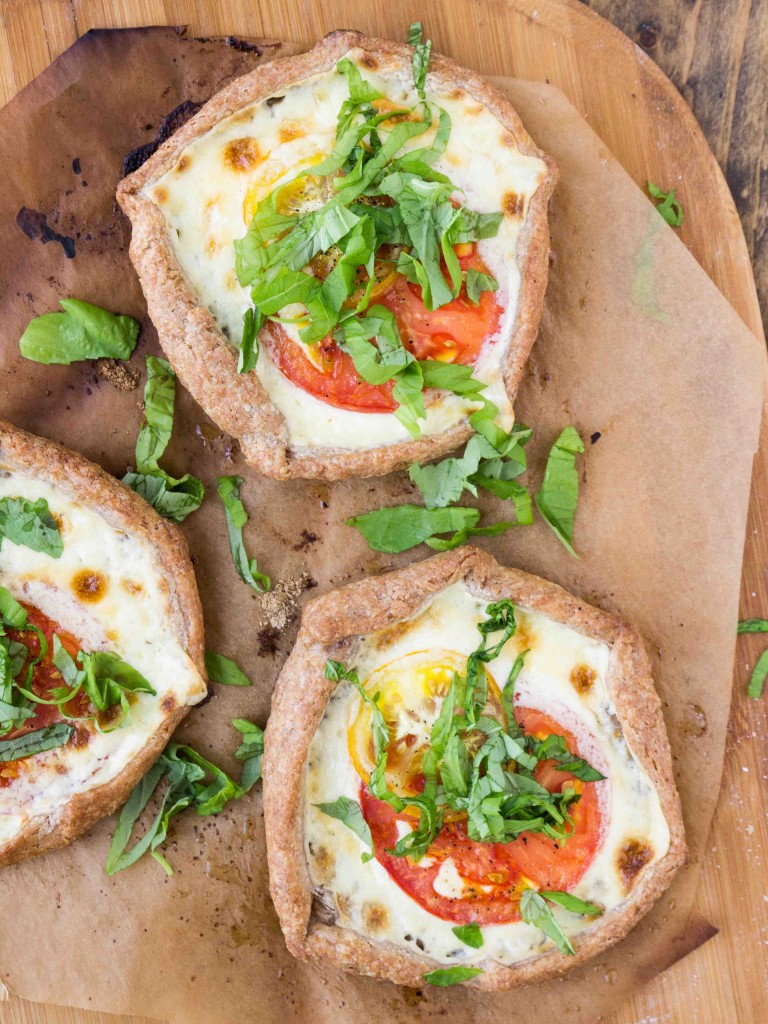 July is my favorite summer month. My friends think I'm crazy for it, but I live for the summer heat. I know this is strange coming from a Minnesota girl, but I love the humidity, even if it does make my hair look like it belongs to Weird Al.
It's sunny, sweaty, bright, and perfect for cold beer and grilling. Sometimes I love grilling veggie burgers and making sweet potato fries, but sometimes I want to be fancy. When I'm being fancy, I grill galettes.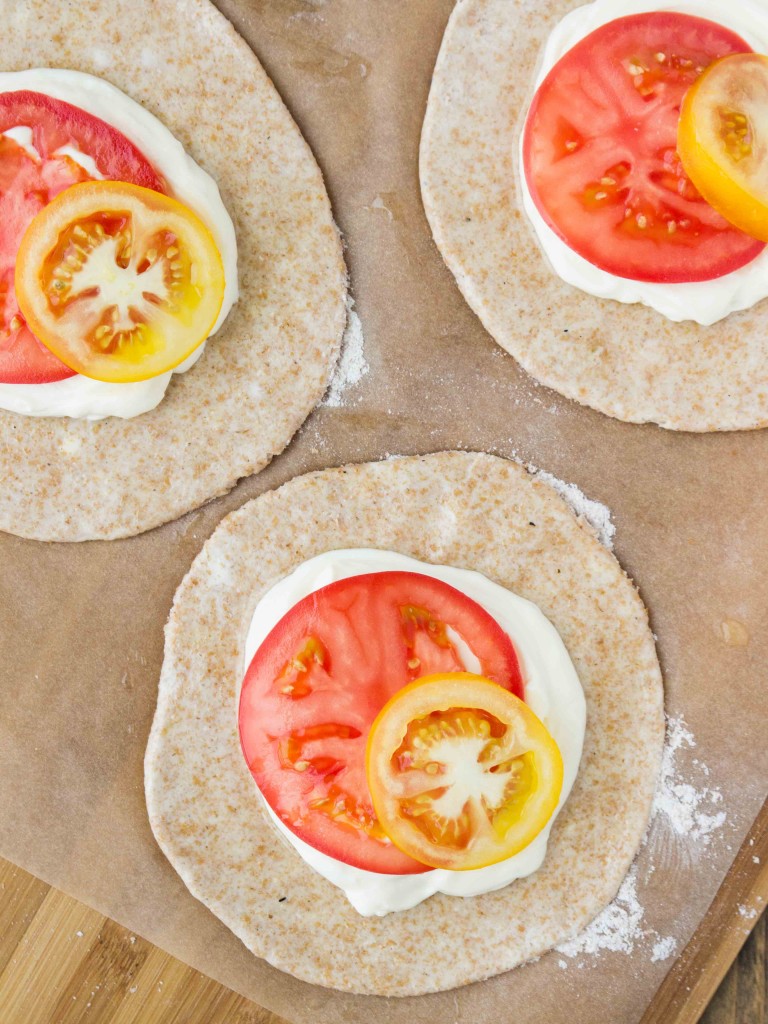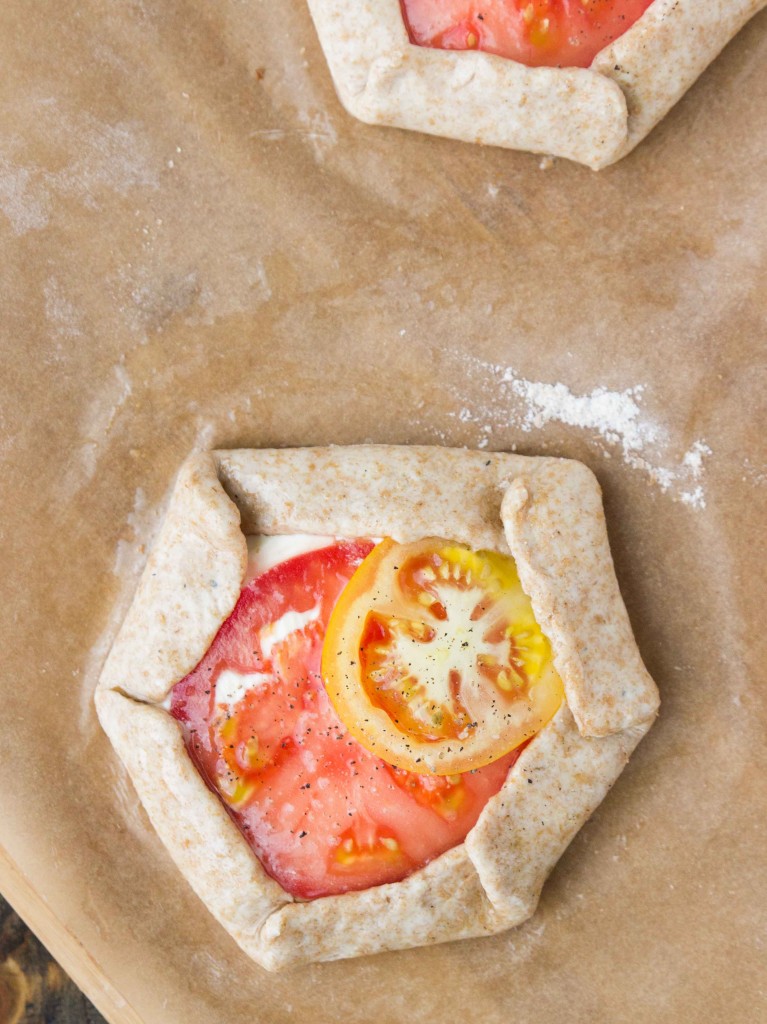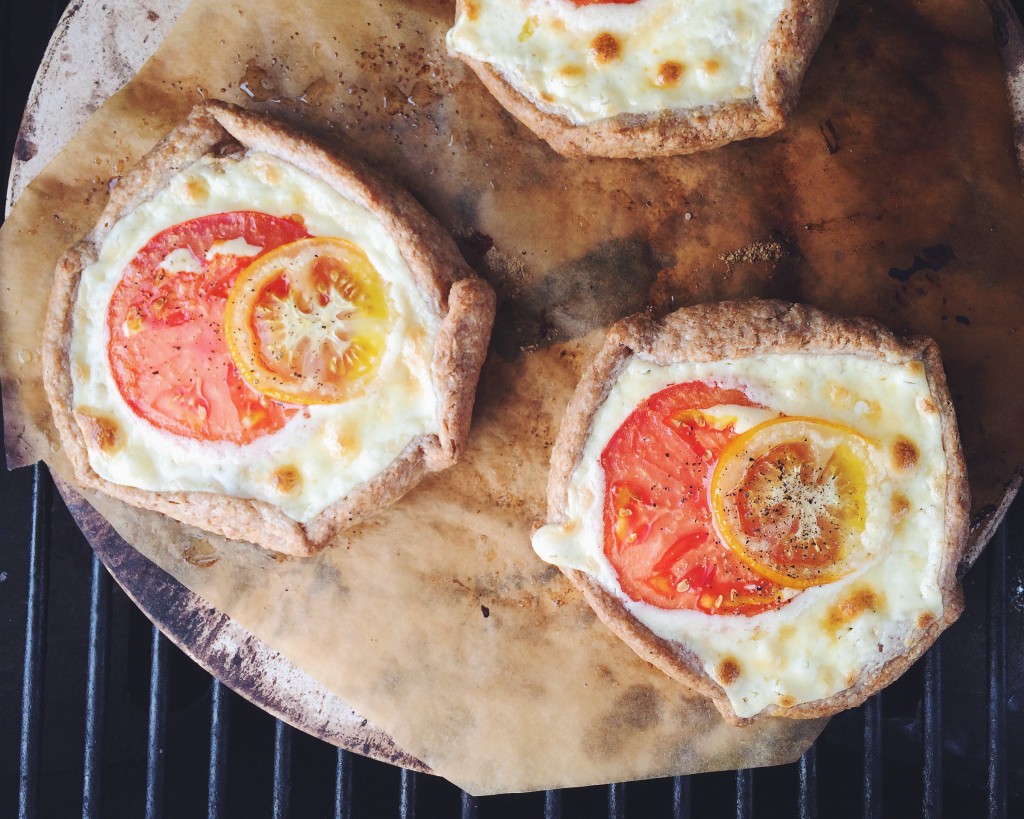 In case you're unfamiliar, galettes are simply free-form tarts. When I make savory galettes, I like to think of them as classy-lady pizzas.
Ryan may object to the "classy lady" label, because he LOVED these. I ate one right off the grill for lunch, and then Ryan ate the remaining 3 in 24 hours. When he finished the last one he asked if we had any more (this coming from a man who usually doesn't eat unless I remind him).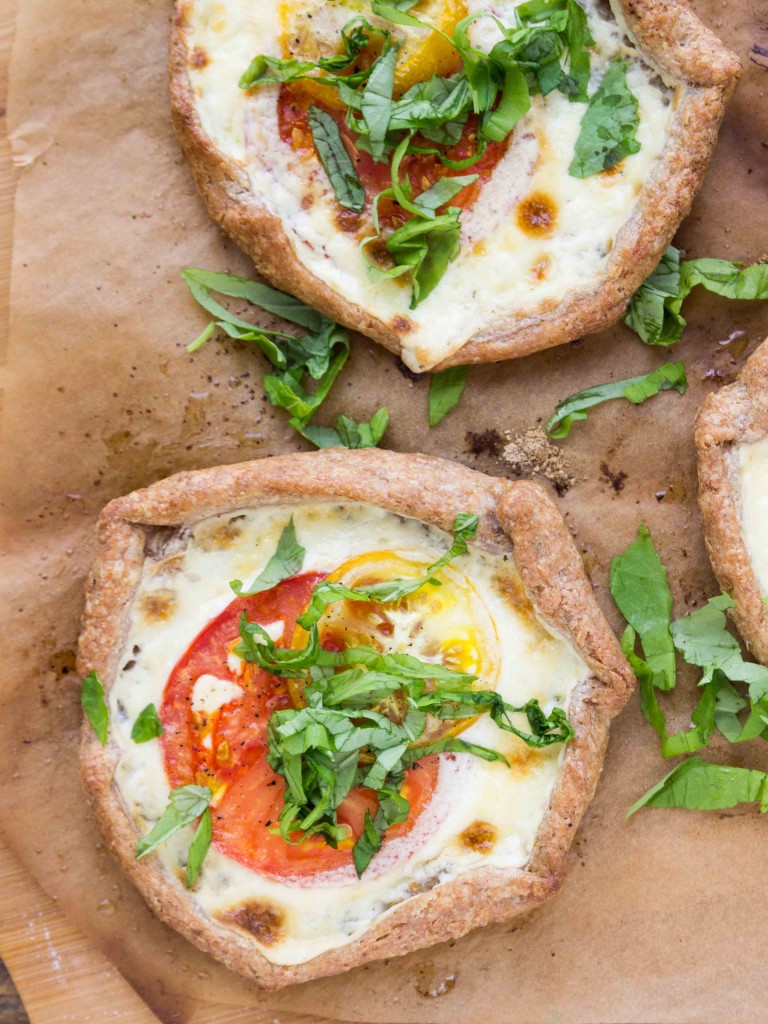 I prefer making summer galettes on the grill because A) No extra heat in the house B) It's July! Let's grill things! C) More reason to be outside. Our gas grill has a temperature gauge, which made it easy to maintain a fairly steady temp. If your grill does not have a temperature gauge, and you don't have a thermometer you can use, you will need to either watch the grill like a hawk, or just bake it on your pizza stone in the oven at 375 for 25-30 minutes.
These galettes are wonderfully flaky, a little nutty from the whole wheat flour, and so darn pretty. The lemon mascarpone puffs up and hugs the juicy, roasted tomatoes. It's just begging to be paired with a light arugula salad and a glass of chilled white wine.
Total classy lady (/dude) meal.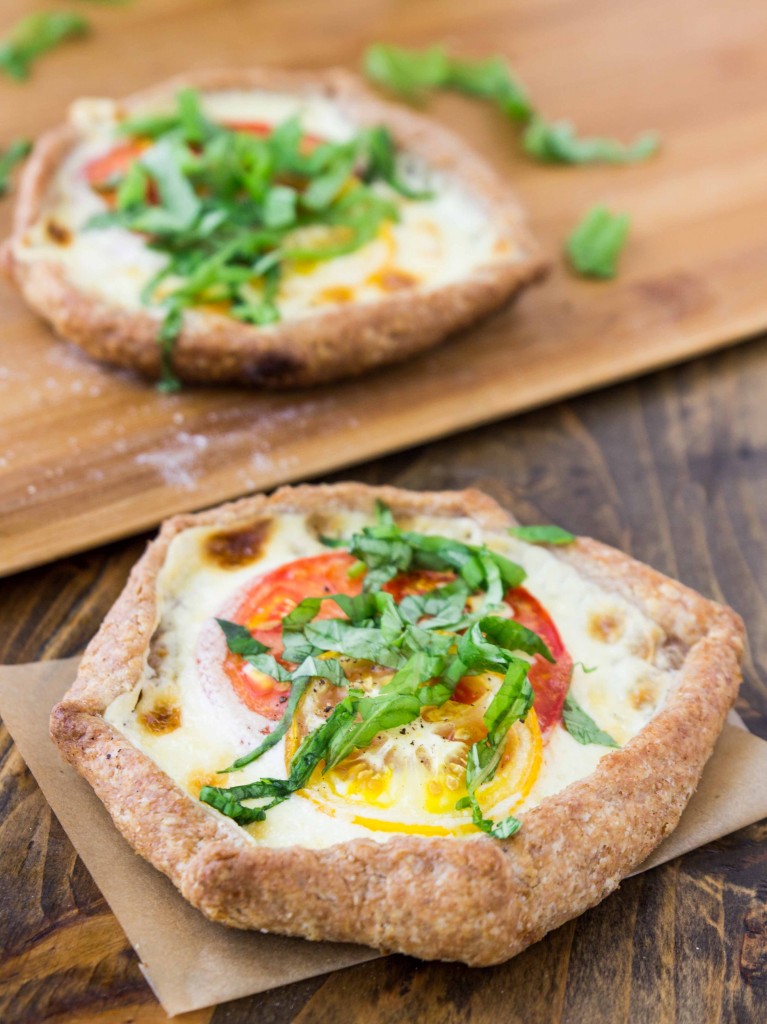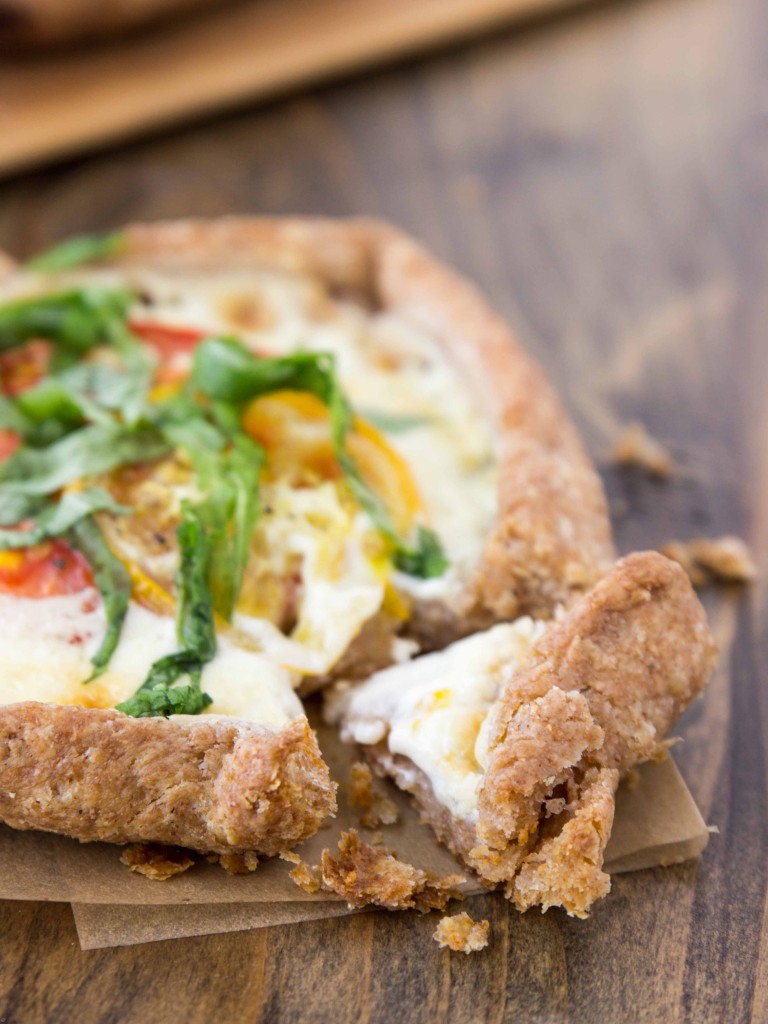 There's a fair amount of butter and cheese in this recipe, but the ingredients are simple and the crust is whole wheat, so I have no qualms with a little extra fat in my whole-foods goodness. Also, we'll be eating kale later this week, and balance wins.

Grilled Tomato and Lemon Mascarpone Galettes
Buttery, flaky whole wheat dough filled with creamy lemon mascarpone and fresh, seasonal tomatoes, and then thrown on the grill until golden and bubbly.
Yield: 4 galettes
Prep Time: 45 minutes
Cook Time: 30 minutes
Total Time: 1 hour 15 minutes
Ingredients:
Whole Wheat Galette Dough
1 1/4 cups whole wheat pastry flour
1/4 teaspoon salt
8 tablespoons (1 stick) unsalted butter, cold
1/4 cup Greek yogurt
2 teaspoons apple cider vinegar
1/4 cup plus 2 teaspoons cold water
Grilled Tomato and Lemon Mascarpone Galettes
8 ounces mascarpone cheese
1 tablespoon fresh lemon juice (from about 1/2 of one lemon)
1/4 teaspoon kosher salt, plus extra for sprinkling
4 teaspoons olive oil
2 tomatoes, thinly-sliced
fresh cracked black pepper, to taste
Fresh basil, sliced, for garnish
Directions:
Pulse together the flour and salt in a food processor. Add the butter and pulse 5-6 times, until there are no pieces of butter bigger than peas.
In another bowl, whisk together the remaining ingredients. Pour into the food processor, and pulse together until it forms a dough. Cut into 4 equal-sized pieces, and form into balls. Pat down into a disc shape, wrap in plastic wrap, and refrigerate for 30 minutes.
While the dough is chilling, blend together the mascarpone, lemon juice, and 1/4 teaspoon salt in a food processor or blender. Taste and add more salt if you'd like.
Turn on your grill, and heat to 375 degrees. Preheat your pizza stone on your grill.
Place the dough balls on a piece of parchment, and roll each into a 6-inch circle. Brush 1/2 teaspoon of olive oil on each circle, then top with 1/4 of the mascarpone, and a couple slices of tomato. Fold up the sides of the galette, and then drizzle with another 1/2 teaspoon of olive oil. Brush it on so it coats the sides of the dough. Sprinkle a little kosher salt and pepper on top of the galettes.
Place the parchment on the heated pizza stone, and cover the grill. Grill for 25-30 minutes, until the dough is golden and the tomatoes look roasted. Check the grill often to ensure it's staying around 370-380 degrees.
Serve warm with sliced fresh basil on top.
4 Responses to "Grilled Tomato and Lemon Mascarpone Galettes"
Pingback: Food Love - A Cookie Named Desire