Three Bean Greek Kale Salad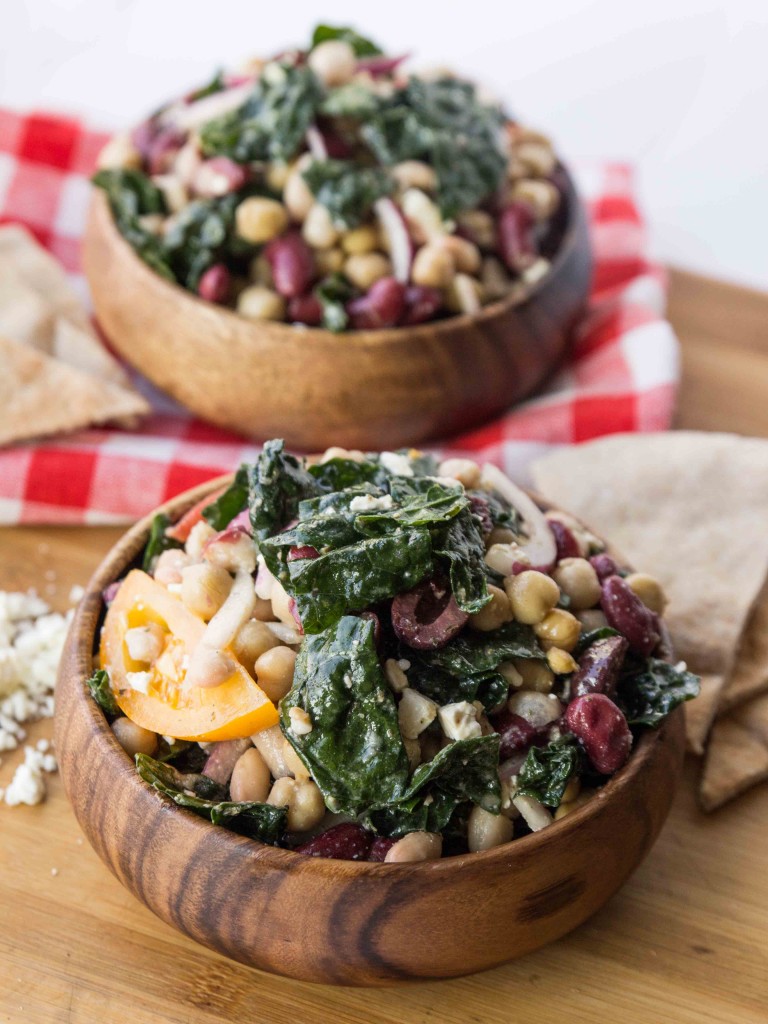 If you aren't a Minnesotan, you may not quite understand how obsessed we are with our lakes. We LOVE our lake time in the summer. Until last week, I hadn't gotten enough lake time. Not even close.
Last Tuesday I headed up to northern MN for 5 days of relaxing, reading, and boating with Ryan's family. Now that I'm back to the real world, with a hefty week of stressful work, I'm missing those slow mornings of long breakfasts followed by hours of boating with a book or fishing reel in my hand.
Teia misses the lake too, but probably not those scary lake waves (sorry if you're not into dog videos…it's just too damn cute to not share).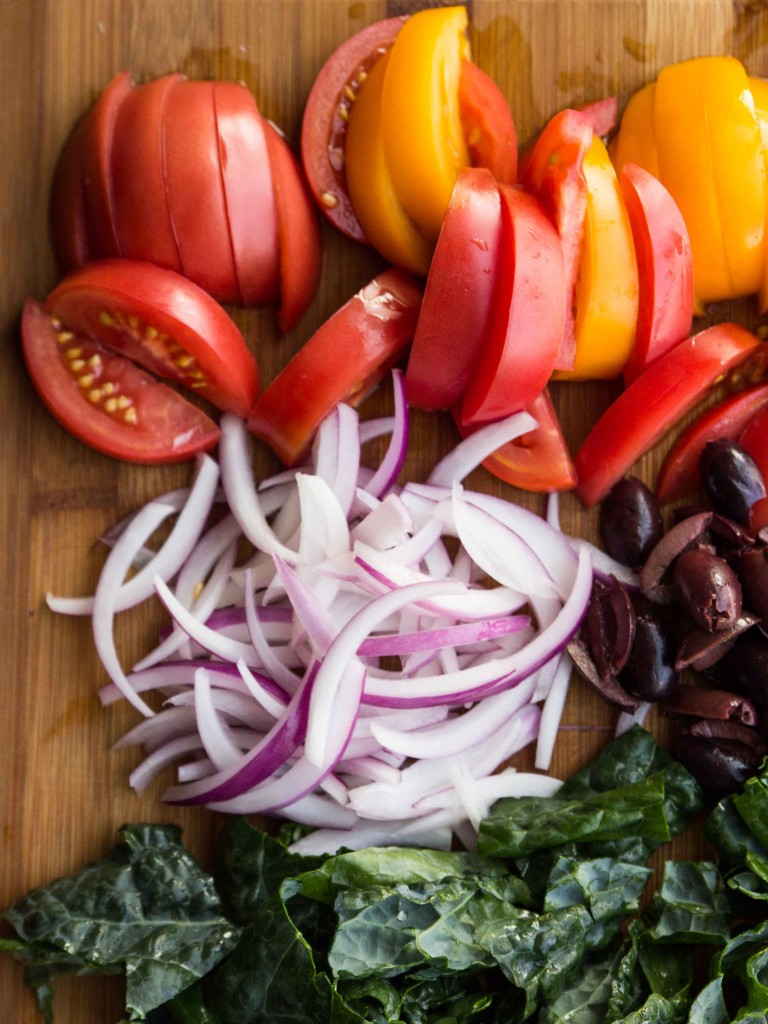 As is usually the case with vacation, the food situation left my body longing for some nutrient-dense meals, so I came home and made a big salad filled with all the healthy things (kale, tomatoes, beans), along with all the tasty things (Greek dressing, feta, kalamata olives) and have been eating it every day since.
I used to be a romaine girl when it came to salads. I still like the crunch of romaine every so often, but I have recently been super crushing on kale salads. Unlike other greens (like romaine), which turn mushy and slimy when stored in the fridge, dressed kale becomes more tender (a GOOD thing), and the time in the fridge allows the other flavors in the salad to deepen.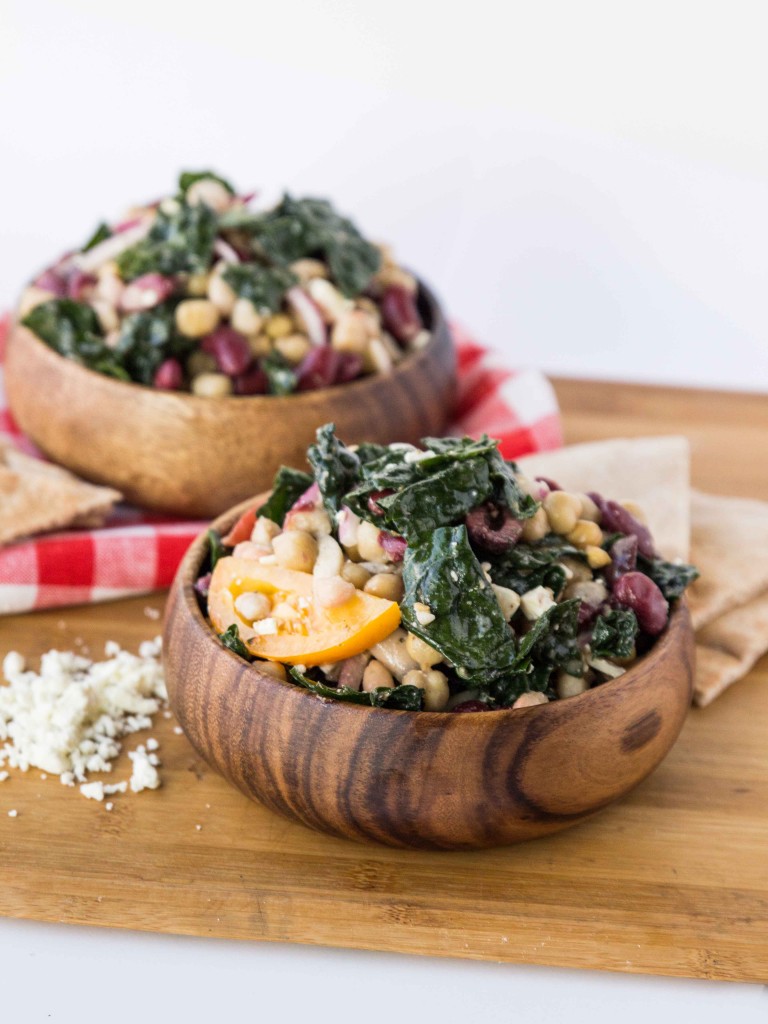 Since the "other flavors" in this salad are my favorite Greek salad ingredients, deepening those flavors is a really good thing, because those flavors are the best. This salad is tangy, fresh, juicy, salty, and packed with protein from 3 different types of beans. It's like hitting the reset button on your body after 5 days of drinking beer at noon and eating fried potatoes for breakfast. Right? Yes.


Three Bean Greek Kale Salad
All the flavors of your favorite Greek Salad with a healthy, high protein twist!
Yield: 4-6 servings
Prep Time: 10 minutes
Total Time: 10 minutes
Ingredients:
Three Bean Greek Kale Salad
1 bunch lacinado kale, large center stems removed, chopped into 1-inch pieces
1/2 red onion, thinly sliced
3 heirloom tomatoes, cut into 1/4″ slices
1/2 cup kalamata olives, halved
4 ounces crumbled feta
1 1/2 cup red kidney beans (drained and rinsed if canned)
1 1/2 cup cannellini beans (drained and rinsed if canned)
1 1/2 cup chickpeas (drained and rinsed if canned)
Greek Salad Dressing
1/3 cup olive oil
1/3 cup red wine vinegar
1 teaspoon dried oregano
1 teaspoon dried basil
2 cloves chopped garlic
1/2 teaspoon onion powder
1/4 teaspoon black pepper
1/2 teaspoon kosher salt
Directions:
Combine all of the dressing ingredients in a blender. Pour over the kale, and massage with your hands.
Add the remaining ingredients, and toss to combine.
Vegan Option: Simply omit the feta. The salad has plenty of flavor and salt without it!
This salad is great eaten right away, but stores really well in the fridge because the kale is so hearty. It makes a great weekday lunch - I've been eating it all week!
5 Responses to "Three Bean Greek Kale Salad"