Green Chile Pinto Burgers with Creamy Cheddar Sauce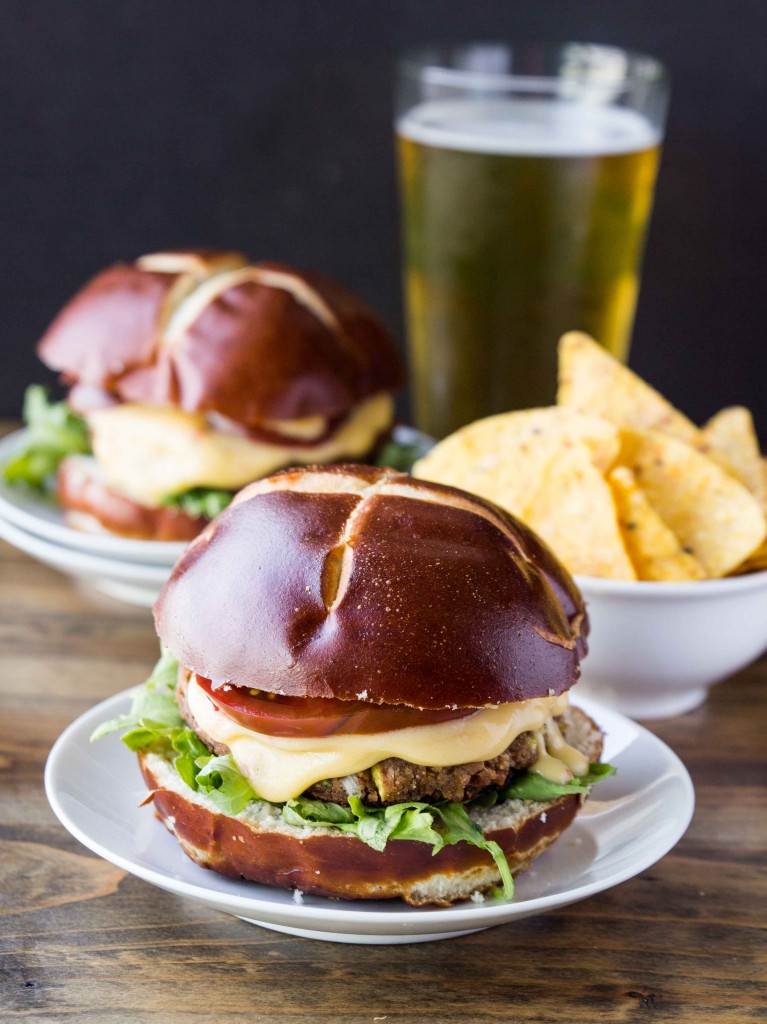 GUYS. This cheese sauce.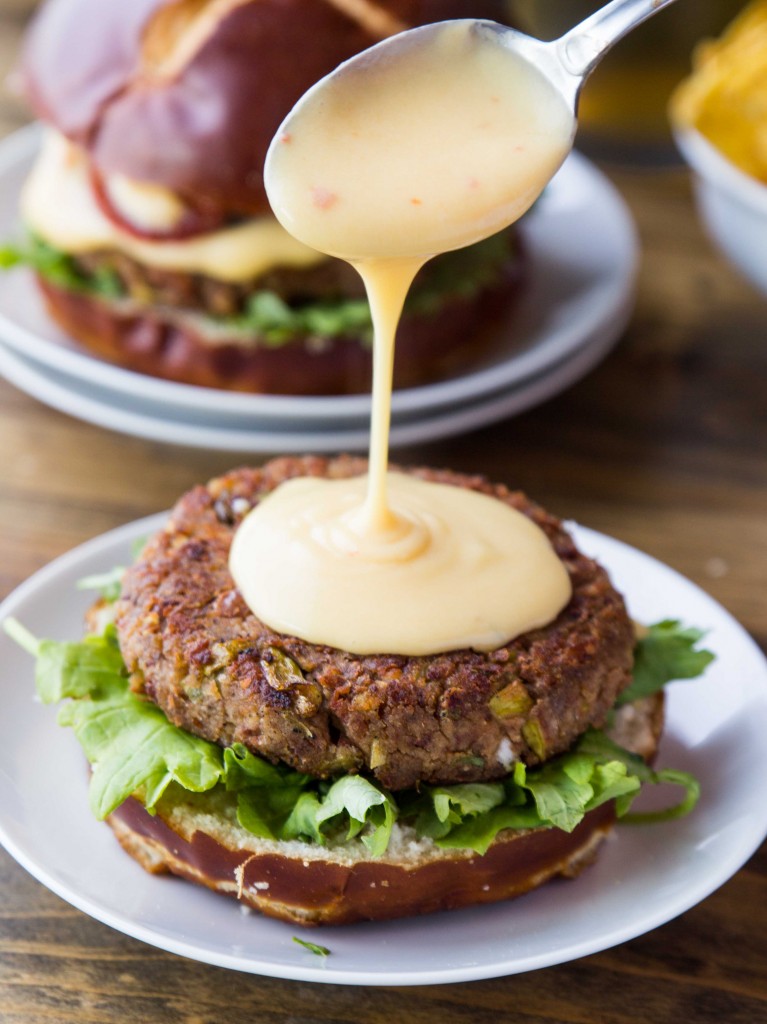 Despite a slightly more vegan-centric diet lately, I really can't get enough of this sauce. It's super creamy and cheesy and rich and makes the perfect drizzle for just about everything.
Also? Takes about 5 minutes…which will be the best spent 5 minutes of your whole dinner-making experience.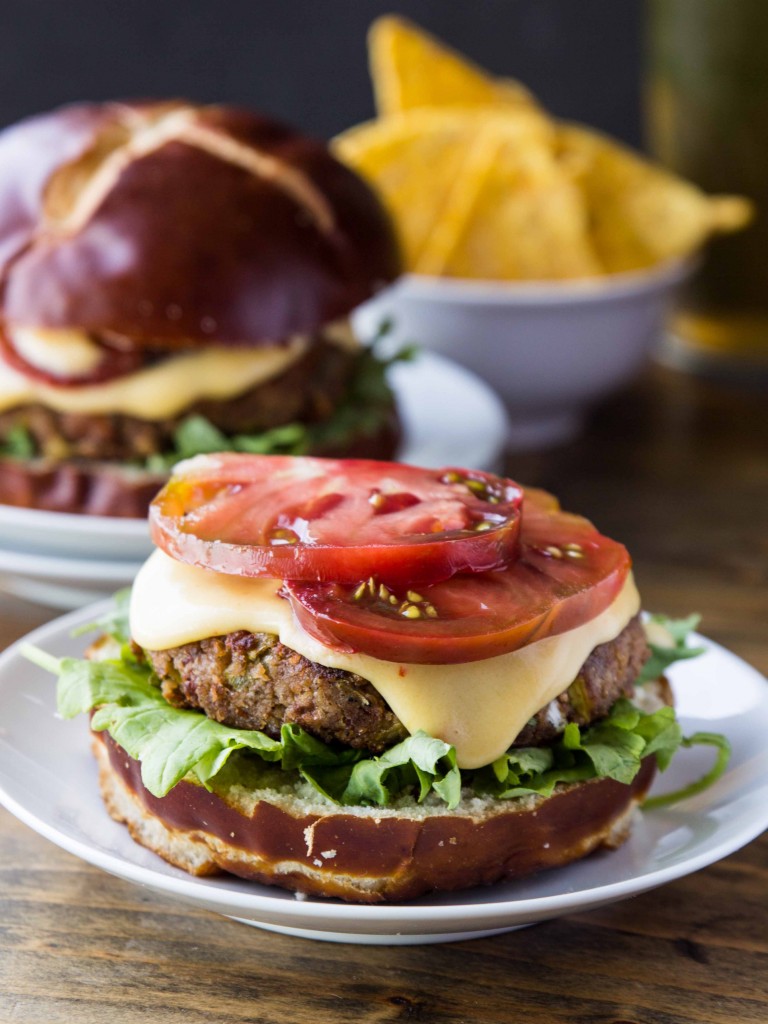 In addition to the cheesy sauce, the patty is loaded with flavor from pinto beans, green chiles, green onions, and a heaping tablespoon of chopped garlic. I made this burger with Ryan in mind, because I've found that combining spice + lots of flavors + lots of cheese makes my carnivorous guy a happy camper, even if the meal is meat free.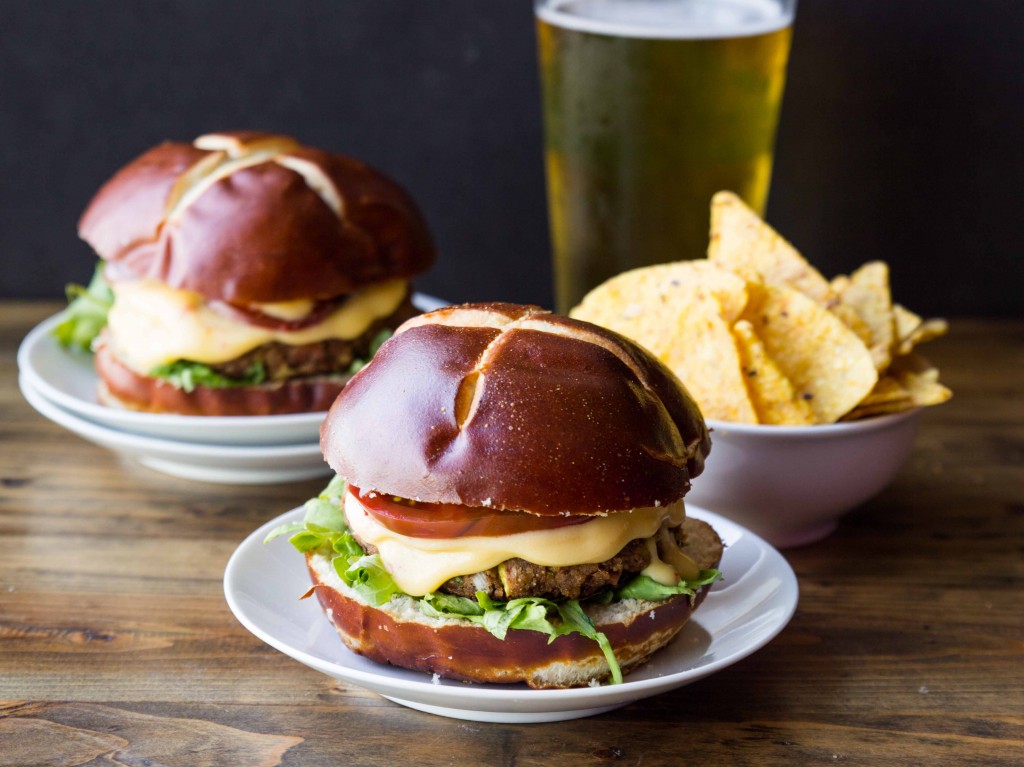 For extra brownie points, try serving these on comically large pretzel buns. It's like a soft pretzel with cheese dipping sauce as your whole meal!…with a healthy and hearty patty in between because we're adults and nutrients matter, son.

Green Chile Pinto Burgers with Creamy Cheddar Sauce
Flavorful, hearty veggie burgers made with pinto beans and green chiles, and covered in a simple and creamy cheddar sauce.
Yield: 6 burgers
Prep Time: 10 minutes
Cook Time: 20 minutes
Total Time: 30 minutes
Ingredients:
Pinto Bean and Green Chilie Burgers
2 (15-ounce) cans pinto beans, rinsed, drained, and patted dry
3 green onions, chopped
3 cloves chopped garlic
3 tablespoons canned diced green chiles (I used hot, but mild or medium will work)
1/2 teaspoon sea salt
1/2 teaspoon chili powder
1 egg, or 1 chia egg
1 cup whole wheat bread crumbs
4 tablespoons olive oil, for frying (optional)
Easy Cheddar Sauce
1 tablespoon butter
2 tablespoons all purpose flour
3/4 cup milk
4 ounces sharp cheddar
1/4 teaspoon sea salt (or to taste)
Directions:
Preheat oven to 350 degrees.
Mash the beans with a fork or pastry blender.
Stir in the onions, garlic, green chilies, salt, and chili powder. Mix in the egg, and then fold in the bread crumbs.
Form into 6 patties (about 1/2 cup each), place on a parchment-lined baking sheet, and bake for 10-12 minutes on each side.
While the patties bake, melt the butter in a saucepan over medium heat. Whisk in the flour and cook for 30 seconds. Pour in the milk and cook, stirring frequently, for 3-5 minutes. It will thicken quickly, so keep an eye on it. Remove from heat, and stir in the cheese. Set aside.
It's not necessary, but if you want a little crispness on the outside of your burger, pan fry each patty in 1 teaspoon of oil for 2-3 minutes on each side.
Serve each patty on a bun with cheese sauce, and any other fixings you wish! Pictured above: baby kale on the bottom, juicy heirloom tomatoes on top :)
Chia Egg: Grind 1 tablespoon chia seeds in a coffee grinder, then mix with 3 tablespoons warm water. Let sit for 5 minutes. A flax egg may work too, but I find that they don't bind as well.
To make your own bread crumbs: Toast 2 pieces of whole wheat bread, and then throw in a blender or food processor until crumbs form.
Cheese sauce notes: I used garlic chili pepper cheddar for the sauce, but regular sharp cheddar, pepperjack, or even monterey jack would work well. The cheese sauce will solidify as it cools, but microwaving it for 20-30 seconds will bring it back to its melty, creamy glory.
Vegan option: The patty may be made vegan (chia eggs ftw), so simply replace the cheese sauce with smashed avocado, hummus, mustard, ketchup - you know the drill!
6 Responses to "Green Chile Pinto Burgers with Creamy Cheddar Sauce"
Pingback: Fridge Clean Out Week | Everyday Soirees