Maple Chai Spice Pancakes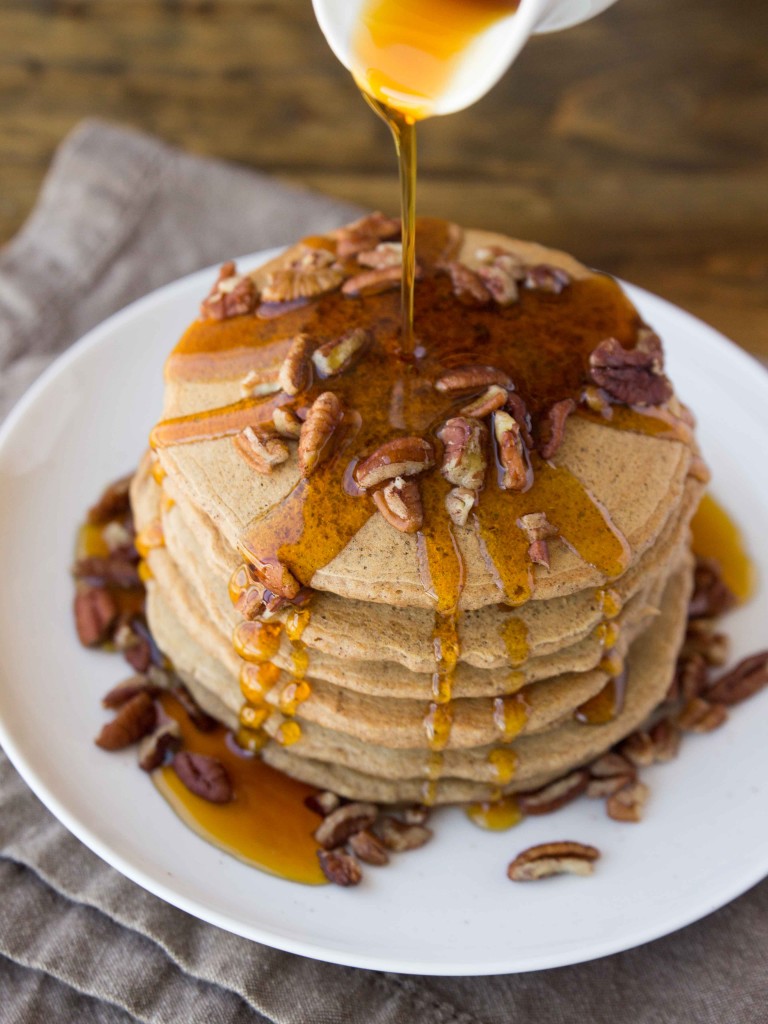 I've had a rather large stack of maple chai spice pancakes for breakfast every day for the past 5 days, and you know what? I'm not sick of them because they are THAT GOOD.
They were all leftover from last Saturday and Sunday when I tested this recipe like a crazy person.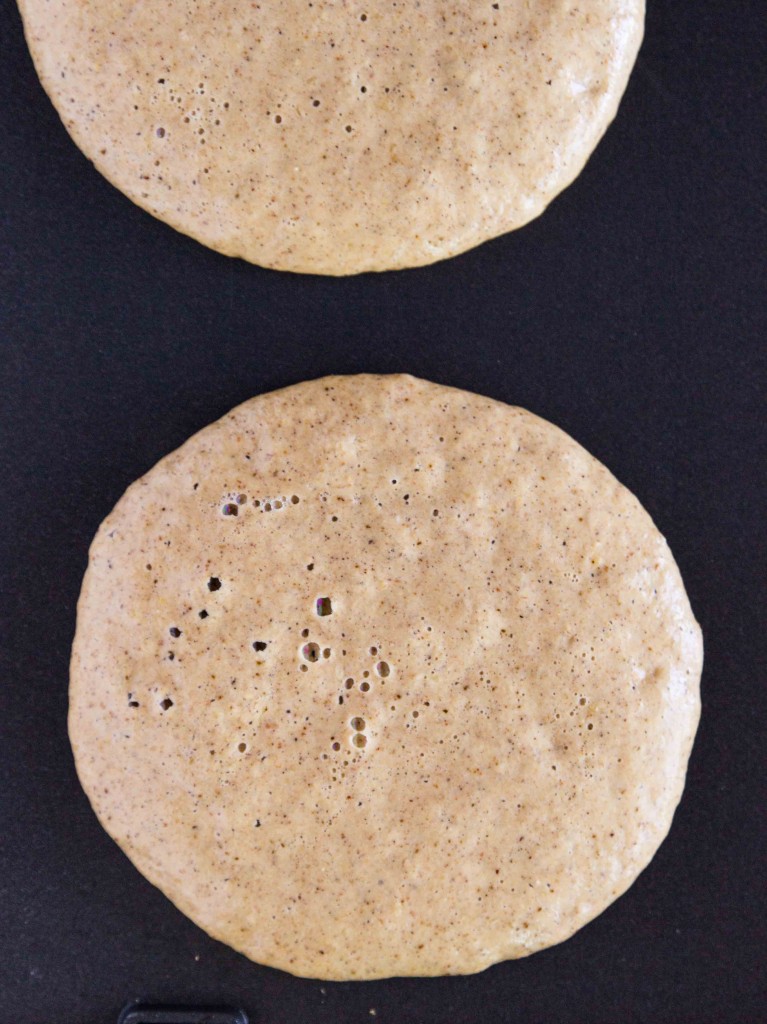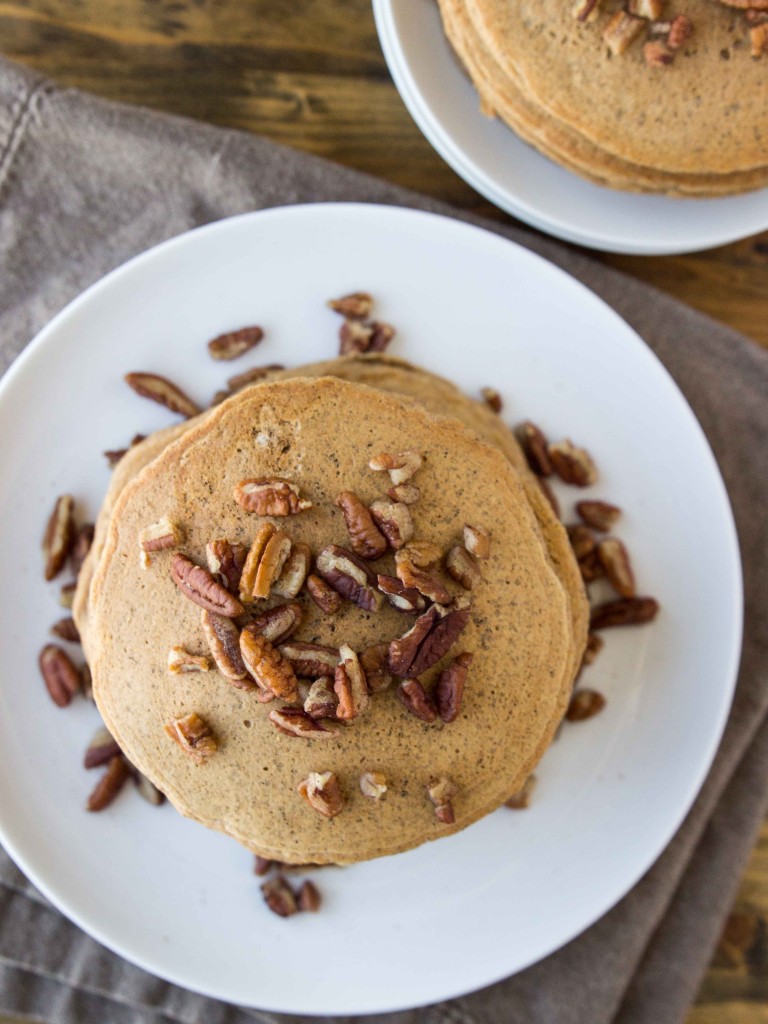 I should know by now that when I set out to test a new pancake recipe it's going to be a lengthy process. They're just so finicky with their fluffy vs. thick vs. cakey ratios that you need to get just right, while ensuring they aren't doughy, because gross…and THEN there's the part of me that refuses to make pancakes that aren't 100% whole wheat unless it's a special occasion.
So now we have a goal of thick, fluffy, non-doughy pancakes that are 100% whole wheat and also contain no eggs, because I have a real-deal aversion to eggs lately.
I'm exhausting. Ryan's a patient man.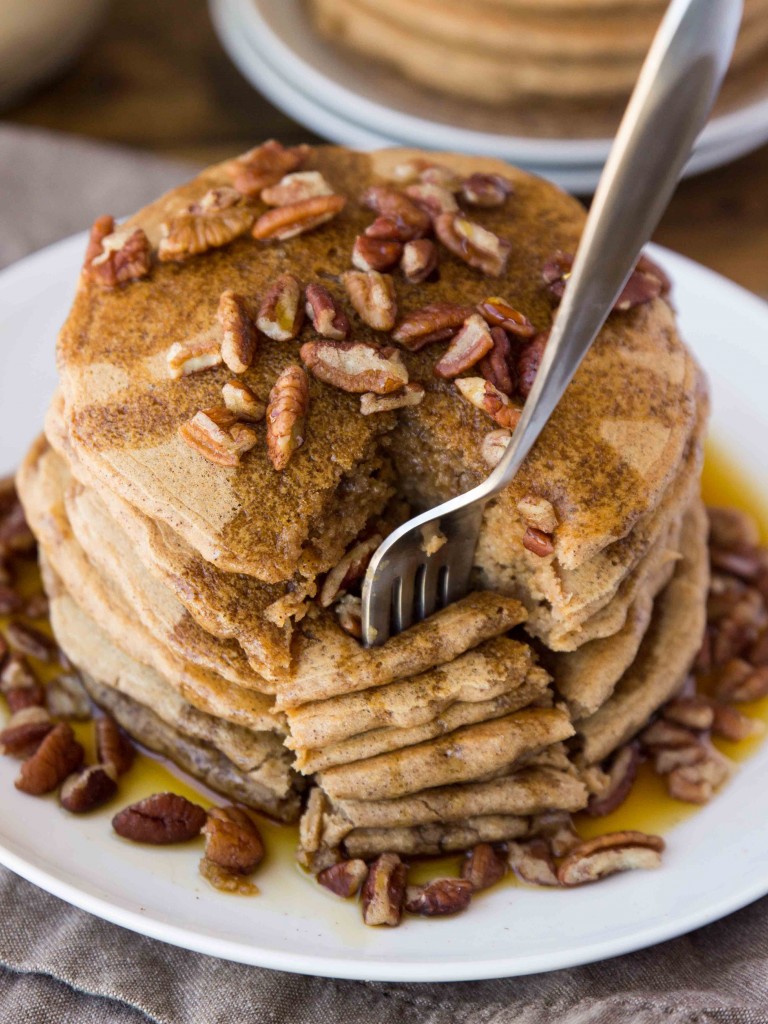 So anywho, this recipe took 5 tries to get just right, but I think I did it!…and just in time for the cooler air this weekend (at least in MN, that is). These cakes are fluffy, sweet, nutty, and full of those chai spices that warm my autumn-loving heart.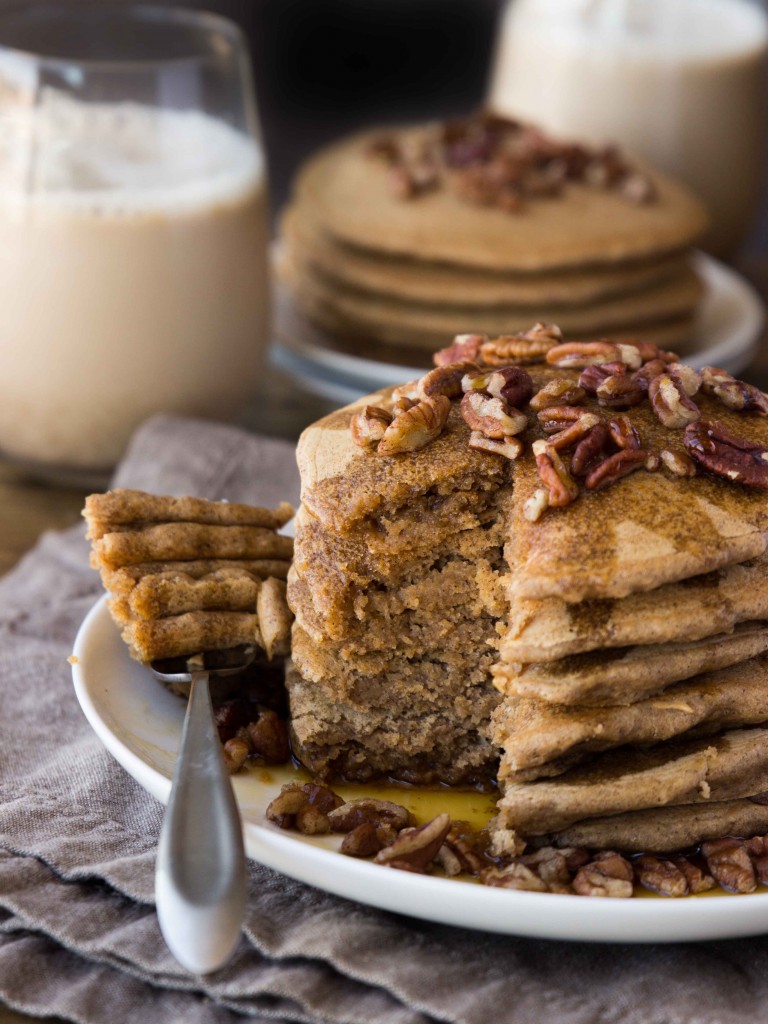 I recommend you sleep in, wear your pajamas and slippers for far too long, mix some cinnamon into your coffee grounds before brewing, and then whip up a batch of your own maple chai spice pancakes, because it's September and that is just what we do.

Maple Chai Spice Pancakes
Fluffy vegan whole wheat pancakes made with warm chai spices. A taste of autumn in pancake form!
Yield: 6 pancakes (Serves 2)
Prep Time: 10 minutes
Cook Time: 10 minutes
Total Time: 20 minutes
Ingredients:
3/4 cup unsweetened almond milk
2 black chai tea bags
1 flax egg* (or 1 chicken egg)
1 tablespoon coconut oil, melted
2 tablespoons maple syrup
1/2 tablespoon vanilla extract
3/4 cup whole wheat pastry flour (or whole spelt flour)
1 tablespoon baking powder
1/8 teaspoon salt
3/4 teaspoon ground ginger
1/2 teaspoon ground cinnamon
1/8 teaspoon ground allspice
1/8 teaspoon cardamom
1/8 teaspoon cloves
1 tablespoon water
Directions:
Preheat griddle to 375 degrees.
Heat the almond milk in a small saucepan. Once it starts steaming and you see bubbles popping up around the sides, remove from heat and add the tea bags. Steep for 5 minutes. After the five minutes are up use your hands to squeeze out the liquid in the bags (if the bags/milk are still too hot, use a spoon).
Whisk together the flax egg and maple syrup until fully incorporated. Pour in the coconut oil, vanilla and tea-steeped milk, and mix.
Pour the flour, spices, baking powder, and salt into the bowl with the wet ingredients. Whisk until combined. If the mixture seems too thick, add the water and whisk again - the batter should be thick but pourable.
Coat a 1/4 cup measuring cup with nonstick spray. Drop 1/4 cup of batter on the heated griddle, gently and quickly using the back of the measuring cup to spread it into an even circle. Let cook for 3-5 minutes, until the edges have started to firm up, and bubbles come to the surface and break. Use a spatula to flip up one corner and check if the pancake is golden brown. If it is, flip and cook on the other side for another 3 minutes.
Repeat with remaining batter. Recipe will make 6 pancakes.
Top pancakes with chopped pecans and maple syrup.
*1 flax egg = 1 tablespoon ground flaxseed mixed with 3 tablespoons warm water. I've found that flax eggs work best if you grind the flax seeds up yourself instead of buying flaxseed meal at the store. You can make finer grounds at home, which absorb more water, making them a better binder.
Pancakes reheat well in the microwave - I've been doing it all week! :)
This recipe was tested with whole wheat pastry flour and whole grain spelt flour. If you're not into whole wheat/grain flours in your pancakes, I assume unbleached all-purpose would work as well.
23 Responses to "Maple Chai Spice Pancakes"
Pingback: Sunday Funday - The Witty Chick

Pingback: Food Love | A Cookie Named Desire

Pingback: Chai Pancakes | Recipes for a Lazy Vegan