Almond Butter Pumpkin Spice Breakfast Cake with Vanilla Bean Greek Yogurt Frosting
Happy Tuesday, folks! Tuesdays tend to be my "whomp whomp" day of the week, but it's okay because THERE'S CAKE. FOR BREAKFAST.
If we're being 100% honest, which I almost always am (it's an affliction), I made this cake last weekend, so breakfast today was actually just peanut butter toast, which is great in its own way, but it's not cake.
When this cake happened last Saturday, I actually intended to make snacky muffins, but honestly? I didn't want to deal with scooping and frosting individual muffins. I feel like that sentence should probably be embarrassing for a food blogger, but this is a safe space, right? A trust tree? It's like when I consider changing out of yoga pants on weekends before 10am…it just isn't going to happen.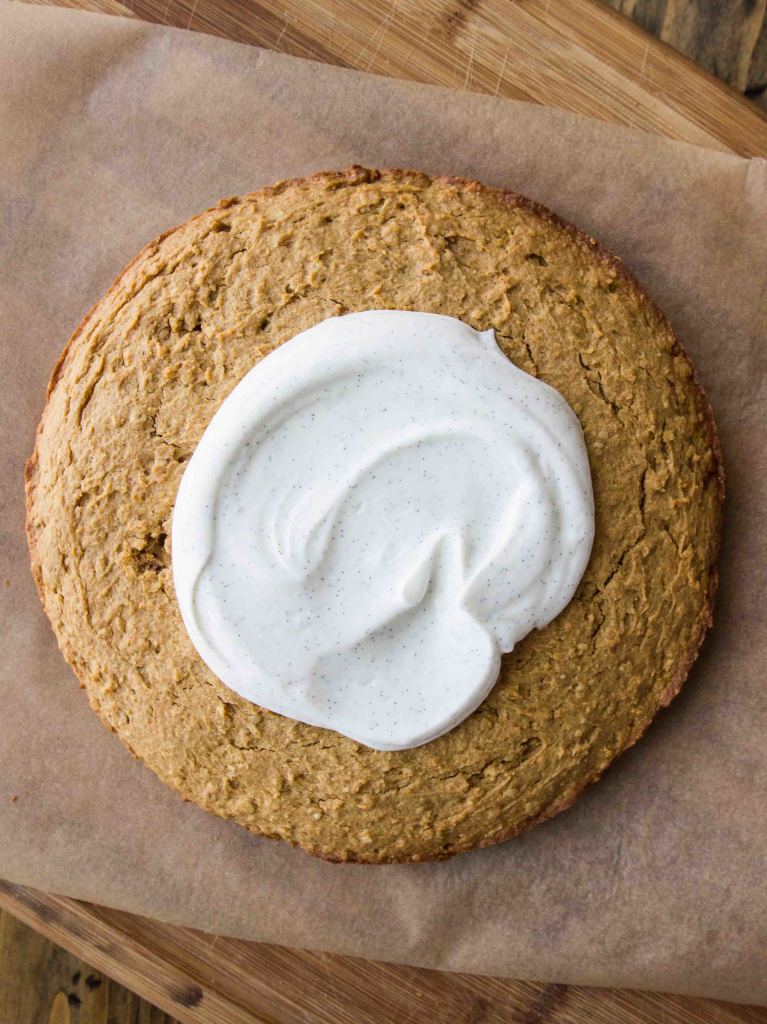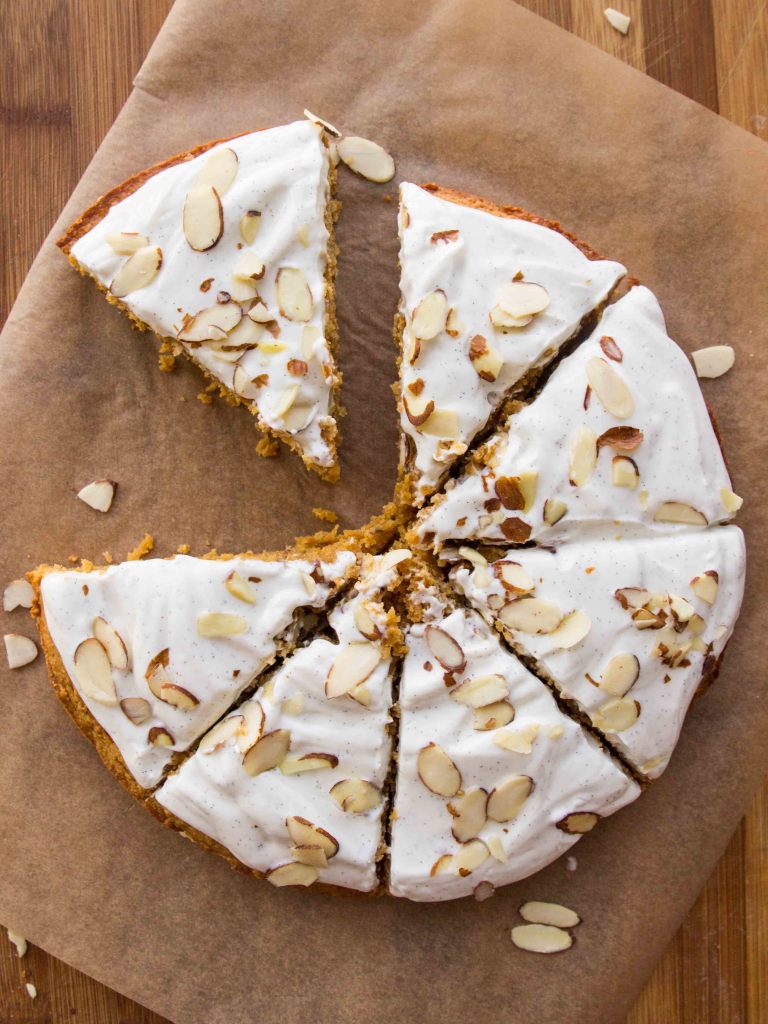 Instead of a snacky muffin, I'm calling the resulting cake BREAKFAST…as in, yes, a meal. Although it's not something I would eat for breakfast everyday (because sugar), this cake makes a fairly justifiable breakfast treat with 13g protein, 4g fiber, and under 300 calories per slice. It's also made with 100% whole grains, and no (zero! zilch!) butter or oil.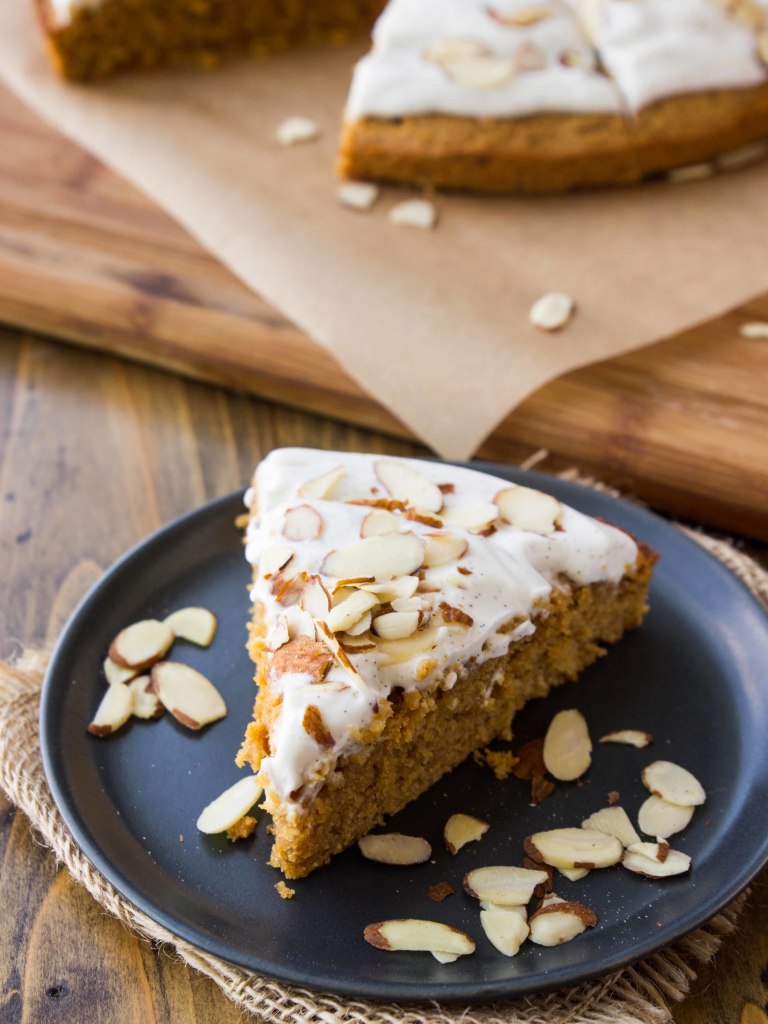 If you're shaking your head at me, I totally get you. It rubs me the wrong way when a foods is titled "healthy" or "skinny" because it has a few honorable traits, so I'll just say that if you're going the sweet treat breakfast route, this would be a good, slightly more wholesome option.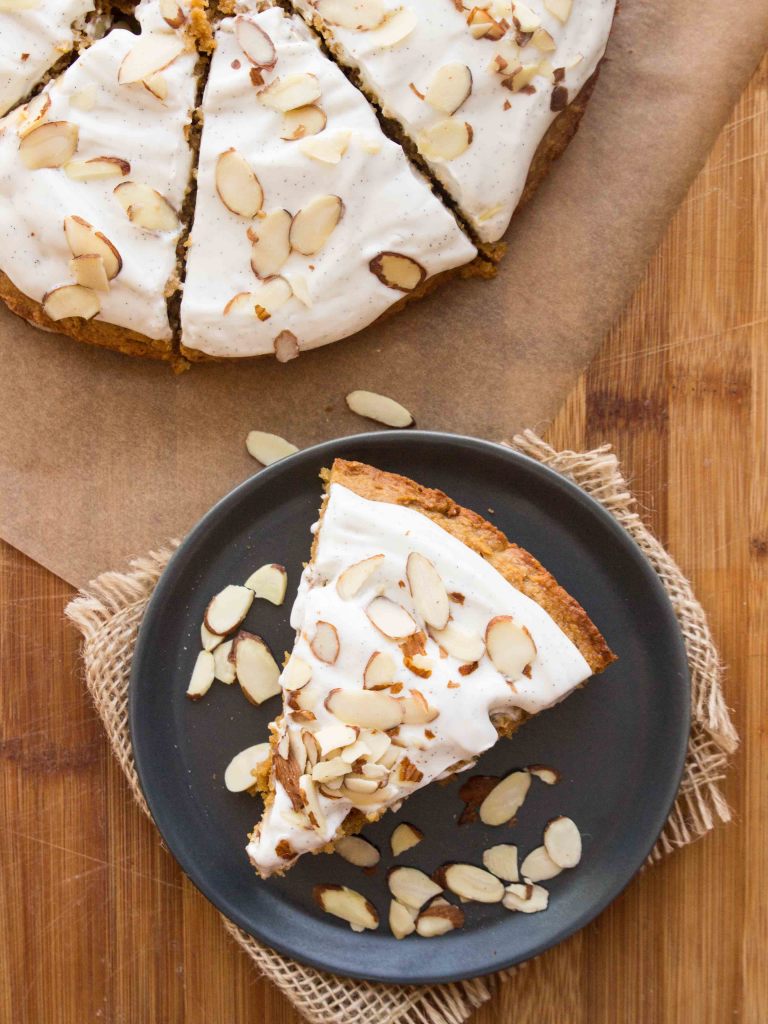 Now that we have the nutrition talk out of the way, let's get to the good, tasty stuff. My lazy gamble of making this into a cake vs. individual muffins paid off in the best way possible – it's like one big muffin top! Using white whole wheat flour (or whole wheat pastry, if you have it), makes the cake's flavor less "wheaty" and the texture less dense than standard whole wheat flour. Pumpkin, almond butter, and Greek yogurt provide moisture, and negate the need for butter or oil. The frosting is sweet, tart and creamy, with a decadent touch from real vanilla bean.
So, to summarize, we have a sweet, tart, spicy, nutty, sweet, YUM-tastic breakfast cake.
Because breakfast cake is a thing!…and that's makes this less of a "whomp whomp" day. Go Tuesday!


Almond Butter Pumpkin Spice Breakfast Cake with Vanilla Bean Greek Yogurt Frosting
Sweet, lightly-spiced almond butter and pumpkin breakfast cake with creamy Greek yogurt frosting. Like a giant muffin top with frosting, plus it's high protein and 100% whole grain!
Yield: 8 slices
Prep Time: 10 minutes
Cook Time: 30 minutes
Total Time: 40 minutes
Ingredients:
Almond Pumpkin Spice Breakfast Cake
3/4 cup white whole wheat flour (or whole wheat pastry flour)
1/2 cup quick oats
1 teaspoon baking powder
1 teaspoon pumpkin pie spice
¼ teaspoon salt
1/2 cup pumpkin puree
2/3 cup creamy almond butter with sea salt
1/2 cup light brown sugar, packed
1 large egg
1/2 teaspoon almond extract
1 teaspoon vanilla extract
1/2 cup Greek yogurt (lowfat or full fat)
Vanilla Bean Greek Yogurt Glaze
1 1/4 cup plain greek yogurt (I like full fat for this)
1/3 cup powdered cane sugar
1 vanilla bean, split down the middle
Slivered almonds, for topping (optional)
Directions:
Preheat oven to 350 degrees.
Whisk together the flour, oats, baking powder, pumpkin pie spice, and salt. Set aside.
In another bowl, beat together the pumpkin and almond butter until smooth. Mix in the brown sugar, again until smooth. Whisk in the egg and extracts.
Gradually add the dry ingredients to the wet ingredients, scraping down the sides as necessary, until just incorporated. Mix in the Greek yogurt, again until just incorporated.
Line a 9-inch cake pan with parchment paper, and grease the whole pan liberally. Add the batter, using the back of a spoon or spatula to spread it out and push it into the sides. The batter is thick and doesn't spread much, so make it as even as possible.
Bake for 25-30 minutes, until a knife or toothpick inserted in the center comes out clean. Let cool until just slightly warm to the touch.
For the glaze, whisk together the yogurt and powdered sugar, then whisk in the vanilla bean seeds.
Top the cake with the glaze, and sprinkle on slivered almonds (optional, but pretty). Cut into 8 slices.
To make these into muffins, simply fill 12 greased muffin liners with the batter, and bake at 375 for 15-18 minutes.
I highly recommend using full-fat Greek yogurt for the frosting - it's thicker, creamier, and less tart than the lower-fat versions, so it results in a more frosting-like taste and consistency. You may use either fat-free, low-fat, or full-fat Greek yogurt in the batter with good results.
Nutrition Information: Serving Size: 1 slice, Calories: 293, Fat: 13g, Saturated Fat: 1.5g, Carbs: 34.2g, Sugar: 18.3g, Sodium: 176mg, Fiber: 4.1g, Protein: 13.9g, Cholesterol: 28mg
4 Responses to "Almond Butter Pumpkin Spice Breakfast Cake with Vanilla Bean Greek Yogurt Frosting"