Vegan Buffalo [No] Chicken Wraps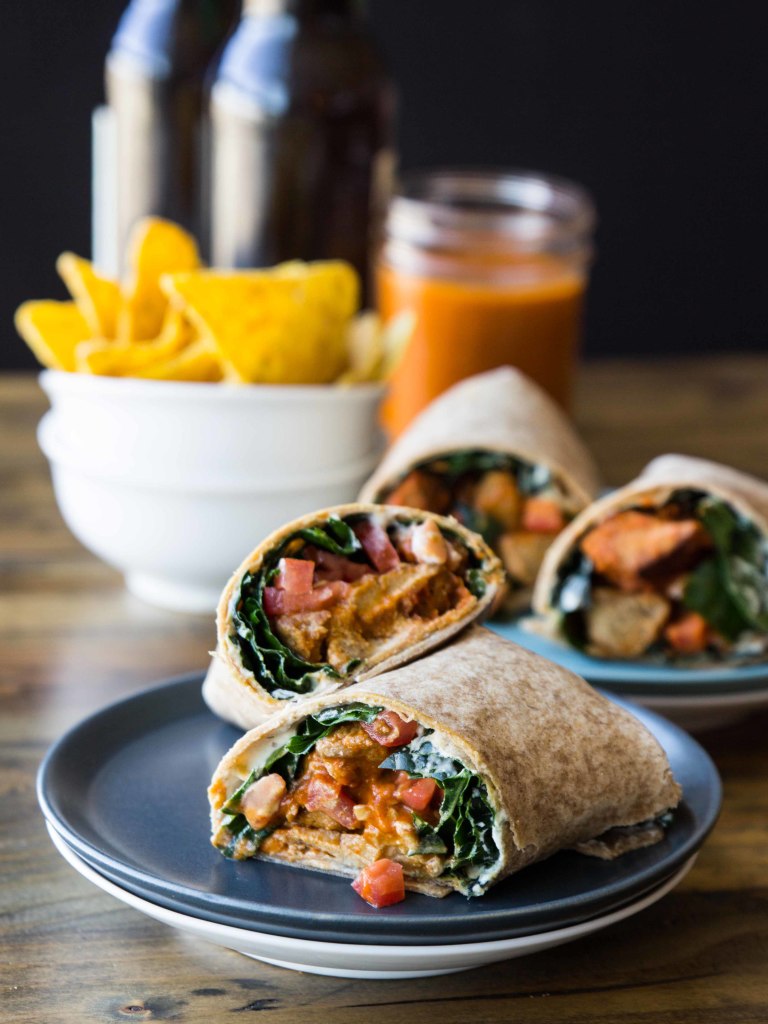 QUICK – you can choose one thing, ANYTHING, to eat at this moment. What would you choose?
Me: Changes by the hour, but right now I'd say an epic grilled cheese with roasted veggies and lots of hummus and avocado on thick toasted buttery whole grain bread. GAH.
Ryan: Buffalo chicken wrap. every time. all the time.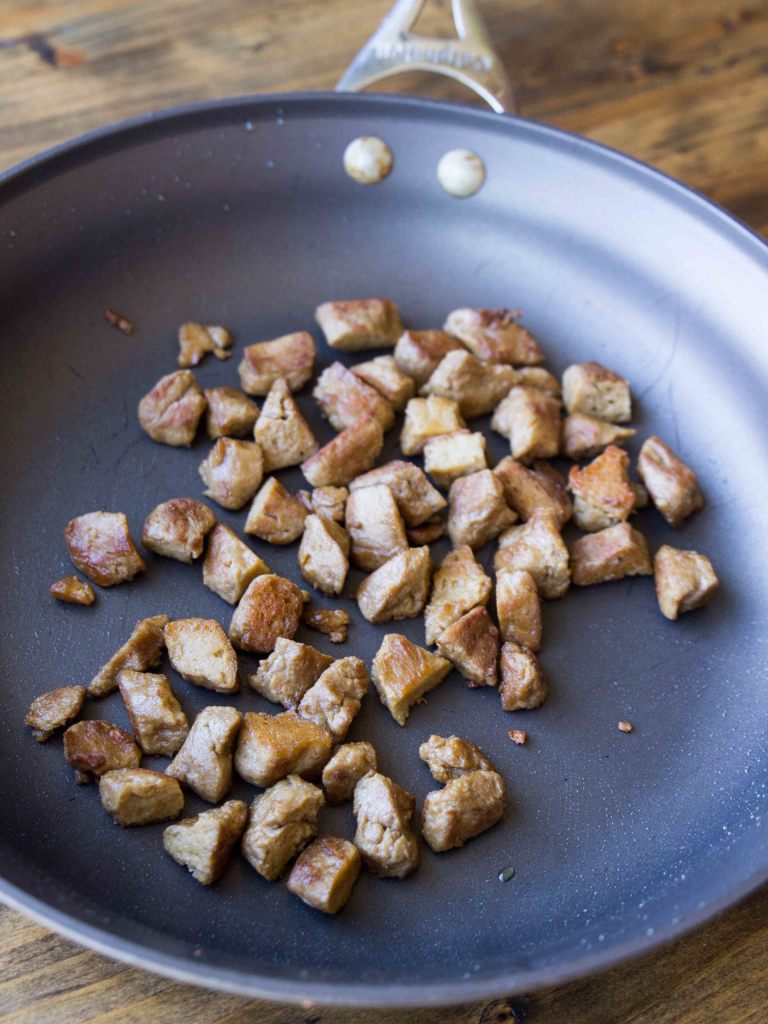 If you read my post yesterday, you know that I found out how to make buffalo sauce at home with a secret ingredient (pssst – it's red lentils). The sauce is spicy, tangy, slightly sweet, and easy to customize to your spice-level needs. I tested and tweaked the recipe all afternoon, tasting it next to a bottle of Frank's Buffalo Wing Sauce to make sure it hit all the necessary flavor spots. When I finally nailed it, I quickly ate 3 antacid pills and sat down with a big jug of soda water. Sweet, sweet victory with a side of heartburn.
Obviously, after recovering from the overdose of spice and regaining the feeling in my lips, my first course of action had to be to recreate Ryan's favorite restaurant meal with his favorite sauce.
Except without the chicken, because I want to eat it too, and this is a vegetarian blog, yo.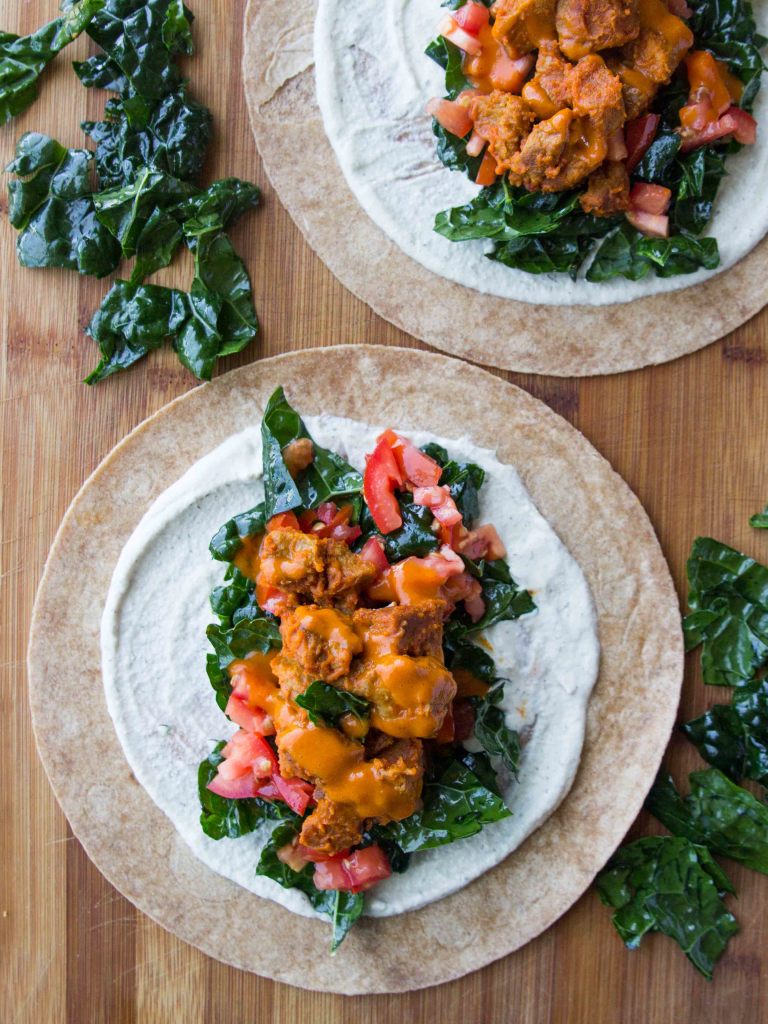 When I'm trying to emulate the texture of meat, I usually reach for seitan, aka "wheat meat." It's made out of wheat gluten, and has a much heartier texture than tofu. Although it doesn't look too attractive coming out of the package (fair warning), it cooks up golden brown, and can be used in soups, on pizzas, or, as we're doing today, in wraps! After browning the seitan, pour on a little buffalo sauce, cook for 1 minute to help the sauce soak in, and voila! Buffalo seitan.
To add some creaminess, I made a vegan ranch sauce using soaked cashews. It tastes just like ranch dressing, but I kept it thick so it wouldn't drip out of the tortilla. If you want to use the leftovers as a dressing, add a few more tablespoons of almond milk.
For the greens in the wrap, I opted for kale, which I rubbed down with some olive oil and sprinkled lightly with salt. If you want a little extra crunch, feel free to sub the kale with romaine, and leave out the teaspoon of oil. Top it all off with some chopped tomatoes, and bam! Vegan Buffalo [NO] Chicken Wraps!
Ryan, the king of buffalo chicken, and a man who loves to make fun of the term "wheat meat," insists that these wraps taste like the real deal. Considering how Ryan feels about the "real deal," I see lots of these wraps in our future.
Vegan Buffalo [No] Chicken Wraps
A vegan take on buffalo chicken wraps! Homemade buffalo sauce is mixed with hearty seitan, cashew ranch, juicy tomatoes, and kale. Hearty, protein-packed, and meat-eater approved!
Yield: 4 wraps
Prep Time: 5 minutes
Cook Time: 10 minutes
Total Time: 15 minutes
Ingredients:
Vegan Buffalo [No] Chicken Wraps
1 8-ounce package seitan, chopped (about 1/2-inch pieces)
1 tablespoon plus 1 teaspoon olive oil
1/2 cup red lentil buffalo sauce
2 cups chopped tuscan/lacinado kale (about 4-5 leaves)
1 teaspoon olive oil
1/8 teaspoon sea salt
3 roma tomatoes, diced (about 1 cup)
4 whole wheat wraps
Dairy-Free Ranch Dressing
1 cup cashews, soaked for at least 6 hours
1/2 teaspoon sea salt
1/4 teaspoon black pepper
1 1/2 tablespoon apple cider vinegar
1/2 teaspoon dried dill
1/2 teaspoon dried parsley
8 tablespoons unsweetened almond milk
Directions:
For the ranch dressing: combine all ingredients in a blender until smooth.
Heat 1 tablespoon olive oil in a large saucepan. Add the seitan, and cook, stirring occasionally, until browned on all sides (about 8 minutes). Pour in the buffalo sauce, and cook for another minute, until the seitan soaks up most of the sauce.
Combine the kale with the remaining olive oil in a bowl, and rub the olive oil in with your hands. Sprinkle in 1/8 teaspoon salt.
To assemble, spread 2 tablespoons ranch on each wrap. Top with 1/4 of the kale, tomatoes, and buffalo seitan. Drizzle on another teaspoon of buffalo sauce, if you wish. Wrap up tight, and serve!
You will have leftover ranch. That's okay! Use it as a veggie dip or a salad dressing.
Not Vegan? Sprinkle some feta or blue cheese on top before wrapping.
18 Responses to "Vegan Buffalo [No] Chicken Wraps"
Pingback: Amazing Sandwiches/Wraps | Peace of Cake