Whole Grain Flax and Millet Baguettes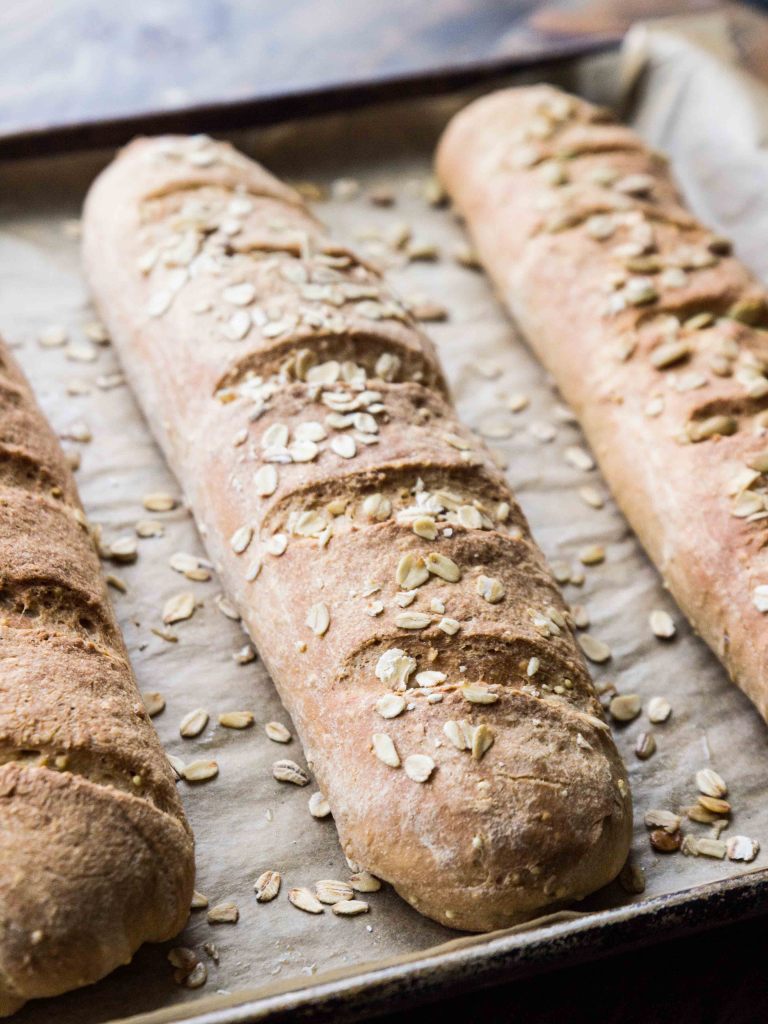 For years I've been a devoted Panera customer. If I'm going out to lunch, you can bet I'll be at Panera about 90% of the time.
Then, just a few weeks ago, I went in and ordered my You Pick Two, requested a whole grain baguette on the side, and they said "We're not doing baguettes anymore, but would you like a dinner roll?"
…no. I want a baguette. That's why I'm here. That's always why I'm here. Where am I? Who am I? Why don't you have my bread?
In case you're unfamiliar, the whole grain baguettes at Panera are were crunchy on the outside, hearty, seeded and chewy on the inside, and perfect for dipping into soup. The soup, actually, wasn't even necessary. During my low-cash times, I would go to Panera and just buy a chunk of baguette for $.70. I would eat it plain, no soup or butter in sight, because it was THAT good.
No shame. Just pure, simple baguette love.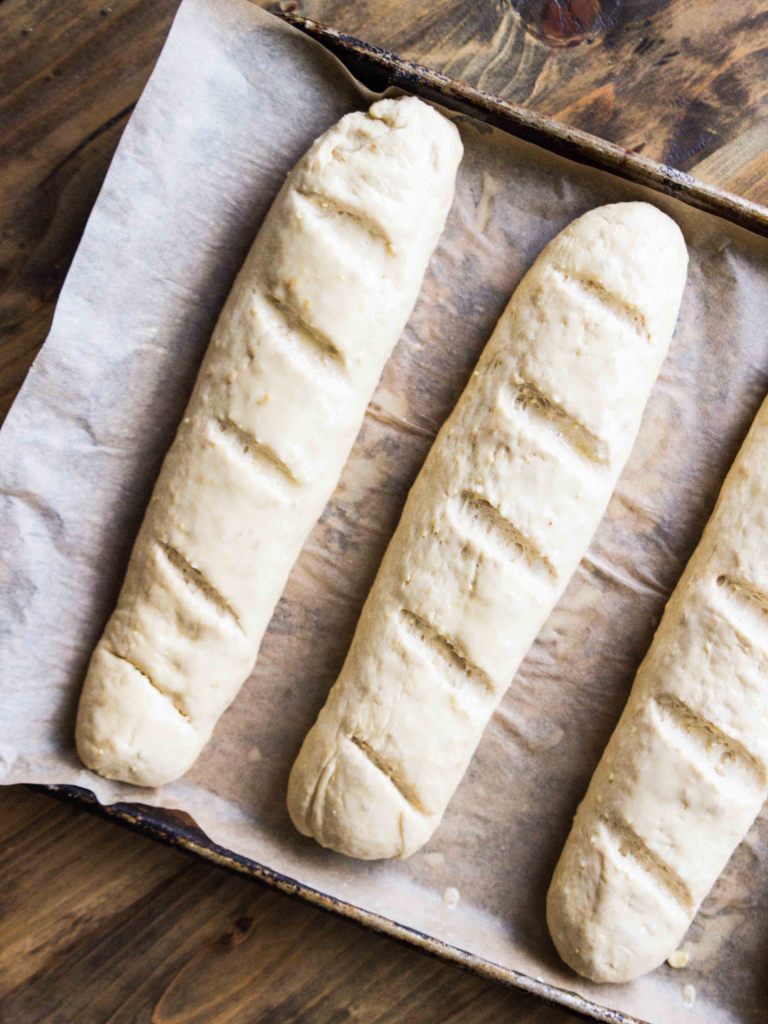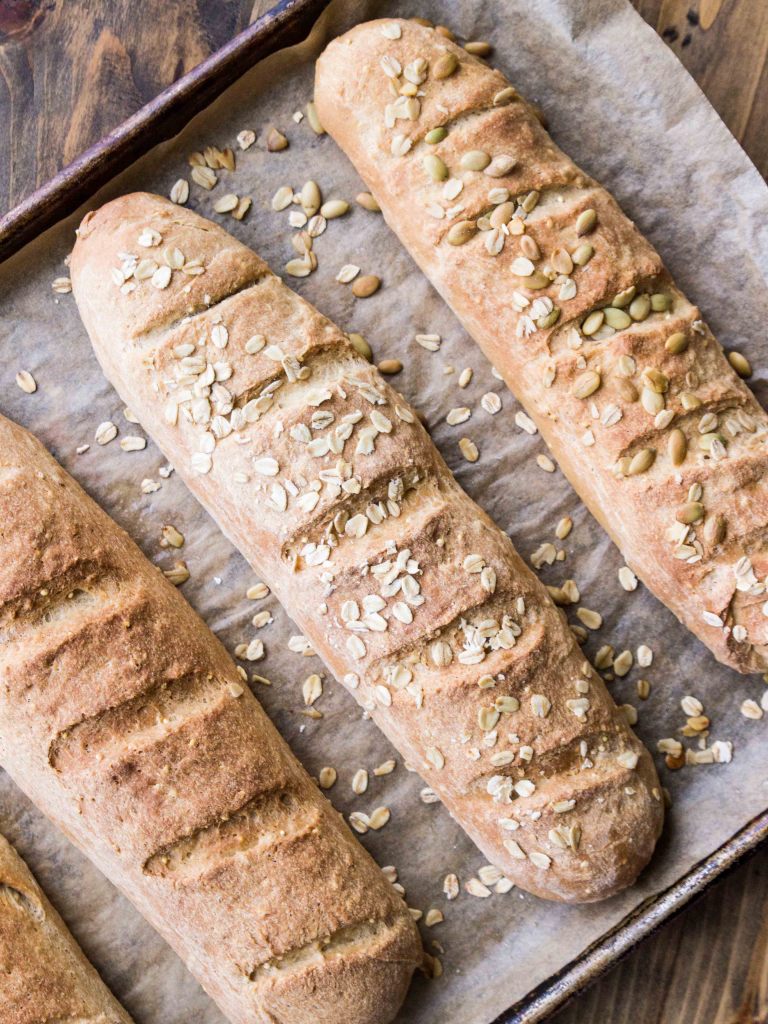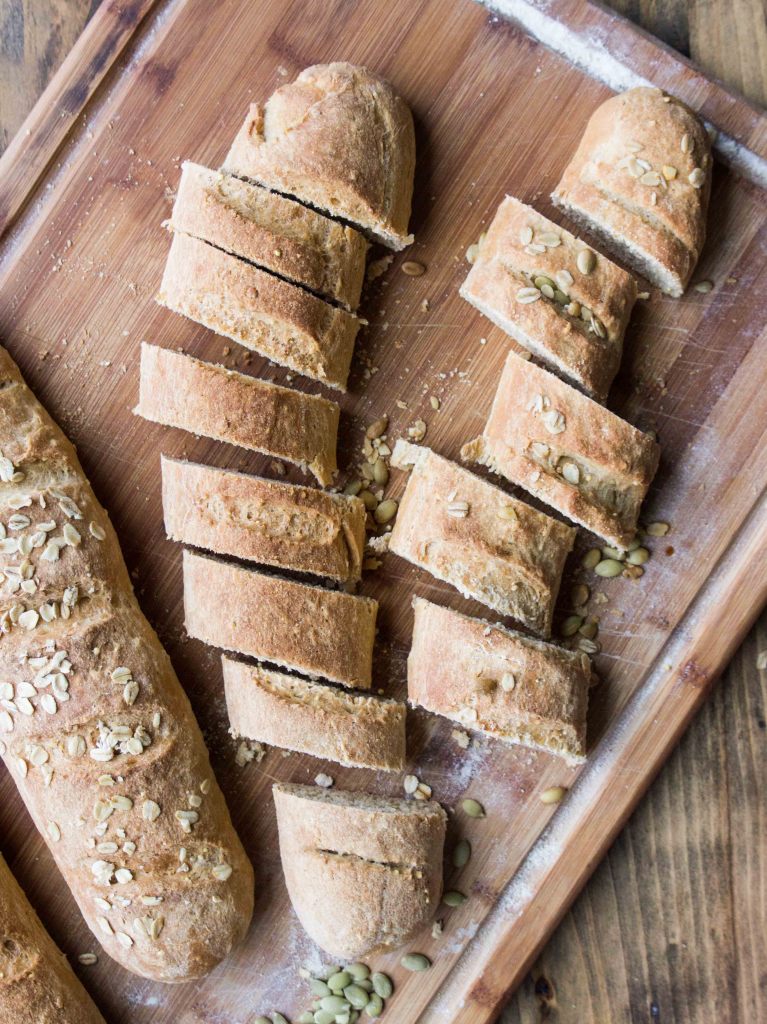 Since soup season is upon us, and I love me some soup season, I decided I could have my own baguette party at home with my own soup! The soup we'll get to later this week, but now let's talk about this BREAD.
When I lifted the pan out of the oven, Ryan goes, "It looks like Subway in here!" I have to admit he had a point – especially in the first picture of this post.
If Subway had bread like this, I would be there everyday.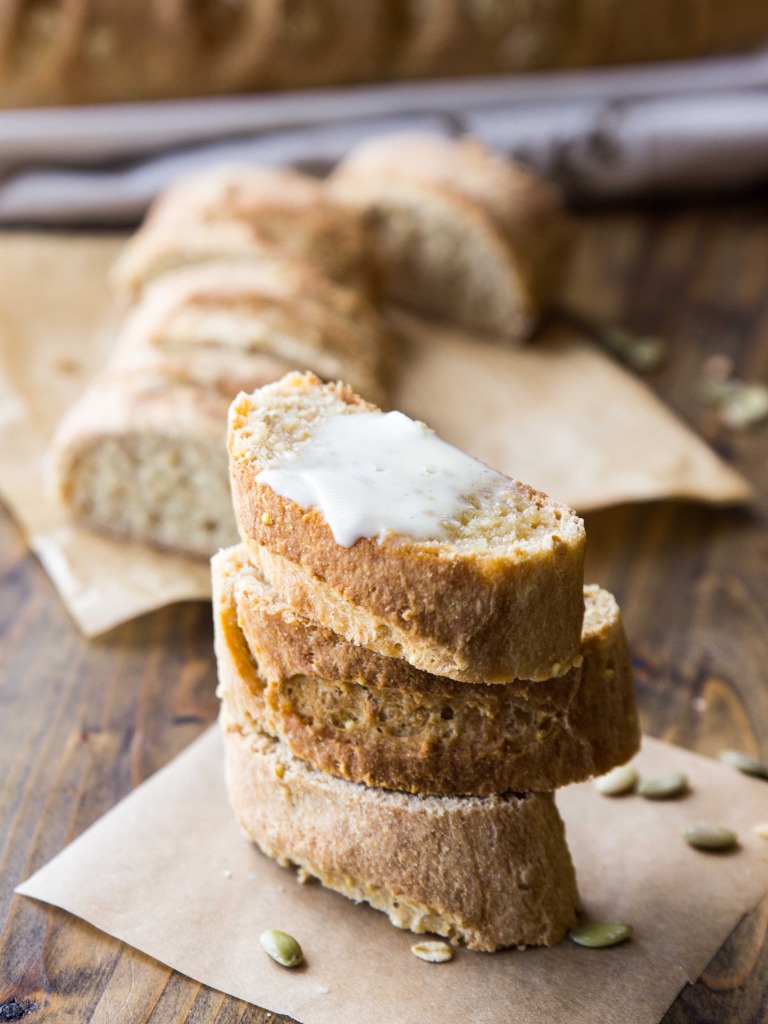 Despite my sadness that my Panera baguettes are out of my life, I am thrilled that they've been replaced by this customized version. These are almost entirely whole wheat, but I wanted a little more lightness, so I used 1 cup of unbleached AP flour. As I do with all whole wheat breads, I added some vital wheat gluten to make the baguettes less dense, and to boost the chewiness factor. For the seeded interior, I went with millet and flaxseeds, which add just a subtle bit of texture in every bite.
So nutty, crispy, chewy, and perfect.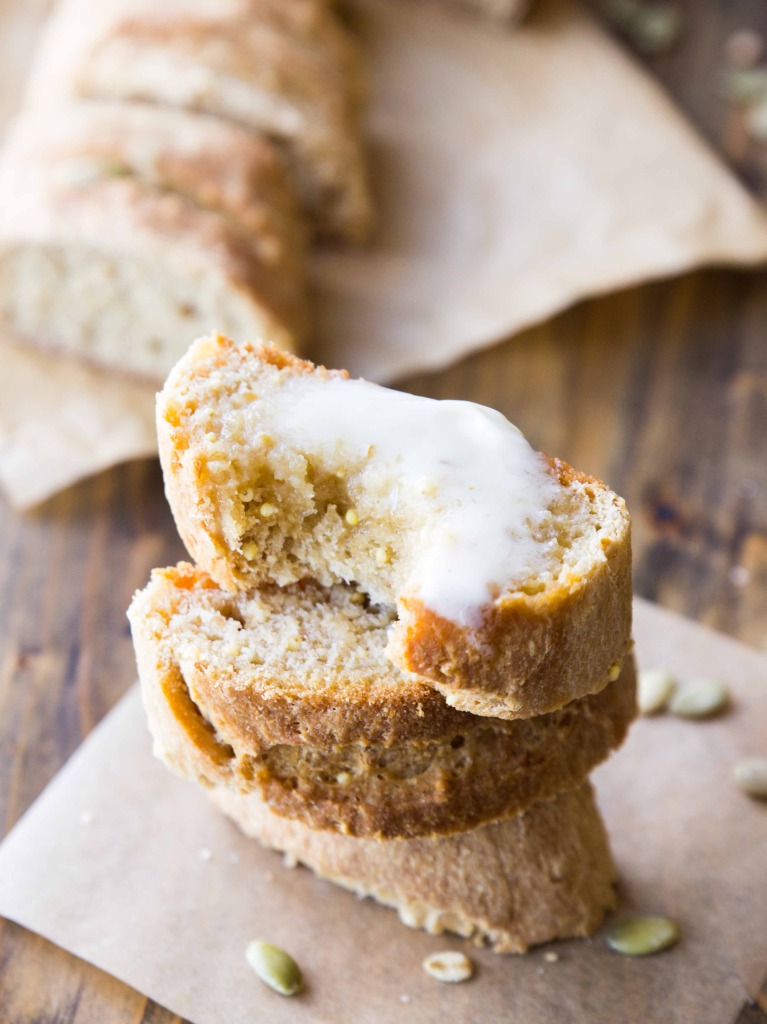 I'm back on the baguette train.

Whole Grain Flax and Millet Baguettes
Whole grain baguettes that are crisp on the outside, chewy on the inside, and full of texture from millet and flaxseeds!

Yield: 4 loaves

Prep Time: 1 hour 15 minutes

Cook Time: 35 minutes

Total Time: 1 hour 50 minutes
Ingredients:
1 package (2 1/4 teaspoon) instant dry yeast
2 cups warm water
2 tablespoons cane sugar
3 tablespoons olive oil
2 ¼ teaspoons kosher salt
3 3/4 cups white whole wheat flour (or regular ww flour)
1 cup unbleached all purpose flour
2 tablespoons vital wheat gluten
1/4 cup millet
1/4 cup flaxseed
2 tablespoons butter (or vegan butter), melted, or olive oil
Pepitas, oats, sunflower seeds for topping (optional)
Directions:
Whisk together the yeast, warm water, and sugar. Let sit for 10 minutes. It should get foamy in this time - if it doesn't, throw it out and start over.
Whisk in the olive oil, and then add the salt, flours, wheat gluten, millet, and flaxseed. Use the paddle attachment on your mixer to bring the dough together, or you can use a combination of a wooden spoon and your hands.
Once all the ingredients are combined, either switch your mixer to the knead hook and knead for 5 minutes, or knead on a floured surface using floured hands. I usually do a combination of the two, starting with the mixer and then kneading for a few minutes with my hands. The dough should be stretchy but somewhat firm (because you've activated all that gluten!).
Lightly oil a bowl (this is not in the ingredient list), then place the dough in the bowl, turning to coat evenly with oil. Cover loosely with plastic wrap, and set in a to rise until doubled in size - this took 45 minutes for me, but it may take up to an hour depending on your yeast/air temperature.
After your dough has doubled in size, punch it down and divide it into 4 equal-sized sections.
Roll each section into a 12-inch cylinder, and then place on a parchment-lined baking sheet. The dough will be springy, so it will want to bounce back when you roll it out. The best way to deal with this is to roll/stretch, then let it rest for a minute, then come back to it and roll/stretch again.
Use a serrated knife to cut 5-6 slits in the top of each baguette. Cover with a damp towel, and let the dough rise for another 20 minutes.
Preheat oven to 375 degrees.
Brush the risen baguettes with melted butter, then sprinkle on any toppings, if using.
Bake for 35-40 minutes, until golden brown on top. Let cool before cutting.
9 Responses to "Whole Grain Flax and Millet Baguettes"