Garlicky Bell Pepper Tofu Scramble with Waffled Jalapeño Hash Browns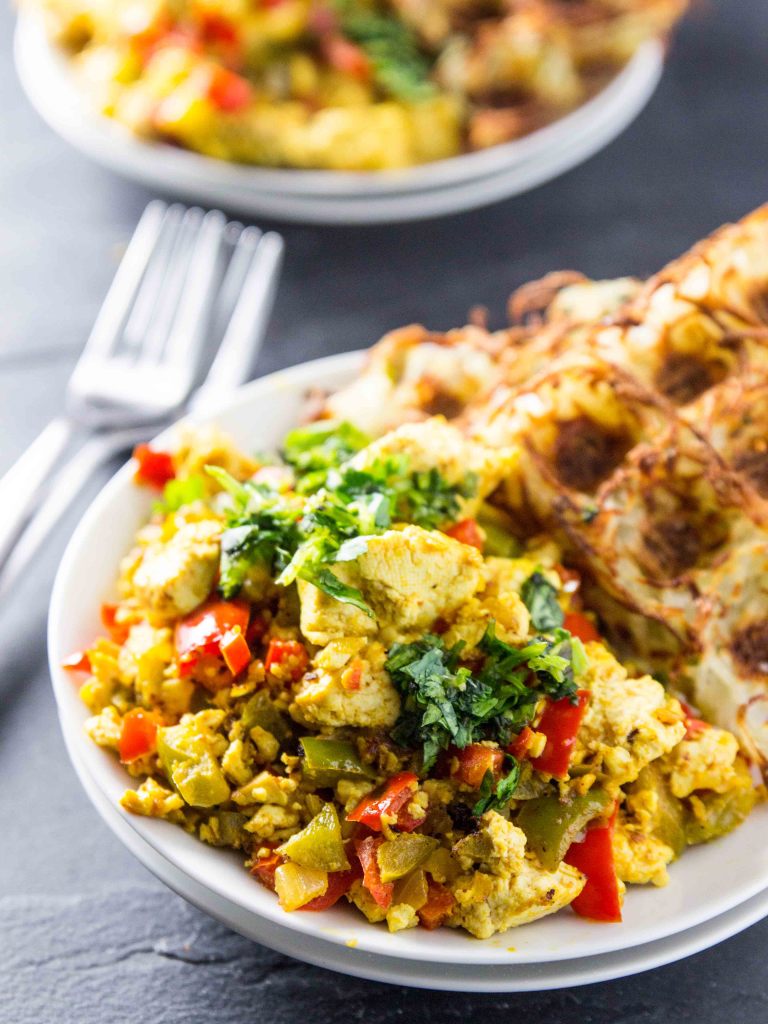 This might be the longest title I've ever had on a recipe. I usually try to be succinct, but you just HAD TO KNOW that these hash browns were waffled…and contain jalapeños. And what if you thought it was just a boring tofu scramble? I'm just looking out for you, really.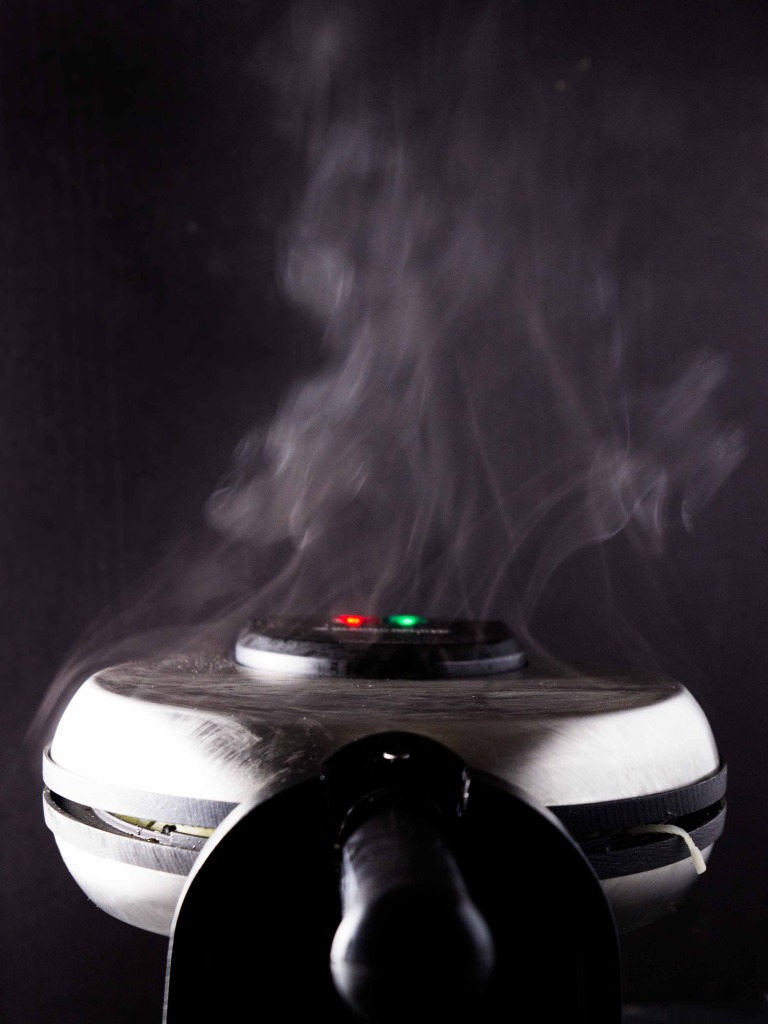 I actually tried to make this recipe on Saturday…several times. I made 6 rounds of hashbrowns. They turned out fine, but they just weren't crispy enough. It reminded me of when I go to breakfast, order my side of hashbrowns (which is usually on the side of pancakes or waffles, because CARBS), and they're just greasy and limp with no crispy crust. Whomp whomp.
THEN I remembered hearing about waffle-iron hashbrowns, so I made another 4 rounds of hashbrowns that way, and I have it DOWN, folks. Also, pro tip – when you waffle hash browns you don't need to use as much oil or butter. Hence, they are clearly health food.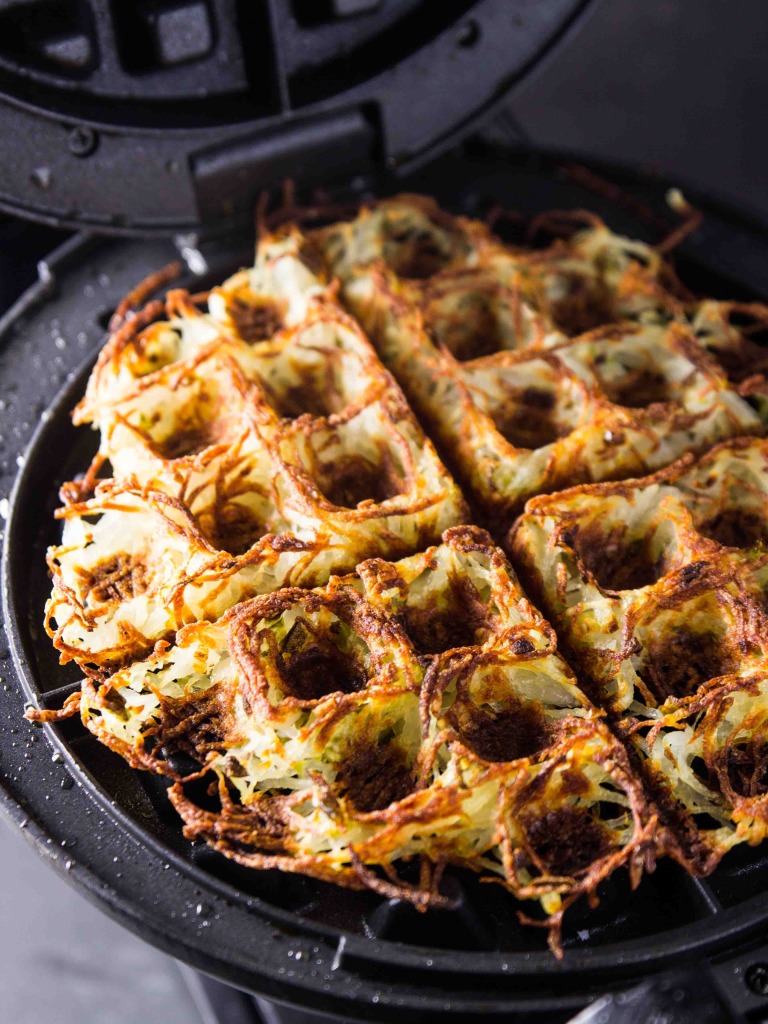 Ryan is going to be SO EXCITED about jalapeño hash browns when he gets home from hunting in WI. It will almost make up for the house smelling so strongly of brussels sprouts.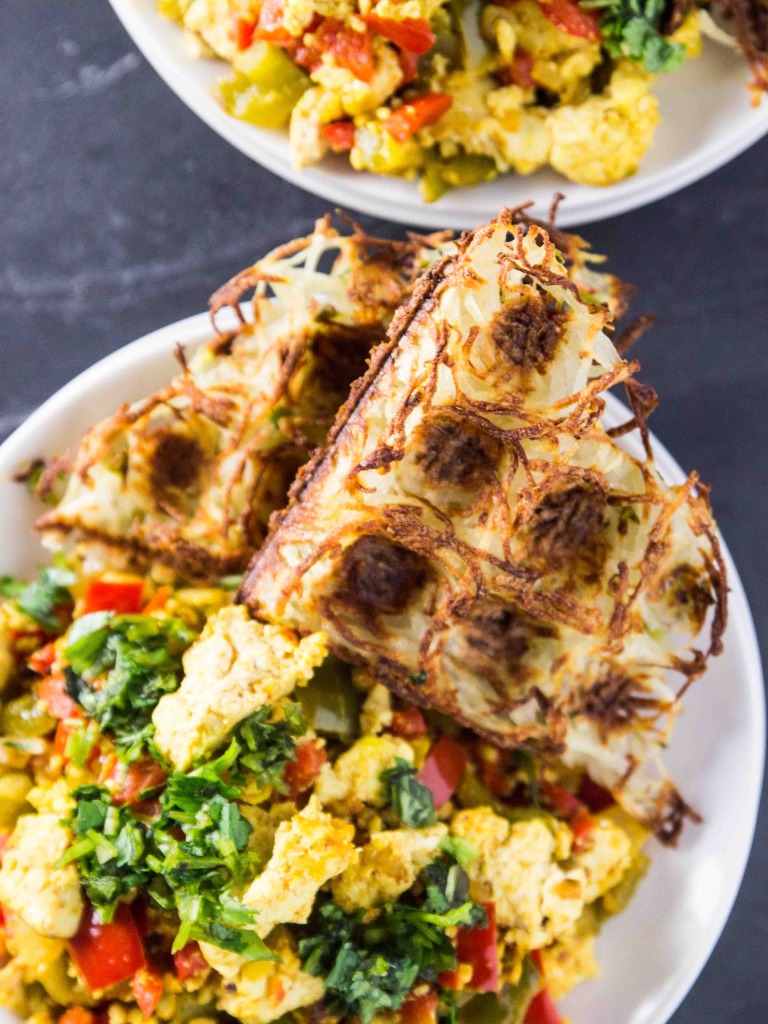 As you may know, I'm a big fan of savory breakfast, but I don't like eggs. I'll eat them in baked goods, but big omelets or scrambled eggs usually make me a bit nauseous, and honestly just kind of gross me out. It's all good though, because tofu saves the day.
This tofu scramble includes green and red bell peppers, yellow onion, LOTS of garlic, and some chili powder for a little smoky kick. Nutritional yeast, which you can find in the bulk section of health food stores, adds an essential savory flavor, as well as B vitamins, protein and fiber, so don't leave it out.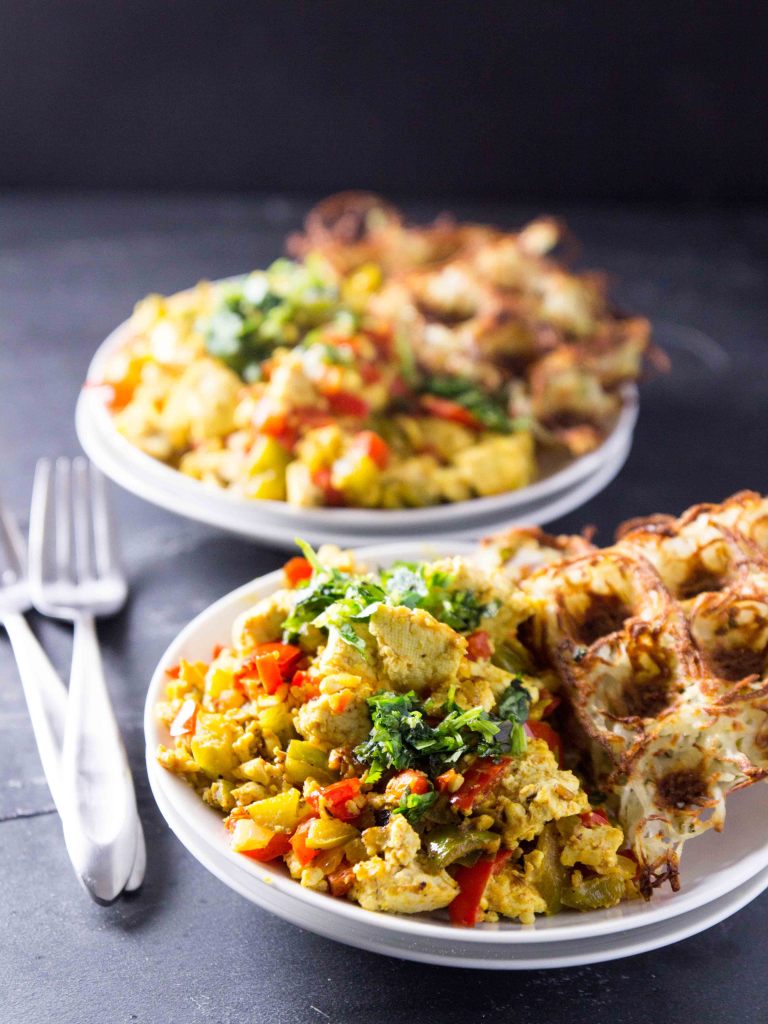 I used my 7-inch belgian waffle maker for the hash browns, but any other waffle maker should work. You do want to have a sort of overflow of potato in there so that enough potato touches the surfaces of the waffle iron to crisp up, so just make sure to concentrate those taters so you have a thick layer.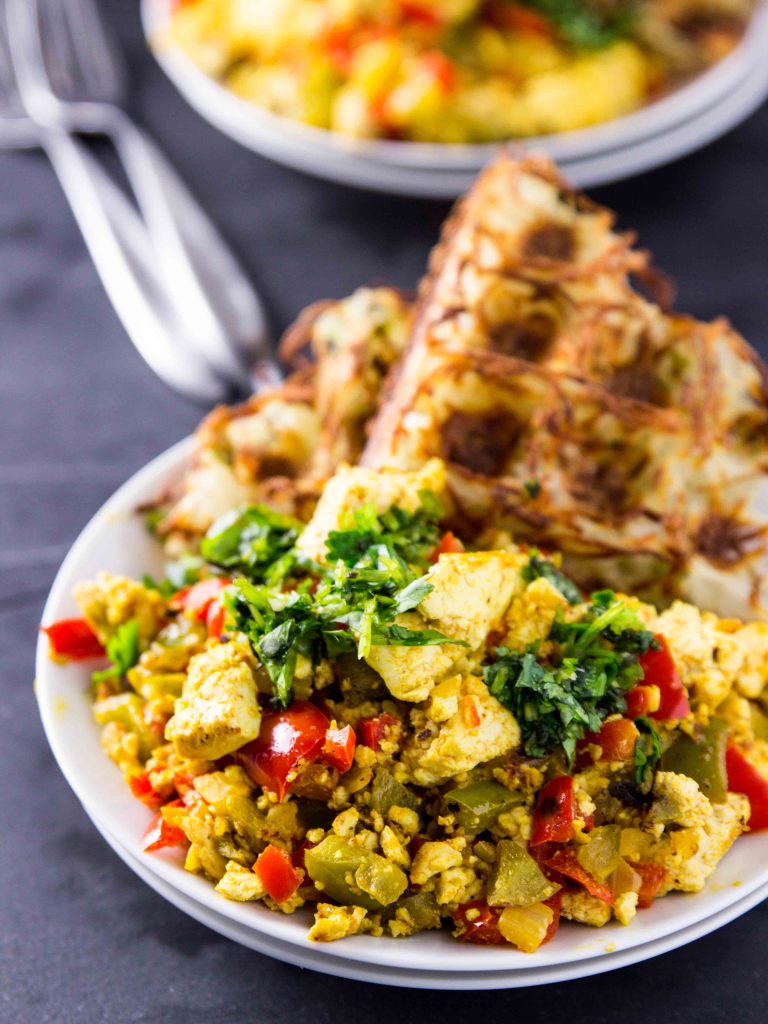 Top with some cilantro and hot sauce, and then use that hash brown triangle to scoop up the scramble and dig into that crunch. Bam, savory breakfast of the egg-adverse.

Garlicky Bell Pepper Tofu Scramble with Waffled Jalapeño Hash Browns
A savory, spicy vegan breakfast plate of garlicky bell pepper tofu scramble and spicy, crispy jalapeño hash browns cooked in the waffle iron!
Yield: 2 servings
Prep Time: 10 minutes
Cook Time: 20 minutes
Total Time: 30 minutes
Ingredients:
Waffled Jalapeño Hash Browns
2 russet potatoes, peeled and grated
1/2-1 jalapeño, diced
1/8 teaspoon sea salt
1/2 tablespoon olive oil or melted butter/vegan butter
Garlicky Bell Pepper Tofu Scramble
1 tablespoon olive oil
3 cloves garlic, minced
1/4 of one yellow onion, chopped
1 small green bell pepper, chopped
1 small red bell pepper, chopped
7-ounces organic firm tofu, pressed and crumbled
1/4 teaspoon sea salt
1 1/2 tablespoons nutritional yeast flakes
1/4 teaspoon chili powder
1/4 teaspoon ground turmeric (optional, for color)
Cilantro and hot sauce, for topping (optional)
Directions:
Place the grated potatoes in a potato ricer to squeeze out the excess liquid. This part is crucial to getting your hash browns crispy! I do this in waves, because the ricer is more effective if you don't overfill it.
Toss together the potatoes, jalapeño, and salt in a bowl. Brush the olive oil on the heated waffle iron, and then place all of the potatoes on top. It will look like too much - that's what you want! Overfilling the waffle iron is what gets them crispy. Press the lid down as much as you can without breaking your iron, and then let them cook until golden, going back to press the iron down every few minutes. The cook time will vary from iron-to-iron, but I would start checking after 10 minutes to be safe. Mine took 20.
While the hash browns cook, prepare the tofu scramble. Heat the oil in a large fry pan. Add the garlic and cook for 30 seconds, then add the onion and half the salt. Cook, stirring frequently, until the onions are soft (about 4 minutes). Stir in the bell peppers, and cook for another 5-7 minutes, until the peppers are slightly softened.
Crumble in the tofu, and sprinkle in the nutritional yeast, turmeric, chili powder, and remaining salt. Cook, stirring frequently, for 7-10 minutes.
Top the tofu scramble with hot sauce and cilantro, if you wish, and divide the hashbrowns among the 2 plates.
Nutrition Information: Serving Size: 1/2 of Recipe, Calories: 372, Sugar: 7.6g, Sodium: 388mg Fat: 15.5g, Saturated Fat: 2.4g, Carbs: 46.8g, Fiber: 10.3g, Protein: 16.5g
9 Responses to "Garlicky Bell Pepper Tofu Scramble with Waffled Jalapeño Hash Browns"